Abstract
We experimentally investigated the dissolution of forsterite, enstatite and magnesite in graphite-saturated COH fluids, synthesized using a rocking piston cylinder apparatus at pressures from 1.0 to 2.1 GPa and temperatures from 700 to 1200 °C. Synthetic forsterite, enstatite, and nearly pure natural magnesite were used as starting materials. Redox conditions were buffered by Ni–NiO–H2O (ΔFMQ = − 0.21 to − 1.01), employing a double-capsule setting. Fluids, binary H2O–CO2 mixtures at the P, T, and fO2 conditions investigated, were generated from graphite, oxalic acid anhydrous (H2C2O4) and water. Their dissolved solute loads were analyzed through an improved version of the cryogenic technique, which takes into account the complexities associated with the presence of CO2-bearing fluids. The experimental data show that forsterite + enstatite solubility in H2O–CO2 fluids is higher compared to pure water, both in terms of dissolved silica (mSiO2 = 1.24 mol/kgH2O versus mSiO2 = 0.22 mol/kgH2O at P = 1 GPa, T = 800 °C) and magnesia (mMgO = 1.08 mol/kgH2O versus mMgO = 0.28 mol/kgH2O) probably due to the formation of organic C–Mg–Si complexes. Our experimental results show that at low temperature conditions, a graphite-saturated H2O–CO2 fluid interacting with a simplified model mantle composition, characterized by low MgO/SiO2 ratios, would lead to the formation of significant amounts of enstatite if solute concentrations are equal, while at higher temperatures these fluid, characterized by MgO/SiO2 ratios comparable with that of olivine, would be less effective in metasomatizing the surrounding rocks. However, the molality of COH fluids increases with pressure and temperature, and quintuplicates with respect to the carbon-free aqueous fluids. Therefore, the amount of fluid required to metasomatize the mantle decreases in the presence of carbon at high P–T conditions. COH fluids are thus effective carriers of C, Mg and Si in the mantle wedge up to the shallowest level of the upper mantle.
Access options
Buy single article
Instant access to the full article PDF.
US$ 39.95
Tax calculation will be finalised during checkout.
Subscribe to journal
Immediate online access to all issues from 2019. Subscription will auto renew annually.
US$ 119
Tax calculation will be finalised during checkout.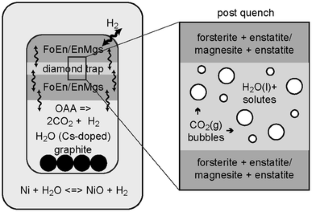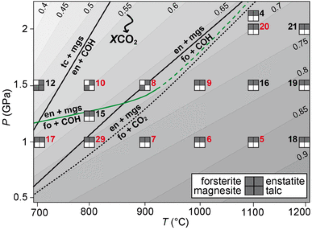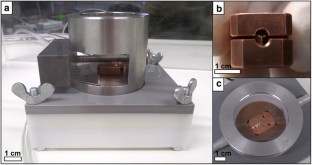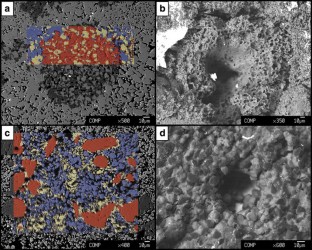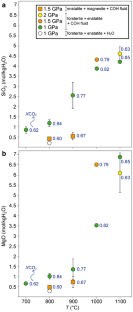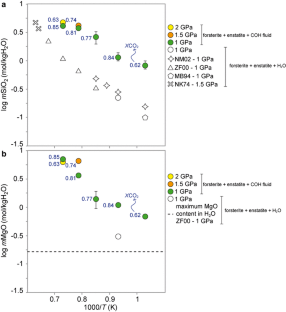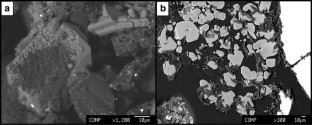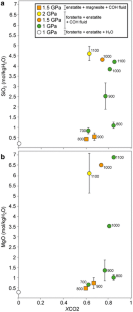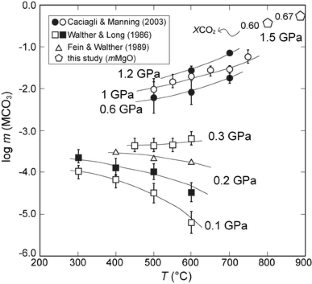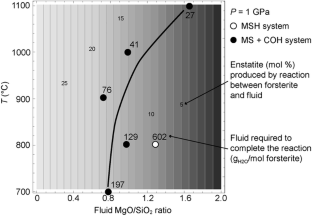 References
Aerts M, Hack AC, Reusser E, Ulmer P (2010) Assessment of the diamond-trap method for studying high-pressure fluids and melts and an improved freezing stage design for laser ablation ICP-MS analysis. Am Mineral 95:1523–1526

Anderson GM, Burnham CW (1965) The solubility of quartz in super-critical water. Am J Sci 263:494–511

Aranovich LY, Newton RC (1999) Experimental determination of CO2–H2O activity-composition relations at 600–1000 °C and 6–14 kbar by reversed decarbonation and dehydration reactions. Am Mineral 84:1319–1332

Baker MB, Stolper EM (1994) Determining the composition of high-pressure mantle melts using diamond aggregates. Geochim Cosmochim Acta 58:2811–2827. https://doi.org/10.1016/0016-7037(94)90116-3

Caciagli NC, Manning CE (2003) The solubility of calcite in water at 6–16 kbar and 500–800 °C. Contrib to Mineral Petrol 146:275–285. https://doi.org/10.1007/s00410-003-0501-y

Campione M, Tumiati S, Malaspina N (2017) Primary spinel + chlorite inclusions in mantle garnet formed at ultrahigh-pressure. Geochem Persp Let 4:19–23. https://doi.org/10.7185/geochemlet.1730

Connolly JAD (1990) Multivariable phase-diagrams—an algorithm based on generalized thermodynamics. Am J Sci 290:666–718

Connolly JAD, Cesare B (1993) C–O–H–S fluid composition and oxygen fugacity in graphitic metapelites. J Metamorph Geol 11:379–388

Cruz MF, Manning CE (2015) Experimental determination of quartz solubility and melting in the system SiO2–H2O–NaCl at 15–20 kbar and 900–1100 °C: implications for silica polymerization and the formation of supercritical fluids. Contrib to Mineral Petrol 170:35. https://doi.org/10.1007/s00410-015-1187-7

Dolejs D, Manning CE (2010) Thermodynamic model for mineral solubility in aqueous fluids: theory, calibration and application to model fluid-flow systems. Geofluids 10:20–40. https://doi.org/10.1111/j.1468-8123.2010.00282.x

Eggler DH, Kushiro I, Holloway JR (1979) Free energies of decarbonation reactions at mantle pressures; I, Stability of the assemblage forsterite-enstatite-magnesite in the system MgO–SiO2–CO2–H2O to 60 kbar. Am Mineral 64:288–293

Eugster HP, Skippen GB (1967) Igneous and metamorphic reactions involving gas equilibria. Res Geochem 2:492–520

Facq S, Daniel I, Montagnac G, Cardon H, Sverjensky D (2014) In situ Raman study and thermodynamic model of aqueous carbonate speciation in equilibrium with aragonite under subduction zone conditions. Geochim Cosmochim Acta 132:375–390. https://doi.org/10.1016/j.gca.2014.01.030

Fedortchouk Y, Canil D, Semenets E (2007) Mechanisms of diamond oxidation and their bearing on the fluid composition in kimberlite magmas. Am Mineral 92:1200–1212. https://doi.org/10.2138/am.2007.2416

Fein JB, Walther JV (1989) Calcite solubility and speciation in supercritical NaCl–HCl aqueous fluids. Contrib to Mineral Petrol 103:317–324. https://doi.org/10.1007/BF00402918

Galvez ME, Beyssac O, Martinez I, Benzerara K, Chaduteau C, Malvoisin B, Malavieille J (2013) Graphite formation by carbonate reduction during subduction. Nat Geosci 6:473–477. https://doi.org/10.1038/ngeo1827

Guillong M, Meier DL, Allan MM, Heinrich CA, Yardley BW (2008) Appendix A6: SILLS: a MATLAB-based program for the reduction of laser ablation ICP-MS data of homogeneous materials and inclusions. Mineral Assoc Canada Short Course Ser 40:328–333

Hack AC, Thompson AB, Aerts M (2007) Phase relations involving hydrous silicate melts, aqueous fluids, and minerals. Rev Mineral Geochem 65:129–185. https://doi.org/10.2138/rmg.2007.65.5

Holland TJB, Powell R (1998) An internally consistent thermodynamic data set for phases of petrological interest. J Metamorph Geol 16:309–343. https://doi.org/10.1111/j.1525-1314.1998.00140.x

Inoue T (1994) Effect of water on melting phase relations and melt composition in the system Mg2SiO4–MgSiO3–H2O up to 15 GPa. Phys Earth Planet Int 85:237–263

Kawamoto T, Matsukage KN, Mibe K, Isshiki M, Nishimura K, Ishimatsu N, Ono S (2004a) Mg/Si ratios of aqueous fluids coexisting with forsterite and enstatite based on the phase relations in the Mg2SiO4–SiO2–H2O system. Am Mineral 89:1433–1437

Kawamoto T, Ochiai S, Kagi H (2004b) Changes in the structure of water deduced from the pressure dependence of the Raman OH frequency. J Chem Phys 120:5867–5870. https://doi.org/10.1063/1.1689639

Kessel R, Ulmer P, Pettke T, Schmidt MW, Thompson AB (2004) A novel approach to determine high-pressure high-temperature fluid and melt compositions using diamond-trap experiments. Am Mineral 89:1078–1086

Kessel R, Schmidt MW, Ulmer P, Pettke T (2005a) Trace element signature of subduction-zone fluids, melts and supercritical liquids at 120–180 km depth. Nature 437:724–727. https://doi.org/10.1038/nature03971

Kessel R, Ulmer P, Pettke T, Schmidt MW, Thompson AB (2005b) The water-basalt system at 4 to 6 GPa: phase relations and second critical endpoint in a K-free eclogite at 700 to 1400 °C. Earth Planet Sci Lett 237:873–892. https://doi.org/10.1016/j.epsl.2005.06.018

Koziol AM, Newton RC (1998) Experimental determination of the reaction: magnesite + enstatite = forsterite + CO2 in the ranges 6–25 kbar and 700–1100 °C. Am Mineral 83:213–219

Kushiro I (1969) System forsterite-diopside-silica with and without water at high pressures. Am J Sci 267A:269–294

Luth RW (1989) Natural versus experimental control of oxidation state : effects on the composition and speciation of C–O–H fluids. Am Mineral 74:50–57

Luth RW (1995) Is phase A relevant to the Earth's mantle? Geochim Cosmochim Acta 59:679–682. https://doi.org/10.1016/0016-7037(95)00319-U

Malaspina N, Hermann J, Scambelluri M, Compagnoni R (2006) Polyphase inclusions in garnet–orthopyroxenite (Dabie Shan, China) as monitors for metasomatism and fluid-related trace element transfer in subduction zone peridotite. Earth Planet Sci Lett 249:173–187. https://doi.org/10.1016/j.epsl.2006.07.017

Malaspina N, Langenhorst F, Tumiati S, Campione M, Frezzotti ML, Poli S (2017) The redox budget of crust-derived fluid phases at the slab-mantle interface. Geochim Cosmochim Acta 209:70–84. https://doi.org/10.1016/j.gca.2017.04.004

Manning CE (1994) The solubility of quartz in H2O in the lower crust and upper mantle. Geochim Cosmochim Acta 58:4831–4839. https://doi.org/10.1016/0016-7037(94)90214-3

Manning CE, Boettcher SL (1994) Rapid-quench hydrothermal experiments at mantle pressures and temperatures. Am Mineral 79:1153–1158

Marschall HR, Schumacher JC (2012) Arc magmas sourced from mélange diapirs in subduction zones. Nat Geosci 5:862–867. https://doi.org/10.1038/ngeo1634

Melekhova E, Schmidt MW, Ulmer P, Pettke T (2007) The composition of liquids coexisting with dense hydrous magnesium silicates at 11–13.5 GPa and the endpoints of the solidi in the MgO–SiO2–H2O system. Geochim Cosmochim Acta 71:3348–3360. https://doi.org/10.1016/j.gca.2007.03.034

Mibe K, Fujii T, Yasuda A (2002) Composition of aqueous fluid coexisting with mantle minerals at high pressure and its bearing on the differentiation of the Earth's mantle. Geochim Cosmochim Acta 66:2273–2285. https://doi.org/10.1016/S0016-7037(02)00856-6

Nakamura Y, Kushiro I (1974) Composition of the gas phase in Mg2SiO4–SiO2–H2O at 15 kbar. Carnegie Inst Washingt Yearb 73:255–258

Newton RC, Manning CE (2000) Quartz solubility in H2O–NaCl and H2O–CO2 solutions at deep crust-upper mantle pressures and temperatures: 2–15 kbar and 500–900 °C. Geochim Cosmochim Acta 64:2993–3005. https://doi.org/10.1016/S0016-7037(00)00402-6

Newton RC, Manning CE (2002) Solubility of enstatite + forsterite in H2O at deep crust/upper mantle conditions: 4 to 15 kbar and 700 to 900 °C. Geochim Cosmochim Acta 66:4165–4176. https://doi.org/10.1016/S0016-7037(02)00998-5

Newton RC, Manning CE (2009) Hydration state and activity of aqueous silica in H2O–CO2 fluids at high pressure and temperature. Am Mineral 94:1287–1290. https://doi.org/10.2138/am.2009.3287

Pan D, Galli G (2016) The fate of carbon dioxide in water-rich fluids at extreme conditions. Sci Adv. https://doi.org/10.1126/sciadv.1601278

Pan D, Spanu L, Harrison B, Sverjensky DA, Galli G (2013) Dielectric properties of water under extreme conditions and transport of carbonates in the deep Earth. Proc Natl Acad Sci USA 110:6646–6650. https://doi.org/10.1073/pnas.1221581110

Pettke T, Oberli F, Audétat A, Guillong M, Simon AC, Hanley JJ, Klemm LM (2012) Recent developments in element concentration and isotope ratio analysis of individual fluid inclusions by laser ablation single and multiple collector ICP-MS. Ore Geol Rev 44:10–38. https://doi.org/10.1016/j.oregeorev.2011.11.001

Poli S (2015) Carbon mobilized at shallow depths in subduction zones by carbonatitic liquids. Nat Geosci 8:633–636. https://doi.org/10.1038/ngeo2464

Ryabchikov ID, Schreyer W, Abraham K (1982) Compositions of aqueous fluids in equilibrium with pyroxenes and olivines at mantle pressures and temperatures. Contrib Miner Pet 79:80–84. https://doi.org/10.1007/BF00376964

Ryabchikov ID, Brey G, Kogarko LN, Bulatov VK (1989) Partial melting of carbonatised peridotite at 50 kbar. Geochem Int 26:1–7

Sanchez-Valle C, Martinez I, Daniel I, Philippot P, Bohic S, Simionovici A (2003) Dissolution of strontianite at high P-T conditions: an in-situ synchrotron X-ray fluorescence study. Am Mineral 88:978–985

Schmidt MW, Ulmer P (2004) A rocking multianvil: elimination of chemical segregation in fluid-saturated high-pressure experiments. Geochim Cosmochim Acta 68:1889–1899. https://doi.org/10.1016/j.gca.2003.10.031

Schneider ME, Eggler DH (1986) Fluids in equilibrium with peridotite minerals: Implications for mantle metasomatism. Geochim Cosmochim Acta 50:711–724. https://doi.org/10.1016/0016-7037(86)90347-9

Shmulovich KI, Graham CM, Yardley BWD (2001) Quartz, albite and diopside solubilities in H2O–NaCl and H2O–CO2 fluids at 0.5–0.9 GPa. Contrib Miner Pet 141:95–108. https://doi.org/10.1007/s004100000224

Shmulovich KI, Yardley BWD, Graham CM (2006) Solubility of quartz in crustal fluids: experiments and general equations for salt solutions and H2O–CO2 mixtures at 400–800 °C and 0.1–0.9 GPa. Geofluids 6:154–167. https://doi.org/10.1111/j.1468-8123.2006.00140.x

Stalder R, Ulmer P, Thompson AB, Günther D (2001) High pressure fluids in the system MgO–SiO2–H2O under upper mantle conditions. Contrib Miner Pet 140:607–618. https://doi.org/10.1007/s004100000212

Sverjensky DA, Harrison B, Azzolini D (2014) Water in the deep Earth: The dielectric constant and the solubilities of quartz and corundum to 60 kb and 1200 °C. Geochim Cosmochim Acta 129:125–145. https://doi.org/10.1016/j.gca.2013.12.019

Tiraboschi C, Tumiati S, Recchia S, Miozzi F, Poli S (2016) Quantitative analysis of COH fluids synthesized at HP–HT conditions: an optimized methodology to measure volatiles in experimental capsules. Geofluids 16:841–855. https://doi.org/10.1111/gfl.12191

Tumiati S, Fumagalli P, Tiraboschi C, Poli S (2013) An experimental study on COH-bearing peridotite up to 3.2 GPa and implications for crust-mantle recycling. J Petrol 54:453–479

Tumiati S, Tiraboschi C, Sverjensky D, Pettke T, Recchia S, Ulmer P, Miozzi F, Poli S (2017) Silicate dissolution boosts the CO2 concentrations in subduction fluids. Nat Commun 8:616. https://doi.org/10.1038/s41467-017-00562-z

Walther JV, Long MI (1986) Experimental determination of calcite solubilities in supercritical H2O. Int Symp Water-Rock Interact 5:609–611

Walther JV, Orville PM (1983) The extraction-quench technique for determination of the thermodynamic properties of solute complexes: application to quartz solubility in fluid mixtures. Am Mineral 68:731–741

Wolery TJ (1992) EQ3NR, A computer program for geochemical aqueous speciation-solubility calculations: theoretical manual, user's guide and related documentation (version 7.0)

Zhang C, Duan Z (2009) A model for C–O–H fluid in the Earth's mantle. Geochim Cosmochim Acta 73:2089–2102. https://doi.org/10.1016/j.gca.2009.01.021

Zhang C, Duan Z (2010) GFluid: An Excel spreadsheet for investigating C–O–H fluid composition under high temperatures and pressures. Comput Geosci 36:569–572. https://doi.org/10.1016/j.cageo.2009.05.008

Zhang YG, Frantz JD (2000) Enstatite-forsterite-water equilibria at elevated temperatures and pressures. Am Mineral 85:918–925
Acknowledgements
The authors are indebted to A. Risplendente for the assistance with scanning electron microscope and electron microprobe. Editorial handling by M.W. Schmidt, O. Müntener, and reviews from two anonymous reviewers significantly improved the manuscript. Funding was provided by the Italian Ministry of Education, University and Research (MIUR) program PRIN2012R33ECR. C.T., S.T., D.S. and S.P. acknowledge supports from the Deep Carbon Observatory (DCO).
Additional information
Communicated by Othmar Müntener.
Electronic supplementary material
Below is the link to the electronic supplementary material.
About this article
Cite this article
Tiraboschi, C., Tumiati, S., Sverjensky, D. et al. Experimental determination of magnesia and silica solubilities in graphite-saturated and redox-buffered high-pressure COH fluids in equilibrium with forsterite + enstatite and magnesite + enstatite. Contrib Mineral Petrol 173, 2 (2018). https://doi.org/10.1007/s00410-017-1427-0
Received:

Accepted:

Published:
Keywords
Mantle mineral solubility

COH fluids

Experimental petrology

Piston cylinder experiments

Cryogenic LA-ICP-MS