Abstract
This experimental study simulates the interaction of hotter, deeper hydrous mantle melts with shallower, cooler depleted mantle, a process that is expected to occur in the upper part of the mantle wedge. Hydrous reaction experiments (~6 wt% H2O in the melt) were conducted on three different ratios of a 1.6 GPa mantle melt and an overlying 1.2 GPa harzburgite from 1060 to 1260 °C. Reaction coefficients were calculated for each experiment to determine the effect of temperature and starting bulk composition on final melt compositions and crystallizing assemblages. The experiments used to construct the melt–wall rock model closely approached equilibrium and experienced <5% Fe loss or gain. Experiments that experienced higher extents of Fe loss were used to critically evaluate the practice of "correcting" for Fe loss by adding iron. At low ratios of melt/mantle (20:80 and 5:95), the crystallizing assemblages are dunites, harzburgites, and lherzolites (as a function of temperature). When the ratio of deeper melt to overlying mantle is 70:30, the crystallizing assemblage is a wehrlite. This shows that wehrlites, which are observed in ophiolites and mantle xenoliths, can be formed by large amounts of deeper melt fluxing though the mantle wedge during ascent. In all cases, orthopyroxene dissolves in the melt, and olivine crystallizes along with pyroxenes and spinel. The amount of reaction between deeper melts and overlying mantle, simulated here by the three starting compositions, imposes a strong influence on final melt compositions, particularly in terms of depletion. At the lowest melt/mantle ratios, the resulting melt is an extremely depleted Al-poor, high-Si andesite. As the fraction of melt to mantle increases, final melts resemble primitive basaltic andesites found in arcs globally. An important element ratio in mantle lherzolite composition, the Ca/Al ratio, can be significantly elevated through shallow mantle melt–wall rock reaction. Wall rock temperature is a key variable; over a span of <80 °C, reaction with deeper melt creates the entire range of mantle lithologies from a depleted dunite to a harzburgite to a refertilized lherzolite. Together, the experimental phase equilibria, melt compositions, and reaction coefficients provide a framework for understanding how melt–wall rock reaction occurs in the natural system during melt ascent in the mantle wedge.
Access options
Buy single article
Instant access to the full article PDF.
USD 39.95
Price includes VAT (USA)
Tax calculation will be finalised during checkout.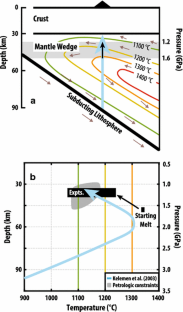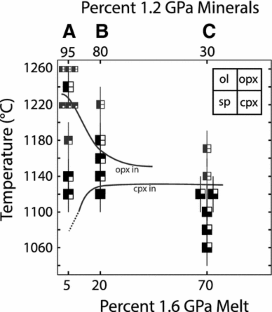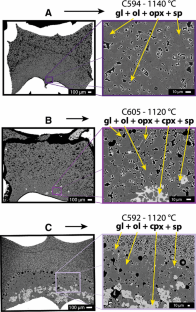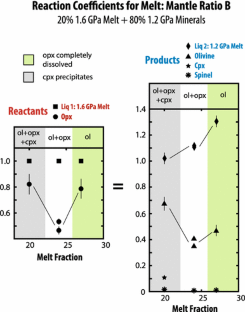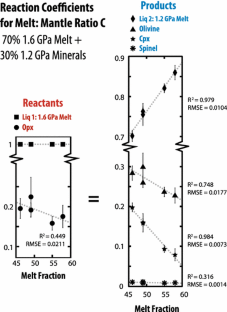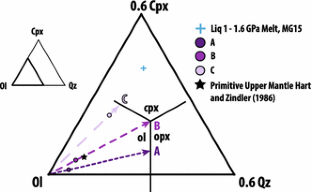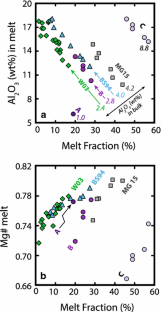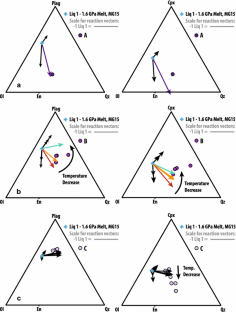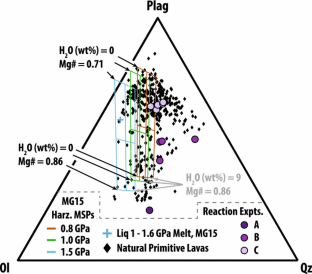 References
Armstrong JT (1995) Citzaf: a package of correction programs for the quantitative electron microbeam X-ray analysis of thick polished materials, thin-films, and particles. Microbeam Anal 4:177–200

Baker MB, Stolper EM (1994) Determining the composition of high-pressure mantle melts using diamond aggregates. Geochim Cosmochim Acta 58(13):2811–2827

Bowen NL (1922) The behavior of inclusions in igneous magmas. J Geol 30(6):513–570

Boyd FR, England JL (1960) Apparatus for phase-equilibrium measurements at pressures up to 50 kilobars and temperatures up to 1750°C. J Geophys Res 65(2):741–748

Bryant JA, Yogodzinski GM, Churikova TG (2007) Melt–mantle interactions beneath the Kamchatka arc: evidence from ultramafic xenoliths from Shiveluch volcano. Geochem Geophys Geosyst 8:Q04007. doi:10.1029/2006GC001443

Büchl A, Brügmann G, Batanova VG, Münker C, Hofmann AW (2002) Melt percolation monitored by Os isotopes and HSE abundances: a case study from the mantle section of the Troodos Ophiolite. Earth Planet Sci Lett 204(3):385–402

Burg JP, Bodinier JL, Chaudhry S, Hussain S, Dawood H (1998) Infra-arc mantle-crust transition and intra-arc mantle diapirs in the Kohistan Complex (Pakistani Himalaya): petro-structural evidence. Terra Nova 10:74–80

Daines MJ, Kohlstedt DL (1994) The transition from porous to channelized flow due to melt/rock reaction during melt migration. Geophys Res Lett 21:145

Dick HJ (1977) Magma genesis (No. CONF-7609214) State of Oregon, Portland

Dick HJB (1989) Abyssal peridotites, very slow spreading ridges and ocean ridge magmatism. In: Saunders AD, Norry MJ (eds) Magmatism in the Ocean Basins, vol 42. Geological Society, London, Special Publications, pp 71–105

Dijkstra AH, Barth MG, Drury MR, Mason PR, Vissers RL (2003) Diffuse porous melt flow and melt‐rock reaction in the mantle lithosphere at a slow‐spreading ridge: a structural petrology and LA‐ICP‐MS study of the Othris Peridotite Massif (Greece). Geochem Geophys Geosyst 4(8):8613. doi:10.1029/2001GC000278

Edwards SJ, Malpas J (1995) Multiple origins for mantle harzburgites: examples from the Lewis Hills, Bay of Islands ophiolite, Newfoundland. Can J Earth Sci 32(7):1046–1057

Falloon TJ, Danyushevsky LV (2000) Melting of refractory mantle at 1.5, 2 and 2.5 GPa under anhydrous and H2O-undersaturated conditions: implications for the petrogenesis of high-Ca boninites and the influence of subduction components on mantle melting. J Petrol 41(2):257–283

Gaetani GA, Grove TL (1998) The influence of water on melting of mantle peridotite. Contrib Mineral Petrol 131(4):323–346

Green DH (1973) Experimental melting studies on a model upper mantle composition at high pressure under water-saturated and water-undersaturated conditions. Earth Planet Sci Lett 19(1):37–53

Grove TL, Parman SW (2004) Thermal evolution of the Earth as recorded by komatiites. Earth Planet Sci Lett 219(3):173–187

Grove TL, Chatterjee N, Parman SW, Médard E (2006) The influence of H2O on mantle wedge melting. Earth Planet Sci Lett 249(1):74–89

Hart SR, Zindler A (1986) In search of a bulk-Earth composition. Chem Geol 57(3):247–267

Hays JF (1966) Lime–alumina–silica. Carnegie Inst Wash Yearb 65:234–239

Herzberg C, Raterron P, Zhang J (2000) New experimental observations on the anhydrous solidus for peridotite KLB‐1. Geochem Geophys Geosyst 1:1051. doi:10.1029/2000GC000089

Hirose K (1997) Melting experiments on lherzolite KLB-1 under hydrous conditions and generation of high-magnesian andesitic melts. Geology 25(1):42–44

Hirose K, Kawamoto T (1995) Hydrous partial melting of lherzolite at 1 GPa: the effect of H2O on the genesis of basaltic magmas. Earth Planet Sci Lett 133(3):463–473

Hirschmann MM (2000) Mantle solidus: experimental constraints and the effects of peridotite composition. Geochem Geophys Geosyst 1:1042. doi:10.1029/2000GC000070

Jagoutz E, Palme H, Baddenhausen H, Blum K, Cendales M, Dreibus G, Spettel G, Lorenz V, Wanke H (1979) The abundances of major, minor and trace elements in the earth's mantle as derived from primitive ultramafic nodules. Lunar Planet Sci Conf Proc 10:2031–2050

Jan MQ, Howie RA (1981) The mineralogy and geochemistry of the metamorphosed basic and ultrabasic rocks of the Jijal complex, Kohistan, NW Pakistan. J Petrol 22(1):85–126

Johnson K, Dick HJ, Shimizu N (1990) Melting in the oceanic upper mantle: an ion microprobe study of diopsides in abyssal peridotites. J Geophys Res Sol Earth 95(B3):2661–2678

Kawamoto T, Holloway JR (1997) Melting temperature and partial melt chemistry of H2O-saturated mantle peridotite to 11 gigapascals. Science 276(5310):240–243

Kay RW (1978) Aleutian magnesian andesites: melts from subducted Pacific Ocean crust. J Volcanol Geotherm Res 4(1):117–132

Kelemen PB (1990) Reaction between ultramafic rock and fractionating basaltic magma I. Phase relations, the origin of calc-alkaline magma series, and the formation of discordant dunite. J Petrol 31(1):51–98

Kelemen PB, Ghiorso MS (1986) Assimilation of peridotite in zoned calc-alkaline plutonic complexes: evidence from the Big Jim complex, Washington Cascades. Contrib Mineral Petrol 94(1):12–28

Kelemen PB, Joyce DB, Webster JD, Holloway JR (1990) Reaction between ultramafic rock and fractionating basaltic magma II. Experimental investigation of reaction between olivine tholeiite and harzburgite at 1150–1050°C and 5 kb. J Petrol 31(1):99–134

Kelemen PB, Dick HJ, Quick JE (1992) Formation of harzburgite by pervasive melt/rock reaction in the upper mantle. Nature 358(6388):635–641

Kelemen PB, Hanghøj K, Greene AR (2003a) One view of the geochemistry of subduction-related magmatic arcs, with an emphasis on primitive andesite and lower crust. Treatise Geochem 3:593–659

Kelemen PB, Rilling JL, Parmentier EM, Mehl L, Hacker BR (2003b) Thermal structure due to solid-state flow in the mantle wedge beneath arcs. In: Eiler J (ed) Inside the subduction factory. Amer Geophys Union, Washington, DC, pp 293–311

Kinzler RJ, Grove TL (1992) Primary magmas of mid-ocean ridge basalts, 2, application. J Geophys Res 97:6907–6926

Koga KT, Kelemen PB, Shimizu N (2001) Petrogenesis of the crust‐mantle transition zone and the origin of lower crustal wehrlite in the Oman ophiolite. Geochem Geophys Geosyst 2:1038. doi:10.1029/2000GC000132

Kushiro I (1968) Compositions of magmas formed by partial zone melting of the earth's upper mantle. J Geophys Res 73(2):619–634

Kushiro I (1972) Effect of water on the composition of magmas formed at high pressures. J Petrol 13(2):311–334

Longhi J (2005) Temporal stability and pressure calibration of barium carbonate and talc/pyrex pressure media in a piston-cylinder apparatus. Am Mineral 90(1):206–218

Mallik A, Nelson J, Dasgupta R (2015) Partial melting of fertile peridotite fluxed by hydrous rhyolitic melt at 2–3 GPa: implications for mantle wedge hybridization by sediment melt and generation of ultrapotassic magmas in convergent margins. Contrib Mineral Petrol 169(5):1–24

Médard E, Grove TL (2008) The effect of H2O on the olivine liquidus of basaltic melts: experiments and thermodynamic models. Contrib Mineral Petrol 155(4):417–432

Mitchell AL, Grove TL (2015) Melting the hydrous, subarc mantle: the origin of primitive andesites. Contrib Mineral Petrol 170(2):1–23

Morgan Z, Liang Y (2003) An experimental and numerical study of the kinetics of harzburgite reactive dissolution with applications to dunite dike formation. Earth Planet Sci Lett 214(1):59–74

Morgan Z, Liang Y (2005) An experimental study of the kinetics of lherzolite reactive dissolution with applications to melt channel formation. Contrib Mineral Petrol 150(4):369–385

Mysen BO, Boettcher AL (1975) Melting of a hydrous mantle: II. Geochemistry of crystals and liquids formed by anatexis of mantle peridotite at high pressures and high temperatures as a function of controlled activities of water, hydrogen, and carbon dioxide. J Petrol 16(1):549–593

Palme H, Nickel KG (1985) Ca/Al ratio and composition of the Earth's upper mantle. Geochim Cosmochim Acta 49(10):2123–2132

Pearson DG, Canil D, Shirey SB (2003) Mantle samples included in volcanic rocks: xenoliths and diamonds. Treatise Geochem 2:171–275

Peslier AH, Francis D, Ludden J (2002) The lithospheric mantle beneath continental margins: melting and melt–rock reaction in Canadian Cordillera xenoliths. J Petrol 43(11):2013–2047

Plank T, Langmuir CH (1993) Tracing trace elements from sediment input to volcanic output at subduction zones. Nature 362(6422):739–743

Quick JE (1981) Petrology and petrogenesis of the Trinity peridotite, an upper mantle diapir in the eastern Klamath Mountains, northern California. J Geophys Res Sol Earth (1978–2012) 86(B12):11837–11863

Rapp RP, Shimizu N, Norman MD, Applegate GS (1999) Reaction between slab-derived melts and peridotite in the mantle wedge: experimental constraints at 3.8 GPa. Chem Geol 160(4):335–356

Till CB (2016) A review and revision of mantle thermobarometry for primitive arc magmas. Am Min (in revision)

Till CB, Grove TL, Withers AC (2012) The beginnings of hydrous mantle wedge melting. Contrib Mineral Petrol 163(4):669–688

Tormey DR, Grove TL, Bryan WB (1987) Experimental petrology of normal MORB near the kane fracture zone; 22-25 N, mid-Atlantic ridge. Contrib Mineral Petrol 96:121–139

Tursack E, Liang Y (2012) A comparative study of melt-rock reactions in the mantle: laboratory dissolution experiments and geological field observations. Contrib Mineral Petrol 163(5):861–876

Van Den Bleeken G, Müntener O, Ulmer P (2010) Reaction processes between tholeiitic melt and residual peridotite in the uppermost mantle: an experimental study at 0.8 GPa. J Petrol 51(1–2):153–183

Van den Bleeken G, Müntener O, Ulmer P (2011) Melt variability in percolated peridotite: an experimental study applied to reactive migration of tholeiitic basalt in the upper mantle. Contrib Mineral Petrol 161(6):921–945

Walter MJ (1998) Melting of garnet peridotite and the origin of komatiite and depleted lithosphere. J Petrol 39(1):29–60

Wanke H, Gold T (1981) Constitution of terrestrial planets [and discussion]. Philos Trans R Soc Lond A Math Phys Eng Sci 303(1477):287–302

Wasylenki LE, Baker MB, Kent AJ, Stolper EM (2003) Near-solidus melting of the shallow upper mantle: partial melting experiments on depleted peridotite. J Petrol 44(7):1163–1191

Watson E, Wark D, Price J, Van Orman J (2002) Mapping the thermal structure of solid-media pressure assemblies. Contrib Mineral Petrol 142(6):640–652

Xu Y, Mercier JC, Lin C, Shi L, Menzies MA, Ross JV, Harte B (1996) K-rich glass-bearing wehrlite xenoliths from Yitong, Northeastern China: petrological and chemical evidence for mantle metasomatism. Contrib Mineral Petrol 125(4):406–420

Yogodzinski GM, Volynets ON, Koloskov AV, Seliverstov NI, Matvenkov VV (1994) Magnesian andesites and the subduction component in a strongly calc-alkaline series at Piip Volcano, far western Aleutians. J Petrol 35(1):163–204

Yogodzinski GM, Kay RW, Volynets ON, Koloskov AV, Kay SM (1995) Magnesian andesite in the western Aleutian Komandorsky region: implications for slab melting and processes in the mantle wedge. GSA Bull 107(5):505–519

Zhou MF, Robinson PT, Malpas J, Li Z (1996) Podiform chromitites in the Luobusa ophiolite (Southern Tibet): implications for melt-rock interaction and chromite segregation in the upper mantle. J Petrol 37(1):3–21
Acknowledgements
The authors thank Peter Kelemen and Yan Liang for thoughtful reviews and Othmar Müntener for editorial handling. We are also grateful for feedback from and discussion with Benjamin Mandler, Oliver Jagoutz, Glenn Gaetani, and Charles Langmuir. This research was supported by National Science Foundation grants EAR-1118598 and EAR-1551321 to T.L. Grove.
Additional information
Communicated by Othmar Müntener.
Electronic supplementary material
Below is the link to the electronic supplementary material.
About this article
Cite this article
Mitchell, A.L., Grove, T.L. Experiments on melt–rock reaction in the shallow mantle wedge. Contrib Mineral Petrol 171, 107 (2016). https://doi.org/10.1007/s00410-016-1312-2
Received:

Accepted:

Published:
Keywords
Subduction zone

Mantle wedge

Experimental petrology

Arc magmatism

Refertilization