Abstract
The Achankovil Zone of southern India forms a distinct isotopic and structural boundary separating the Madurai Block to the north from the Trivandrum Block to the south. We combine isotopic and trace element geochemistry of major and accessory phases with phase equilibria modelling to provide quantitative constraints on the timing and conditions of peak metamorphism and the nature of the protoliths within the Achankovil Zone. The results suggest a clockwise pressure–temperature path with peak metamorphic temperatures of up to 950 °C at pressures of around 0.7 GPa followed by high-temperature decompression. The metamorphic peak occurred at 545–512 Ma. U–Pb and Hf isotopic analysis of detrital zircon shows that the rocks have a strong affinity with the southern part of the Madurai Block. The Achankovil Zone is interpreted as the reworked southern margin of the Madurai Block, which was metamorphosed during the final stages of the assembly of Gondwana.
Access options
Buy single article
Instant access to the full article PDF.
US$ 39.95
Tax calculation will be finalised during checkout.
Subscribe to journal
Immediate online access to all issues from 2019. Subscription will auto renew annually.
US$ 119
Tax calculation will be finalised during checkout.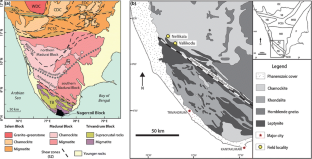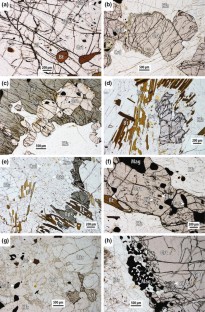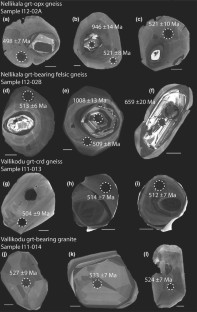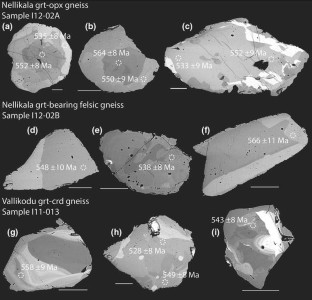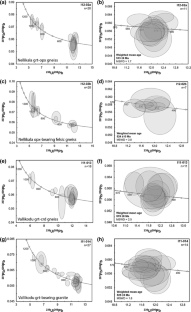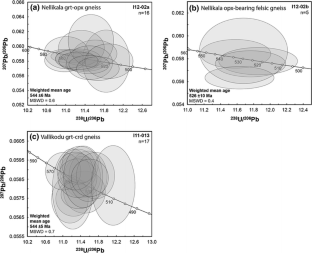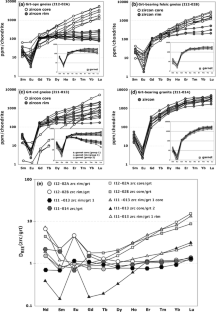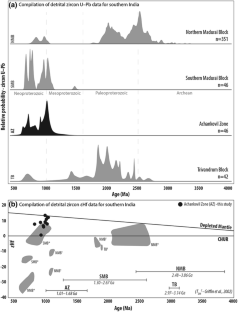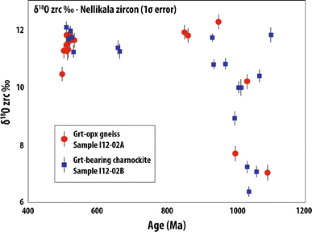 References
Anders E, Grevesse N (1989) Abundances of the elements: meteoritic and solar. Geochim Cosmochim Acta 53:197–214

Archibald DB, Collins AS, Foden JD, Payne JL, Taylor RJM (2015) Towards unravelling the Mozambique Ocean Conundrum using a Triumvirate of Zircon isotopic proxies on the Ambatolampy Group, Central Madagascar Tectonophysics (in press)

Bartlett JM, Dougherty-Page JS, Harris NBW, Hawkesworth CJ, Santosh M (1998) The application of single zircon evaporation and model Nd ages to the interpretation of polymetamorphic terrains: an example from the Proterozoic mobile belt of south India. Contrib Mineral Petrol 131:181–195

Bindu RS, Yoshida M, Santosh M (1998) Electron microprobe dating of monazite from the Chittikara granulite, South India: evidence for polymetamorphic events. J Geosci 41:77–83

Black LP, Kamo SL, Allen CM, Aleinikoff JN, Davis DW, Korsch RJ, Foudoulis C (2003) TEMORA 1: a new zircon standard for Phanerozoic U–Pb geochronology. Chem Geol 200:155–170

Black LP et al (2004) Improved 206Pb/238U microprobe geochronology by the monitoring of a trace-element-related matrix effect; SHRIMP, ID–TIMS, ELA–ICP–MS and oxygen isotope documentation for a series of zircon standards. Chem Geol 205:115–140. doi:10.1016/j.chemgeo.2004.01.003

Brandt S, Raith MM, Schenk V, Sengupta P, Srikantappa C, Gerdes A (2014) Crustal evolution of the Southern Granulite Terrane, south India: new geochronological and geochemical data for felsic orthogneisses and granites. Precambr Res 246:91–122

Braun I, Kriegsman LM (2003) Proterozoic crustal evolution of southernmost India and Sri Lanka. Geol Soc Lond Spec Publ 206:169–202

Braun I, Montel JM, Nicollet C (1998) Electron microprobe dating of monazites from high-grade gneisses and pegmatites of the Kerala Khondalite Belt, southern India. Chem Geol 146:65–85

Cenki B, Kriegsman LM (2005) Tectonics of the Neoproterozoic southern granulite terrain, South India. Precambr Res 138:37–56

Cenki B, Kriegsman LM, Braun I (2002) Melt-producing and melt-consuming reactions in the Achankovil cordierite gneisses, South India. J Metamorph Geol 20:543–561

Cenki B, Braun I, Bröcker M (2004) Evolution of the continental crust in the Kerala Khondalite Belt, southernmost India: evidence from Nd isotope mapping, U–Pb and Rb–Sr geochronology. Precambr Res 134:275–292

Chacko T, Lamb M, Farquhar J (1996) Ultra-high temperature metamorphism in the Kerala Khondalite Belt. In: Santosh M, Yoshida M (eds) The Archaean and proterozoic terrains in Southern India within East Gondwana. Gondwana Research Group Memoir 3:157–165

Claoue-Long JC, Compston W, Roberts J, Fanning CM (1995) Two Carboniferous ages: a comparison of SHRIMP zircon dating with conventional zircon ages and 40Ar/39Ar analysis. Geochronology, time scales and global stratigraphic correlation. SEPM Spec Publ 54:3–21

Clark C, Collins AS, Santosh M, Taylor R, Wade BP (2009a) The P-T-t architecture of a Gondwanan suture: REE, U–Pb and Ti-in-zircon thermometric constraints from the Palghat Cauvery shear system, South India. Precambr Res 174:129–144

Clark C, Collins AS, Timms NE, Kinny PD, Chetty TRK, Santosh M (2009b) SHRIMP U–Pb age constraints on magmatism and high-grade metamorphism in the Salem Block, southern India. Gondwana Res 16:27–36

Clark C, Healy D, Johnson T, Collins AS, Taylor RJ, Santosh M, Timms NE (2015) Hot orogens and supercontinent amalgamation: a Gondwanan example from southern India Gondwana Research (in press)

Collins AS (2006) Madagascar and the amalgamation of Central Gondwana. Gondwana Res 9:3–16

Collins AS, Kröner A, Fitzsimons ICW, Razakamanana T (2003) Detrital footprint of the Mozambique ocean: U–Pb SHRIMP and Pb evaporation zircon geochronology of metasedimentary gneisses in eastern Madagascar. Tectonophysics 375:77–99

Collins AS, Clark C, Sajeev K, Santosh M, Kelsey DE, Hand M (2007a) Passage through India: the Mozambique Ocean suture, high-pressure granulites and the Palghat–Cauvery shear zone system. Terra Nova 19:141–147

Collins AS, Santosh M, Braun I, Clark C (2007b) Age and sedimentary provenance of the Southern Granulites, South India: U–Th–Pb SHRIMP secondary ion mass spectrometry. Precambr Res 155:125–138

Collins AS, Clark C, Plavsa D (2014) Peninsular India in Gondwana: the tectonothermal evolution of the Southern Granulite Terrain and its Gondwanan counterparts. Gondwana Res 25:190–203

Compston W, Williams IS, Meyer C (1984) U-Pb geochronology of zircons from lunar breccia 73217 using a sensitive high mass-resolution ion microprobe. J Geophys Res 89(Suppl):525–534

Cox R et al (2004) Proterozoic tectonostratigraphy and paleogeography of central Madagascar derived from detrital zircon U–Pb age populations. J Geol 112:379–399

De Laeter JR, Kennedy AK (1998) A double focusing mass spectrometer for geochronology. Int J Mass Spectrom 178:43–50

De Waele B, Fitzsimons I (2007) The nature and timing of Palaeoproterozoic sedimentation at the southeastern margin of the Congo Craton; zircon U–Pb geochronology of plutonic, volcanic and clastic units in northern Zambia. Precambr Res 159:95–116

Drury SA, Harris NBW, Holt RW, Reeves-Smith GJ, Wightman RT (1984) Precambrian tectonics and crustal evolution in south India. J Geol 92:3–20

Fletcher IR, McNaughton NJ, Davis WJ, Rasmussen B (2010) Matrix effects and calibration limitations in ion probe U–Pb and Th–Pb dating of monazite. Chem Geol 270:31–44

Foster G, Kinny P, Vance D, Prince C, Harris N (2000) The significance of monazite U–Th–Pb age data in metamorphic assemblages; a combined study of monazite and garnet chronometry. Earth Planet Sci Lett 181:327–340

Ghosh JG, de Wit MJ, Zartman RE (2004) Age and tectonic evolution of Neoproterozoic ductile shear zones in the Southern Granulite Terrain of India, with implications for Gondwana studies. Tectonics 23(TC3006):3001–3038

Griffin WL, Wang X, Jackson SE, Pearson NJ, O'Reilly SY, Xu X, Zhou X (2002) Zircon chemistry and magma mixing, SE China: in-situ analysis of Hf isotopes, Tonglu and Pingtan igneous complexes. Lithos 61:237–269

Harley SL, Nandakumar V (2014) Accessory mineral behaviour in granulite migmatites: a case study from the Kerala Khondalite Belt. India J Petrol 55:1965–2002

Harley SL, Kinny P, Snape I, Black LP (2001) Zircon chemistry and the definition of events in Archean granulite terrains. In: Fourth international Archean symposium, extended abstract volume, AGSO Geoscience Australia Record 2001/37, pp 511–513

Harris NBW, Santosh M, Taylor PN (1994) Crustal evolution in south India: constraints from Nd isotopes. J Geol 102:139–150

Hawkesworth CJ, Kemp AIS (2006) Using hafnium and oxygen isotopes in zircons to unravel the record of crustal evolution. Chem Geol 226:144–162

Hokada T, Harley SL (2004) Zircon growth in UHT leucosome: constraints from zircon-garnet rare earth elements (REE) relations in Napier Complex, East Antarctica. J Mineral Petrol Sci 99:180–190

Holland TJB, Powell R (2011) An improved and extended internally consistent thermodynamic dataset for phases of petrological interest, involving a new equation of state for solids. J Metamorph Geol 29:333–383

Ishii S, Tsunogae T, Santosh M (2006) Ultrahigh-temperature metamorphism in the Achankovil Zone: implications for the correlation of crustal blocks in southern India. Gondwana Res 10:99–114

Johnson TE, Clark C, Taylor RJM, Santosh M, Collins AS (2015) Prograde and retrograde growth of monazite in migmatites: an example from the Nagercoil Block, southern India. Geosci Front 6:373–387

Kelly NM, Harley SL (2005) An integrated microtextural and chemical approach to zircon geochronology: refining the Archaean history of the Napier Complex, east Antarctica. Contrib Mineral Petrol 149:57–84

Kelsey DE, Clark C, Hand M (2008) Thermobarometric modelling of zircon and monazite growth in melt-bearing systems: examples using model metapelitic and metapsammitic granulites. J Metamorph Geol 26:199–212

Kemp AIS, Hawkesworth CJ, Paterson BA, Kinny PD, Kemp T (2006) Episodic growth of the Gondwana supercontinent from hafnium and oxygen isotopes in zircon. Nature 439:580–583

Kennedy A, De Laeter JR (1994) The performance of the WA SHRIMP II ion microprobe, In: Eighth international conference on geochronology, cosmochronology and isotope geology 1107, p 166

Kita NT, Ushikubo T, Fu B, Valley JW (2009) High precision SIMS oxygen isotope analysis and the effect of sample topography. Chem Geol 264:43–57. doi:10.1016/j.chemgeo.2009.02.012

Kooijman E, Upadhyay D, Mezger K, Raith MM, Berndt J, Srikantappa C (2011) Response of the U-Pb chronometer and trace elements in zircon to ultrahigh-temperature metamorphism: the Kadavur anorthosite complex, southern India. Chem Geol 290:177–188

Korhonen FJ, Saw AK, Clark C, Brown M, Bhattacharya S (2011) New constraints on UHT metamorphism in the Eastern Ghats Province through the application of phase equilibria modelling and in situ geochronology. Gondwana Res 20:764–781

Kröner A, Santosh M, Wong J (2012) Zircon ages and Hf isotopic systematics reveal vestiges of Mesoproterozoic to Archaean crust within the late Neoproterozoic–Cambrian high-grade terrain of southernmost India. Gondwana Res 21:876–886

Ludwig K (2003) A geochronological toolkit for Microsoft Excel Berkeley Geochron Centre, Special Publication 470

Ludwig K (2009) Errors of isotope ratios acquired by double interpolation. Chem Geol 268:24–26

Naidu GD, Manoj C, Patro PK, Sreedhar SV, Harinarayana T (2011) Deep electrical signatures across the Achankovil shear zone, Southern Granulite Terrain inferred from magnetotellurics. Gondwana Res 20:405–426

Nandakumar V, Harley SL (2000) A reappraisal of the pressure–temperature path of granulites from the Kerala Khondalite Belt, Southern India. J Geol 108:687–703

Paton C, Woodhead JD, Hellstrom JC, Hergt JM, Greig A, Maas R (2010) Improved laser ablation U–Pb zircon geochronology through robust downhole fractionation correction. Geochem Geophys Geosyst 11:1–36

Paton C, Hellstrom J, Paul B, Woodhead J, Hergt J (2011) Iolite: freeware for the visualisation and processing of mass spectrometric data. J Anal At Spectrom 26:2508–2518

Pearce NJG, Perkins WT, Westgate JA, Gorton MP, Jackson SE, Neal CR, Chenery SP (1997) A compilation of new and published major and trace element data for NIST SRM 610 and NIST SRM 612 glass reference materials. Geostand Newsl 21:115–144

Pearce MA, White AJR, Gazley MF (2015) TCInvestigator: automated calculation of mineral mode and composition contours for thermocalc pseudosections. J Metamorph Geol 33:413–425. doi:10.1111/jmg.12126

Plavsa D, Collins AS, Foden JF, Kropinski L, Santosh M, Chetty TRK, Clark C (2012) Delineating crustal domains in Peninsular India: age and chemistry of orthopyroxene-bearing felsic gneisses in the Madurai Block. Precambr Res 198–199:77–93

Plavsa D, Collins AS, Payne JL, Foden JD, Clark C, Santosh M (2014) Detrital zircons in basement metasedimentary protoliths unveil the origins of southern India. Bull Geol Soc Am 126:791–812

Powell R, Holland TJB (1988) An internally consistent dataset with uncertainties and correlations: 3. Applications to geobarometry, worked examples and a computer program. J Metamorph Geol 6:173–204

Prakash D (2010) New SHRIMP U-Pb zircon ages of the metapelitic granulites from NW of Madurai, Southern India. J Geol Soc India 76:371–383

Raith MM, Sengupta P, Kooijman E, Upadhyay D, Srikantappppa C (2010) Corundum-leucosome-bearing aluminous gneiss from Ayyarmalai, Southern Granulite Terrain, India: a textbook example of vapor phase-absent muscovite-melting in silica-undersaturated aluminous rocks. Am Mineral 95:897–907

Rajesh KG, Chetty TRK (2006) Structure and tectonics of the Achankovil Shear Zone, southern India. Gondwana Res 10:86–98

Rubatto D (2002) Zircon trace element geochemistry: partitioning with garnet and the link between U–Pb ages and metamorphism. Chem Geol 184:123–138

Rubatto D, Hermann J (2007) Experimental zircon/melt and zircon/garnet trace element partitioning and implications for the geochronology of crustal rocks. Chem Geol 241:38–61

Sacks PE, Nambiar CG, Walters LJ (1997) Dextral Pan-African shear along the southwestern edge of the Achankovil shear belt, south India: constraints on Gondwana reconstructions. J Geol 105:275–284

Santosh M (1987) Cordierite gneisses of southern Kerala, India: petrology, fluid inclusions and implications for crustal uplift history. Contrib Mineral Petrol 96:343–356

Santosh M, Sajeev K (2006) Anticlockwise evolution of ultrahigh-temperature granulites within continental collision zone in southern India. Lithos 92:447–464

Santosh M, Yokoyama K, Biju-Sekhar S, Rogers JJW (2003) Multiple tectonothermal events in the granulite blocks of southern India revealed from EPMA dating: implications on the history of supercontinents. Gondwana Res 6:29–63

Santosh M, Tanaka K, Yokoyama K, Collins AS (2005) Late Neoproterozoic-Cambrian felsic magmatism along transcrustal shear zones in southern India: U–Pb electron microprobe ages and implications for the amalgamation of the Gondwana supercontinent. Gondwana Res 8:31–42

Santosh M, Morimoto T, Tsutsumi Y (2006a) Geochronology of the khondalite belt of Trivandrum Block, Southern India: electron probe ages and implications for Gondwana tectonics. Gondwana Res 9:261–278

Santosh M, Tagawa M, Yokoyama K, Collins AS (2006b) U–Pb electron probe geochronology of the Nagercoil granulites, Southern India: implications for Gondwana amalgamation. J Asian Earth Sci 28:63–80

Santosh M, Maruyama S, Sato K (2009a) Anatomy of a Cambrian suture in Gondwana: Pacific-type orogeny in southern India? Gondwana Res 16:321–341

Santosh M, Tsunogae T, Tsutsumi Y, Iwamura M (2009b) Microstructurally controlled monazite chronology of ultrahigh-temperature granulites from southern India: implications for the timing of Gondwana assembly. Island Arc 18:248–265

Santosh M, Xiao WJ, Tsunogae T, Chetty TRK, Yellappa T (2012) The Neoproterozoic subduction complex in southern India: SIMS zircon U–Pb ages and implications for Gondwana assembly. Precambr Res 192–195:190–208

Sato K, Santosh M, Tsunogae T, Kon Y, Yamamoto S, Hirata T (2010) Laser ablation ICP mass spectrometry for zircon U–Pb geochronology of ultrahigh-temperature gneisses and A-type granites from the Achankovil Suture Zone, southern India. J Geodyn 50:286–299

Scherer E, Münker C, Mezger K (2001) Calibration of the lutetium–hafnium clock. Science 293:683–687

Stern RA, Amelin Y (2003) Assessment of errors in SIMS zircon U–Pb geochronology using a natural zircon standard and NIST SRM 610 glass. Chem Geol 197:111–142

Stern RA, Bodorkos S, Kamo SL, Hickman AH, Corfu F (2009) Measurement of SIMS instrumental mass fractionation of Pb isotopes during zircon dating. Geostand Geoanal Res 33:145–168

Taylor RJM, Clark C, Fitzsimons IC, Santosh M, Hand M, Evans N, McDonald B (2014) Post-peak, fluid-mediated modification of granulite facies zircon and monazite in the Trivandrum Block, southern India. Contrib Mineral Petrol 168:1–17

Taylor RJM, Harley SL, Hinton RW, Elphick S, Clark C, Kelly NM (2015) Experimental determination of REE partition coefficients between zircon, garnet and melt: a key to understanding high-temperature crustal processes. J Metamorph Geol 33(3):231–248. doi:10.1111/jmg.12118

Teale W et al (2011) Cryogenian (∼830Ma) mafic magmatism and metamorphism in the northern Madurai Block, southern India: a magmatic link between Sri Lanka and Madagascar? J Asian Earth Sci 42:223–233

Tomson JK, Bhaskar Rao YJ, Vijaya Kumar T, Choudhary AK (2013) Geochemistry and neodymium model ages of Precambrian charnockites, Southern Granulite Terrain, India: constraints on terrain assembly. Precambr Res 227:295–315

White RW, Powell R, Holland TJB, Johnson TE, Green ECR (2014a) New mineral activity–composition relations for thermodynamic calculations in metapelitic systems. J Metamorph Geol 32:261–286

White RW, Powell R, Johnson TE (2014b) The effect of Mn on mineral stability in metapelites revisited: new a–x relations for manganese-bearing minerals. J Metamorph Geol 32:809–828

Whitehouse MJ, Platt JP (2003) Dating high-grade metamorphism—constraints from rare-earth elements in zircon and garnet. Contrib Mineral Petrol 145:61–74

Whitehouse MJ, Kumar GR, Rimša A (2014) Behaviour of radiogenic Pb in zircon during ultrahigh-temperature metamorphism: an ion imaging and ion tomography case study from the Kerala Khondalite Belt, southern India. Contrib Mineral Petrol 168:1–18

Williams IS (1998) U–Th–Pb geochronology by ion microprobe. Rev Econ Geol 7(1):1–35

Yakymchuk C, Brown M (2014) Behaviour of zircon and monazite during crustal melting. J Geol Soc 171:465–479
Acknowledgments
Zircon and monazite U–Pb analyses were carried out using the SHRIMP II ion microprobe at the John de Laeter Centre for Isotope Research, Perth, managed by Allen Kennedy. REE analyses were carried out at the LA-ICPMS Facility at the Department of Applied Geology at Curtin University. We also acknowledge the facilities and scientific and technical assistance of the Centre for Materials Research at Curtin University. We would also like to thank Jochen Hoefs for editorial handing, along with Simon Harley, Leo Kriegsman and one anonymous reviewer for comments that greatly improved the original manuscript. R. Taylor acknowledges salary support through a Curtin University strategic research grant to C. Clark who is supported by an Australian Research Council DECRA (DE120103067) Project, with additional project funding through the DIISR Australia–India Strategic Fund Project ST030046. ASC acknowledges support from the ARC through FT120100340, and his contribution forms TRaX record 345. This is a contribution to International Geoscience Programme (IGCP) Project 628.
Additional information
Communicated by Jochen Hoefs.
Electronic supplementary material
Below is the link to the electronic supplementary material.
About this article
Cite this article
Taylor, R.J.M., Clark, C., Johnson, T.E. et al. Unravelling the complexities in high-grade rocks using multiple techniques: the Achankovil Zone of southern India. Contrib Mineral Petrol 169, 51 (2015). https://doi.org/10.1007/s00410-015-1147-2
Received:

Accepted:

Published:
Keywords
Phase equilibria modelling

Zircon geochronology

Metamorphism

Achankovil Zone

Gondwana