Abstract
The quarry at Kottavattom in the Trivandrum Block of southern India contains spectacular examples of fluid-assisted alteration of high-grade metamorphic rocks. Garnet-biotite gneiss has undergone a change in mineral assemblage to form submetre scale orthopyroxene-bearing patches, later retrogressed to form an amphibole-bearing lithology. These patches, often referred to as arrested or incipient charnockite, crosscut the original metamorphic foliation and are typically attributed to passage of a low aH2O fluid through the rock. Whilst this conversion is recognised as a late stage process, little detailed chronological work exists to link it temporally to metamorphism in the region. Zircon and monazite analysed from Kottavattom not only record metamorphism in the Trivandrum Block but also show internal, lobate textures crosscutting the original zoning, consistent with fluid-aided coupled dissolution-reprecipitation during formation of the orthopyroxene-bearing patches. High-grade metamorphism at the quarry occurred between the formation of metamorphic monazite at ~585 Ma and the growth of metamorphic zircon at ~523 Ma. The fluid-assisted alteration of the garnet-biotite gneiss is poorly recorded by altered zircon with only minimal resetting of the U–Pb system, whereas monazite has in some cases undergone complete U–Pb resetting and records an age for fluid infiltration at ~495 Ma. The fluid event therefore places the formation of the altered patches at least 25 Myr after the zircon crystallisation in the garnet-biotite gneiss. The most likely fluid composition causing the modification and U–Pb resetting of zircon and monazite is locally derived hypersaline brine.
Access options
Buy single article
Instant access to the full article PDF.
US$ 39.95
Tax calculation will be finalised during checkout.
Subscribe to journal
Immediate online access to all issues from 2019. Subscription will auto renew annually.
US$ 119
Tax calculation will be finalised during checkout.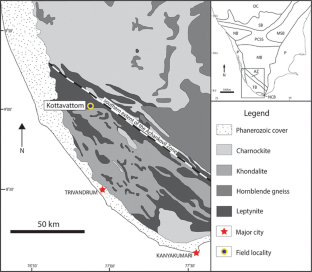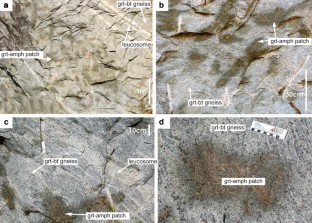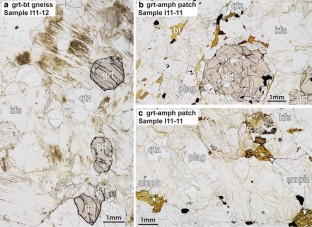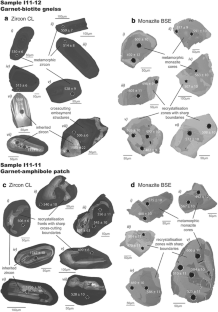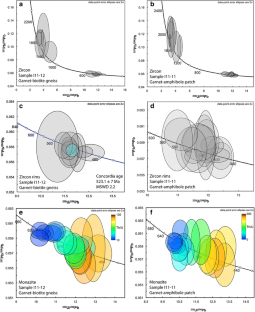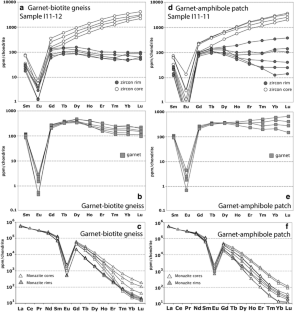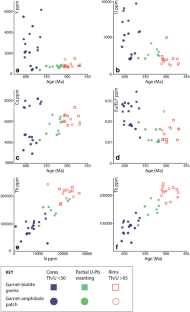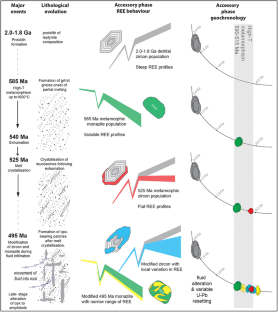 References
Anders E, Grevesse N (1989) Abundances of the elements: meteoritic and solar. Geochim Cosmochim Acta 53(1):197–214

Aranovich LY, Newton RC, Manning CE (2013) Brine-assisted anatexis: experimental melting in the system haplogranite–H2O–NaCl–KCl at deep-crustal conditions. Earth Planet Sci Lett 374:111–120. doi:10.1016/j.epsl.2013.05.027

Baldwin JA, Brown M (2008) Age and duration of ultrahigh-temperature metamorphism in the Anápolis–Itauçu complex, Southern Brasília Belt, central Brazil—constraints from U–Pb geochronology, mineral rare earth element chemistry and trace-element thermometry. J Metamorph Geol 26(2):213–233

Banerjee A, Bhattacharya S, Sajeev K, Santosh M (2013) Numerical simulations of CO2 migration during charnockite genesis. Geology 41:743–746

Bartlett JM, Dougherty-Page JS, Harris NBW, Hawkesworth CJ, Santosh M (1998) The application of single zircon evaporation and model Nd ages to the interpretation of polymetamorphic terrains: an example from the Proterozoic mobile belt of south India. Contrib Miner Petrol 131(2):181–195

Bingen B, Van Breemen O (1998) U–Pb monazite ages in amphibolite- to granulite-facies orthogneiss reflect hydrous mineral breakdown reactions: Sveconorwegian Province of SW Norway. Contrib Miner Petrol 132(4):336–353

Black LP, Kamo SL, Allen CM, Aleinikoff JN, Davis DW, Korsch RJ, Foudoulis C (2003) TEMORA 1: a new zircon standard for Phanerozoic U–Pb geochronology. Chem Geol 200(1–2):155–170

Braun I, Kriegsman LM (2003) Proterozoic crustal evolution of southernmost India and Sri Lanka. Geol Soc Lond Spec Publ 206:169–202

Braun I, Montel JM, Nicollet C (1998) Electron microprobe dating of monazites from high-grade gneisses and pegmatites of the Kerala Khondalite Belt, southern India. Chem Geol 146(1–2):65–85

Buick IS, Clark C, Rubatto D, Hermann J, Pandit M, Hand M (2010) Constraints on the Proterozoic evolution of the Aravalli-Delhi Orogenic belt (NW India) from monazite geochronology and mineral trace element geochemistry. Lithos 120(3–4):511–528

Catlos EJ (2013) Versatile Monazite: resolving geological records and solving challenges in materials science: generalizations about monazite: implications for geochronologic studies. Am Mineral 98(5–6):819–832. doi:10.2138/am.2013.4336

Chacko T, Ravindra Kumar GR, Newton RC (1987) Metamorphic P–T conditions of the Kerala (South India) Khondalite Belt, a granulite facies supracrustal terrain. J Geol 95(3):343–358

Cherniak DJ, Watson EB, Grove M, Harrison TM (2004) Pb diffusion in monazite: a combined RBS/SIMS study. Geochim Cosmochim Acta 68(4):829–840

Claoue-Long JC, Compston W, Roberts J, Fanning CM (1995) Two Carboniferous ages: a comparison of SHRIMP zircon dating with conventional zircon ages and 40Ar/39Ar analysis. In: Geochronology, time scales and global stratigraphic correlation, SEPM Special Publication 54, pp 3–21

Collins AS, Clark C, Sajeev K, Santosh M, Kelsey DE, Hand M (2007a) Passage through India: the Mozambique Ocean suture, high-pressure granulites and the Palghat-Cauvery shear zone system. Terra Nova 19(2):141–147

Collins AS, Santosh M, Braun I, Clark C (2007b) Age and sedimentary provenance of the Southern Granulites, South India: U–Th–Pb SHRIMP secondary ion mass spectrometry. Precambr Res 155(1–2):125–138

Collins AS, Clark C, Plavsa D (2014) Peninsular India in Gondwana: the tectonothermal evolution of the Southern Granulite Terrain and its Gondwanan counterparts. Gondwana Res 25(1):190–203

Compston W, Williams IS, Meyer C (1984) U–Pb geochronology of zircons from lunar breccia 73217 using a sensitive high mass-resolution ion microprobe. J Geophys Res 89(Suppl):525–534

De Laeter JR, Kennedy AK (1998) A double focusing mass spectrometer for geochronology. Int J Mass Spectrom 178(1–2):43–50

Didier A, Bosse V, Boulvais P, Bouloton J, Paquette JL, Montel JM, Devidal JL (2013) Disturbance versus preservation of U–Th–Pb ages in monazite during fluid-rock interaction: textural, chemical and isotopic in situ study in microgranites (Velay Dome, France). Contrib Mineral Petrol 165:1–22

Endo T, Tsunogae T, Santosh M, Shaji E (2012a) Phase equilibrium modeling of incipient charnockite formation in NCKFMASHTO and MnNCKFMASHTO systems: a case study from Rajapalaiyam, Madurai Block, southern India. Geosci Front 3(6):801–811

Endo T, Tsunogae T, Santosh M, Shimizu H, Shaji E (2012b) Granulite formation in a Gondwana fragment: petrology and mineral equilibrium modeling of incipient charnockite from Mavadi, southern India. Mineral Petrol 107:1–12

Fletcher IR, McNaughton NJ, Davis WJ, Rasmussen B (2010) Matrix effects and calibration limitations in ion probe U–Pb and Th–Pb dating of monazite. Chem Geol 270(1–4):31–44

Förster HJ, Harlov DE (1999) Monazite-(Ce)-huttonite solid solutions in granulite-facies metabasites from the Ivrea-Verbano zone, Italy. Mineral Mag 63(4):587–594

Foster G, Kinny P, Vance D, Prince C, Harris N (2000) The significance of monazite U–Th–Pb age data in metamorphic assemblages; a combined study of monazite and garnet chronometry. Earth Planet Sci Lett 181(3):327–340

Foster G, Gibson HD, Parrish R, Horstwood M, Fraser J, Tindle A (2002) Textural, chemical and isotopic insights into the nature and behaviour of metamorphic monazite. Chem Geol 191(1–3):183–207

Foster G, Parrish RR, Horstwood MSA, Chenery S, Pyle J, Gibson HD (2004) The generation of prograde P–T–t points and paths; a textural, compositional, and chronological study of metamorphic monazite. Earth Planet Sci Lett 228(1–2):125–142

Gasser D, Bruand E, Rubatto D, Stüwe K (2012) The behaviour of monazite from greenschist facies phyllites to anatectic gneisses: an example from the Chugach Metamorphic Complex, southern Alaska. Lithos 134–135:108–122

Geisler T, Schaltegger U, Tomaschek F (2007) Re-equilibration of zircon in aqueous fluids and melts. Elements 3(1):43–50

Ghosh JG, de Wit MJ, Zartman RE (2004) Age and tectonic evolution of Neoproterozoic ductile shear zones in the Southern Granulite Terrain of India, with implications for Gondwana studies. Tectonics 23(3):TC3006 3001–3038

Hansen EC, Janardhan AS, Newton RC, Prame WKBN, Ravindra Kumar GR (1987) Arrested charnockite formation in southern India and Sri Lanka. Contrib Miner Petrol 96(2):225–244

Harley SL, Kelly NM (2007) The impact of zircon-garnet REE distribution data on the interpretation of zircon U–Pb ages in complex high-grade terrains: an example from the Rauer Islands, East Antarctica. Chem Geol 241(1–2):62–87

Harlov D (2011) Petrological and experimental application of REE- and actinide-bearing accessory minerals to the study of Precambrian high-grade gneiss terranes. Geol Soc Am Mem 207:13–24

Harlov DE (2012) The potential role of fluids during regional granulite-facies dehydration in the lower crust. Geosci Front 3(6):813–827

Harlov D (2014) The role of fluids in the lower crust and upper mantle: a tribute to Jacques Touret. Geosci Front (Article in press). doi:10.1016/j.gsf.2014.04.005

Harlov D, Dunkley DJ (2010) Experimental high-grade alteration of zircon using akali- and Ca-bearing solutions: resetting the zircon geochronometer during metasomatism. AGU Fall Meeting Abstracts V41D-2301

Harlov DE, Hetherington CJ (2010) Partial high-grade alteration of monazite using alkali-bearing fluids: experiment and nature. Am Mineral 95(7):1105–1108

Harlov DE, Wirth R, Hetherington CJ (2007) The relative stability of monazite and huttonite at 300–900 & #xB0;C and 200–1000 MPa: metasomatism and the propagation of metastable mineral phases. Am Mineral 92(10):1652–1664

Harlov DE, Wirth R, Hetherington CJ (2011) Fluid-mediated partial alteration in monazite: the role of coupled dissolution-reprecipitation in element redistribution and mass transfer. Contrib Miner Petrol 162(2):329–348

Hermann J, Rubatto D (2003) Relating zircon and monazite domains to garnet growth zones: age and duration of granulite facies metamorphism in the Val Malenco lower crust. J Metamorph Geol 21(9):833–852

Hetherington CJ, Harlov DE, Budzyń B (2010) Experimental metasomatism of monazite and xenotime: mineral stability, REE mobility and fluid composition. Mineral Petrol 99(3–4):165–184

Hokada T, Harley SL (2004) Zircon growth in UHT leucosome: constraints from zircon-garnet rare earth elements (REE) relations in Napier Complex, East Antarctica. J Mineral Petrol Sci 99(4):180–190

Hoskin PWO, Black LP (2000) Metamorphic zircon formation by solid-state recrystallization of protolith igneous zircon. J Metamorph Geol 18(4):423–439

Hoskin PWO, Schaltegger U (2003) The composition of zircon and igneous and metamorphic petrogenesis. Rev Miner Geochem 53:27–62

Kelly NM, Harley SL (2005) An integrated microtextural and chemical approach to zircon geochronology: refining the Archaean history of the Napier Complex, east Antarctica. Contrib Miner Petrol 149(1):57–84

Kelly NM, Harley SL, Möller A (2012) Complexity in the behavior and recrystallization of monazite during high-T metamorphism and fluid infiltration. Chem Geol 322–323:192–208

Kelsey DE, Clark C, Hand M (2008) Thermobarometric modelling of zircon and monazite growth in melt-bearing systems: examples using model metapelitic and metapsammitic granulites. J Metamorph Geol 26(2):199–212

Kennedy A, De Laeter JR (1994) The performance of the WA SHRIMP II ion microprobe. Eighth international conference on geochronology, cosmochronology and isotope geology, vol 1107, p 166

Korhonen FJ, Saw AK, Clark C, Brown M, Bhattacharya S (2011) New constraints on UHT metamorphism in the Eastern Ghats Province through the application of phase equilibria modelling and in situ geochronology. Gondwana Res 20(4):764–781

Korhonen FJ, Clark C, Brown M, Bhattacharya S, Taylor R (2013) How long-lived is ultrahigh temperature (UHT) metamorphism? Constraints from zircon and monazite geochronology in the Eastern Ghats orogenic belt, India. Precambr Res 234:322–350

Krenn E, Harlov DE, Finger F, Wunder B (2012) LREE-redistribution among fluorapatite, monazite, and allanite at high pressures and temperatures. Am Mineral 97(11–12):1881–1890

Ludwig K (2003) A geochronological toolkit for microsoft excel. Berkeley Geochron Centre, Special Publication 470

Ludwig K (2009) Errors of isotope ratios acquired by double interpolation. Chem Geol 268(1–2):24–26

Mathieu R, Zetterström L, Cuney M, Gauthier-Lafaye F, Hidaka H (2001) Alteration of monazite and zircon and lead migration as geochemical tracers of fluid paleocirculations around the Oklo-Okélobondo and Bangombé natural nuclear reaction zones (Franceville basin, Gabon). Chem Geol 171(3–4):147–171

Misiti V, Tecce F, Gaeta M (2005) Fluids in low-pressure migmatites: a fluid inclusion study of rocks from the Gennargentu Igneous complex (Sardinia, Italy). Mineral Petrol 85(3–4):253–268

Nandakumar V, Harley SL (2000) A reappraisal of the pressure-temperature path of granulites from the Kerala Khondalite Belt, Southern India. J Geol 108(6):687–703

Newton RC (1992) Charnockitic alteration: evidence for CO2 infiltration in granulite facies metamorphism. J Metamorph Geol 10(3):383–400

Paton C, Woodhead JD, Hellstrom JC, Hergt JM, Greig A, Maas R (2010) Improved laser ablation U–Pb zircon geochronology through robust downhole fractionation correction. Geochem Geophys Geosyst 11(3):1–36

Paton C, Hellstrom J, Paul B, Woodhead J, Hergt J (2011) Iolite: freeware for the visualisation and processing of mass spectrometric data. J Anal At Spectrom 26(12):2508–2518

Pearce NJG, Perkins WT, Westgate JA, Gorton MP, Jackson SE, Neal CR, Chenery SP (1997) A compilation of new and published major and trace element data for NIST SRM 610 and NIST SRM 612 glass reference materials. Geostand Newsl 21(1):115–144

Perchuk LL, Safonov OG, Gerya TV, Fu B, Harlov DE (2000) Mobility of components in metasomatic transformation and partial melting of gneisses: an example from Sri Lanka. Contrib Miner Petrol 140(2):212–232

Pichamuthu CS (1960) Charnockite in the making. Nature 188(4745):135–136

Poitrasson F, Chenery S, Bland DJ (1996) Contrasted monazite hydrothermal alteration mechanisms and their geochemical implications. Earth Planet Sci Lett 145(1–4):79–96

Poitrasson F, Chenery S, Shepherd TJ (2000) Electron microprobe and LA-ICP-MS study of monazite hydrothermal alteration: implications for U-Th-Pb geochronology and nuclear ceramics. Geochim Cosmochim Acta 64(19):3283–3297

Putnis A (2002) Mineral replacement reactions: from macroscopic observations to microscopic mechanisms. Mineral Mag 66(5):689–708

Putnis A (2009) Mineral replacement reactions. Rev Miner Geochem 70:87–124

Raith M, Srikantappa C (1993) Arrested charnockite formation at Kottavattam, southern India. J Metamorph Geol 11(6):815–832

Rajesh HM (2004) The igneous charnockite-high-K alkali-calcic I-type granite-incipient charnockite association in Trivandrum Block, southern India. Contrib Miner Petrol 147(3):346–362

Rajesh HM, Santosh M (2012) Charnockites and charnockites. Geosci Front 3(6):737–744

Ravindra Kumar GR (2004) Mechanism of arrested charnockite formation at Nemmara, Palghat region, southern India. Lithos 75(3–4):331–358

Rubatto D (2002) Zircon trace element geochemistry: partitioning with garnet and the link between U–Pb ages and metamorphism. Chem Geol 184(1–2):123–138

Rubatto D, Hermann J (2007) Experimental zircon/melt and zircon/garnet trace element partitioning and implications for the geochronology of crustal rocks. Chem Geol 241(1–2):38–61

Rubatto D, Hermann J, Buick IS (2006) Temperature and bulk composition control on the growth of monazite and zircon during low-pressure anatexis (Mount Stafford, Central Australia). J Petrol 47(10):1973–1996

Santosh M, Omori S (2008) CO2 flushing: a plate tectonic perspective. Gondwana Res 13(1):86–102

Santosh M, Sajeev K (2006) Anticlockwise evolution of ultrahigh-temperature granulites within continental collision zone in southern India. Lithos 92(3–4):447–464

Santosh M, Yokoyama K, Biju-Sekhar S, Rogers JJW (2003) Multiple tectonothermal events in the granulite blocks of southern India revealed from EPMA dating: implications on the history of supercontinents. Gondwana Res 6(1):29–63

Santosh M, Collins AS, Tamashiro I, Koshimoto S, Tsutsumi Y, Yokoyama K (2006a) The timing of ultrahigh-temperature metamorphism in Southern India: U–Th–Pb electron microprobe ages from zircon and monazite in sapphirine-bearing granulites. Gondwana Res 10(1–2):128–155

Santosh M, Morimoto T, Tsutsumi Y (2006b) Geochronology of the khondalite belt of Trivandrum Block, Southern India: electron probe ages and implications for Gondwana tectonics. Gondwana Res 9(3):261–278

Santosh M, Sajeev K, Li JH (2006c) Extreme crustal metamorphism during Columbia supercontinent assembly: evidence from North China Craton. Gondwana Res 10(3–4):256–266

Santosh M, Maruyama S, Sato K (2009) Anatomy of a Cambrian suture in Gondwana: Pacific-type orogeny in southern India? Gondwana Res 16(2):321–341

Sawyer EW (2001) Melt segregation in the continental crust: distribution and movement of melt in anatectic rocks. J Metamorph Geol 19(3):291–309

Schaltegger U, Fanning CM, Günther D, Maurin JC, Schulmann K, Gebauer D (1999) Growth, annealing and recrystallization of zircon and preservation of monazite in high-grade metamorphism: conventional and in situ U–Pb isotope, cathodoluminescence and microchemical evidence. Contrib Miner Petrol 134(2–3):186–201

Seydoux-Guillaume AM, Paquette JL, Wiedenbeck M, Montel JM, Heinrich W (2002) Experimental resetting of the U–Th–Pb systems in monazite. Chem Geol 191(1–3):165–181

Smit CA, Van Reenen DD (1997) Deep crustal shear zones, high-grade tectonites, and associated metasomatic alteration in the Limpopo Belt, South Africa: implications for deep crustal processes. J Geol 105(1):37–57

Stähle HJ, Raith M, Hoernes S, Delfs A (1987) Element mobility during incipient granulite formation at Kabbaldurga, Southern India. J Petrol 28(5):803–834

Stern RA, Amelin Y (2003) Assessment of errors in SIMS zircon U–Pb geochronology using a natural zircon standard and NIST SRM 610 glass. Chem Geol 197(1–4):111–142

Stern RA, Bodorkos S, Kamo SL, Hickman AH, Corfu F (2009) Measurement of SIMS instrumental mass fractionation of Pb isotopes during zircon dating. Geostand Geoanal Res 33(2):145–168

Tadokoro H, Tsunogae T, Santosh M (2008) Metamorphic P–T path of the eastern Trivandrum Granulite Block, southern India: implications for regional correlation of lower crustal fragments. J Mineral Petrol Sci 103(4):279–284

Tomaschek F, Kennedy AK, Villa IM, Lagos M, Ballhaus C (2003) Zircons from Syros, Cyclades, Greece—recrystallization and mobilization of zircon during high-pressure metamorphism. J Petrol 44(11):1977–2002

Tomkins HS, Williams IS, Ellis DJ (2005) In situ U–Pb dating of zircon formed from retrograde garnet breakdown during decompression in Rogaland, SW Norway. J Metamorph Geol 23(4):201–215

Touret JLR, Huizenga JM (2012) Fluid-assisted granulite metamorphism: a continental journey. Gondwana Res 21(1):224–235

Tropper P, Manning CE, Harlov DE (2011) Solubility of CePO4 monazite and YPO 4 xenotime in H2O and H 2O-NaCl at 800 °C and 1GPa: implications for REE and Y transport during high-grade metamorphism. Chem Geol 282(1–2):58–66

Unnikrishnan-Warrier C, Santosh M, Yoshida M (1995) First report of Pan-African Sm-Nd and Rb-Sr mineral isochron ages from regional charnockites of southern India. Geol Mag 132(3):253–260

Vavra G, Schaltegger U (1999) Post-granulite facies monazite growth and rejuvenation during Permian to Lower Jurassic thermal and fluid events in the Ivrea Zone (Southern Alps). Contrib Miner Petrol 134(4):405–414

Vavra G, Schmid R, Gebauer D (1999) Internal morphology, habit and U-Th-Pb microanalysis of amphibolite-to-granulite facies zircons: geochronology of the Ivrea Zone (Southern Alps). Contrib Miner Petrol 134(4):380–404

Watt GR, Harley SL (1993) Accessory phase controls on the geochemistry of crustal melts and restites produced during water-undersaturated partial melting. Contrib Miner Petrol 114(4):550–566

Whitehouse MJ, Platt JP (2003) Dating high-grade metamorphism—constraints from rare-earth elements in zircon and garnet. Contrib Miner Petrol 145(1):61–74

Williams IS (1998) U–Th–Pb geochronology by ion microprobe. Rev Econ Geol 7:1–35

Williams ML, Jercinovic MJ, Harlov DE, Budzyń B, Hetherington CJ (2011) Resetting monazite ages during fluid-related alteration. Chem Geol 283(3–4):218–225
Acknowledgments
Zircon and monazite U–Pb analyses were carried out using the SHRIMP II Ion Microprobe at the John de Laeter Centre for Isotope Research, Perth, managed by Allen Kennedy. REE analyses were carried out at the LA-ICP-MS Facility at the Dept. of Applied Geology at Curtin University. We also acknowledge the facilities, scientific and technical assistance of the Centre for Materials Research at Curtin University. We would like to thank Prof. Jochen Hoefs (editorial handling) and three anonymous reviewers for greatly improving the quality of the manuscript. R. Taylor acknowledges salary support through a Curtin University strategic research grant to C. Clark who is supported by an Australian Research Council DECRA (DE120103067) project, with additional project funding through the DIISR Australia–India Strategic Fund project ST030046, and Australian Research Council Discovery Project Grant DP0664679 to I.C.W. Fitzsimons.
Additional information
Communicated by Prof. Jochen Hoefs.
Electronic supplementary material
Below is the link to the electronic supplementary material.
About this article
Cite this article
Taylor, R.J.M., Clark, C., Fitzsimons, I.C.W. et al. Post-peak, fluid-mediated modification of granulite facies zircon and monazite in the Trivandrum Block, southern India. Contrib Mineral Petrol 168, 1044 (2014). https://doi.org/10.1007/s00410-014-1044-0
Received:

Accepted:

Published:
Keywords
Charnockite

Crustal fluids

Monazite

Granulites

South India