Abstract
Ultramafic rocks around the city of Muğla in SW Turkey are represented by mantle peridotites depleted to various degrees, ranging from cpx-rich harzburgites to depleted harzburgite and dunite. Cpx-rich harzburgites are thought to be the residua left after extraction of MORB-type basalt, from which high-Al chromitite [49.2 < Cr# = 100 × Cr/(Cr + Al) < 53.5] crystallised with a higher proportion of 187Os/188Os (average of 0.1361). However, depleted harzburgites are assumed to be the residua left after extraction of hydrous boninitic melt produced by second stage partial melting of already depleted mantle due to a subducting slab, from which high-Cr chromitites (64.2 < Cr# < 85.9) with lower and heterogeneous 187Os/188Os ratio (average of 0.1324) were crystallised as a result of melt–rock interaction in a supra-subduction environment. Dunites around the chromite deposits are considered to be the product of melt–peridotite interaction. Most of the chromitites contain high-Cr chromite and display enrichment in IPGE (Os, Ir, Ru) over PPGE (Rh, Pt, Pd), with PGE concentrations between 61 and 1,305 ppb. Consistently, laurite-erlichmanite series minerals with various Os concentrations are found to be the most abundant PGM inclusions in chromite. Os–Ir–Ru alloy, irarsite, and kashinite, as well as Pt–Fe alloy and Pt-oxide, which are not common in ophiolitic chromitites, were also detected as magmatic PGM inclusions. Pentlandite, millerite, and, rarely heazlewoodite form the magmatic inclusions of base-metal sulphide. The presence of olivine and clinopyroxene, as well as hydrous silicate inclusions such as amphibole and phlogopite, in high-Cr chromitite supports the idea that high-Cr chromitites were formed in a supra-subduction environment.
Access options
Buy single article
Instant access to the full article PDF.
US$ 39.95
Tax calculation will be finalised during checkout.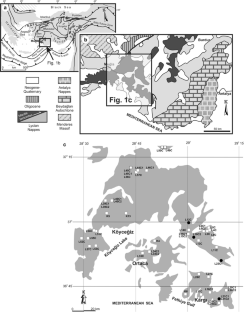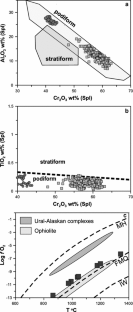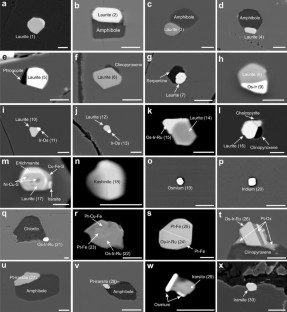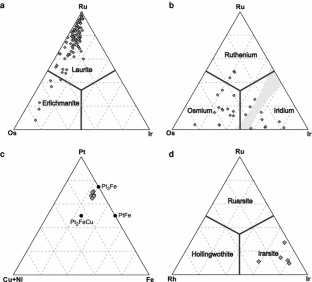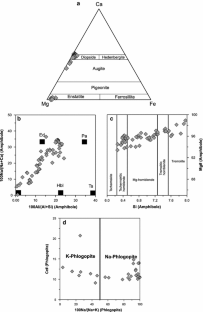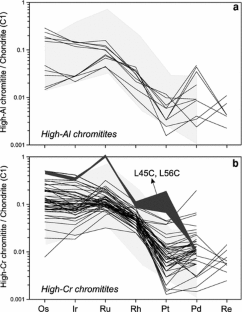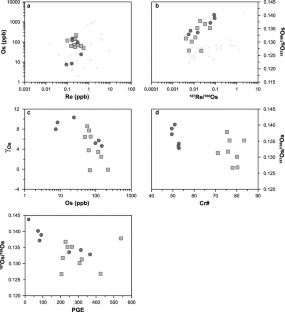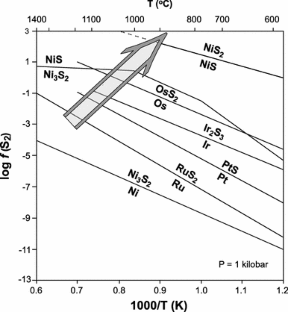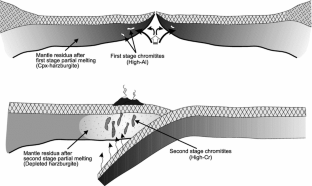 References
Alard O, Griffin WL, Pearson NJ, Lorand J-P, O'Reilly SY (2002) New insights into the Re–Os systematics of sub-continental lithospheric mantle from in situ analysis of sulphides. Earth Planet Sci Lett 203:651–663. doi:10.1016/S0012-821X(02)00799-9

Alard O, Luguet A, Pearson NJ, Griffin WL, Lorand JP, Gannoun A, Burton KW, O'Reilly SY (2005) In situ Os isotopes in abyssal peridotites bridge the isotopic gap between MORBs and their source mantle. Nature 436:1005–1008. doi:10.1038/nature03902

Alçiçek MC (2007) Tectonic development of an orogen-top rift recorded by its terrestrial sedimentation pattern: the Neogene Eşen Basin of southwestern Anatolia, Turkey. Sediment Geol 200:117–140. doi:10.1016/j.sedgeo.2007.04.003

Arai S, Uesugi J, Ahmed AH (2004) Upper crustal podiform chromitite from the northern Oman ophiolite as the stratigraphically shallowest chromitite in ophiolite and its implication for Cr concentration. Contrib Mineral Petrol 147:145–154. doi:10.1007/s00410-004-0552-8

Arai S, Kodoshima K, Morishita K (2006) Widespread arc-related melting in the mantle section of the northern Oman ophiolite as inferred from detrial chromian spinels. J Geol Soc 163:869–879. doi:10.1144/0016-76492005-057

Augé T (1987) Chromite deposits in the northwestern Oman ophiolite: mineralogical constraints. Miner Depos 22:1–10. doi:10.1007/BF00204235

Ballhaus C (1998) Origin of podiform chromite deposits by magma mingling. Earth Planet Sci Lett 156:185–193. doi:10.1016/S0012-821X(98)00005-3

Ballhaus C, Berry RF, Green DH (1991) High pressure experimental calibration of the olivine-orthopyroxene-spinel oxygen barometer: implications for the oxidation of the Mantle. Contrib Mineral Petrol 107:27–40. doi:10.1007/BF00311183

Ballhaus C, Bockrath C, Wohlgemuth-Ueberwasser C, Laurenz V, Berndt J (2006) Fractionation of the noble metals by physical processes. Contrib Mineral Petrol 152:667–684. doi:10.1007/s00410-006-0126-z

Becker H, Shirey SB, Carlson RW (2001) Effects of melt percolation on the Re–Os systematics of peridotites from a Paleozoic convergent margin. Earth Planet Sci Lett 188:107–121. doi:10.1016/S0012-821X(01)00308-9

Bockrath C, Ballhaus C, Holzheid A (2004) Stabilities of laurite RuS2 and monosulfide liquid solution at magmatic temperature. Chem Geol 208:265–271. doi:10.1016/j.chemgeo.2004.04.016

Brandon AD, Creaser RA, Shirey SB, Carlson RW (1996) Osmium recycling in subduction zones. Science 272:861–864. doi:10.1126/science.272.5263.861

Brandon AD, Snow JE, Walker RJ, Morgan JW, Mock TD (2000) 190Pt–186Os and 187Re–187Os systematics of abyssal peridotites. Earth Planet Sci Lett 177:319–335. doi:10.1016/S0012-821X(00)00044-3

Brenan JM, Andrews D (2001) High temperature stability of laurite and Ru–Os–Ir alloy and their role in PGE fractionation in mafic magmas. Can Mineral 39:341–360. doi:10.2113/gscanmin.39.2.341

Büchl A, Brugmann G, Batanova VG (2004) Formation of podiform chromitite deposits: implication from PGE abundances and Os isotopic composition of chromites from the Troodos complex, Cyprus. Chem Geol 208:217–232. doi:10.1016/j.chemgeo.2004.04.013

Collins AS, Robertson AHF (1999) Evolution of the Lycian Allochthon, western Turkey, as a north-facing Late Palaeozoic to Mesozoic rift and passive continental margin. Geol J 34:107–138. doi:10.1002/(SICI)1099-1034(199901/06)34:1/2<107::AID-GJ817>3.0.CO;2-L

Collins AS, Robertson AHF (2003) Kinematic evidence for Late Mesozoic–Miocene emplacement of the Lycian Allochthon over the Western Anatolide Belt, SW Turkey. Geol J 38:295–310. doi:10.1002/gj.957

Dick HJB, Bullen T (1984) Chromian spinel as a petrogenetic indicator in abyssal and alpine-type peridotites and spatially associated lavas. Contrib Mineral Petrol 86:54–76. doi:10.1007/BF00373711

Garuti G, Zaccarini F, Moloshag V, Alimov V (1999) Platinum-group minerals as indicators of sulfur fugacity in ophiolitic upper mantle: an example from chromitites of the Ray-Iz ultramafic complex, Polar Urals, Russia. Can Mineral 37:1099–1115

Garuti G, Pushkarev EV, Zaccarini F, Cabella R, Anikina E (2003) Chromite composition and platinum-group mineral assemblage in the Uktus Uralian–Alaskan-type complex (Central Urals, Russia). Miner Depos 38:312–326

Kamenetsky VS, Crawford AJ, Meffre S (2001) Factors controlling chemistry of magmatic spinel: an empirical study of associated olivine, cr-spinel, and melt inclusions from primitive rocks. J Petrol 42:655–671. doi:10.1093/petrology/42.4.655

Kocks H, Melcher F, Meisel T, Burgath KP (2007) Diverse contributing sources to chromitite petrogenesis in the Shebenik Ophiolitic Complex, Albania: evidence from new PGE and Os-isotope data. Mineral Petrol 91:139–170. doi:10.1007/s00710-007-0194-4

Leblanc M (1991) Platinum-group elements and gold in ophiolitic complexes: distribution and fractionation from mantle to oceanic floor. In: Peters TJ, Nicolas A, Coleman RG (eds) Ophiolite genesis and evolution of oceanic lithosphere. Kluwer, Dordrecht, pp 231–260

Luguet A, Alard O, Lorand J-P, Pearson NJ, Ryan C, O'Reilly SY (2001) Laser-ablation microprobe (LAM)–ICPMS unravels the highly siderophile geochemistry of the oceanic mantle. Earth Planet Sci Lett 189:285–294. doi:10.1016/S0012-821X(01)00357-0

Makovicky M, Makovicky E, Rose-Hansen J (1986) Experimental studies on the solubility and distribution of platinum group elements in base-metal sulphides in platinum deposits. In: Gallagher MJ, Ixer RA, Neary CR, Prichard HM (eds) Metallogeny of basic and ultrabasic rocks. Institute of Mining and Metallurgy, London, pp 415–425

Malitch KN (2004) Osmium isotope constraints on contrasting sources and prolonged melting in the Proteozoic upper mantle: evidence from ophiolitic Ru–Os sulfides and Ru–Os–Ir alloys. Chem Geol 208:157–173. doi:10.1016/j.chemgeo.2004.04.010

Maurel C, Maurel P (1982) Etude experimentale de la distribbution de L'aluminium entre bain silicate basique et spinelle chromifere: implications petrogenetiques, teneur en chrome des spinelles. Bull Mineral 105:197–202

McDonough WF, Sun SS (1995) The composition of the earth. Chem Geol 120:223–253. doi:10.1016/0009-2541(94)00140-4

Meisel T, Walker RJ, Morgan JW (1996) The osmium isotopic composition of the earth's primitive upper mantle. Nature 383:517–520. doi:10.1038/383517a0

Meisel T, Fellner N, Moser J (2003) A simple procedure for the determination of platinum group elements and rhenium (Ru, Rh, Pd, Re, Os, Ir and Pt) using ID–ICP–MS with an inexpensive on-line matrix separation in geological and environmental materials. J Anal At Spectrom 18:720–726. doi:10.1039/b301754k

Melcher F, Grum W, Simon G, Thalhammer TV, Stumpfl EF (1997) Petrogenesis of the ophiolitic giant chromite deposits of Kempirsai, Kazakhstan: a study of solid and fluid inclusions in chromite. J Petrol 38:1419–1458. doi:10.1093/petrology/38.10.1419

Melcher F, Grum W, Thalhammer TV, Thalhammer OAR (1999) The giant chromite deposits at Kempirsai, Urals: constraints from trace element (PGE, REE) and isotope data. Miner Depos 34:250–272. doi:10.1007/s001260050202

Naldrett AJ, Duke JM (1980) Pt metals in magmatic sulfide ores. Science 208:1417–1424. doi:10.1126/science.208.4451.1417

Okay IA, Tansel I, Tüysüz O (2001) Obduction, subduction and collision as reflected in the Upper Cretaceous–Lower Tertiary sedimentary record of western Turkey. Geol Mag 138:117–142. doi:10.1017/S0016756801005088

Paliulionyte V, Meisel T, Ramminger P, Kettisch P (2006) High pressure asher digestions and ID–ICP–MS method for the determination of PGE concentrations in chromitite reference materials CHR-Bkg, GAN Pt-1and HHH. Geostand Geoanal Res 30:87–96. doi:10.1111/j.1751-908X.2006.tb00915.x

Poisson A, Yağmurlu F, Bozcu M, Şentürk M (2003) New insights on the tectonic setting and evolution around the apex of the Isparta Angle (SW Turkey). Geol J 38:257–282. doi:10.1002/gj.955

Reisberg L, Lorand J-P, Bedini RM (2004) Reliability of Os model ages in pervasive metasomatized continental mantle lithosphere: a case study of Sidamo spinel peridotite xenoliths (East African Rift, Ethiopia). Chem Geol 2004:119–140. doi:10.1016/j.chemgeo.2004.04.008

Robertson AHF (2002) Overview of the genesis and emplacement of Mesozoic ophiolites in the Eastern Mediterranean Tethyan region. Lithos 65:1–67. doi:10.1016/S0024-4937(02)00160-3

Schiano P, Clocchiatti R, Lorand JP, Massare D, Deloule E, Chaussidon M (1997) Primitive basaltic melts included in Podiform chromites from the Oman ophiolite. Earth Planet Sci Lett 146:489–497. doi:10.1016/S0012-821X(96)00254-3

Shirey SB, Walker RJ (1998) Re–Os isotopes in cosmochemistry and high-temperature geochemistry. Annu Rev Earth Planet Sci 26:423–500. doi:10.1146/annurev.earth.26.1.423

Smoliar MI, Walker RJ, Morgan JW (1996) Re–Os ages of group IIA, IIIA, IVA, and IVB iron meteorites. Science 271:1099–1102. doi:10.1126/science.271.5252.1099

Snow JE, Reisberg L (1995) Os isotopic systematic of the MORB Mantle: results from altered abyssal peridotites. Earth Planet Sci Lett 133:411–421. doi:10.1016/0012-821X(95)00099-X

Tredoux M, Lindsay NM, Davies G, McDonald I (1995) The fractionation of platinum-group elements in magmatic system, with the suggestion of a novel causal mechanism. S Afr J Geol 98:157–167

Uysal I (2008) Platinum-group minerals (PGM) and other solid inclusions in the Elbistan–Kahramanmaraş mantle-hosted ophiolitic chromitites, south-eastern Turkey: their petrogenetic significance. Turk J Earth Sci 17:729–740

Uysal I, Sadiklar MB, Tarkian M, Karsli O, Aydin F (2005) Mineralogy and composition of the chromitites and their platinum-group minerals from Ortaca (Muğla-SW Turkey): evidence for ophiolitic chromitite genesis. Mineral Petrol 83:219–242. doi:10.1007/s00710-004-0063-3

Uysal I, Tarkian M, Sadiklar MB, Şen C (2007a) Platinum-group-elements geochemistry and mineralogy in ophiolitic chromitites from the Kop Mountains, northeastern Turkey. Can Mineral 45:355–377. doi:10.2113/gscanmin.45.2.355

Uysal I, Zaccarini F, Garuti G, Meisel T, Tarkian M, Bernhardt HJ, Sadiklar MB (2007b) Ophiolitic chromitites from the Kahramanmaraş area, southeastern Turkey: their platinum-group elements (PGE) geochemistry, mineralogy and Os-isotope signature. Ofioliti 32:151–161

Uysal I, Kaliwoda M, Karsli O, Tarkian M, Sadiklar MB, Ottley CJ (2007c) Compositional variations as a result of partial melting and melt-peridotite in an upper mantle section from the Ortaca area, southwestern Turkey. Can Mineral 45:1471–1493. doi:10.3749/canmin.45.6.1471

Walker RJ, Prichard HM, Ishiwatari A, Pimentel M (2002) The osmium isotopic composition of the convecting upper mantle deduced from ophiolite chromites. Geochim Cosmochim Acta 66:329–345. doi:10.1016/S0016-7037(01)00767-0

Wilson M (1989) Igneous petrogenesis. Unwin Hyman, London

Zaccarini F, Pushkarev P, Garuti G (2007) Platinum-group elements mineralogy and geochemistry of chromitite of the Kluchevskoy ophiolite complex, Central Urals (Russia). Ore Geol Rev 33:20–30. doi:10.1016/j.oregeorev.2006.05.007

Zhou MF, Robinson PT, Bai WJ (1994) Formation of podiform chromites by melt–rock interaction in the upper mantle. Miner Depos 29:98–101

Zhou MF, Sun M, Keays RR, Kerrich RW (1998) Controls on platinum-group elemental distributions of podiform chromitites: a case study of high-Cr and high-Al chromitites from Chinese orogenic belts. Geochim Cosmochim Acta 62:677–688. doi:10.1016/S0016-7037(97)00382-7
Acknowledgments
This study is a part of PhD thesis of I. Uysal and was financially supported by the Scientific Research Foundation of Karadeniz Technical University (Project# 2005.112.005.05) as well as Socrates/Erasmus and DAAD (German Academic Exchange Services, 2004–2005). P. Stutz is greatly thanked for sample preparation. Dr. O. Karsli, Dr. R. Kandemir, and A. Haydar Aygün are gratefully thanked for their help during the field work. Great thanks are due to A. Luguet, K. N. Malitch, and an anonymous reviewer whose useful comments improved the paper. We are indebted to C. Ballhaus for his editorial input and careful handling of the paper.
Additional information
Communicated by C. Ballhaus.
Electronic supplementary material
Below is the link to the electronic supplementary material.
About this article
Cite this article
Uysal, İ., Tarkian, M., Sadiklar, M.B. et al. Petrology of Al- and Cr-rich ophiolitic chromitites from the Muğla, SW Turkey: implications from composition of chromite, solid inclusions of platinum-group mineral, silicate, and base-metal mineral, and Os-isotope geochemistry. Contrib Mineral Petrol 158, 659–674 (2009). https://doi.org/10.1007/s00410-009-0402-9
Received:

Accepted:

Published:

Issue Date:
Keywords
Ophiolitic chromitites

Melt-peridotite interaction

Platinum-group elements

Platinum-group minerals

Silicate inclusions

Os-isotope