Abstract
We provide data on the geochemical and isotopic consequences of nonmodal partial melting of a thick Jurassic pelite unit at mid-crustal levels that produced a migmatite complex in conjunction with the intrusion of part of the southern Sierra Nevada batholith at ca. 100 Ma. Field relations suggest that this pelitic migmatite formed and then abruptly solidified prior to substantial mobilization and escape of its melt products. Hence, this area yields insights into potential mid-crustal level contributions of crustal components into Cordilleran-type batholiths. Major and trace-element analyses in addition to field and petrographic data demonstrate that leucosomes are products of partial melting of the pelitic protolith host. Compared with the metapelites, leucosomes have higher Sr and lower Sm concentrations and lower Rb/Sr ratios. The initial 87Sr/86Sr ratios of leucosomes range from 0.7124 to 0.7247, similar to those of the metapelite protoliths (0.7125–0.7221). However, the leucosomes have a much wider range of initial εNd values, which range from −6.0 to −11.0, as compared to −8.7 to −11.3 for the metapelites. Sr and Nd isotopic compositions of the leucosomes, migmatites, and metapelites suggest disequilibrium partial melting of the metapelite protolith. Based on their Sr, Nd, and other trace-element characteristics, two groups of leucosomes have been identified. Group A leucosomes have relatively high Rb, Pb, Ba, and K2O contents, Rb/Sr ratios (0.15<Rb/Sr<1.0), and initial εNd values. Group B leucosomes have relatively low Rb, Pb, Ba, and K2O contents, Rb/Sr ratios (<0.15), and initial εNd values. The low Rb concentrations and Rb/Sr ratios of the group B leucosomes together suggest that partial melting was dominated by water-saturated or H2O-fluxed melting of quartz + feldspar assemblage with minor involvement of muscovite. Breakdown of quartz and plagioclase with minor contributions from muscovite resulted in low Rb/Sr ratios characterizing both group A and group B leucosomes. In contrast, group A leucosomes have greater contributions from K-feldspar, which is suggested by: (1) their relatively high K concentrations, (2) positive or slightly negative Eu anomalies, and (3) correlation of their Pb and Ba concentrations with K2O contents. It is also shown that accessory minerals have played a critical role in regulating the partitioning of key trace elements such as Sm, Nd, Nb, and V between melt products and residues during migmatization. The various degrees of parent/daughter fractionations in the Rb–Sr and Sm–Nd isotopic systems as a consequence of nonmodal crustal anatexis would render melt products with distinct isotopic signatures, which could profoundly influence the products of subsequent mixing events. This is not only important for geochemical patterns of intracrustal differentiation, but also a potentially important process in generating crustal-scale as well as individual pluton-scale isotopic heterogeneities.
Access options
Buy single article
Instant access to the full article PDF.
US$ 39.95
Tax calculation will be finalised during checkout.
Subscribe to journal
Immediate online access to all issues from 2019. Subscription will auto renew annually.
US$ 119
Tax calculation will be finalised during checkout.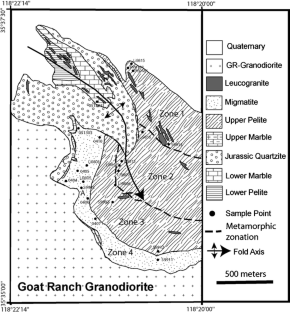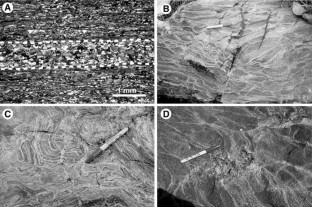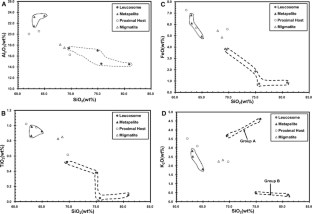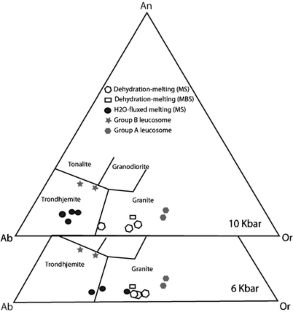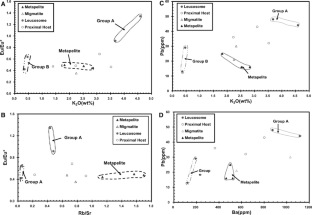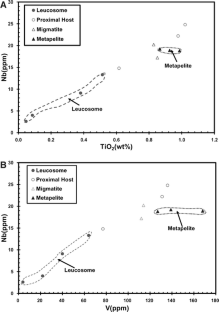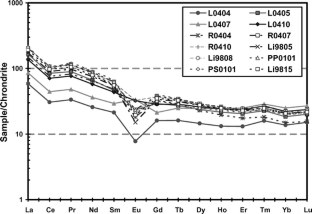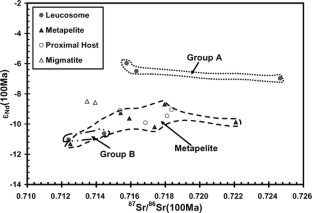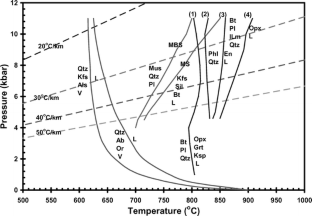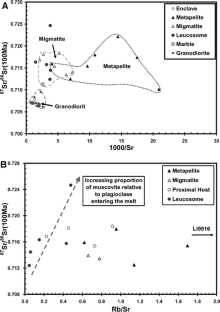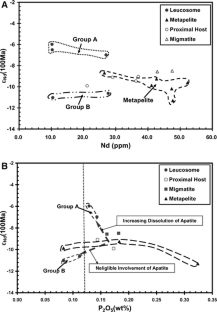 References
Ague JJ (1997) Thermodynamic calculation of emplacement pressures for batholithic rocks, California: implications for the aluminum-in-hornblende barometer. Geology 25:563–566

Ague JJ, Brimhall GH (1987) Granites of the batholiths of California: products of local assimilation and regional-scale crustal contamination. Geology 15:63–66

Allègre CJ, Minster JF (1978) Quantitative models of trace element behavior in magmatic processes. Earth Planet Sci Lett 38:1–25

Ayres M, Harris N (1997) REE fractionation and Nd-isotope disequilibrium during crustal anatexis: constraints from Himalayan leucogranites. Chem Geol 139:249–269

Barbero L, Villaseca C, Rogers G, Brown PE (1995) Geochemical and isotopic disequilibrium in crustal melting: an insight from the anatectic granitoids from Toledo, Spain. J Geophys Res 100:15745–15765

Baxtor EF, DePaolo DJ (2000) Field measurement of slow metamorphic reaction rates at temperatures of 500° to 600°C. Science 288:1411–1414

Bea F (1996a) Controls on the trace element composition of crustal melts. Trans R Soc Edinburg Earth Sci 87:133–141

Bea F (1996b) Residence of REE, Y, Th and U in granites and crustal protoliths: implications for the chemistry of crustal melts. J Petrol 37:521–552

Bea F, Montero P (1999) Behaviour of accessory phases and redistribution of Zr, REE, Y, Th, and U during metamorphism and partial melting of metapelites in the lower crust: an example from the Kinzigite formation of Ivrea-Verbano, NW Italy. Geochim Cosmochim Acta 63:1133–1153

Bea F, Pereira MD, Stroh A (1994) Mineral/leucosome trace-element partitioning in a peraluminous migmatite (a laser ablation-ICP-MS study). Chem Geol 117:291–312

Best MG, Weiss LE (1964) Mineralogical relations in some politic hornfelses from the southern Sierra Nevada, California. Am Miner 49:1240–1266

Carlson WD (2002) Scales of disequilibrium and rates of equilibration during metamorphism. Am Miner 87:185–204

Clemens JD, Vielzeuf D (1987) Constraints on melting and magma production in the crust. Earth Planet Sci Lett 86:287–306

Dardien V, Thompson AB, Grujic D, Ulmer P (1995) Experiment melting of biotite + plagioclase + quartz ± muscovite assemblages and implications for crustal melting. J Geophys Res 100:15581–15591

Deniel C, Vidal P, Fernandez A, Le Fort P, Peucat JJ (1987) Isotopic study of the Manaslu granite (Himalaya, Nepal): inferences on the age and source of the Himalayan leucogranites. Contrib Miner Petrol 96:78–92

Dixon ET (1995) An evaluation of hornblende barometry, Isabella to Tehachapi region, southern Sierra Nevada, California: The University of Michigan, MS Thesis, p 178

Ducea MN, Saleeby JB (1998) The age and origin of a thick mafic-ultramafic keel from beneath the Sierra Nevada Batholith. Contrib Miner Petrol 113:169–185

Ebadi A, Johannes W (1991) Beginning of melting and composition of first melts in the system Qz–Ab–Or–H2O–CO. Contrib Miner Petrol 106:286–295

Elan R (1985) High grade contact metamorphism at the Lake Isabella North Shore roof pendant, Southern Sierra Nevada, California. PhD Thesis, University of Southern California, p 202

Fyfe WS (1973) The granulite facies, partial melting and the Achaean crust. Philos Trans R Soc Lond Ser A273:457–461

George MT, Bertlett JM (1996) Rejuvenation of Rb-Sr mica ages during shearing on the northwestern margin of the Nanga Parbat–Haramosh massif. Tectonophysics 260:167–185

Harris N, Ayres M (1998) The implications of Sr-isotope disequilibrium for rates of prograde metamorphism and melt extraction in anatectic terrains. In: Treloar PJ, O'Brien PJ (eds) What drives metamorphism and metamorphic relations? Geol Soc Am Spec Pub 138:171–182

Harris NBW, Inger S (1992) Trace element modeling of pelite-derived granites. Contrib Miner Petrol 110:46–56

Harris N, Massey J (1994) Decompression and anatexis of himalayan metapelites. Tectonics 13:1537–1546

Harris NBW, Pearce JA, Tindle AG (1986) Geochemical characteristics of collision-zone magmatism. In: Coward, MP, Ries AC (eds) Collision Tectonics. Geol Soc London Spec Publ 19:67–81

Harris N, Inger S, Massey J (1993) The role of fluids in the formation of the High Himalayan leucogranites. In: Treloar PJ, Searle MP (eds) Himalayan Tectonics: London, Geol Soc Spec Publ 74:391–400

Harris NBW, Ayres M, Massey J (1995) Geochemistry of granitic melts produced during the incongruent melting of Muscovite: implications for the extraction of Himalayan Leucogranitic Magmas. J Geophys Res 100:15767–15777

Harrison TM, Watson EB (1984) The behavior of apatite during crustal anatexis: equilibrium and kinetic considerations. Geochim Cosmochim Acta 48:1467–1478

Harrison TM, Grove M, Kevin D, McKeegan KD, Coath CD, Lovera OM, Le Fort P (1999) Origin and episodic emplacement of the Manaslu Intrusive Complex, Central Himalaya. J Petrol 40:3–19

Henderson P (1982) Inorganic geochemistry. Pregamon, Oxford, p 345

Hogan JP, Sinha AK (1991) The effect of accessory minerals on the distribution of lead isotopes during crustal anatexis: a model. Geochim Cosmochim Acta 35:335–348

Inger S, Harris N (1993) Geochemical constrains on leucogranite magmatism in the Langtang Valley, Nepal Himalaya. J Petrol 34:345–368

Johannes W (1988) What controls partial melting in migmatite? J Meta Geol 6:451–465

Johannes W, Holtz F (1996) Petrogenesis and experimental petrology of Granitic rocks. Springer, Heidelberg, Berlin, New York

Johnson DM, Hooper PR, Conrey RM (1999) XRF analysis of rocks and minerals for major and trace elements on a single low dilution Li-tectraborate fused bead. Adv X-ray Anal 41:843–867

Knesel KM, Davidson JP (2002) Insight into collisional magmatism from isotopic fingerprints of melting reactions. Science 296:2206–2208

Kretz R (1983) Symbols for rock-forming minerals. Am Miner 68:277–279

Le Breton N, Thompson AB (1988) Fluid-absent (dehydration) melting of biotite in metapelite in the early stages of crustal anatexis. Contrib Miner Petrol 99:226–237

McDermott F, Harris NB, Hawkesworth CJ (1996) Geochemical constraints on crustal anatexis: a case study from the Pan-African Damara granitoids of Namibia. Contrib Miner Petrol 123:406–423

Miller CF, Watson EB, Harrison TM, Brown PE (1988) Perspectives on the source, segregation and transport of granitoid magmas. Trans Royal Soc Edinburgh Earth Sci 79:135–156

Nash WP, Crecraft HR (1985) Partition coefficients for trace elements in silicic magmas. Geochim Cosmochim Acta 49:2309–2322

Patiño-Douce AE, Beard JS (1995) Dehydration-melting of biotite gneiss and quartz amphibolite from 3 to 15 kbar. J Petrol 36:707–738

Patiño-Douce AE, Beard JS (1996) Effects of P, f(O2) and Mg/Fe ratio on dehydration-melting of model metagreywakes. J Petrol 37:999–1024

Patiño-Douce AE, Harris N (1998) Experimental constraints on Himalayan Anatexis. J Petrol 39:689–710

Patiño-Douce AE, Johnston AD (1991) Phase equilibria and melt productivity in the pelitic system: Implications for the origin of peraluminous granitoids and aluminous granulites. Contrib Miner Petrol 107:202–218

Petford N, Gallagher K (2001) Partial melting of mafic (amphibolitic) lower crust by periodic influx of basaltic magma. Earth Planet Sci Lett 193:483–499

Peucat JJ (1986) Behaviour of Rb–Sr whole rock and U–Pb zircon system during partial melting as shown in migmatitic gneisses from the St Malo Massif, NE Brittany, France. J Geol Soc Lond 143:875–885

Pickett DA, Saleeby JB (1993) Thermobarometry of Cretaceous rocks of the Tehachapi Mountains, California: plutonism and metamorphism in deep levels of the Sierra Nevada batholith. J Geophys Res 98:609–629

Pickett DA, Saleeby JB (1994) Nd, Sr and Pb isotopic characteristics of Cretaceous intrusive rocks from deep levels of the Sierra Nevada batholith, Tehachapi Mountains, California. Contrib Miner Petrol 118:198–215

Rapp RP, Watson EB (1986) Monazite solubility and dissolution kinetics: implications for the Th and light rare-earth chemistry of felsic magmas. Contrib Miner Petrol 94:304–316

Saleeby JB (1990) Progress in tectonic and petrogenetic studies in an exposed cross-section of young (∼100 Ma) continental crust, southern Sierra Nevada, California. In: Salisbury MH (ed) Exposed cross-section of the continental Crust. NATO Advanced Studies Institute, pp 137–158

Saleeby JB, Busby C (1993) Paleogeographic and tectonic setting of axial and western metamorphic framework rocks of the southern Sierra Nevada, California. In: Dunn G, MacDougall K (eds) Mesozoic Paleogeography of Western United States-II, Pacific Section SEPM, Book 71, pp 197–226

Saleeby JB, Zeng L (2005) Structure and geochronology of plutonic and high-grade metamorphic rocks of the Lake Isabella area, southern Sierra Nevada, CA (in preparation)

Sawyer EW (1998) Formation and evolution of granite magmas during crustal reworking: the significance of diatexites. J Petrol 39:1147–1167

Sun S-S, McDonough WF (1989) Chemical and isotopic systematics of oceanic basalts: implication for mantle composition and processes. In: Saunders A, Norry M (eds) Magatism in the ocean basins. Geol Soc Lond Spec Publ 42:313–345

Thompson AB (1996) Fertility of crustal rocks during anatexis. Trans R Soc Edinburgh Earth Sci 87:1–10

Tomomasini S, Davies GR (1997) Isotope disequilibrium during anatexis: a case study of contact melting, Sierra Nevada, California. Earth Planet Sci Lett 148:273–285

Vielzeuf D, Holloway JR (1988) Experimental determination of the fluid-absent melting relations in the pelitic system. Contrib Miner Petrol 98:257–276

Vielzeuf D, Montel JM (1994) Partial melting of metagreywackes; Part 1, fluid-absent experiments and phase relationships. Contrib Miner Petrol 117:375–393

Whittington AG, Treloar PJ (2002) Crustal anatexis and its relation to the exhumation of collisional orogenic belts, with particular reference to the Himalaya. Miner Mag 66:53–91

Wyllie PJ (1977) Crustal anatexis: an experimental review. Tectonophysics 43:41–71

Zeng L (2003) Non-modal partial melting of metasedimentary pendants in the Southern Sierra Nevada and implications for the deep origin of within-pluton isotopic heterogeneity. PhD Thesis, California Institute of Technology, p 225

Zeng L, Saleeby JB, Asimow P (2005a) Nd isotope disequilibrium during crustal anatexis: a record from the Goat Ranch migmatite complex, southern Sierra Nevada batholith, California. Geology 33:53–56

Zeng L, Asimow P, Saleeby JB (2005b) Coupling of anatectic reactions and dissolution of accessory phases and the Sr and Nd isotope systematics of anatectic melts from a metasedimentary source. Geochim Cosmochim Acta 69:3671–3682
Acknowledgements
Support for this research was provided by NSF grants EAR-9815024 and EAR-0087347. We thank H.P. Taylor, P. Asimow, J. Eiler, and G. Rossman for critical comments on an early version of this manuscript. We thank A.E. Patiño-Douce and C. Miller who gave thoughtful and constructive reviews and I. Carmichael for handling this manuscript.
Additional information
Communicated by Ian Carmichael
About this article
Cite this article
Zeng, L., Saleeby, J.B. & Ducea, M. Geochemical characteristics of crustal anatexis during the formation of migmatite at the Southern Sierra Nevada, California. Contrib Mineral Petrol 150, 386–402 (2005). https://doi.org/10.1007/s00410-005-0010-2
Received:

Accepted:

Published:

Issue Date:
Keywords
Partial Melting

Dehydration Melting

Melting Reaction

Isotopic Heterogeneity

Crustal Anatexis