Abstract
Objective
To assess the association of serum Vitamin D (vitD) levels with asthma control and severity in children and adolescents in different seasons of the year.
Method
Longitudinal, prospective study with 7- to 17-year-old children and adolescents diagnosed with asthma. All participants underwent two assessments conducted in opposite seasons of the year which included a clinical assessment, a questionnaire for classification of asthma control (Asthma Control Test), spirometry, and blood collection to measure serum vitD levels.
Results
In total, 141 individuals with asthma were evaluated. The mean vitD was lower in females (p = 0.006) and sunlight exposure appears not to be an influencing factor for vitD levels. We found no differences in mean vitD of patients with controlled and uncontrolled asthma (p = 0.703; p = 0.956). However, the severe asthma group had lower mean Vitamin D than the mild/moderate asthma group for both assessments (p = 0.013; p = 0.032). In the first assessment, the group with vitD insufficiency had a higher prevalence of severe asthma (p = 0.015). Vitamin D was positively correlated with FEV1 in both assessments (p = 0.008; p = 0.006) and with FEF25–75% in the first assessment (p = 0.038).
Conclusion
In a tropical climate zone, there is no evidence of association between seasonality and serum vitD levels or between serum vitD levels and asthma control in children and adolescents. However, vitD and lung function were positively correlated and the group with vitD insufficiency had a higher prevalence of severe asthma.
Access options
Buy single article
Instant access to the full article PDF.
USD 39.95
Price excludes VAT (USA)
Tax calculation will be finalised during checkout.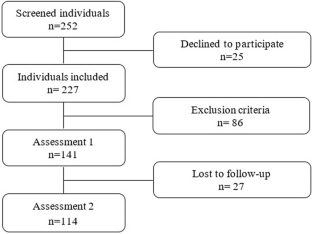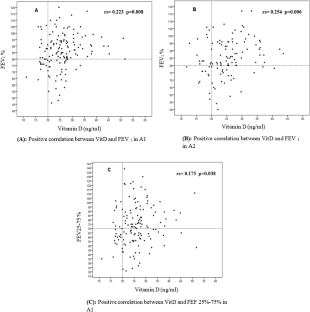 References
Pfeffer PE, Hawrylowicz CM (2018) Vitamin D in asthma: mechanisms of action and considerations for clinical trials. Chest 153:1229–1239

Wang M, Liu M, Wang C, Xiao Y, An T, Zou M, Cheng G (2019) Association between vitamin D status and asthma control: a meta-analysis of randomized trials. Respir Med 150:85–94

Hall SC, Agrawal DK (2017) Vitamin D and bronchial asthma: an overview of data from the past 5 years. Clin Ther 39:917–929

Jat KR, Khairwa A (2017) Vitamin D and asthma in children: A systematic review and meta-analysis of observational studies. Lung India 34:355–363

Cassim R, Russell MA, Lodge CJ, Lowe AJ, Koplin JJ, Dharmage SC (2015) The role of circulating 25 hydroxyvitamin D in asthma: a systematic review. Allergy 70:339–354

Gupta A, Bhat G, Pianosi P (2018) What is new in the management of childhood asthma? The Indian Journal of Pediatrics 85:773–781

de Paula FJ, Rosen CJ (2012) Vitamin D safety and requirements. Arch Biochem Biophys 523:64–72

Litonjua AA (2019) Vitamin D and childhood asthma: causation and contribution to disease activity. Curr Opin Allergy Clin Immunol 19:126–131

Paul G, Brehm JM, Alcorn JF, Holguín F, Aujla SJ, Celedón JC (2012) Vitamin D and asthma. Am J Respir Crit Care Med 185:124–132

Szymczak I, Pawliczak R (2018) Can vitamin D help in achieving asthma control? Vitamin D "revisited": an updated insight. Adv Respir Med 86:103–109

Özdoğan Ş (2019) Seasonal, sex variations in vitamin d levels and their association with pulmonary function in children with asthma. Turk J Med Sci 49:1534–1539

Global Initiative for Asthma [Internet]. R: Global strategy for asthma management and prevention. Updated 2020 [cited 2021–06–21]. Available from: www.ginaasthma.org.

Purple JPF, Bridge EV, Branches DCB, Pimentel L, Junior ADO, Cross AA (2010) English-language version of the asthma control test: validation for use in Brazil. J Bras Pneumol 36:159–166

Holgate ST, Price D, Valovirta E (2006) Asthma out of control? A structured review of recent patient surveys. BMC Pulm Med 6(Suppl 1):S2

Voorend-van Bergen S, Vaessen-Verberne AA, de Jongste JC, Pijnenburg MW (2015) Asthma control questionnaires in the management of asthma in children: a review. Pediatr Pulmonol 50:202–208

Pedersen S (2015) Asthma control in children: is it important and can we measure it? Acta Paediatr Respir Rev 17:36–38

Graham BL, Steenbruggen I, Miller MR, Barjaktarevic IZ, Cooper BG, Hall GL et al (2019) Standardization of Spirometry 2019 Update. An Official American Thoracic Society and European Respiratory Society Technical Statement. Am J Respir Crit Care Med 200:e70–e88

Sociedade Brasileira de Pediatria. Hipovitaminose D em pediatria: recomendações para diagnóstico, tratamento e prevenção. Departamento Científico de Endocrinologia. 2016; 1–11. Available from: https://www.sbp.com.br/fileadmin/user_upload/2016/12/Endcrino-Hipovitaminose-D.pdf

Batmaz SB, Arıkoğlu T, Tamer L, Eskandari G, Kuyucu S (2018) Seasonal variation of asthma control, lung function tests and allergic inflammation in relation to vitamin D levels: a prospective annual study. Postepy Dermatol Alergol 35:99–105

Kerley CP, Lenoir B, Faul J, Cormican L (2015) Vitamin D as an adjunctive therapy in asthma. part 1: A review of potential mechanisms. Pulm Pharmacol Ther 32:60–74

Hughes AM, Lucas RM, Ponsonby AL, Chapman C, Coulthard A, Dear K et al (2010) The role of latitude, ultraviolet radiation exposure and vitamin D in childhood asthma and hayfever: an Australian multicenter study. Pediatr Allergy Immunol 22:327–333

Mendes MM, Hart KH, Botelho PB, Lanham-New SA (2018) Vitamin D status in the tropics: Is sunlight exposure the main determinant? Nutr Bull 43:428–434

Amorim CLCG, Oliveira JM, Rodrigues A, Furlanetto KC, Pitta F (2020) Vitamin D: association with eosinophil counts and IgE levels in children with asthma. J Bras Pneumol 47:e20200279

Voorend-van Bergen S, Vaessen-Verberne AA, Landstra AM, Brackel HJ, van den Berg NJ, Caudri D et al (2014) Monitoring childhood asthma: web-based diaries and the asthma control test. J Allergy Clin Immunol 133:1599–605.e2

Passeron T, Bouillon R, Callender V, Cestari T, Diepgen TL, Green AC et al (2019) Sunscreen photoprotection and vitamin D status. Br J Dermatol 181:916–931

Binkley N, Novotny R, Krueger D, Kawahara T, Daida YG, Lensmeyer G et al (2007) Low vitamin D status despite abundant sun exposure. J Clin Endocrinol Metab 92:2130–2135

Abboud M, Rybchyn MS, Rizk R, Fraser DR, Mason RS (2017) Sunlight exposure is just one of the factors which influence vitamin D status. Photochem Photobiol Sci 16:302–313

AlQuaiz AM, Kazi A, Fouda M, Alyousefi N (2018) Age and gender differences in the prevalence and correlates of vitamin D deficiency. Arch Osteoporos 13:4

Alansari K, Davidson BL, Yousef KI, Mohamed ANH, Alattar I (2017) Rapid vs Maintenance vitamin D supplementation in deficient children with asthma to prevent exacerbations. Chest 152:527–536

Sharif A, Haddad Kashani H, Sharif MR (2020) Association of 25-hydroxy vitamin D with asthma and its severity in children: a case-control study. Clin Mol Allergy 18:7

Montero-Arias F, Sedó-Mejía G, Ramos-Esquivel A (2013) Vitamin D insufficiency and asthma severity in adults from Costa Rica. Allergy Asthma Immunol Res 5:283–288

Brehm JM, Schuemann B, Fuhlbrigge AL, Hollis BW, Strunk RC, Zeiger RS, Weiss ST, Litonjua AA, Childhood Asthma Management Program Research Group (2010) Serum vitamin D levels and severe asthma exacerbations in the Childhood Asthma Management Program study. J Allergy Clin Immunol 126(5):2–58

Liu J, Dong YQ, Yin J, Yao J, Shen J, Sheng GJ, Li K, Lv HF, Fang X, Wu WF (2019) Meta-analysis of vitamin D and lung function in patients with asthma. Respir Res 20:161
Funding
This work received funding from the Coordenação de Aperfeiçoamento de Pessoal de Nível Superior—Brasil (CAPES) [Finance Code 174296] and Fundação de Amparo à Pesquisa do Estado de São Paulo (FAPESP)—Brasil [Process nº 2016/22102–8].
Ethics declarations
Conflicts of interest
There is no conflict of interest to disclose.
Additional information
Publisher's Note
Springer Nature remains neutral with regard to jurisdictional claims in published maps and institutional affiliations.
Rights and permissions
Springer Nature or its licensor (e.g. a society or other partner) holds exclusive rights to this article under a publishing agreement with the author(s) or other rightsholder(s); author self-archiving of the accepted manuscript version of this article is solely governed by the terms of such publishing agreement and applicable law.
About this article
Cite this article
Malheiro, A.P.G., Gianfrancesco, L., Nogueira, R.J.N. et al. Association between serum Vitamin D levels and asthma severity and control in children and adolescents. Lung 201, 181–187 (2023). https://doi.org/10.1007/s00408-023-00605-x
Received:

Accepted:

Published:

Issue Date:

DOI: https://doi.org/10.1007/s00408-023-00605-x
Keywords