Abstract
Introduction
The sensitivity of suspicious lung nodules biopsied by currently available techniques is suboptimal. Robotic-assisted navigation bronchoscopy (RANB) is a novel method for biopsying lung nodules. Our study objective was to determine the sensitivity for malignancy and overall diagnostic accuracy for RANB when combined with cone beam CT (CBCT) for secondary confirmation.
Methods
52 consecutive patients were prospectively enrolled. Demographic data, nodule characteristics, procedural information, and follow-up results were obtained.
Results
Mean patient age was 66, with the majority Caucasian (73%) females (65%) with a similar number of never (46%) and former (46%) smokers. 15 patients had a history of cancer and 3 had a prior thoracic surgery. 59 total nodules were included as 7 patients had two nodules biopsied. Mean nodule diameter was < 2 cm in all dimension with the majority solid (41, 70%) and located in the upper lobes (left: 22, 37%; right: 17, 29%). Bronchus sign was absent (32, 54%) or present (27, 46%) in a similar number. All nodules were successfully reached with nine (15%) requiring minor directional changes after initial cone beam CT. A tissue diagnosis was obtained in 83% (49/59) of biopsied nodules, with malignancy (31, 65%) most common. Including all biopsy results and follow-up imaging, we obtained an 84% (31/37) procedural sensitivity for malignancy and an overall 86% (51/59) diagnostic yield.
Conclusion
RANB with CBCT increases sensitivity for malignancy and diagnostic accuracy of lung nodule biopsies. Combining these modalities has the potential to shift the diagnostic approach to pulmonary nodules.
Access options
Buy single article
Instant access to the full article PDF.
US$ 39.95
Tax calculation will be finalised during checkout.
Subscribe to journal
Immediate online access to all issues from 2019. Subscription will auto renew annually.
US$ 79
Tax calculation will be finalised during checkout.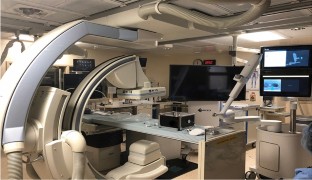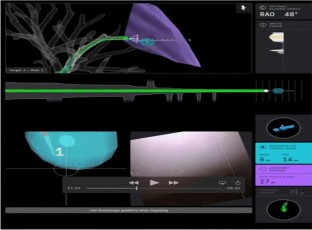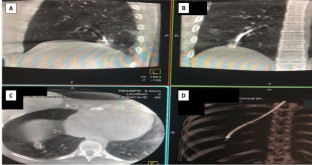 Abbreviations
CBCT:

Cone beam CT

ENB:

Electromagnetic navigation bronchoscopy

EBUS:

Endobronchial ultrasound

EBUS-TBNA:

Endobronchial ultrasound-guided transbronchial needle aspiration

IP:

Interventional pulmonology

LLL:

Left lower lobe

LUL:

Left upper lobe

PAMF:

Palo Alto Medical Foundation

PEEP:

Positive end expiratory pressure

REBUS:

Radial endobronchial ultrasound

RLL:

Right lower lobe

RML:

Right middle lobe

RUL:

Right upper lobe

RANB:

Robotic-assisted navigation bronchoscopy

TTNA:

Transthoracic needle aspiration
References
1.

Global Burden of Disease Cancer Collaboration, Fitzmaurice C, Dicker D, et al. (2015) The global burden of cancer 2013 [published correction appears in JAMA Oncol. 1(5):690. Jonas, Jost [corrected to Jonas, Jost B]; Tillman, Taavi [corrected to Tillmann, Taavi]]. JAMA Oncol 1(4):505–527

2.

National Cancer Institute Surveillance (2020) Epidemiology, and end results program. http://seer.cancer.gov/statfacts/html/lungb.html. Accessed 23 June 2020

3.

Siegel RL, Miller KD, Jemal A (2018) Cancer statistics, 2018. CA Cancer J Clin 68(1):7–30

4.

Torre LA, Siegel RL, Jemal A (2016) Lung cancer statistics. Adv Exp Med Biol 893:1–19

5.

National Lung Screening Trial Research Team, Aberle DR, Adams AM et al (2011) Reduced lung-cancer mortality with low-dose computed tomographic screening. N Engl J Med 365(5):395–409

6.

National Lung Screening Trial Research Team, Church TR, Black WC et al (2013) Results of initial low-dose computed tomographic screening for lung cancer. N Engl J Med 368(21):1980–1991

7.

Aberle DR, DeMello S, Berg CD et al (2013) Results of the two incidence screenings in the national lung screening trial. N Engl J Med 369(10):920–931

8.

Horeweg N, Scholten ET, de Jong PA et al (2014) Detection of lung cancer through low-dose CT screening (NELSON): a prespecified analysis of screening test performance and interval cancers. Lancet Oncol 15(12):1342–1350

9.

Jemal A, Fedewa SA (2017) Lung cancer screening with low-dose computed tomography in the United States-2010 to 2015. JAMA Oncol 3(9):1278–1281

10.

Lewis JA, Petty WJ, Tooze JA et al (2015) Low-dose CT lung cancer screening practices and attitudes among primary care providers at an academic medical center. Cancer Epidemiol Biomark Prev 24(4):664–670

11.

Gould MK, Tang T, Liu IL et al (2015) Recent trends in the identification of incidental pulmonary nodules. Am J Respir Crit Care Med 192(10):1208–1214

12.

Gould MK, Donington J, Lynch WR et al (2013) Evaluation of individuals with pulmonary nodules: when is it lung cancer? Diagnosis and management of lung cancer, 3rd ed: American College of Chest Physicians evidence-based clinical practice guidelines. Chest 143(5 Suppl):e93S-e120S

13.

Tanner NT, Aggarwal J, Gould MK et al (2015) Management of pulmonary nodules by community pulmonologists: a multicenter observational study. Chest 148(6):1405–1414

14.

Tanner NT, Porter A, Gould MK, Li XJ, Vachani A, Silvestri GA (2017) Physician assessment of pretest probability of malignancy and adherence with guidelines for pulmonary nodule evaluation. Chest 152(2):263–270

15.

Wang Memoli JS, Nietert PJ, Silvestri GA (2012) Meta-analysis of guided bronchoscopy for the evaluation of the pulmonary nodule. Chest 142(2):385–393

16.

Rivera MP, Mehta AC, Wahidi MM (2013) Establishing the diagnosis of lung cancer: diagnosis and management of lung cancer, 3rd ed: American College of Chest Physicians evidence-based clinical practice guidelines. Chest 143(5 Suppl):e142S-e165S

17.

Ost DE, Ernst A, Lei X et al (2016) Diagnostic yield and complications of bronchoscopy for peripheral lung lesions. Results of the AQuIRE registry. Am J Respir Crit Care Med 193(1):68–77

18.

Folch EE, Pritchett MA, Nead MA et al (2019) Electromagnetic navigation bronchoscopy for peripheral pulmonary lesions: one-year results of the prospective, Multicenter NAVIGATE Study. J Thorac Oncol 14(3):445–458

19.

Pritchett MA, Schampaert S, de Groot JAH, Schirmer CC, van der Bom I (2018) Cone-beam CT with augmented fluoroscopy combined with electromagnetic navigation bronchoscopy for biopsy of pulmonary nodules. J Bronchol Interv Pulmonol 25(4):274–282

20.

Aboudara M, Roller L, Lentz R et al (2020) FluoroNav assisted navigational bronchoscopy and diagnostic yield. Am J Respir Crit Care Med 201:A1262

21.

Fielding DIK, Bashirzadeh F, Son JH et al (2019) First human use of a new robotic-assisted fiber optic sensing navigation system for small peripheral pulmonary nodules. Respiration 98(2):142–150

22.

Rojas-Solano JR, Ugalde-Gamboa L, Machuzak M (2018) Robotic bronchoscopy for diagnosis of suspected lung cancer: a feasibility study. J Bronchol Interv Pulmonol 25(3):168–175

23.

Chaddha U, Kovacs SP, Manley C et al (2019) Robot-assisted bronchoscopy for pulmonary lesion diagnosis: results from the initial multicenter experience. BMC Pulm Med 19(1):243

24.

Intuitive Surgical. Clinical Utility for Ion Endoluminal System (2020). NLM identifier: NCT03893539. https://clinicaltrials.gov/ct2/show/NCT03893539. Accessed 23June 2020

25.

Auris Health, Inc. Transbronchial Biopsy Assisted by Robot Guidance in the Evaluation of Tumors of the Lung (TARGET) (2020). NLM identifier: NCT04182815. https://clinicaltrials.gov/ct2/show/NCT04182815. Accessed 23 June 2020

26.

Benn BS, Parikh M, Tsau PH, Seeley E, Krishna G (2019) Using a dedicated interventional pulmonology practice decreases wait time before treatment initiation for new lung cancer diagnoses. Lung 197(2):249–255

27.

Silvestri GA, Gonzalez AV, Jantz MA et al (2013) Methods for staging non-small cell lung cancer: diagnosis and management of lung cancer, 3rd ed: American College of Chest Physicians evidence-based clinical practice guidelines. Chest 143(5 Suppl):e211S-e250S

28.

Santambrogio L, Nosotti M, Bellaviti N, Pavoni G, Radice F, Caputo V (1997) CT-guided fine-needle aspiration cytology of solitary pulmonary nodules: a prospective, randomized study of immediate cytologic evaluation. Chest 112(2):423–425

29.

Choi SH, Chae EJ, Kim JE et al (2013) Percutaneous CT-guided aspiration and core biopsy of pulmonary nodules smaller than 1 cm: analysis of outcomes of 305 procedures from a tertiary referral center. AJR Am J Roentgenol 201(5):964–970

30.

Fontaine-Delaruelle C, Souquet PJ, Gamondes D et al (2015) Negative predictive value of transthoracic core-needle biopsy: a multicenter study. Chest 148(2):472–480

31.

Rampinelli C, De Marco P, Origgi D et al (2017) Exposure to low dose computed tomography for lung cancer screening and risk of cancer: secondary analysis of trial data and risk-benefit analysis. BMJ 356:j347

32.

Mascalchi M, Sali L (2017) Lung cancer screening with low dose CT and radiation harm-from prediction models to cancer incidence data. Ann Transl Med 5(17):360

33.

Lee SM, Park CM, Lee KH, Bahn YE, Kim JI, Goo JM (2014) C-arm cone-beam CT-guided percutaneous transthoracic needle biopsy of lung nodules: clinical experience in 1108 patients. Radiology 271(1):291–300

34.

Sheth NM, De Silva T, Uneri A et al (2020) A mobile isocentric C-arm for intraoperative cone-beam CT: technical assessment of dose and 3D imaging performance. Med Phys 47(3):958–974

35.

Semaan RW, Lee HJ, Feller-Kopman D et al (2016) Same-day computed tomographic chest imaging for pulmonary nodule targeting with electromagnetic navigation bronchoscopy may decrease unnecessary procedures. Ann Am Thorac Soc 13(12):2223–2228

36.

Chen A, Pastis N, Furukawa B, Silvestri GA (2015) The effect of respiratory motion on pulmonary nodule location during electromagnetic navigation bronchoscopy. Chest 147(5):1275–1281

37.

Pritchett MA, Bhadra K, Calcutt M, Folch E (2020) Virtual or reality: divergence between preprocedural computed tomography scans and lung anatomy during guided bronchoscopy. J Thorac Dis 12(4):1595–1611

38.

Coussa M, Proietti S, Schnyder P et al (2004) Prevention of atelectasis formation during the induction of general anesthesia in morbidly obese patients. Anesth Analg. https://doi.org/10.1213/01.ANE.0000111743.61132.99

39.

Gildea TR, Mazzone PJ, Karnak D, Meziane M, Mehta AC (2006) Electromagnetic navigation diagnostic bronchoscopy: a prospective study. Am J Respir Crit Care Med 174(9):982–989
Funding
The authors report funding in part from an El Camino Foundation clinical research grant (GK). The study sponsors had no role in study design; in the collection, analysis, and interpretation of data; in the writing of the report; or in the decision to submit the paper for publication. The corresponding author confirms that he had full access to all the data in the study and has final responsibility for the decision to submit for publication. A University of Nevada Las Vegas Faculty Development Leave supported interventional pulmonology fellowship training for AOR.
Ethics declarations
Conflict of interest
BSB and GK have received consulting fees from Intuitive for work unrelated to this study. AOR and ML declare no conflicts of interest or other disclosures.
Ethical Approval
Approval was obtained from the institutional review board of Palo Alto Medical Foundation #1014791-6.
Additional information
Publisher's Note
Springer Nature remains neutral with regard to jurisdictional claims in published maps and institutional affiliations.
About this article
Cite this article
Benn, B.S., Romero, A.O., Lum, M. et al. Robotic-Assisted Navigation Bronchoscopy as a Paradigm Shift in Peripheral Lung Access. Lung 199, 177–186 (2021). https://doi.org/10.1007/s00408-021-00421-1
Received:

Accepted:

Published:

Issue Date:
Keywords
Lung nodule

Robotic bronchoscopy

Cone beam CT

Lung cancer