Abstract
Purpose
While factors leading to hypoventilation have been well studied in Pompe disease, cough effectiveness and airway clearance practices are less understood. We aimed to identify significant factors that influence peak cough flow (PCF) in Pompe, and to detect whether pulmonary hygiene practices were reflective of reduced PCF.
Methods
This is a prospective observational study of 20 subjects with Pompe disease (infantile-onset: 7, juvenile-onset: 6, adult-onset: 14). Subjects performed spirometry, maximal respiratory pressures, and cough (voluntary: n = 24, spontaneous: n = 3). Subjects or their parents reported airway clearance and secretion management practices. Relationships between disease variables, pulmonary function, and cough parameters as well as group differences in cough parameters were evaluated.
Results
Subjects with infantile-onset disease had significantly lower PCF (p < 0.05) and tended to require more external ventilatory support (p = 0.07). In juvenile- and adult-onset disease, PCF differed according to external ventilatory requirement [daytime: 83.6 L/min (95% CI 41.2–126.0); nighttime: 224.6 L/min (95% CI 139.1–310.2); none: 340.2 L/min (95% CI 193.3–487.6), p < 0.005]. Cough inspiratory volume also differed significantly by ventilatory requirement [daytime: 5.5 mL/kg (95% CI 3.0–8.0); nighttime: 16.0 mL/kg (95% CI 11.8–20.2); none: 26.8 mL/kg (95% CI 11.9–41.7), p < 0.001]. However, routine airway clearance or secretion management practices were only consistently reported among patients with infantile-onset disease (infantile: 86%, juvenile: 0%, adult: 14%, p < 0.005).
Conclusions
Cough weakness was detected in the majority of patients with Pompe disease and was influenced by both inspiratory and expiratory muscle function. Patients at risk for problems or with ineffective PCF should be urged to complete routine pulmonary hygiene.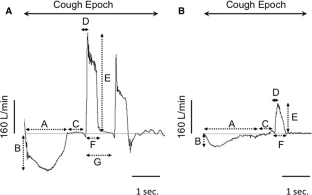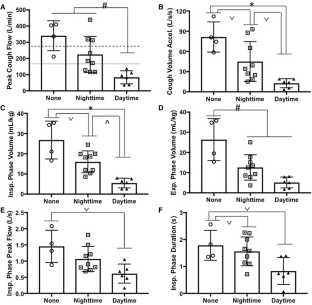 Abbreviations
FVC:

Forced vital capacity

GAA:

Acid alpha-glucosidase

IQR:

Interquartile range

MIP:

Maximal inspiratory pressure

MEP:

Maximal expiratory pressure

MV:

Mechanical ventilation

PCF:

Peak cough flow
References
1.

Wens SC, Ciet P, Perez-Rovira A et al (2015) Lung MRI and impairment of diaphragmatic function in Pompe disease. BMC Pulm Med 15:54

2.

American Association of Neuromuscular & Electrodiagnostic Medicine (2009) Diagnostic criteria for late-onset (childhood and adult) Pompe disease. Muscle Nerve 40:149–160

3.

Boentert M, Prigent H, Vardi K et al (2016) Practical recommendations for diagnosis and management of respiratory muscle weakness in late-onset Pompe disease. Int J Mol Sci 17

4.

Gungor D, de Vries JM, Hop WC et al (2011) Survival and associated factors in 268 adults with Pompe disease prior to treatment with enzyme replacement therapy. Orphanet J Rare Dis 6:34

5.

Schoser B, Fong E, Geberhiwot T et al (2017) Maximum inspiratory pressure as a clinically meaningful trial endpoint for neuromuscular diseases: a comprehensive review of the literature. Orphanet J Rare Dis 12:52

6.

Bach JR, Saporito LR (1996) Criteria for extubation and tracheostomy tube removal for patients with ventilatory failure. A different approach to weaning. Chest 110:1566–1571

7.

Bach JR, Goncalves MR, Hamdani I, Winck JC (2010) Extubation of patients with neuromuscular weakness: a new management paradigm. Chest 137:1033–1039

8.

Bach JR, Ishikawa Y, Kim H (1997) Prevention of pulmonary morbidity for patients with Duchenne muscular dystrophy. Chest 112:1024–1028

9.

Jones HN, Crisp KD, Robey RR, Case LE, Kravitz RM, Kishnani PS (2015) Respiratory muscle training (RMT) in late-onset Pompe disease (LOPD): effects of training and detraining. Mol Genet Metab 117:120–128

10.

Miller MR, Hankinson J, Brusasco V et al (2005) Standardisation of spirometry. Eur Respir J 26:319–338

11.

European, Respiratory Society, American Thoracic Society (2002) ATS/ERS statement on respiratory muscle testing. Am J Respir Crit Care Med 166:518–624

12.

Chatwin M, Toussaint M, Goncalves MR et al (2018) Airway clearance techniques in neuromuscular disorders: a state of the art review. Respir Med 136:98–110

13.

Kroos M, Hoogeveen-Westerveld M, van der Ploeg A, Reuser AJ (2012) The genotype-phenotype correlation in Pompe disease. Am J Med Genet C 160:59–68

14.

Morrow B, Zampoli M, van Aswegen H, Argent A (2013) Mechanical insufflation-exsufflation for people with neuromuscular disorders. Cochrane Database Syst Rev 2013:CD010044

15.

Mahede T, Davis G, Rutkay A et al (2015) Use of mechanical airway clearance devices in the home by people with neuromuscular disorders: effects on health service use and lifestyle benefits. Orphanet J Rare Dis 10:54

16.

Arora NS, Gal TJ (1981) Cough dynamics during progressive expiratory muscle weakness in healthy curarized subjects. J Appl Physiol 51:494–498

17.

Prigent H, Orlikowski D, Laforet P et al (2012) Supine volume drop and diaphragmatic function in adults with Pompe disease. Eur Respir J 39:1545–1546

18.

Smith BK, Corti M, Martin AD, Fuller DD, Byrne BJ (2016) Altered activation of the diaphragm in late-onset Pompe disease. Respir Physiol Neurobiol 222:11–15

19.

LoMauro A, D'Angelo MG, Aliverti A (2015) Assessment and management of respiratory function in patients with Duchenne muscular dystrophy: current and emerging options. Ther Clin Risk Manage 11:1475–1488

20.

Sarmento A, de Andrade AF, Lima IN, Aliverti A, de Freitas Fregonezi GA, Resqueti VR (2017) Air stacking: a detailed look into physiological acute effects on cough peak flow and chest wall volumes of healthy subjects. Respir Care 62:432–443

21.

Trebbia G, Lacombe M, Fermanian C et al (2005) Cough determinants in patients with neuromuscular disease. Respir Physiol Neurobiol 146:291–300

22.

Fuller DD, ElMallah MK, Smith BK et al (2013) The respiratory neuromuscular system in Pompe disease. Respir Physiol Neurobiol 189:241–249

23.

McCool FD (2006) Global physiology and pathophysiology of cough: ACCP evidence-based clinical practice guidelines. Chest 129:48S–53S

24.

Laghi F, Maddipati V, Schnell T, Langbein WE, Tobin MJ (2017) Determinants of cough effectiveness in patients with respiratory muscle weakness. Respir Physiol Neurobiol 240:17–25

25.

McKim DA, Hendin A, LeBlanc C, King J, Brown CR, Woolnough A (2012) Tracheostomy decannulation and cough peak flows in patients with neuromuscular weakness. Am J Phys Med Rehabil 91:666–670

26.

Gaeta M, Barca E, Ruggeri P et al (2013) Late-onset Pompe disease (LOPD): correlations between respiratory muscles CT and MRI features and pulmonary function. Mol Genet Metab 110:290–296

27.

Yasuda T, Wu C, Nakagawa N, Nagamura K (2013) Studies on an automobile muffler with the acoustic characteristic of low-pass filter and Helmholtz resonator. Appl Acoust 74:49–57

28.

Chatwin M, Ross E, Hart N, Nickol AH, Polkey MI, Simonds AK (2003) Cough augmentation with mechanical insufflation/exsufflation in patients with neuromuscular weakness. Eur Respir J 21:502–508

29.

Bianchi C, Baiardi P (2008) Cough peak flows: standard values for children and adolescents. Am J Phys Med Rehabil 87:461–467

30.

Dohna-Schwake C, Ragette R, Teschler H, Voit T, Mellies U (2006) Predictors of severe chest infections in pediatric neuromuscular disorders. Neuromuscul Disord 16:325–328

31.

Hull J, Aniapravan R, Chan E et al (2012) British Thoracic Society guideline for respiratory management of children with neuromuscular weakness. Thorax 67(Suppl 1):i1–i40

32.

Lee KK, Ward K, Rafferty GF, Moxham J, Birring SS (2015) The intensity of voluntary, induced, and spontaneous cough. Chest 148:1259–1267
Acknowledgements
Some data were collected as part of NCT02354651, supported by R21-HD090752 to BKS, through the National Institute of Child Health and Human Development.
Ethics declarations
Conflict of interest
No conflicts exist for any of the authors.
About this article
Cite this article
Pitts, T., Bordelon, R., Huff, A. et al. Cough Effectiveness and Pulmonary Hygiene Practices in Patients with Pompe Disease. Lung 197, 1–8 (2019). https://doi.org/10.1007/s00408-018-0171-1
Received:

Accepted:

Published:

Issue Date:
Keywords
Cough

Pulmonary hygiene

Pompe disease

Respiratory muscles