Abstract
Alpha-1-antitrypsin deficiency (AATD) is a genetic condition caused by SERPINA1 mutations, which culminates into lower protease inhibitor activity in the serum and predisposes to emphysema. Clinical manifestations of AATD are often associated to ZZ (p.Glu342Lys) and SZ (p.Glu264Val) genotypes and less frequently to rare deficiency or null alleles in heterozygous and homozygous states. We report a case of a 52-year-old woman with bronchiectasis without other potential causes other than an electrophoresis that showed a decrease of alpha-1 globin band and AAT levels below the normal value (78 mg/dl; v.n. 90–200 mg/dl). No S or Z mutation was identified, but sequencing analysis found a novel missense variant Ile74Asn (c.221T > A) in heterozygous state on an M3 allele (Glu400Asp) in the exon 2 of the SERPINA-1gene, probably leading to a dysfunctional protein. This mutation has never been previously identified, and it is interesting to note the association with bronchiectasis in the absence of emphysema.
This is a preview of subscription content, log in to check access.
Access options
Buy single article
Instant access to the full article PDF.
US$ 39.95
Price includes VAT for USA
Subscribe to journal
Immediate online access to all issues from 2019. Subscription will auto renew annually.
US$ 99
This is the net price. Taxes to be calculated in checkout.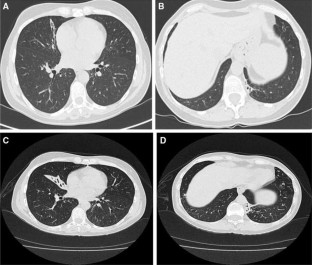 References
1.

Blanco I, de Serres F, Fernandez-Bustillo E et al (2006) Estimated numbers and prevalence of PI*S and PI*Z alleles of alpha1-antitrypsin deficiency in European countries. Eur Respir J 27:77–78

2.

Silverman E, Sandhaus R (2009) Clinical practice. Alpha1-antitrypsin deficiency. N Engl J Med 360:2749–2757

3.

Demeo DL, Silverman EK (2004) Alpha1-antitrypsin deficiency. 2: genetic aspects of alpha(1)-antitrypsin deficiency: phenotypes and genetic modifiers of emphysema risk. Thorax 59(3):259–264

4.

Greulich T, Nell C, Herr C et al (2016) Results from a large targeted screening program for alpha-1-antitrypsin deficiency: 2003–2015. Orphanet J Rare Dis. 11(1):75

5.

Greulich T, Averyanov A, Borsa L et al (2017) European screening for alpha-1 antitrypsin deficiency in subjects with lung disease. Clin Respir J 11(1):90–97

6.

Elliott PR, Pei XY, Dafforn TR et al (2000) Topography of a 2.0 A structure of alpha1-antitrypsin reveals targets for rational drug design to prevent conformational disease. Protein Sci 9(7):1274–1281

7.

Frazier GC, Siewertsen MA, Hofker MH et al (1990) A null deficiency allele of alpha 1-antitrypsin, QOludwigshafen, with altered tertiary structure. Clin Investig 86(6):1878–1884

8.

Parr DG, Guest PG, Reynolds JH et al (2007) Prevalence and impact of bronchiectasis in alpha1-antitrypsin deficiency. Am J Respir Crit Care Med 176:1215–1221

9.

Scott JH, Anderson CL, Shankar PS et al (1977) Alpha1-antitrypsin deficiency with diffuse bronchiectasis and cirrhosis of the liver. Chest 71:535–538

10.

Milger K, Holdt LM, Teupser D et al (2015) Identification of a novel SERPINA-1 mutation causing alpha-1 antitrypsin deficiency in a patient with severe bronchiectasis and pulmonary embolism. Int J Chron Obstruct Pulmon Dis. 7(10):891–897

11.

Lonni S, Chalmers JD, Goeminne PC et al (2015) Etiology of non-cystic fibrosis bronchiectasis in adults and its correlation to disease severity. Ann Am Thorac Soc 12(12):1764–1770

12.

Clemmensen SN, Jacobsen LC, Rørvig S et al (2011) Alpha-1-antitrypsin is produced by human neutrophil granulocytes and their precursors and liberated during granule exocytosis. Eur J Haematol 86:517–530

13.

Aggarwal N, Delgado BM, Salipalli S et al (2016) Why do some adults with PiMZα1-antitrypsin develop bronchiectasis? ERJ Open Res 2(2):00021–02016

14.

Stockley RA, Parr DG, Piitulainen E et al (2010) Therapeutic efficacy of α-1 antitrypsin augmentation therapy on the loss of lung tissue: an integrated analysis of 2 randomized clinical trials using computed tomography densitometry. Respir Res 11:136

15.

Stockley RA, Bayley DL, Unsal I et al (2002) The effect of augmentation therapy on bronchial inflammation in alpha1-antitrypsin deficiency. Am J Respir Crit Care Med 165(11):1494–1498

16.

Lieberman J (2000) Augmentation therapy reduces frequency of lung infections in antitrypsin deficiency: a new hypothesis with supporting data. Chest 118(5):1480–1485

17.

Wanner A, Arce AD, Pardee E (2012) Novel therapeutic uses of alpha-1 antitrypsin: a window to the future. COPD 9(6):583–588
Ethics declarations
Conflict of interest
The authors declare that they have no conflict of interest.
Ethical Approval
All procedures performed in studies involving human participants were in accordance with the ethical standards of the institutional and/or national research committee and with the 1964 Helsinki declaration and its later amendments or comparable ethical standards.
Informed Consent
Informed consent was obtained from all individual participants included in the study.
About this article
Cite this article
Carpagnano, G.E., Santacroce, R., Palmiotti, G.A. et al. A New SERPINA-1 Missense Mutation Associated with Alpha-1 Antitrypsin Deficiency and Bronchiectasis. Lung 195, 679–682 (2017). https://doi.org/10.1007/s00408-017-0033-2
Received:

Accepted:

Published:

Issue Date:
Keywords
Alpha-1-antitrypsin deficiency

New SERPINA1 mutations

Bronchiectasis

Augmentation therapy