Abstract
Idiopathic pulmonary fibrosis (IPF) has been gathering interest in recent years and as such this review will focus on the potential contributions that age plays on its onset and prevalence. Environmental stress over time caused by the inhalation of foreign substances results in subsequent damage and repair of lung tissue. This damage prematurely causes a decrease in stem cell differentiation potential. In conjunction with declining proliferation, the correlation between age and general attenuation of the immune system allows for the introduction of viral components such as the Epstein–Barr virus which has been associated with lung injury, a causation which has not yet been investigated. But, regardless of environmental factors, cellular alterations due to, or in correlation with, age could result in the onset or prolonging of IPF. General genetic mutation and epigenetic methylations accumulate over a person's lifespan while miRNA expression changes from birth to adulthood. This collection of alterations over time may cause dysregulation of expressed genetic material which can result in many age-related diseases including pulmonary fibrosis. Such alterations would be prevented by autophagy or cell-mediated apoptosis, but due to age-related dysregulations, these systems function at a diminished capacity. On the cellular level, the end result is an accumulation of dysfunctional organelles with damaged molecules, such as reactive oxygen species, and general genetic and epigenetic alterations resulting in excess generation of fibrous tissue and overall damage to the pulmonary system.
Access options
Buy single article
Instant access to the full article PDF.
USD 39.95
Price excludes VAT (USA)
Tax calculation will be finalised during checkout.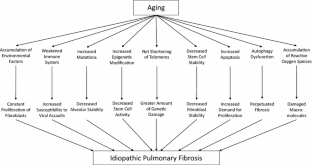 References
Kim DS, Collard HR, King TE Jr (2006) Classification and natural history of the idiopathic interstitial pneumonias. Proc Am Thorac Soc 3(4):285–292

Hashemi Sadraei N, Riahi T, Masjedi MR (2013) Idiopathic pulmonary fibrosis in a referral center in Iran: are patients developing the disease at a younger age? Arch Iran Med 16(3):177–181

Turn CS, Lockey RF, Kolliputi N (2015) Putting the brakes on age-related idiopathic pulmonary fibrosis: can Nox4 inhibitors suppress IPF? Exp Gerontol 63:81–82

Torres-Gonzalez E et al (2012) Role of endoplasmic reticulum stress in age-related susceptibility to lung fibrosis. Am J Respir Cell Mol Biol 46(6):748–756

Huang WT et al (2015) Plasminogen activator inhibitor 1, fibroblast apoptosis resistance, and aging-related susceptibility to lung fibrosis. Exp Gerontol 61:62–75

Taskar VS, Coultas DB (2006) Is idiopathic pulmonary fibrosis an environmental disease? Proc Am Thorac Soc 3(4):293–298

Chilosi M et al (2010) Epithelial stem cell exhaustion in the pathogenesis of idiopathic pulmonary fibrosis. Sarcoidosis Vasc Diffuse Lung Dis 27(1):7–18

Trusina A (2014) Stress induced telomere shortening: longer life with less mutations? BMC Syst Biol 8:27

Doyle TJ et al (2012) The expanding role of biomarkers in the assessment of smoking-related parenchymal lung diseases. Chest 142(4):1027–1034

Stevenson CS et al (2007) Comprehensive gene expression profiling of rat lung reveals distinct acute and chronic responses to cigarette smoke inhalation. Am J Physiol Lung Cell Mol Physiol 293(5):L1183–L1193

Churg A et al (2009) Expression of profibrotic mediators in small airways versus parenchyma after cigarette smoke exposure. Am J Respir Cell Mol Biol 40(3):268–276

Williams KJ et al (2007) Equine multinodular pulmonary fibrosis: a newly recognized herpesvirus-associated fibrotic lung disease. Vet Pathol 44(6):849–862

Hansen S (2015) A review of the equine age-related changes in the immune system: comparisons between human and equine aging, with focus on lung-specific immune-aging. Ageing Res Rev 20c:11–23

Maruyama M (2013) Age-associated decline in the immune system. Nihon Rinsho 71(6):993–998

Marzouk K et al (2005) Epstein-Barr-virus-induced interstitial lung disease. Curr Opin Pulm Med 11(5):456–460

Mora AL, Roman J (2010) Virus-related interstitial lung disease. In: King TE Jr, Schwarz MI (eds) Interstitial lung disease. BC Decker, Hamilton, pp 251–265

Kelly BG et al (2002) A rearranged form of Epstein-Barr virus DNA is associated with idiopathic pulmonary fibrosis. Am J Respir Crit Care Med 166(4):510–513

Tang YW et al (2003) Herpesvirus DNA is consistently detected in lungs of patients with idiopathic pulmonary fibrosis. J Clin Microbiol 41(6):2633–2640

Alison MR, Sarraf CE (1992) Apoptosis: a gene-directed programme of cell death. J R Coll Phys Lond 26(1):25–35

Behrens A et al (2014) Impact of genomic damage and ageing on stem cell function. Nat Cell Biol 16(3):201–207

Thomas AQ et al (2002) Heterozygosity for a surfactant protein C gene mutation associated with usual interstitial pneumonitis and cellular nonspecific interstitial pneumonitis in one kindred. Am J Respir Crit Care Med 165(9):1322–1328

Lawson WE et al (2008) Endoplasmic reticulum stress in alveolar epithelial cells is prominent in IPF: association with altered surfactant protein processing and herpesvirus infection. Am J Physiol Lung Cell Mol Physiol 294(6):L1119–L1126

Vaidya A et al (2014) Knock-in reporter mice demonstrate that DNA repair by non-homologous end joining declines with age. PLoS Genet 10(7):e1004511

Thannickal VJ (2013) Mechanistic links between aging and lung fibrosis. Biogerontology 14(6):609–615

Brunet A, Berger SL (2014) Epigenetics of aging and aging-related disease. J Gerontol A Biol Sci Med Sci 69(Suppl 1):S17–S20

Ono T et al (1985) Dysdifferentiative nature of aging: age-dependent expression of MuLV and globin genes in thymus, liver and brain in the AKR mouse strain. Gerontology 31(6):362–372

Johnson AA et al (2012) The role of DNA methylation in aging, rejuvenation, and age-related disease. Rejuvenation Res 15(5):483–494

Bird A (2002) DNA methylation patterns and epigenetic memory. Genes Dev 16(1):6–21

Taskar V, Coultas D (2008) Exposures and idiopathic lung disease. Semin Respir Crit Care Med 29(6):670–679

Pandit KV et al (2010) Inhibition and role of let-7d in idiopathic pulmonary fibrosis. Am J Respir Crit Care Med 182(2):220–229

McCauley BS, Dang W (2014) Histone methylation and aging: lessons learned from model systems. Biochim Biophys Acta 1839(12):1454–1462

Langton AK, Herrick SE, Headon DJ (2008) An extended epidermal response heals cutaneous wounds in the absence of a hair follicle stem cell contribution. J Invest Dermatol 128(5):1311–1318

Kim M et al (2010) DNA methylation as a biomarker for cardiovascular disease risk. PLoS One 5(3):e9692

Bartel DP (2009) MicroRNAs: target recognition and regulatory functions. Cell 136(2):215–233

Williams AE (2008) Functional aspects of animal microRNAs. Cell Mol Life Sci 65(4):545–562

Izzotti A et al (2009) Relationships of microRNA expression in mouse lung with age and exposure to cigarette smoke and light. FASEB J 23(9):3243–3250

Li P et al (2013) Serum miR-21 and miR-155 expression in idiopathic pulmonary fibrosis. J Asthma 50(9):960–964

Nho RS et al (2014) MicroRNA-96 inhibits FoxO3a function in IPF fibroblasts on type I collagen matrix. Am J Physiol Lung Cell Mol Physiol 307(8):L632–L642

Tsakiri KD et al (2007) Adult-onset pulmonary fibrosis caused by mutations in telomerase. Proc Natl Acad Sci USA 104(18):7552–7557

Waisberg DR et al (2010) Abnormal expression of telomerase/apoptosis limits type II alveolar epithelial cell replication in the early remodeling of usual interstitial pneumonia/idiopathic pulmonary fibrosis. Hum Pathol 41(3):385–391

Driscoll B et al (2000) Telomerase in alveolar epithelial development and repair. Am J Physiol Lung Cell Mol Physiol 279(6):L1191–L1198

Valdes AM et al (2005) Obesity, cigarette smoking, and telomere length in women. Lancet 366(9486):662–664

Roobrouck VD, Ulloa-Montoya F, Verfaillie CM (2008) Self-renewal and differentiation capacity of young and aged stem cells. Exp Cell Res 314(9):1937–1944

Choumerianou DM et al (2010) Comparative study of stemness characteristics of mesenchymal cells from bone marrow of children and adults. Cytotherapy 12(7):881–887

Mora AL, Rojas M (2013) Adult stem cells for chronic lung diseases. Respirology 18(7):1041–1046

Phadwal K, Watson AS, Simon AK (2013) Tightrope act: autophagy in stem cell renewal, differentiation, proliferation, and aging. Cell Mol Life Sci 70(1):89–103

Selman M, Pardo A (2014) Revealing the pathogenic and aging-related mechanisms of the enigmatic idiopathic pulmonary fibrosis. An integral model. Am J Respir Crit Care Med 189(10):1161–1172

Yang IV (2012) Epigenomics of idiopathic pulmonary fibrosis. Epigenomics 4(2):195–203

Selman M et al (2010) Aging and interstitial lung diseases: unraveling an old forgotten player in the pathogenesis of lung fibrosis. Semin Respir Crit Care Med 31(5):607–617

Hagimoto N et al (1997) Apoptosis and expression of Fas/Fas ligand mRNA in bleomycin-induced pulmonary fibrosis in mice. Am J Respir Cell Mol Biol 16(1):91–101

Lee CG et al (2004) Early growth response gene 1-mediated apoptosis is essential for transforming growth factor beta1-induced pulmonary fibrosis. J Exp Med 200(3):377–389

Gilhar A et al (2004) Aging of human epidermis: reversal of aging changes correlates with reversal of keratinocyte fas expression and apoptosis. J Gerontol A Biol Sci Med Sci 59(5):411–415

Mercado N, Ito K, Barnes PJ (2015) Accelerated ageing of the lung in COPD: new concepts. Thorax. doi:10.1136/thoraxjnl-2014-206084

Patel AS et al (2012) Autophagy in idiopathic pulmonary fibrosis. PLoS One 7(7):e41394

He LQ, Lu JH, Yue ZY (2013) Autophagy in ageing and ageing-associated diseases. Acta Pharmacol Sin 34(5):605–611

Zhang HJ et al (2003) Heat-induced liver injury in old rats is associated with exaggerated oxidative stress and altered transcription factor activation. FASEB J 17(15):2293–2295

Kregel KC, Zhang HJ (2007) An integrated view of oxidative stress in aging: basic mechanisms, functional effects, and pathological considerations. Am J Physiol Regul Integr Comp Physiol 292(1):R18–R36

Hagen TM (2003) Oxidative stress, redox imbalance, and the aging process. Antioxid Redox Signal 5(5):503–506

Kinnula VL et al (2005) Oxidative stress in pulmonary fibrosis: a possible role for redox modulatory therapy. Am J Respir Crit Care Med 172(4):417–422

Faner R et al (2012) Abnormal lung aging in chronic obstructive pulmonary disease and idiopathic pulmonary fibrosis. Am J Respir Crit Care Med 186(4):306–313

Bocchino M et al (2010) Reactive oxygen species are required for maintenance and differentiation of primary lung fibroblasts in idiopathic pulmonary fibrosis. PLoS One 5(11):e14003

Hecker L et al (2014) Reversal of persistent fibrosis in aging by targeting Nox4-Nrf2 redox imbalance. Sci Transl Med 6(231):231ra47
Acknowledgments
NK was funded by the American Heart Association National Scientist Development Grant 09SDG2260957 and National Institutes of Health R01 HL105932 and the Joy McCann Culverhouse Endowment to the Division of Allergy and Immunology.
Conflict of interest
None.
About this article
Cite this article
Leung, J., Cho, Y., Lockey, R.F. et al. The Role of Aging in Idiopathic Pulmonary Fibrosis. Lung 193, 605–610 (2015). https://doi.org/10.1007/s00408-015-9729-3
Received:

Accepted:

Published:

Issue Date:

DOI: https://doi.org/10.1007/s00408-015-9729-3
Keywords
Idiopathic pulmonary fibrosis (IPF)

Aging

Reactive oxygen species (ROS)