Abstract
Purpose
Studies that investigate the impact of chronic cough have largely focused on patients attending secondary care. Our aim was to investigate the opinions of the wider general population across Europe.
Methods
An internet survey was made available in 12 languages on the European Lung Foundation website, between January 2012 and April 2013.
Results
Of 1120 respondents from 29 different European countries, 67 % were female, mean age 51 years (SD 15), median cough duration 2–5 years. The majority of respondents reported cough impacted their quality of life, mood and ability to undertake activities. Despite 72 % of respondents having visited their doctor ≥3 times, only 53 % had received a diagnosis. Asthma was the most common diagnosis (23 %). Most respondents reported limited or no effectiveness of medications. 88 % of respondents reported that they would like more information to be available on chronic cough.
Conclusions
Chronic cough has a negative impact on quality of life. Further work is needed to raise awareness, promote management strategies, develop effective treatments and consider the educational and support needs of patients with chronic cough.
Access options
Buy single article
Instant access to the full article PDF.
USD 39.95
Price excludes VAT (USA)
Tax calculation will be finalised during checkout.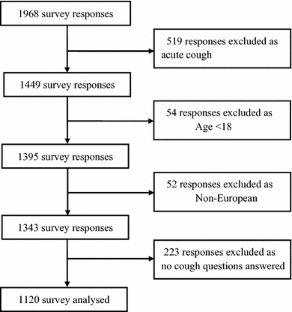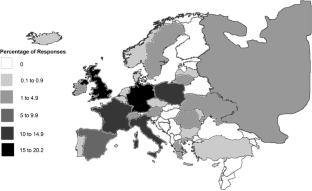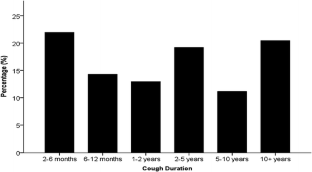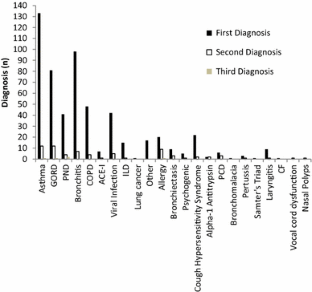 References
Montnémery P et al (1998) Prevalence of obstructive lung diseases and respiratory symptoms in southern Sweden. Respir Med 92(12):1337–1345

Ford AC et al (2006) Cough in the community: a cross sectional survey and the relationship to gastrointestinal symptoms. Thorax 61(11):975–979

Cullinan P (1992) Persistent cough and sputum: prevalence and clinical characteristics in south east England. Respir Med 86(2):143–149

Lundbäck B et al (1991) Obstructive lung disease in northern Sweden: respiratory symptoms assessed in a postal survey. Eur Respir J 4(3):257–266

Brignall K, Jayaraman B, Birring SS (2008) Quality of life and psychosocial aspects of cough. Lung 186(Suppl 1):S55–S58

Birring SS et al (2003) Development of a symptom specific health status measure for patients with chronic cough: Leicester Cough Questionnaire (LCQ). Thorax 58(4):339–343

McGarvey L et al (2006) Prevalence of psychomorbidity among patients with chronic cough. Cough 2(1):4

Dicpinigaitis PV, Tso R, Banauch G (2006) Prevalence of depressive symptoms among patients with chronic cough. Chest 130(6):1839–1843

French CL et al (1998) Impact of chronic cough on quality of life. Arch Intern Med 158(15):1657–1661

Birring SS et al (2003) Respiratory symptoms in patients with treated hypothyroidism and inflammatory bowel disease. Thorax 58(6):533–536

Morice A et al (2014) Greater worldwide preponderence of chronic cough in women: a manifestation of enhanced somatosensory response? Eur Respir J 44(5):1149–1155

Morice AH et al (2006) Recommendations for the management of cough in adults. Thorax 61(Suppl 1):i1–i24

Morice AH (2002) Epidemiology of cough. Pulm Pharmacol Ther 15(3):253–259

French CT, Fletcher KE, Irwin RS (2004) Gender differences in health-related quality of life in patients complaining of chronic cough. Chest 125(2):482–488

French CT et al (2002) Evaluation of a cough-specific quality-of-life questionnaire. Chest 121(4):1123–1131

Irwin RS, Madison JM (2000) Anatomical diagnostic protocol in evaluating chronic cough with specific reference to gastroesophageal reflux disease. Am J Med 108(Suppl 4a):126S–130S

Morice AH et al (2004) The diagnosis and management of chronic cough. Eur Respir J 24(3):481–492

Irwin R et al (2006) Diagnosis and management of cough executive summary: ACCP evidence-based clinical practice guidelines. Chest 129(1 Suppl):1S–23S

Everett CF et al (2007) Chronic persistent cough in the community: a questionnaire survey. Cough 3:5

Fujimura M (2012) Frequency of persistent cough and trends in seeking medical care and treatment-results of an internet survey. Allergol Int 61(4):573–581

Adams RJ et al (2009) Associations of physical and mental health problems with chronic cough in a representative population cohort. Cough 5:10

Yousaf N et al (2011) The assessment of quality of life in acute cough with the Leicester Cough Questionnaire (LCQ-acute). Cough 7(1):4
Acknowledgments
We would like to thank our colleagues at the ERS Chronic Cough Taskforce for their valuable feedback during the development of the survey, ERS Chronic Taskforce members: Maria Belvisi, Kristina Bieksiene, Kian Fan Chung, Peter Dicpingaitis, Robert W. Dal Negro, Ahmad Kantar, Lorcan P. McGarvey, Eva Millqvist, Raimundas Sakalauskas, Jaclyn A. Smith. We also would like to thank all the respondents to the survey.
Conflict of interest
Authors Chamberlain, Garrod, Douiri, Bücher, Masefield, Powell, Birring declare that they have no conflict of interest. Author Pandyan has received research grants from the National Institute of Health Research and Pneumacare, he also received educational support from Allergan Limited, Biometrics Limited and GlaxoSmithKline. Author AM has received research grants from Boehringer Ingelheim, Cheisi Pharma, Novartis Pharmaceuticals, Orion Pharma UK, Procter & Gamble Health Sciences, Pfizer, Pharmaxis, Profile Pharma, MPEX Pharmaceuticals, PPD Development, Almirall, Seekacure, Philips Home Healthcare Solutions, Glenmark, Harrison Clinical Research, Janssen, Gilead, Bayer, Astrazeneca, Genentech, Bionoria, PRA International, GlaxoSmithKline, Allianz Global, Guangzhou Institute of Respiratory Disease, Cardiff Chest Federation, British Pharmacological Society, Italian Society of Respiratory Medicine, Drug Information Association, SRxA USA, Association of Inhalation Toxicologists, Ardmore Healthcare Limited, Actelion, Hellenic Society of Respiratory and Occupational Chest Diseases, Primary Care respiratory Society UK, TREAT Education USA, National Health and Lung Institute.
Electronic supplementary material
Below is the link to the electronic supplementary material.
About this article
Cite this article
Chamberlain, S.A.F., Garrod, R., Douiri, A. et al. The Impact of Chronic Cough: A Cross-Sectional European Survey. Lung 193, 401–408 (2015). https://doi.org/10.1007/s00408-015-9701-2
Received:

Accepted:

Published:

Issue Date:

DOI: https://doi.org/10.1007/s00408-015-9701-2
Keywords
Chronic cough

Antitussive therapy

Survey

Quality of life

Management