Abstract
Tracheobronchopathia osteochondroplastica (TO) is a rare benign disease of the endobronchial system with nonspecific symptoms and different treatment approaches. We report on a group of patients with TO and discuss their presentation and their treatment modalities. Between 2000 and 2006, the medical records of patients with TO were studied at the Interventional Pulmonary Unit of the Tracheal Disease Research Center at Masih Daneshvary Hospital, a referral center for respiratory diseases in Tehran, Iran. We analyzed and studied patients' demographics, symptom presentation, radiographic appearance, bronchoscopic findings, and their subsequent treatment. Of the 8760 patients who underwent flexible bronchoscopy (FOB) at our center over 6 years, 10 were diagnosed with TO; their median age was 51 years (range = 16–68 years) and 6 were men. Computerized tomography (CT) revealed mucosal irregularity and calcified nodules. Histopathologic examination of tissue biopsy through bronchoscopy was used for definitive diagnosis of TO. Bronchoscopy findings showed the endobronchial lesions to be firm and glossy. Cartilaginous nodules were present in central airways. Treatment included endobronchial Nd:YAG laser photoevaporation (LPE) (n = 10), coring of the lesions with the tip of the rigid bronchoscope (n = 4), and endobronchial stent placement (n = 1). Symptoms were considerably relieved in six cases but there was no significant improvement noted in three patients. One patient died after 6 years of treatment and follow-up. TO is a rare disease and the diagnosis should be suspected based on CT findings or bronchoscopic examination of the airways. Histopathologic examination is required for confirmation of diagnosis. Treatment is palliative and it includes LPE, coring through a rigid bronchoscope, and endobronchial stent placement.
Access options
Buy single article
Instant access to the full article PDF.
US$ 39.95
Tax calculation will be finalised during checkout.
Subscribe to journal
Immediate online access to all issues from 2019. Subscription will auto renew annually.
US$ 79
Tax calculation will be finalised during checkout.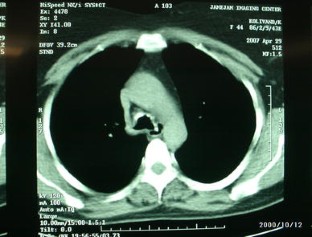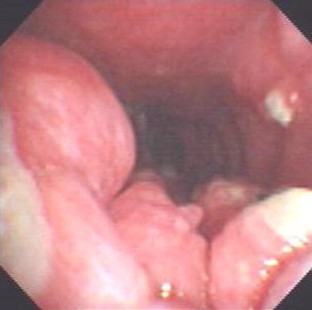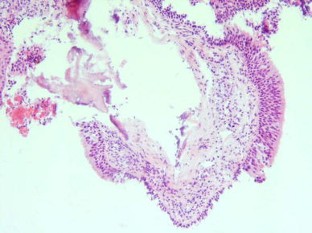 Abbreviations
F/C:

Fever and chills

TB:

Tuberculosis

EBN:

Endobronchial nodule

AR:

Atrophic rhinitis

ETN:

Endotracheal nodule

LAN:

Lymphadenopathy

MB:

Main stem bronchus

BRCC:

Bronchiectatic changes
References
1.

Kanat F, Teke T, Ozer F (2005) Tracheobronchopathia osteochondroplastica associated with iron deficiency anemia. Indian J Chest Dis Allied Sci 47(1):47–51

2.

Leske V, Lazor R, Coetmeur D, Crestani B, Chatté G, Cordier JF, Groupe d'Etudes et de Recherche sur les Maladies "Orphelines" Pulmonaires (GERM"O"P) (2001) Tracheobronchopathia osteochondroplastica: a study of 41 patients. Medicine (Baltimore) 80:378–390

3.

Bioque C, Feu N et al (2001) Tracheobronchopathia osteochondroplastica: clinical study and follow-up in nine cases. J Bronchol 8:78–83

4.

Dutau H, Musani A (2004) Treatment of severe tracheobronchopathia osteochondroplastica. J Bronchol 11:182–185

5.

Wilks S (1857) Ossific deposits on larynx, trachea, and bronchi. Trans Pathol Soc Lond 8:88

6.

Barthwal MS, Chatterji RS, Mehta A (2004) Tracheobronchopathia osteochondroplastica. Indian J Chest Dis Allied Sci 46:43–46

7.

Dalgaard J (1947) Tracheobronchopathia chondro-osteoplastica: a case elucidating the problems concerning development and ossification of elastic cartilage. Acta Pathol Microbiol Scand 24:118–134

8.

Moersch H, Broders A, Havens F (1937) Tracheopathia osteoplastica (osteoma of the trachea). Arch Otolaryngol 26:291–293

9.

Secrest P, Kending T, Beland A (1964) Tracheobronchopathia osteochondroplastica. Am J Med 36:815–818

10.

Riker D, Campagna AC, Beamis JF (2007) Tracheobronchopathia presenting as hemoptysis associated with vascular endobronchial tumors. J Bronchol 14:212–214

11.

Park SS, Shin DH, Lee DH, Jeon SC, Lee JH, Lee JD (1995) Tracheopathia osteoplastica simulating asthmatic symptoms: diagnosis by bronchoscopy and computerized tomography. Respiration 62:43–45

12.

Vilkman S, Keistinen T (1995) Tracheobronchopathia osteochondroplastica: report of a young man with severe disease and retrospective review of 18 cases. Respiration 62:151–154

13.

Lozar R, Cordier JF (2004) Tracheobronchopathia osteochondroplastica. Available at http://orpha.net/data/patho/GB/uk-TO.pdf. Accessed March 2, 2008

14.

Smith DC, Pillai R, Gillbe CE (1987) Tracheobronchopathia osteochondroplastica: a cause of unexpected difficulty in tracheal intubation. Anaesthesia 42:536–538

15.

Coetmeur D, Bovyn G, Leroux P, Niel-Duriez M (1997) Tracheopathia osteochondroplastica presenting at the time of a difficult intubation. Respir Med 91:496–498

16.

Vega J, Fuertes A, Barrueco M et al (1994) Osteochondroplastic tracheobronchopathy, ostechondromas and recurrent sinusitis: a propos a case [in Spanish]. Ann Med Intern 11:35–37

17.

Prakash U, McCullough A, Edell E, Nienhuis DM (1989) Tracheopathia osteoplastica: familial occurrence. Mayo Clin Proc 64:1091–1096

18.

Nienhuis DM, Prakash U, Edell E (1990) Tracheobronchopathia osteochondroplastica. Ann Otol Rhinol Laryngol 99:689–694

19.

Gleich LL, Rebeiz EE, Pankratov MM, Shapshay SM (1995) The holmium: YAG laser-assisted otolaryngologic procedures. Arch Otolaryngol Head Neck Surg 121:1162–1166
Acknowledgment
The authors thank Dr. Mehrdad Behnia for his help in editing this article.
About this article
Cite this article
Jabbardarjani, H.R., Radpey, B., Kharabian, S. et al. Tracheobronchopathia Osteochondroplastica: Presentation of Ten Cases and Review of the Literature. Lung 186, 293 (2008). https://doi.org/10.1007/s00408-008-9088-4
Received:

Accepted:

Published:
Keywords
Tracheobronchopathia osteochrondroplastica

Rare lung disease

Interventional pulmonology

Fiberoptic bronchoscopy