Abstract
Bronchogenic cysts are uncommon congenital anomalies of foregut origin and usually located within the mediastinum and the lung. A retrospective study of 33 thoracic bronchogenic cysts was undertaken to detail their clinicopathologic and radiologic features. There were 18 male and 15 female patients between 12 and 77 years of age with a mean age of 41 years. Thirty-one patients (94%) were symptomatic at the time of diagnosis and the chief complaint was chest pain (48.5%). Most of the cysts presented as homogeneous water-density shadows on standard chest radiographs. The location was intrapulmonary in 25 cases and mediastinal in 8 cases. Based on radiologic investigations, preoperative diagnosis of bronchogenic cyst was made in only 11 cases (33.34%). Surgical excision of the cyst was approached via thoracotomy in 32 cases and thoracoscopy in one case. Total excision of the cyst was performed in 31 cases and subtotal resection in 2 cases. Pathologic findings were consistent with bronchogenic cyst in all cases. During the follow-up period, which ranged between 1 month and 51 months, all patients were symptom-free with no evidence of recurrence. Complete surgical resection is recommended for all bronchogenic cysts to establish diagnosis, alleviate symptoms, and prevent complications.
Access options
Buy single article
Instant access to the full article PDF.
US$ 39.95
Tax calculation will be finalised during checkout.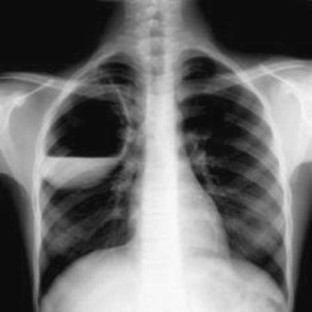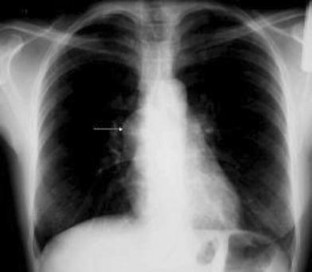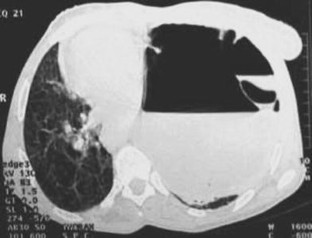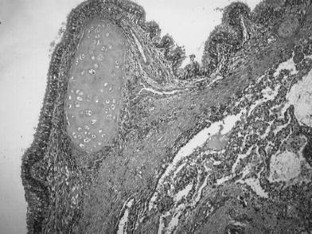 Abbreviations
BC:

bronchogenic cyst

MBC:

mediastinal bronchogenic cyst

PBC:

pulmonary bronchogenic cyst
References
1.

Haller JA, Shermeta DW, Donahoo JS (1975) Life-threatening respiratory distress from mediastinal masses in infants. Ann Thorac Surg 19:365–370

2.

Coselli MP, de Ipolyi P, Bloss RS, Diaz RF, Fitzgerald JB (1987) Bronchogenic cysts above and below the diaphragm: report of eight cases. Ann Thorac Surg 44:491–494

3.

Lyerly HK, Sabiston DC Jr (1988) Primary neoplasms and cysts of the mediastinum. In: Fishman AP (ed) Pulmonary diseases and disorders, vol 3, 2nd edn. New York: McGraw-Hill, pp 2090–2091

4.

Ko SF, Hsieh MJ, Linc JW, Huang CC, Li CC, Cheungd YC, Ng SH (2006) Bronchogenic cyst of the esophagus: clinical and imaging features of seven cases. Clin Imaging 30:309–314

5.

Dogan R, Cetin G, Moldibi B, Kaya S, Alp M, Uçanok K, Unlu M (1988) Les kystes bronchogéniques pulmonaires et médiastinaux. Rev Mal Respir 5:123–127

6.

Aktogu S, Yuncu G, Halilcolar H, Ermete S, Buduneli T (1996) Bronchogenic cysts: Clinicopathological presentation and treatment. Eur Respir J 9:2017–2021

7.

Ribet M, Copin M, Gosselin B (1995) Bronchogenic cysts of the mediastinum. J Thorac Cardiovasc Surg 109:1003–1010

8.

Patel S, Meeker D, Biscotti C, Kirby T, Rice T (1994) Presentation and management of bronchogenic cysts in the adult. Chest 106:79–85

9.

St. Georges R, Deslauriers J, Duranceau A, Vaillancourt R, Deschamps C, Beauchamp G, Pagé A, Brisson J (1991) Clinical spectrum of bronchogenic cysts of the mediastinum and lung in the adult. Ann Thorac Surg 52:6–13

10.

Ferguson TB Jr, Ferguson TB (1995) Congenital lesions of the lung and emphysema. In: Sabiston DC Jr, Spencer FC (eds) Surgery of the chest, vol. 1, 6th edn. Philadelphia: W.B. Saunders, pp 857–860

11.

Bolton J, Shalian D (1992) Asymptomatic bronchogenic cysts: what is the best management? Ann Thorac Surg 53:1134–1137

12.

Suen HC, Mathisen DJ, Grillo HC, LeBlanc J, McLoud TC, Moncure AC, Hilgenberg AD (1993) Surgical management and radiological characteristics of bronchogenic cysts. Ann Thorac Surg 55:476–481

13.

McAdams H, Kirejczyk WM, de Christenson ML, Matsumoto S (2000) Bronchogenic cyst: imaging features with clinical and histopathologic correlation. Radiology 217:441–446

14.

Hajjar W, El Madany Y, Ashour M, Al Kattan K (2003) Life threatening complications caused by bronchogenic cyst and oesophageal duplication cysts in a child. J Cardiovasc Surg 44:135–137

15.

Wilson RL, Lettieri CJ, Fitzpatrik TM, Shorr AF (2005) Intralobular bronchopulmonary sequestrations associated with bronchogenic cysts. Respir Med 99:508–510

16.

Smythe W, Bavaria J, Kaiser L (1998) Mediastinoscopic subtotal removal of mediastinal cysts. Chest 114:614–617

17.

Rapado F, Bennett JD, Stringfellow JM (1998) Bronchogenic cyst: an unusual cause of lump in the neck. J Laryngol Otol 112:893–894

18.

Itoh H, Shitamura T, Kataoka H, Ide H, Akiyama Y, Hamasuna R, Hasui Y, Osada Y, Koono M (1999) Retroperitoneal bronchogenic cyst. Report of a case and literature review. Pathol Int 49:152

19.

Pryce DM (1948) The lining of healed but persistent abscess cavities in the lung with epithelium of the ciliated columnar type. J Pathol Bacteriol 60:259–264

20.

Metersky ML, Moskowitz H, Thayer JO (1995) Recurrent mediastinal bronchogenic cyst. Respiration 62:234–236

21.

Gharagozloo F, Dausmann M, McReynolds S, Sanderson D, Helmers R (1995) Recurrent bronchogenic pseudocyst 24 years after incomplete excision: report of a case. Chest 108:880–883

22.

Read C, Moront M, Carangelo R, Holt R, Richardson M (1991) Recurrent bronchogenic cyst. An argument for complete excision Arch Surg 126:1306–1308

23.

Rice DC, Putnam JB (2002) Recurrent bronchogenic cyst causing recurrent laryngeal nerve palsy. Eur J Cardiothorac Surg 21:561–563

24.

Rammohan G, Berger HW, Lajam F, Buhain WJ (1975) Superior vena cava syndrome caused by bronchogenic cyst. Chest 68:599–601

25.

Worsnop CJ, Teichtahl H, Clark CP (1993) Bronchogenic cyst a cause of pulmonary artery obstruction and breathlessness. Ann Thorac Surg 55:1254–1255

26.

Watson A, Chandhary B (1987) Cardiac arrythmias and abnormal chest roentgenogram. Bronchogenic cyst. Chest 92:335–336

27.

Endo C, Tadashi I, Hideyuki N, Akio E, Mitsumoi K (2000) Bronchioloalveolar carcinoma arising in a bronchogenic cyst. Ann Thorac Surg 69:933–935

28.

Ashizawa K, Okimoto T, Shirafuji T, Kusano H, Ayabe H, Hayashi K (2001) Anterior mediastinal bronchogenic cyst: demonstration of complicating malignancy by CT and MRI. BrJ Radiol 74:959–961

29.

Zaugg M, Kaplan V, Widmer U, Baumann P, Russi E (1998) Fatal air embolism in an airplane passenger with a giant intrapulmonary bronchogenic cyst. Am J Respir Crit Care Med 157:1686–1689

30.

Kennebeck G, Wong A, Berry W, Higgins J, Manubens S (1999) Mediastinal bronchogenic cyst manifesting as a catastrophic myocardial infarction. Ann Thorac Surg 67:1789–1791
About this article
Cite this article
Limaïem, F., Ayadi-Kaddour, A., Djilani, H. et al. Pulmonary and Mediastinal Bronchogenic Cysts: A Clinicopathologic Study of 33 Cases. Lung 186, 55–61 (2008). https://doi.org/10.1007/s00408-007-9056-4
Received:

Accepted:

Published:

Issue Date:
Keywords
Bronchogenic cyst

Congenital

Foregut

Lung · Mediastinum