Abstract
Lung-lining fluid (LLF) is a primary constituent of the pulmonary host defense system. It is distributed continuously throughout the respiratory tract but is heterogeneous regarding its chemistry and physiology between the conducting airways and alveoli. The conducting airways are lined with airway surface liquid (ASL), a mucus gel-aqueous sol complex that interacts functionally with epithelial cilia as the mucociliary escalator. The alveoli are lined with alveolar subphase fluid (AVSF) and pulmonary surfactant. AVSF sterility is maintained in part by the phagocytic activity of resident alveolar macrophages. Normal ASL and AVSF are both more acidic than blood plasma. However, the details of acid-base regulation differ between the two media. Appreciable transepithelial acid-base flux is possible across the airway epithelium, whereas the alveolar epithelium is relatively impermeable to transepithelial acid-base flux. Moreover, one must consider the influence of resident macrophages on AVSF pH. Resident macrophages occupy a sizable fraction of AVSF by volume and are a substantial source of metabolic H+. The buffering capacities of ASL and AVSF probably are largely due to secreted peptides (e.g., ASL mucins and AVSF surfactant proteins). Acid-base exchange between the extracellular hydrophase and intracellular buffering systems of resident macrophages represents an additional buffer pool for AVSF. The pH of ASL and AVSF can be depressed by disease or inflammation. Low pH is predicted to suppress microbe clearance from the airways and alveoli, increase pathogen survival in both regions, and alter mediator release by resident macrophages and recruited leukocytes thereby increasing the propensity for bystander cell injury. Overall, ASL/AVSF pH is expected to be a major determinant of lung host defense responses.
Access options
Buy single article
Instant access to the full article PDF.
US$ 39.95
Tax calculation will be finalised during checkout.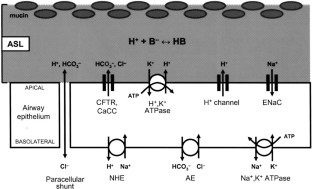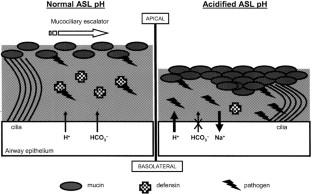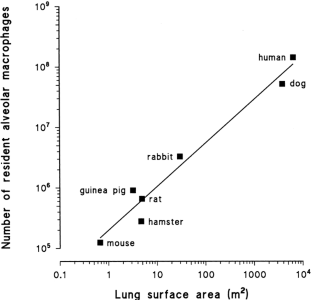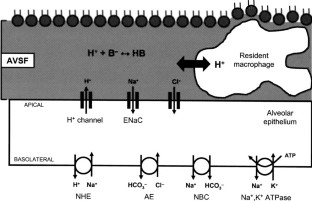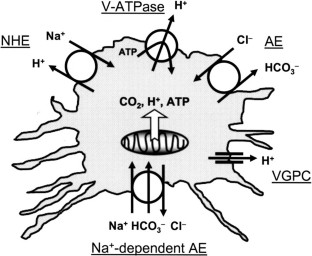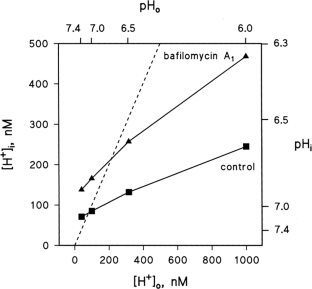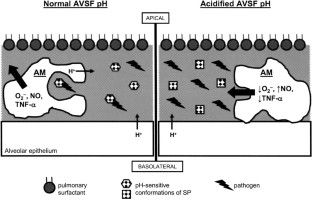 References
1.

JD Amirkahnian TA Merritt (1995) ArticleTitleThe influence of pH on surface properties of lung surfactants Lung 173 243–254

2.

MS Awayda MJ Boudreaux RL Reger LL Hamm (2000) ArticleTitleRegulation of the epithelial Na+ channel by extracellular acidification Am J Physiol Cell Physiol 279 C1896–C1905

3.

H Bachofen S Schürch (2001) ArticleTitleAlveolar surface forces and lung architecture Comp Biochem Physiol A 129 183–193

4.

R Bals (2000) ArticleTitleEpithelial antimicrobial peptides in host defense against infection Respir Res 1 141–150

5.

PM Barker RE Olver (2002) ArticleTitleInvited review: clearance of lung liquid during the perinatal period J Appl Physiol 93 1542–1548

6.

A Bellocq S Suberville C Philippe F Bertrand J Perez B Fouqueray G Cherqui L Baud (1998) ArticleTitleLow environmental pH is responsible for the induction of nitric-oxide synthase in macrophages. Evidence for involvement of nuclear factor-κB activation J Biol Chem 273 5086–5092

7.

A Bidani SES Brown (1990) ArticleTitleATP-dependent pHi recovery in lung macrophages: evidence for a plasma membrane H+-ATPase Am J Physiol 259 C586–C598

8.

A Bidani SES Brown TA Heming (1994) ArticleTitlepHi regulation in alveolar macrophages: relative roles of Na+-H+ antiport and H+-ATPase Am J Physiol 266 L681–L688

9.

A Bidani SES Brown TA Heming R Gurich TD Dubose SuffixJr (1989) ArticleTitleCytoplasmic pH in pulmonary macrophages: recovery from acid load is Na+ independent and NEM sensitive Am J Physiol 257 C65–C76

10.

A Bidani TA Heming (1995) ArticleTitleEffects of bafilomycin A1 on functional capabilities of LPS-activated alveolar macrophages J Leukoc Biol 57 275–281

11.

A Bidani TA Heming (1998) ArticleTitleEffects of CO2 on pH regulation in alveolar macrophages J Leukoc Biol (Suppl) 1 24

12.

A Bidani TA Heming (1998) ArticleTitleEffects of concanavalin A on Na+-dependent and Na+-independent mechanisms for H+ extrusion in alveolar macrophages Lung 176 25–34

13.

A Bidani BS Reisner AK Haque J Wen RE Helmer DM Tuazon TA Heming (2000) ArticleTitleBactericidal activity of alveolar macrophages is suppressed by V-ATPase inhibition Lung 178 91–104

14.

A Bidani CZ Wang SJ Saggi TA Heming (1998) ArticleTitleEvidence for pH sensitivity of tumor necrosis factor-α release by alveolar macrophages Lung 176 111–121

15.

S Blouquit H Morel J Hinnrasky E Naline E Puchelle T Chinet (2002) ArticleTitleCharacterization of ion and fluid transport in human bronchioles Am J Respir Cell Mol Biol 27 503–510 Occurrence Handle1:CAS:528:DC%2BD38XnvFGrsbc%3D Occurrence Handle12356585

16.

CR Bodem LM Lampton DP Miller EF Tarka ED Everett (1983) ArticleTitleEndobronchial pH. Relevance of aminoglycoside activity in gram-negative bacillary pneumonia Am Rev Respir Dis 127 39–41

17.

RC Boucher (1999) ArticleTitleMolecular insights into the physiology of the "thin film" of airway surface liquid J Physiol (Lond) 516 631–638

18.

SES Brown TA Heming CR Benedict A Bidani (1991) ArticleTitleATP-sensitive Na+-H+ antiport in type II alveolar epithelial cells Am J Physiol 261 C954–C963

19.

LL Clarke MC Harline (1998) ArticleTitleDual role of CFTR in cAMP-stimulated HCO -3 secretion across murine duodenum Am J Physiol 274 G718–G726

20.

C Clary-Meinesz J Mouroux J Cosson P Huitorel B Blaive (1998) ArticleTitleInfluence of external pH on ciliary beat frequency in human bronchi and bronchioles Eur Respir J 11 330–333

21.

RD Coakley BR Grubb AM Paradiso et al. (2003) ArticleTitleAbnormal surface liquid pH regulation by cultured cystic fibrosis bronchial epithelium Proc Natl Acad Sci USA 100 16083–16088

22.

LM Connor A Bidani J Goerke JA Clements EM Postlethwait (2001) ArticleTitleNO2 interfacial transfer is reduced by phospholipids monolayers J Appl Physiol 91 2024–2034

23.

ED Crandall MA Matthay (2001) ArticleTitleAlveolar epithelial transport. Basic science to clinical medicine Am J Respir Grit Care Med 163 1021–1029

24.

TE DeCoursey (2003) ArticleTitleVoltage-gated proton channels and other proton transfer pathways Physiol Rev 83 475–579

25.

RA Dluhy S Shanmukh JB Leapard P Kruger JE Baatz (2003) ArticleTitleDeacylated pulmonary surfactant protein SP-C transforms from alpha-helical to amyloid fibril structure via a pH-dependent mechanism: an infrared structural investigation Biophys J 85 2417–2429

26.

PK Dudeja N Hafez S Tyagi et al. (1999) ArticleTitleExpression of the Na+/H+ and Cl-/HCO -3 exchanger isoforms in proximal and distal human airways Am J Physiol 276 L971–L978

27.

H Fischer JH Widdicombe B Illek (2002) ArticleTitleAcid secretion and proton conductance in human airway epithelium Am J Physiol Cell Physiol 282 C736–C743

28.

JR Geffner AS Trevani F Minnucci MS Palermo N Maugeri MA Isturiz (1993) ArticleTitleExtracellular acidic pH modulates oxygen-dependent cytotoxic responses mediated by polymorphonuclear leucocytes and monocytes Clin Exp Immunol 91 164–169

29.

MJ Goldman GM Anderson ED Stolzenberg UP Kari M Zasloff JM Wilson (1997) ArticleTitleHuman β-defensin-1 is a salt-sensitive antibiotic that is inactivated in cystic fibrosis Cell 88 553–560

30.

S Grinstein CJ Swallow OD Rotstein (1991) ArticleTitleRegulation of cytoplasmic pH in phagocytic cell function and dysfunction Clin Biochem 24 241–247

31.

AD Gruber KD Schreur HL Ji CM Fuller BU Pauli (1999) ArticleTitleMolecular cloning and transmembrane structure of hCLCA2 from human lung, trachea, and mammary gland Am J Physiol 276 C1261–C1270 Occurrence Handle1:CAS:528:DyaK1MXktlSrtbg%3D Occurrence Handle10362588

32.

TA Heming A Bidani (1995) ArticleTitleEffects of myristate phorbol ester on V-ATPase activity and Na+-H+ exchange in alveolar macrophages J Leukoc Biol 57 600–608

33.

TA Heming A Bidani (1995) ArticleTitleNa+-H+ exchange in resident alveolar macrophages: activation by osmotic cell shrinkage J Leukoc Biol 57 609–616

34.

TA Heming A Bidani (2000) ArticleTitleSynergistic effects of nitric oxide and superoxide on pHi regulation in alveolar macrophages Am J Respir Grit Care Med 161 A769

35.

TA Heming A Bidani (2002) ArticleTitlePlasmalemmal H+ extruders in mammalian alveolar macrophages. Comp Biochem Physiol A Mol Integr Physiol 133 143–150

36.

TA Heming A Bidani (2003) ArticleTitleEffects of plasmalemmal V-ATPase activity on plasma membrane potential of resident alveolar macrophages Lung 181 121–135

37.

TA Heming SK Davé DM Tuazon AK Chopra JW Peterson A Bidani (2001) ArticleTitleEffects of extracellular pH on tumour necrosis factor-α production by resident alveolar macrophages Clin Sci (Lond) 101 267–274

38.

TA Heming DM Tuazon SK Davé AK Chopra JW Peterson A Bidani (2001) ArticleTitlePost-transcriptional effects of extracellular pH on tumour necrosis factor-α production in RAW 246.7 and J774 A.1 cells Clin Sci (Lond) 100 259–266

39.

B Holma (1989) ArticleTitleEffects of inhaled acids on airway mucus and its consequences for health Environ Health Perspect 79 109–113

40.

J Israelachvili H Wennerstrom (1996) ArticleTitleRole of hydration and water structure in biological and colloidal interactions Nature 379 219–225

41.

S Jayaraman Y Song AS Verkman (2001) ArticleTitleAirway surface liquid osmolality measured using fluorophore-encapsulated liposomes J Gen Physiol 117 423–430

42.

S Jayaraman Y Song AS Verkman (2001) ArticleTitleAirway surface liquid pH in well-differentiated airway epithelial cell cultures and mouse trachea Am J Physiol Cell Physiol 281 C1504–C1511

43.

C Jiang WE Finkbeiner JH Widdicombe PB McCray SuffixJr SS Miller (1993) ArticleTitleAltered fluid transport across airway epithelium in cystic fibrosis Science 262 424–427

44.

MD Johnson JH Widdicombe L Allen P Barbry LG Dobbs (2002) ArticleTitleAlveolar epithelial type I cells contain transport proteins and transport sodium, supporting an active role for type I cells in regulation of lung liquid homeostasis Proc Natl Acad Sci USA 99 1966–1971

45.

D Joseph O Tirmizi X-L Zhang ED Crandall RL Lubman (2002) ArticleTitleAlveolar epithelial ion and fluid transport. Polarity of alveolar epithelial cell acid-base permeability Am J Physiol Lung Cell Mol Physiol 282 L675–L683

46.

RW Junor AR Benjamin D Alexandrou SE Guggino DV Walters (1999) ArticleTitleA novel role for cyclic nucleotide-gated cation channels in lung liquid homeostasis in sheep J Physiol 520 255–260

47.

D Kashchiev D Exerowa (2001) ArticleTitleStructure and surface energy of the surfactant layer on the alveolar surface Eur Biophys J 30 34–41

48.

MR Knowles JM Robinson RE Wood et al. (1997) ArticleTitleIon composition of airway surface liquid of patients with cystic fibrosis as compared with normal and disease-control subjects J Clin Invest 100 2588–2595

49.

K Kostikas G Papatheodorou K Ganas K Psathakis P Panagou S Loukides (2002) ArticleTitlepH in expired breath condensate of patients with inflammatory airway diseases Am J Respir Crit Care Med 165 1364–1370

50.

A Lardner (2001) ArticleTitleThe effects of extracellular pH on immune function J Leukoc Biol 69 522–530

51.

B Leblebicioglu JS Lim AC Cario FM Beck JD Walters (1996) ArticleTitlepH changes observed in the inflamed gingival crevice modulate human polymorphonuclear leukocyte activation in vitro J Periodontol 67 472–477

52.

MC Lee CM Penland JH Widdicombe JJ Wine (1998) ArticleTitleEvidence that Calu-3 human airway cells secrete bicarbonate Am J Physiol 274 L450–L453

53.

AM LeVine JA Whitsett (2001) ArticleTitlePulmonary collectins and innate host defense of the lung Microbes Infect 3 161–166

54.

RL Lubman DC Chao ED Crandall (1995) ArticleTitleBasolateral localization of Na+-HCO -3 cotransporter activity in alveolar epithelial cells Respir Physiol 100 15–24

55.

RL Lubman ED Crandall (1994) ArticleTitlePolarized distribution of Na+-H+ antiport activity in rat alveolar epithelial cells Am J Physiol 266 L138–L147

56.

RL Lubman SI Danto DC Chao CE Fricks ED Crandall (1995) ArticleTitleCl--HCO -3 exchanger isoform AE2 is restricted to the basolateral surface of alveolar epithelial cell monolayers Am J Respir Cell Mol Biol 12 211–219

57.

RL Lubman SI Danto ED Crandall (1989) ArticleTitleEvidence for active H+ secretion by rat alveolar epithelial cells Am J Phyiol 257 L438–L445

58.

H Matsui CW Davis R Tarran RC Boucher (2000) ArticleTitleOsmotic water permeabilities of cultured, well-differentiated normal and cystic fibrosis airway epithelia J Clin Invest 105 1419–1427

59.

K Nakayama YX Jia H Hirai et al. (2002) ArticleTitleAcid stimulation reduces bactericidal activity of surface liquid in cultured human airway epithelial cells Am J Respir Cell Mol Biol 26 105–113

60.

DW Nielson J Goerke JA Clements (1981) ArticleTitleAlveolar subphase pH in the lungs of anesthetized rabbits Proc Natl Acad Sci USA 78 7119–7123

61.

M Nozaki K Takeshige H Sumimoto S Minakami (1990) ArticleTitleReconstitution of the partially purified membrane component of the superoxide-generating NADPH oxidase of pig neutrophils with phospholipid Eur J Biochem 187 335–340

62.

SM O'Grady SY Lee (2003) ArticleTitleChloride and potassium channel function in alveolar epithelial cells Am J Physiol Lung Cell Mol Physiol 284 L689–L700

63.

JJ Oppenheim A Biragyn LW Kwak D Yang (2003) ArticleTitleRoles of antimicrobial peptides such as defensins in innate and adaptive immunity Ann Rheum Dis 62 IssueIDSuppl II ii17–ii21

64.

B Ramanathan EG Davis CR Ross F Blecha (2002) ArticleTitleCathelicidins: microbicidal activity, mechanisms of action, and roles in innate immunity Microbes Infect 4 361–372

65.

ML Ruano J Perez-Gil C Casals (1998) ArticleTitleEffect of acidic pH on the structure and lipid binding properties of porcine surfactant protein A. Potential role of acidification along its exocytic pathway J Biol Chem 273 15183–15191

66.

ML Ruano K Nag C Casals J Perez-Gil KM Keough (1999) ArticleTitleInteractions of pulmonary surfactant protein A with phospholipids monolayers change with pH Biophys J 77 1469–1476

67.

EM Scarpelli (2002) ArticleTitleStructure and surface energy of the surfactant layer on the alveolar surface: inaccuracies and their correction Eur Biophys J 31 485–486

68.

JF Seymour JJ Presneill (2002) ArticleTitlePulmonary alveolar proteinosis. Progress in the first 44 years Am J Respir Grit Care Med 166 215–235

69.

Y Sohma MA Gray Y Imai BE Argent (2001) ArticleTitle150 mM HCO -3 –how does the pancreas do it? Clues from computer modelling of the duct cell JOP 2 198–202

70.

P Stoodley D deBeer HM Lappin-Scott (1997) ArticleTitleInfluence of electric fields and pH on biofilm structure as related to the bioelectric effect Antimicrob Agents Chemother 41 1876–1879

71.

KC stone RR Mercer P Gehr B Stockstill JD Crapo (1992) ArticleTitleAllometric relationships of cell numbers and size in the mammalian lung Am J Res Cell Mol Biol 6 235–243

72.

R Tarran BR Grubb JT Gatzy CW Davis RC Boucher (2001) ArticleTitleThe relative roles of passive surface forces and active ion transport in the modulation of airway surface liquid volume and composition J Gen Physiol 118 223–236

73.

PA Valberg JD Blanchard (1991) Pulmonary macrophage physiology: origin, motility, endocytosis RA Parent (Eds) Treatise on Pulmonary Toxicology, vol I, Comparative Biology of the Normal Lung CRC Press Boca Raton, FL 681–724

74.

JA Voynow (2002) ArticleTitleWhat does mucin have to do with lung disease? Paediatr Respir Rev 3 98–103

75.

JH Widdicombe SJ Bastacky DX Wu CY Lee (1997) ArticleTitleRegulation of depth and composition of airway surface liquid Eur Respir J 10 2892–2897

76.

H Wu A Kuzmenko S Wan et al. (2003) ArticleTitleSurfactant proteins A and D inhibit the growth of Gram-negative bacteria by increasing membrane permeability J Clin Invest 111 1589–1602

77.

D Yang O Chertov SN Bykovskaia et al. (1999) ArticleTitleβ-defensins: linking innate and adaptive immunity through dendritic and T cell CCR6 Science 286 525–528 Occurrence Handle10.1126/science.286.5439.525 Occurrence Handle1:CAS:528:DyaK1MXmvVOhurc%3D Occurrence Handle10521347

78.

J Zabner JJ Smith PH Karp JH Widdicombe MJ Welsh (1998) ArticleTitleLoss of CFTR chloride channels alters salt absorption by cystic fibrosis airway epithelia in vitro Mol Cell 2 397–403

79.

S Zhu KF Basiouny JP Crow S Matalon (2000) ArticleTitleCarbon dioxide enhances nitration of surfactant protein A by activated alveolar macrophages Am J Physiol Lung Cell Mol Physiol 278 L1025–L1031
Acknowledgments
This wok was supported by NIH grant HL51421 to AB.
About this article
Cite this article
Ng, A.W., Bidani, A. & Heming, T.A. Innate Host Defense of the Lung: Effects of Lung-lining Fluid pH. Lung 182, 297–317 (2004). https://doi.org/10.1007/s00408-004-2511-6
Keywords
Natural immunity

Acid-base status

Mucociliary clearance

Alveolar macrophage

Phagocytosis