Abstract
Chemokines have been implicated in the pathogenesis of many inflammatory processes, including bronchopulmonary dysplasia in mechanically ventilated premature infants. We hypothesized that early expression of the proinflammatory cytokine, tumor necrosis factor α (TNFα), would be followed by later expression of the downstream chemokine, Groβ, in the oxygen-injured newborn lung. Reverse transcriptase-polymerase chain reaction (RT-PCR) and ribonuclease protection assay (RPA) were used to assess TNFα and Groβ mRNA expression in lung RNA samples from newborn rabbits exposed to >95% O2 for 8–9 days, followed by 60% O2 for a further 2–4 weeks or from control rabbits exposed to air. Four lung samples per condition were collected every 2 days from day 0 to day 14, and at days 22 and 36. Rabbit alveolar macrophages (AM) stimulated in vitro with bacterial lipopolysaccharide served as positive controls (n = 8). Groβ mRNA expression in rabbit lung samples increased with oxygen exposure until day 8, then returned toward baseline levels. This corresponded to previously described elevations in neutrophil number in the lungs. TNFα mRNA expression in lung samples was below the limit of detection by RPA and showed no upregulation in hyperoxic lung samples by RT-PCR. TNFα activity was assessed in lung lavage (n = 2 samples per condition per time) using an L929 cell line bioassay and was not increased in hyperoxic animals. The expression of Groβ mRNA without antecedent or concurrent TNFα mRNA expression or activity makes it unlikely that Groβ in the hyperoxic newborn rabbit lung is elaborated in response to a stimulus by TNFα.
Access options
Buy single article
Instant access to the full article PDF.
USD 39.95
Price excludes VAT (USA)
Tax calculation will be finalised during checkout.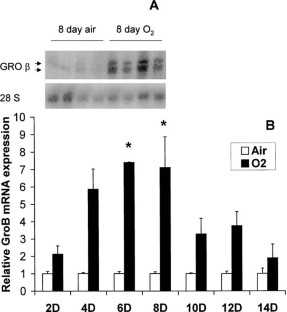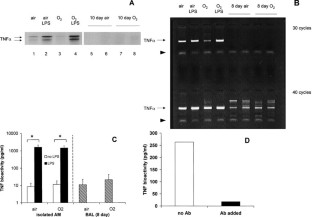 References
A Anisowicz M Messineo SW Lee R Sager (1991) ArticleTitleAn NF-kappa B-like transcription factor mediates IL-1/TNF-alpha induction of gro in human fibroblasts. J Immunol 147 520–527 Occurrence Handle1:CAS:528:DyaK3MXmtVGlsb0%3D Occurrence Handle1906501

A Bagchi RM Viscardi V Taciak JE Ensor KA McCrea JD Hasday (1994) ArticleTitleIncreased activity of interleukin-6 but not tumor necrosis factor-alpha in lung lavage of premature infants is associated with the development of bronchopulmonary dysplasia. Pediatr Res 36 244–252 Occurrence Handle1:CAS:528:DyaK2cXmtVejs74%3D Occurrence Handle7970941

M Baggiolini B Dewald B Moser (1994) ArticleTitleInterleukin-8 and related chemotactic cytokines–CXC and CC chemokines. Adv Immunol 55 97–179 Occurrence Handle1:CAS:528:DyaK2cXktlamtr8%3D Occurrence Handle8304236

J Ben-Ari IR Makhoul RJ Dorio S Buckley D Warburton SM Walker (2000) ArticleTitleCytokine response during hyperoxia: sequential production of pulmonary tumor necrosis factor and interleukin-6 in neonatal rats. Isr Med Assoc J 2 365–369 Occurrence Handle1:CAS:528:DC%2BD3cXlsFSit74%3D Occurrence Handle10892391

DS Bonikos KG Bensch WH Northway Jr (1976) ArticleTitleOxygen toxicity in the newborn. The effect of chronic continuous 100 percent oxygen exposure on the lungs of newborn mice. Am J Pathol 85 623–650 Occurrence Handle1:STN:280:CSiD28zjslE%3D Occurrence Handle998734

CT D'Angio K Basavegowda NE Avissar JN Finkelstein RA Sinkin (2002) ArticleTitleComparison of tracheal aspirate and bronchoalveolar lavage specimens from premature infants. Biol Neonate 82 145–149 Occurrence Handle10.1159/000063608 Occurrence Handle1:CAS:528:DC%2BD38XnslWrurk%3D Occurrence Handle12373063

CT D'Angio JN Finkelstein MB Lomonaco A Paxhia SA Wright RB Baggs RH Notter RM Ryan (1997) ArticleTitleChanges in surfactant protein gene expression in a neonatal rabbit model of hyperoxia-induced fibrosis. Am J Physiol Lung Cell Mol Physiol 16 L720–L730

CT D'Angio CJ Johnston TW Wright CK Reed JN Finkelstein (1998) ArticleTitleChemokine mRNA alterations in newborn and adult mouse lung during acute hyperoxia. Exp Lung Res 24 685–702 Occurrence Handle1:CAS:528:DyaK1cXmtlCmt70%3D Occurrence Handle9779377

CT D'Angio MB LoMonaco SA Chaudhry A Paxhia RM Ryan (1999) ArticleTitleDiscordant pulmonary proinflammatory cytokine expression during acute hyperoxia in the newborn rabbit. Exp Lung Res 25 443–465 Occurrence Handle10.1080/019021499270187 Occurrence Handle1:CAS:528:DyaK1MXltleitb0%3D Occurrence Handle10483526

LE DeForge JS Kenney ML Jones JS Warren DO Remick (1992) ArticleTitleBiphasic production of IL-8 in lipopolysaccharide (LPS)-stimulated human whole blood. Separation of LPS- and cytokine-stimulated components using anti-tumor necrosis factor and anti-IL-1 antibodies. J Immunol 148 2133–2141 Occurrence Handle1:CAS:528:DyaK38XitFalsbg%3D Occurrence Handle1545121

T Geiser B Dewald MU Ehrengruber I Clark-Lewis M Baggiolini (1993) ArticleTitleThe interleukin-8-related chemotactic cytokines GRO alpha, GRO beta, and GRO gamma activate human neutrophil and basophil leukocytes. J Biol Chem 268 15419–15424 Occurrence Handle1:CAS:528:DyaK3sXltFGitrY%3D Occurrence Handle8340371

S Haskill A Peace J Morris SA Sporn A Anisowicz SW Lee T Smith G Martin P Ralph R Sager (1990) ArticleTitleIdentification of three related human GRO genes encoding cytokine functions. Proc Natl Acad Sci USA 87 7732–7736 Occurrence Handle1:CAS:528:DyaK3MXhsl2gsrg%3D Occurrence Handle2217207

H Ito T Shirai S Yamamoto M Akira S Kawahara CW Todd RB Wallace (1986) ArticleTitleMolecular cloning of the gene-encoding rabbit tumor necrosis factor. DNA 5 157–165 Occurrence Handle1:CAS:528:DyaL28XktVWltLk%3D Occurrence Handle3519138

AH Jobe E Bancalari (2001) ArticleTitleBronchopulmonary dysplasia. Am J Respir Crit Care Med 163 1723–1729 Occurrence Handle1:STN:280:DC%2BD3Mzjtl2qsw%3D%3D Occurrence Handle11401896

MC II Johnson RB Goodman O Kajikawa VA Wong SM Mongovin TR Martin (1994) ArticleTitleCloning of two rabbit GRO homologues and their expression in alveolar macrophages. Gene 151 337–338 Occurrence Handle10.1016/0378-1119(94)90684-X Occurrence Handle1:CAS:528:DyaK2MXjtFSgs7s%3D Occurrence Handle7828903

CJ Johnston TW Wright CK Reed JN Finkelstein (1997) ArticleTitleComparison of adult and newborn pulmonary cytokine mRNA expression after hyperoxia. Exp Lung Res 23 537–552 Occurrence Handle1:CAS:528:DyaK2sXnt1Glu70%3D Occurrence Handle9358235

SS Joshi-Barve VV Rangnekar SF Sells VM Rangnekar (1993) ArticleTitleInterleukin-1-inducible expression of gro-beta via NF-kappa B activation is dependent upon tyrosine kinase signaling. J Biol Chem 268 18018–18029 Occurrence Handle1:CAS:528:DyaK3sXlsFyjsL0%3D Occurrence Handle7688736

S Kotecha B Chan N Azam M Silverman RJ Shaw (199) ArticleTitleIncrease in interleukin-8 and soluble intercellular adhesion molecule-1 in bronchoalveolar lavage fluid from premature infants who develop chronic lung disease. Arch Dis Child Fetal Neonat Ed 72 F90–F96

S Little T Dean S Bevin M Hall M Ashton M Church J Warner J Shute (1995) ArticleTitleRole of elevated plasma-soluble ICAM-1 and bronchial lavage fluid IL-8 levels as markers of chronic lung disease in premature infants. Thorax 50 1073–1079 Occurrence Handle1:STN:280:BymD1Mnms1A%3D Occurrence Handle7491556

AD Luster (1998) ArticleTitleChemokines—chemotactic cytokines that mediate inflammation. N Engl J Med 338 436–445 Occurrence Handle1:CAS:528:DyaK1cXht1Wrsrc%3D Occurrence Handle9459648

JR McColm N McIntosh (1994) ArticleTitleInterleukin-8 in bronchoalveolar lavage samples as predictor of chronic lung disease in premature infants [letter]. Lancet 343 729 Occurrence Handle10.1016/S0140-6736(94)91606-3 Occurrence Handle1:STN:280:ByuC1c%2Fmtlc%3D

LL Moldawer (1994) ArticleTitleBiology of proinflammatory cytokines and their antagonists. Crit Care Med 22 S3–S7 Occurrence Handle1:STN:280:ByuB1Mfjs1I%3D Occurrence Handle8026189

T Mosmann (1983) ArticleTitleRapid colorimetric assay for cellular growth and survival: application to proliferation and cytotoxicity assays. J Immunol Methods 65 55–63 Occurrence Handle1:STN:280:BiuD1cbgsFE%3D Occurrence Handle6606682

RL Shattuck LD Wood GJ Jaffe A Richmond (1994) ArticleTitleMGSA/GRO transcription is differentially regulated in normal retinal pigment epithelial and melanoma cells. Mol Cell Biol 14 791–802 Occurrence Handle1:CAS:528:DyaK2cXhtVemtLc%3D Occurrence Handle8264646

K Shimoya A Moriyama N Matsuzaki I Ogata M Koyama C Azuma F Saji Y Murata (1999) ArticleTitleHuman placental cells show enhanced production of interleukin (IL)-8 in response to lipopolysaccharide (LPS), IL-1 and tumour necrosis factor (TNF)-alpha, but not to IL-6. Mol Hum Reprod 5 885 Occurrence Handle10.1093/molehr/5.9.885 Occurrence Handle1:CAS:528:DyaK1MXmsVaqtLw%3D Occurrence Handle10460229

MY Stoeckle (1991) ArticleTitlePost-transcriptional regulation of gro alpha, beta, gamma, and IL-8 mRNAs by IL-1 beta. Nucleic Acids Res 19 917–920 Occurrence Handle1:CAS:528:DyaK3MXhsl2nu74%3D Occurrence Handle2017372

J Takasaki Y Ogawa (1997) ArticleTitleInterleukin 8 and granulocyte elastase in the tracheobronchial aspirate of infants without respiratory distress syndrome or intrauterine infection and development of chronic lung disease. Acta Paediat Jpn 39 437–441 Occurrence Handle1:STN:280:ByiH283gtFY%3D Occurrence Handle9316287

K Tullus GW Noack LG Burman R Nilsson B Wretlind A Brauner (1996) ArticleTitleElevated cytokine levels in tracheobronchial aspirate fluids from ventilator-treated neonates with bronchopulmonary dysplasia. Eur J Pediatr 155 112–116 Occurrence Handle10.1007/s004310050386 Occurrence Handle1:STN:280:BymA2s7jvFQ%3D Occurrence Handle8775225

KJ Van Zee LE DeForge E Fischer MA Marano JS Kenney DG Remick SF Lowry LL Moldawer (1991) ArticleTitleIL-8 in septic shock, endotoxemia, and after IL-1 administration. J Immunol 146 3478–3482 Occurrence Handle1:CAS:528:DyaK3MXlsFKlurk%3D Occurrence Handle2026876

WW Zhong PA Burke AT Hand MJ Walsh LA Hughes RA Forse (1993) ArticleTitleRegulation of cytokine mRNA expression in lipopolysaccharide-stimulated human macrophages. Arch Surg 128 158–163 Occurrence Handle1:CAS:528:DyaK3sXhvV2ktrg%3D Occurrence Handle8431116
About this article
Cite this article
Varughese, R., Nayak, J., LoMonaco, M. et al. Effects of Hyperoxia on Tumor Necrosis Factor α and Groβ Expression in Newborn Rabbit Lungs . Lung 181, 335–346 (2003). https://doi.org/10.1007/s00408-003-1036-8
Accepted:

Issue Date:

DOI: https://doi.org/10.1007/s00408-003-1036-8
Keywords
Tumor necrosis factor

Chemokines

Hyperoxia

Groβ

Bronchopulmonary dysplasia