Abstract
Prospective memory (PM) refers to the ability to remember to carry out a delayed intention in the future. Evidence suggests that emotionally salient cues can enhance PM functions in healthy population, but whether the benefit exists in schizophrenia and bipolar patients remains unclear. This study aimed to examine and compare the potential enhancement effect of emotional PM cues in schizophrenia patients and bipolar patients. Twenty-eight clinically stable schizophrenia participants, 26 euthymic bipolar participants and 29 controls completed a computerized PM task involving PM cues with different types of valences (i.e., positive, neutral and negative). All the three groups showed better PM performance when negative PM cues were presented compared with positive and neutral PM cues. The sizes of the enhancement effects of negative PM cues were large (all Cohen's d ≥ 1.00) and comparable across three groups. Our findings suggested that patients with schizophrenia and bipolar disorders could benefit from negative PM cues to an extent similar to healthy individuals, thus extended the notion of psychosis continuum to the important area of emotion-cognition interaction.
Access options
Buy single article
Instant access to the full article PDF.
US$ 39.95
Tax calculation will be finalised during checkout.
Subscribe to journal
Immediate online access to all issues from 2019. Subscription will auto renew annually.
US$ 121.37
Tax calculation will be finalised during checkout.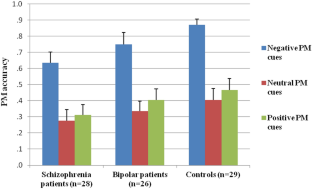 References
1.

Scullin MK, McDaniel MA, Shelton JT, Lee JH (2010) Focal/nonfocal cue effects in prospective memory: monitoring difficulty or different retrieval processes? J Exp Psychol Learn Mem Cogn 36(3):736–749

2.

Burgess PW, Gonen-Yaacovi G, Volle E (2011) Functional neuroimaging studies of prospective memory: what have we learnt so far? Neuropsychologia 49(8):2246–2257

3.

Kliegel M, Altgassen M, Hering A, Rose N (2011) A process-model based approach to prospective memory impairment in Parkinson's disease. Neuropsychologia 49:2166–2177

4.

Bora E, Yucel M, Pantelis C (2009) Cognitive functioning in schizophrenia, schizoaffective disorder and affective psychoses: meta-analytic study. Br J Psychiatry 195(6):475–482

5.

Selemon LD, Zecevic N (2015) Schizophrenia: a tale of two critical periods for prefrontal cortical development. Transl Psychiatry 5(8):e623

6.

Wang Y, Cui J, Chan RCK, Deng Y, Shi H, Hong X, Shum DHK (2009) Meta-analysis of prospective memory in schizophrenia: nature, extent, and correlates. Schizophr Res 114:64–70

7.

Zhou FC, Zheng W, Lu L, Wang YY, Ng CH, Ungvari GS, Li J, Xiang YT (2019) Prospective memory in schizophrenia: a meta-analysis of comparative studies. Schizophr Res 212:62–71

8.

Lui SSY, Wang Y, Yang T, Liu ACY, Chui WWH, Yeung HKH, Chan RCK (2015) Problems in remembering to carry out future actions in first-episode schizophrenia: primary or secondary impairment? J Psychiatr Res 61:141–149

9.

Chan RCK, Lui SSY, Wang Y, Liu ACY, Chui WWH, Shum DHK, Cheung EFC (2013) Patients with bipolar disorders share similar but attenuated prospective memory impairments with patients with schizophrenia. Psychol Med 43(8):1639–1649

10.

Au RW, Xiang YT, Ungvari GS, Lee E, Shum DH, Man D, Tang WK (2016) Prospective memory performance in persons with schizophrenia and bipolar disorder and healthy persons. Perspect Psychiatr Care 53(4):266–274

11.

Zhou JJ, Xiang YT, Wang CY, Zhou FC, Ungvari GS, Dickerson F, Chiu HF, Lai KY, Shum DH, Lee E, Au RW, Tang WK, Man D (2013) Prospective memory deficits in euthymic bipolar disorder patients: a preliminary study. Asia Pac Psychiatry 5(3):183–190

12.

Zhou FC, Wang YY, Zheng W, Ungvari GS, Ng CH, Yuan Z, Xiang YT (2018) Prospective memory in bipolar disorder: a meta-analysis. Psychiatry Res 259:184–190

13.

van Os J (2016) "Schizophrenia" does not exist. Br Med J 352:i375

14.

Lam JWS, Lui SSY, Wang Y, Chan RCK, Cheung EFC (2013) Prospective memory predicts medication management ability and correlates with non-adherence to medications in individuals with clinically stable schizophrenia. Schizophr Res 147(2–3):293–300

15.

Raskin SA, Maye J, Rogers A, Correll D, Zamroziewicz M, Kurtz M (2014) Prospective memory in schizophrenia: relationship to medication management skills, neurocognition, and symptoms in individuals with schizophrenia. Neuropsychology 28:359–365

16.

Twamley EW, Woods SP, Zurhellen CH, Vertinski M, Narvaez JM, Mausbach BT, Patterson DL, Jeste DV (2008) Neuropsychological substrates and everyday functioning implications of prospective memory impairment in schizophrenia. Schizophr Res 106(1):42

17.

Au RW, Man D, Xiang YT, Shum D, Lee E, Ungvari GS, Tang WK (2014) Prospective memory predicts the level of community living skills in schizophrenia. Psychiatry Res 219(1):86–91

18.

Henry JD, Moore P, Terrett G, Rendell PG, Scott JG (2019) A comparison of different types of prospective memory reminders in schizophrenia. Schizophr Res 210:89–93

19.

Chen T, Liu LL, Cui JF, Li Y, Qin XJ, Tao SL, Neumann DL, Shum DHK, Cheung EFC, Wang Y, Chan RCK (2019) Implementation intention training for prospective memory in schizophrenia: a 3-month follow-up study. Schizophr Res 206:378–385

20.

Chen XJ, Liu LL, Cui JF, Gan MY, Li CQ, Neumann DL, Shum DH, Wang Y, Chan RC (2016) The effect and mechanisms of implementation intention in improving prospective memory performance in schizophrenia patients. Psychiatry Res 244:86–93

21.

Hostler TJ, Wood C, Armitage CJ (2018) The influence of emotional cues on prospective memory: a systematic review with meta-analyses. Cogn Emot 32(8):1578–1596

22.

Inzlicht M, Bartholow BD, Hirsh JB (2015) Emotional foundations of cognitive control. Trends Cogn Sci 19(3):126–132

23.

Einstein GO, McDaniel MA, Thomas R, Mayfield S, Shank H, Morrisette N, Breneiser J (2005) Multiple processes in prospective memory retrieval: factors determining monitoring versus spontaneous retrieval. J Exp Psychol Gen 134(3):327–342

24.

Cona G, Kliegel M, Bisiacchi P (2015) Differential effects of emotional cues on components of prospective memory: an ERP study. Frontiers in Human Neuroscience 9:10

25.

Altgassen M, Henry JD, Burgler S, Kliegel M (2011) The influence of emotional target cues on prospective memory performance in depression. J Clin Exp Neuropsychol 33:910–916

26.

Yang T, Cui X, Wang Y, Huang J, Lui SSY, Zhang R, Cheung EFC, Chan RCK (2018) Effect of emotional cues on prospective memory performance in patients with schizophrenia and major depressive disorder. Schizophr Res 201:145–150

27.

Ruocco AC, Reilly JL, Rubin LH, Daros AR, Gershon ES, Tamminga CA, Pearlson GD, Hill SK, Keshavan MS, Gur RC, Sweeney JA (2014) Emotion recognition deficits in schizophrenia-spectrum disorders and psychotic bipolar disorder: findings from the bipolar-schizophrenia network on intermediate phenotypes (B-SNIP) study. Schizophr Res 158(1–3):105–112

28.

Rock PL, Goodwin GM, Harmer CJ (2020) The common adolescent bipolar phenotype shows positive biases in emotional processing. Bipolar Disord. https://doi.org/10.1111/j.1399-5618.2010.00859

29.

Kohler CG, Martin EA (2006) Emotional processing in schizophrenia. Cogn. Neuropsychiatry 11(3):250–271

30.

Maat A, van Montfort SJ, de Nijs J, Derks EM, Kahn RS, Linszen DH, van Os J, Wiersma D, Bruggeman R, Cahn W, de Haan L, Krabbendam L, Myin-Germeys I, Investigators GROUP (2015) Emotion processing in schizophrenia is state and trait dependent. Schizophr Res 161(2–3):392–398

31.

Einstein GO, McDaniel MA (1996) Retrieval processes in prospective memory: theoretical approaches and some new empirical findings. In: Brandimonte MA, Einstein GO, McDaniel MA (eds) Prospective memory: theory and applications. Lawrence Erlbaum Associates, Mahwah, pp 115–142

32.

First MB, Spitzer RL, Gibbon M, Williams JBW (1996) Structured clinical interview for DSM-IV (SCID-I) (user's guide and interview) research version. Biometrics Research Institute, New York State Psychiatric Institute, New York

33.

Wang Y, Zhou L, Luo Y (2008) The pilot establishment and evaluation of Chinese Affective Words System. Chin Ment Health J 22(8):608–612

34.

Kay SR, Fiszbein A, Opler LA (1987) The positive and negative syndrome scale (PANSS) for schizophrenia. Schizophr Bull 13(2):261–276

35.

Hamilton M (1960) A rating scale for depression. J Neurol Neurosurg Psychiatry 23(1):56

36.

Young RC, Biggs JT, Ziegler VE, Meyer DA (1978) A rating scale for mania: reliability, validity and sensitivity. Br J Psychiatry 133(5):429–435

37.

Gong YX (1992) Manual of Wechsler adult intelligence scale—Chinese version. Chinese Map Press, Changsha

38.

Miller GA, Chapman JP (2001) Misunderstanding analysis of covariance. J Abnorm Psychol 110(1):40–48
Acknowledgments
This study was supported by a donation from the Philip K. H. Wong Foundation granted to Eric F. C. Cheung of Castle Peak Hospital. Raymond Chan was supported by the CAS Key Laboratory of Mental Health, Institute of Psychology.
Funding
These funding agents had no role in the study design; collection, analysis, and interpretation of the data; writing of the manuscript; or decision to submit the paper for publication.
Ethics declarations
Conflict of interest
The authors declare that they have no conflict of interest.
Ethical approval
This study was approved by the Clinical & Research Ethics Committee of the New Territories West Cluster of the Hospital Authority of Hong Kong.
Consent to participate
All patients provided written informed consent, in accordance with the 1964 Declaration of Helsinki.
About this article
Cite this article
Lui, S.S.Y., Leung, S.S.W., Yang, Tx. et al. The benefits of emotionally salient cues on event-based prospective memory in bipolar patients and schizophrenia patients. Eur Arch Psychiatry Clin Neurosci (2021). https://doi.org/10.1007/s00406-021-01235-1
Received:

Accepted:

Published:
Keywords
Prospective memory

Emotion

Schizophrenia spectrum

Bipolar disorder