Abstract
Through the potency monitoring program at the University of Mississippi supported by National Institute on Drug Abuse (NIDA), a total of 18108 samples of cannabis preparations have been analyzed over the last decade, using a validated GC/FID method. The samples are classified as sinsemilla, marijuana, ditchweed, hashish, and hash oil (now referred to as cannabis concentrate). The number of samples received over the last 5 years has decreased dramatically due to the legalization of marijuana either for medical or for recreational purposes in many US states. The results showed that the mean Δ9-THC concentration has increased dramatically over the last 10 years, from 8.9% in 2008 to 17.1% in 2017. The mean Δ9-THC:CBD ratio also rose substantially from 23 in 2008 to 104 in 2017. There was also marked increase in the proportion of hash oil samples (concentrates) seized (0.5–4.7%) and their mean Δ9-THC concentration (6.7–55.7%) from 2008 to 2017. Other potency monitoring programs are also present in several European countries such as The Netherlands, United Kingdom, France, and Italy. These programs have also documented increases in Δ9-THC concentrations and Δ9-THC:CBD ratios in cannabis. These trends in the last decade suggest that cannabis is becoming an increasingly harmful product in the USA and Europe.
This is a preview of subscription content, log in to check access.
Access options
Buy single article
Instant access to the full article PDF.
US$ 39.95
Price includes VAT for USA
Subscribe to journal
Immediate online access to all issues from 2019. Subscription will auto renew annually.
US$ 199
This is the net price. Taxes to be calculated in checkout.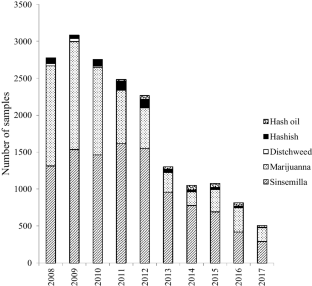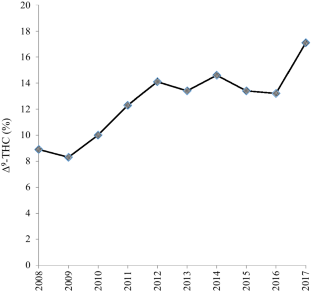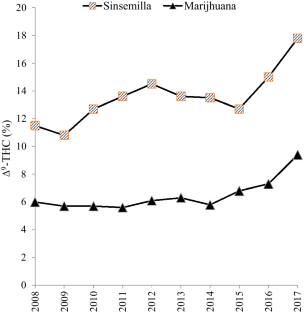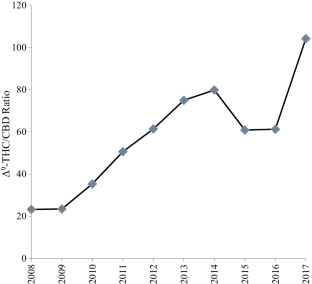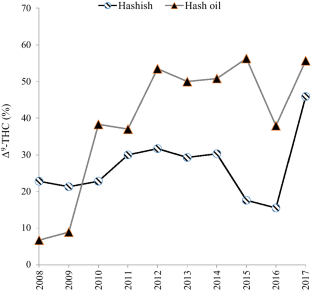 References
1.

Mukherjee A, Roy SC, De Bera S, Jiang H-E, Li X, Li C-S, Bera S (2008) Results of molecular analysis of an archaeological hemp (Cannabis sativa L.) DNA sample from North West China. Genet Resour Crop Evol 55:481–485

2.

Russo EB (2007) History of cannabis and its preparations in saga, science, and sobriquet. Chem Biodivers 4:1614–1648

3.

Zuardi AW (2006) History of cannabis as a medicine: a review. Revista Brasileira de Psiquiatría 28:153–157

4.

Aggarwal SK, Carter GT, Sullivan MD, ZumBrunnen C, Morrill R, Mayer JD (2009) Medicinal use of cannabis in the united states: historical perspectives, current trends, and future directions. J Opioid Manag 5:153–168

5.

Kalant H (2001) Medicinal use of cannabis: History and current status. Pain Res Manag 6:80–91

6.

Hanuš LO (2009) Pharmacological and therapeutic secrets of plant and brain (endo) cannabinoids. Med Res Rev 29:213–271

7.

Sharma HK (1996) Sociocultural perspective of substance use in India. Subst Use Misuse 31:1689–1714

8.

Mary Lynn Mathre R (2012) Cannabis in medical practice: a legal, historical and pharmacological overview of the therapeutic use of marijuana. McFarland, Jefferson

9.

Fankhauser M (2002) History of cannabis in western medicine. The Haworth Integrative Healing Press, New York

10.

Nunn JF (2002) Ancient Egyptian medicine. University of Oklahoma Press, Norman

11.

Wills S (2003) Cannabis use and abuse by man: an historical perspective. In: Brown DT (ed) Cannabis. CRC Press, Boca Raton, pp 16–46

12.

Booth M (2003) Cannabis: a history. St. Martin's, New York

13.

Du Toit BM (1980) Cannabis in Africa: A survey of its distribution in Africa, and a study of cannabis use and users in multi-ethnic South Africa. AA Bolkema, Rotterdam

14.

Du Toit BM (1975) Dagga: the history and ethnographic setting of Cannabis sativa in Southern Africa. In: Rubin V (ed) Cannabis and culture. Mouton Publishers, The Hague, Paris, pp 81–116

15.

Du Toit BM (1976) Man and cannabis in Africa: a study of diffusion. Afr Econ Hist 1:17–35

16.

Laniel L (2006) Producing cannabis in Africa south of the Sahara: a review of OGD findings in the 1990s. In: Paper delivered at the international workshop, drugs and alcohol in Africa: production, distribution, consumption & control, St Antony's College, University of Oxford

17.

Parsche F, Balabanova S, Pirsig W (1993) Drugs in ancient populations. Lancet 341:503

18.

Moore N, Brothwell D, Spigelman M, Parsche F (1993) Drugs in ancient populations. Lancet 341:1157

19.

Assunção MR (1995) Popular culture and regional society in nineteenth-century Maranhgo, Brazil. Bull Latin Am Res 14:265–286

20.

Marijuana EA (1980) The first 12,000 years. Plenum Press, New York

21.

Courtwright DT (2001) Forces of habit: drugs and the making of the modern world. Harvard University Press, Cambridge

22.

Amar MB (2006) Cannabinoids in medicine: a review of their therapeutic potential. J Ethnopharmacol 105:1–25

23.

Brown DT (ed) (2003) The therapeutic potential for cannabis and its derivatives. In: Cannabis. CRC Press, Boca Raton, pp 201–250

24.

Hall W, Lynskey M (2016) Why it is probably too soon to assess the public health effects of legalisation of recreational cannabis use in the USA. Lancet Psychiatry 3:900–906

25.

Hanuš LO, Meyer SM, Muñoz E, Taglialatela-Scafati O, Appendino G (2016) Phytocannabinoids: a unified critical inventory. Nat Prod Rep 33:1357–1392

26.

Curran HV, Freeman TP, Mokrysz C, Lewis DA, Morgan CJ, Parsons LH (2016) Keep off the grass? Cannabis, cognition and addiction. Nat Rev Neurosci 17:293–306

27.

Bhattacharyya S, Morrison PD, Fusar-Poli P, Martin-Santos R, Borgwardt S, Winton-Brown T, Nosarti C, MO'Carroll C, Seal M, Allen P (2010) Opposite effects of δ-9-tetrahydrocannabinol and cannabidiol on human brain function and psychopathology. Neuropsychopharmacology 35:764–774

28.

Englund A, Morrison PD, Nottage J, Hague D, Kane F, Bonaccorso S, Stone JM, Reichenberg A, Brenneisen R, Holt D (2013) Cannabidiol inhibits THC-elicited paranoid symptoms and hippocampal-dependent memory impairment. J Psychopharmacol (Oxf) 27:19–27

29.

Morgan CJ, Freeman TP, Schafer GL, Curran HV (2010) Cannabidiol attenuates the appetitive effects of δ9-tetrahydrocannabinol in humans smoking their chosen cannabis. Neuropsychopharmacology 35:1879–1885

30.

Boggs DL, Nguyen JD, Morgenson D, Taffe MA, Ranganathan M (2018) Clinical and preclinical evidence for functional interactions of cannabidiol and δ 9-tetrahydrocannabinol. Neuropsychopharmacology 43:142

31.

Colizzi M, Bhattacharyya S (2017) Does cannabis composition matter? Differential effects of delta-9-tetrahydrocannabinol and cannabidiol on human cognition. Curr Addict Rep 4:62–74

32.

Englund A, Freeman TP, Murray RM, McGuire P (2017) Can we make cannabis safer? Lancet Psychiatry 4:643–648

33.

Freeman TP, Morgan CJA, Hindocha C, Schafer GL, Das RK, Curran HV (2014) Just say 'know': how do cannabinoid concentrations influence users' estimates of cannabis potency and the amount they roll in joints? Addiction 109:1686–1694

34.

van der Pol P, Liebregts N, Brunt T, Amsterdam J, Graaf R, Korf DJ, Brink W, Laar M (2014) Cross-sectional and prospective relation of cannabis potency, dosing and smoking behaviour with cannabis dependence: an ecological study. Addiction 109:1101–1109

35.

Bidwelll LC, YorkWilliams SL, Mueller R, Bryan AD, Hutchison KE (2018) Exploring cannabis concentrates on the legal market: user profiles, product strength, and health-related outcomes. Addict Behav Rep 8:102–106

36.

Freeman TP, Winstock AR (2015) Examining the profile of high-potency cannabis and its association with severity of cannabis dependence. Psychol Med 45:3181–3189

37.

Meier MH (2017) Associations between butane hash oil use and cannabis-related problems. Drug Alcohol Depend 179:25–31

38.

Freeman TP, van der Pol P, Kuijpers W, Wisselink J, Das RK, Rigter S, van Laar M, Griffiths P, Swift W, Niesink R (2018) Changes in cannabis potency and first-time admissions to drug treatment: a 16-year study in The Netherlands. Psychol Med 48:2346–2352

39.

Di Forti M, Marconi A, Carra E, Fraietta S, Trotta A, Bonomo M, Bianconi F, Gardner-Sood P, O'Connor J, Russo M (2015) Proportion of patients in south London with first-episode psychosis attributable to use of high potency cannabis: a case-control study. Lancet Psychiatry 2:233–238

40.

Schoeler T, Petros N, Di Forti M, Klamerus E, Foglia E, Ajnakina O, Gayer-Anderson C, Colizzi M, Quattrone D, Behlke I (2016) Effects of continuation, frequency, and type of cannabis use on relapse in the first 2 years after onset of psychosis: an observational study. Lancet Psychiatry 3:947–953

41.

Wilson J, Freeman TP, Mackie CJ (2018) Effects of increasing cannabis potency on adolescent health. Lancet Child Adolesc Health. https://doi.org/10.1016/S2352-4642(1018)30342-30340

42.

Smart R, Caulkins JP, Kilmer B, Davenport S, Midgette G (2017) Variation in cannabis potency and prices in a newly legal market: evidence from 30 million cannabis sales in Washington state. Addiction 112:2167–2177

43.

Freeman T, Swift W (2016) Cannabis potency: the need for global monitoring. Addiction 111:376–377

44.

ElSohly MA, Ross SA, Mehmedic Z, Arafat R, Yi B, Banahan BF 3rd (2000) Potency trends of delta9-THC and other cannabinoids in confiscated marijuana from 1980 to 1997. J Forensic Sci 45:24–30

45.

Mehmedic Z, Chandra S, Slade D, Denham H, Foster S, Patel AS, Ross SA, Khan IA, ElSohly MA (2010) Potency trends of delta9-THC and other cannabinoids in confiscated cannabis preparations from 1993 to 2008. J Forensic Sci 55:1209–1217

46.

Slade D, Mehmedic Z, Chandra S, ElSohly MA (2011) Is Cannabis becoming more potent? In: Castle DJ, Murray RM, D'Souza DC (eds) Marijuana and Madness, 2nd Edition. Cambridge University Press, Cambridge, pp 35–54

47.

ElSohly M, Holley J, Turner C (1985) Constituents of cannabis sativa l. XXVI. The delta-9-tetrahydrocannabinol content of confiscated marijuana, 1974–1983. In: Marihuana'84: proceedings of the Oxford symposium on cannabis: 9th international congress of pharmacology, 3rd satellite symposium on cannabis/edited by D.J. Harvey; assistant editors Sir William Paton, GG Nahas. IRL Press, Oxford, c1985

48.

ElSohly MA, Mehmedic Z, Foster S, Gon C, Chandra S, Church JC (2016) Changes in cannabis potency over the last 2 decades (1995–2014): analysis of current data in the united states. Biol Psychiatry 79:613–619

49.

Ross S, ElSohly M (1997) CBN and∆ 9-THC concentration ratio as an indicator of the age of stored marijuana samples. Bull Narc 49:139–139

50.

Cascini F, Aiello C, Di Tanna G (2012) Increasing delta-9-tetrahydrocannabinol (δ-9-THC) content in herbal cannabis over time: systematic review and meta-analysis. Curr Drug Abuse Rev 5:32–40

51.

Freeman TP, Groshkova T, Cunningham A, Sedefov R, Griffiths P, Lynskey MT (2019) Increasing potency and price of cannabis in Europe, 2006–2016. Addiction (in press)

52.

Chouvy P-A, Afsahi K (2014) Hashish revival in morocco. Int J Drug Policy 25:416–423

53.

Pijlman F, Rigter S, Hoek J, Goldschmidt H, Niesink R (2005) Strong increase in total delta-THC in cannabis preparations sold in Dutch coffee shops. Addict Biol 10:171–180

54.

Potter DJ, Clark P, Brown MB (2008) Potency of ∆9-THC and other cannabinoids in cannabis in England in 2005: implications for psychoactivity and pharmacology. J Forensic Sci 53:90–94

55.

Hardwick S, King LA (2008) Home office cannabis potency study 2008. Home Office Scientific Development Branch, St Albans

56.

Potter DJ, Hammond K, Tuffnell S, Walker C, Di Forti M (2018) Potency of δ9-tetrahydrocannabinol and other cannabinoids in cannabis in England in 2016: implications for public health and pharmacology. Drug Test Anal 10:628–635

57.

Zamengo L, Frison G, Bettin C, Sciarrone R (2014) Understanding the risks associated with the use of new psychoactive substances (NPS): high variability of active ingredients concentration, mislabelled preparations, multiple psychoactive substances in single products. Toxicol Lett 229:220–228

58.

Zamengo L, Frison G, Bettin C, Sciarrone R (2015) Cannabis potency in the Venice area (Italy): update 2013. Drug Test Anal 7:255–258

59.

Dujourdy L, Besacier F (2017) A study of cannabis potency in France over a 25 years period (1992–2016). Forensic Sc Int 272:72–80

60.

Hillig KW, Mahlberg PG (2004) A chemotaxonomic analysis of cannabinoid variation in cannabis (Cannabaceae). Am J Bot 91:966–975
Acknowledgements
This work is supported in part by the National Institute on Drug Abuse (contract # N01DA-15-7793). Tom Freeman is funded by a senior academic fellowship from the Society for the Study of Addiction.
Ethics declarations
Conflict of interest
The authors declare that they have no conflict of interest.
About this article
Cite this article
Chandra, S., Radwan, M.M., Majumdar, C.G. et al. New trends in cannabis potency in USA and Europe during the last decade (2008–2017). Eur Arch Psychiatry Clin Neurosci 269, 5–15 (2019). https://doi.org/10.1007/s00406-019-00983-5
Received:

Accepted:

Published:

Issue Date:
Keywords
Cannabis

Potency monitoring

Sinsemilla

Marijunna

Hashish

Hash oil

Concentrates

Δ9-THC

CBD

CBN

CBG