Abstract
Access to cannabis and cannabinoid products is increasing worldwide for recreational and medicinal use. Two primary compounds within cannabis plant matter, Δ9-tetrahydrocannabinol (THC) and cannabidiol (CBD), are both psychoactive, but only THC is considered intoxicating. There is significant interest in potential therapeutic properties of these cannabinoids and of CBD in particular. Some research has suggested that CBD may ameliorate adverse effects of THC, but this may be dose dependent as other evidence suggests possible potentiating effects of THC by low doses of CBD. We conducted a randomised placebo controlled trial to examine the acute effects of these compounds alone and in combination when administered by vaporisation to frequent and infrequent cannabis users. Participants (n = 36; 31 male) completed 5 drug conditions spaced one week apart, with the following planned contrasts: placebo vs CBD alone (400 mg); THC alone (8 mg) vs THC combined with low (4 mg) or high (400 mg) doses of CBD. Objective (blind observer ratings) and subjective (self-rated) measures of intoxication were the primary outcomes, with additional indices of intoxication examined. CBD showed some intoxicating properties relative to placebo. Low doses of CBD when combined with THC enhanced, while high doses of CBD reduced the intoxicating effects of THC. The enhancement of intoxication by low-dose CBD was particularly prominent in infrequent cannabis users and was consistent across objective and subjective measures. Most effects were significant at p < .0001. These findings are important to consider in terms of recommended proportions of THC and CBD in cannabis plant matter whether used medicinally or recreationally and have implications for novice or less experienced cannabis users.
Trial registration: ISRCTN Registry Identifier: ISRCTN24109245.
This is a preview of subscription content, log in to check access.
Access options
Buy single article
Instant access to the full article PDF.
US$ 39.95
Price includes VAT for USA
Subscribe to journal
Immediate online access to all issues from 2019. Subscription will auto renew annually.
US$ 199
This is the net price. Taxes to be calculated in checkout.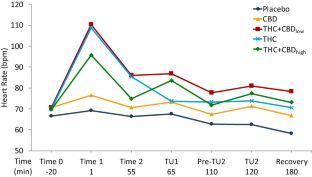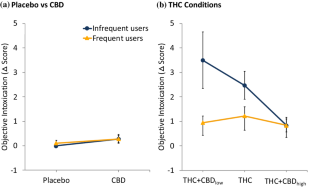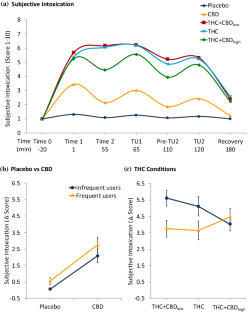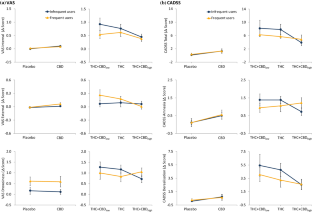 References
1.

Moore TH, Zammit S, Lingford-Hughes A, Barnes TR, Jones PB, Burke M, Lewis G (2007) Cannabis use and risk of psychotic or affective mental health outcomes: a systematic review. Lancet 370:319–328

2.

McPartland JM, Duncan M, Di Marzo V, Pertwee RG (2015) Are cannabidiol and ∆9-tetrahydrocannabivarin negative modulators of the endocannabinoid system? A systematic review. Br J Pharmacol 172:737–753

3.

Laprairie RB, Bagher AM, Kelly MEM, Denovan-Wright EM (2015) Cannabidiol is a negative allosteric modulator of the cannabinoid CB1 receptor. Br J Pharmacol 172:4790–4805

4.

D'Souza DC, Perry E, MacDougall L, Ammerman Y, Cooper T, Wu Y-T, Braley G, Gueorguieva R, Krystal JH (2004) The psychotomimetic effects of intravenous delta-9-tetrahydrocannabinol in healthy individuals: implications for psychosis. Neuropsychopharmacology 29:1558–1572

5.

Morrison PD, Zois V, McKeown DA, Lee TD, Holt DW, Powell JF, Kapur S, Murray RM (2009) The acute effects of synthetic intravenous ∆9-tetrahydrocannabinol on psychosis, mood and cognitive functioning. Psychol Med 39:1607–1616

6.

Broyd SJ, van Hell HH, Beale C, Yücel M, Solowij N (2016) Acute and chronic effects of cannabinoids on human cognition: a systematic review. Biol Psychiatry 79:557–567

7.

Lorenzetti V, Solowij N, Yücel M (2016) The role of cannabinoids in neuroanatomic alterations in cannabis users. Biol Psychiatry 79:e17–e31

8.

Yücel M, Lorenzetti V, Suo C, Zalesky A, Fornito A, Takagi MJ, Lubman DI, Solowij N (2016) Hippocampal harms, protection and recovery following regular cannabis use. Transl Psychiatry 6:e710

9.

Di Forti M, Marconi A, Carra E et al (2015) Proportion of patients in south London with first-episode psychosis attributable to use of high potency cannabis: a case–control study. The Lancet Psychiatry 2:233–238

10.

Bhattacharyya S, Morrison PD, Fusar-Poli P et al (2010) Opposite effects of delta-9-tetrahydrocannabinol and cannabidiol on human brain function and psychopathology. Neuropsychopharmacology 35:764–774

11.

Leweke FM, Piomelli D, Pahlisch F, Muhl D, Gerth CW, Hoyer C, Klosterkotter J, Hellmich M, Koethe D (2012) Cannabidiol enhances anandamide signaling and alleviates psychotic symptoms of schizophrenia. Transl Psychiatry 2:e94

12.

Osborne AL, Solowij N, Weston-Green K (2017) A systematic review of the effect of cannabidiol on cognitive function: relevance to schizophrenia. Neurosci Biobehav Rev 72:310–324

13.

McGuire P, Robson P, Cubala WJ et al (2018) Cannabidiol (CBD) as an adjunctive therapy in schizophrenia: a multicenter randomized controlled trial. Am J Psychiatry 175:225–231

14.

ElSohly MA, Mehmedic Z, Foster S, Gon C, Chandra S, Church JC (2016) Changes in cannabis potency over the last 2 decades (1995–2014): analysis of current data in the United States. Biol Psychiatry 79:613–619

15.

Englund A, Freeman TP, Murray RM, McGuire P (2017) Can we make cannabis safer? The Lancet Psychiatry 4:643–648

16.

Mechoulam R, Parker L (2013) Towards a better cannabis drug. Br J Pharmacol 170:1363–1364

17.

Morgan CJA, Schafer G, Freeman TP, Curran HV (2010) Impact of cannabidiol on the acute memory and psychotomimetic effects of smoked cannabis: naturalistic study. Br J Psychiatry 197:285–290

18.

Morgan CJA, Curran HV (2008) Effects of cannabidiol on schizophrenia-like symptoms in people who use cannabis. Br J Psychiatry 192:306–307

19.

Schubart CD, Sommer IE, van Gastel WA, Goetgebuer RL, Kahn RS, Boks MP (2011) Cannabis with high cannabidiol content is associated with fewer psychotic experiences. Schizophr Res 130:216–221

20.

Englund A, Morrison PD, Nottage J et al (2013) Cannabidiol inhibits THC-elicited paranoid symptoms and hippocampal-dependent memory impairment. J Psychopharmacol 27:19–27

21.

Zuardi AW, Shirakawa I, Finkelfarb E, Karniol IG (1982) Action of cannabidiol on the anxiety and other effects produced by delta 9-THC in normal subjects. Psychopharmacology 76:245–250

22.

Malone DT, Jongejan D, Taylor DA (2009) Cannabidiol reverses the reduction in social interaction produced by low dose Delta(9)-tetrahydrocannabinol in rats. Pharmacol Biochem Behav 93:91–96

23.

Murphy M, Mills S, Winstone J, Leishman E, Wager-Miller J, Bradshaw H, Mackie K (2017) Chronic adolescent ∆(9)-tetrahydrocannabinol treatment of male mice leads to long-term cognitive and behavioral dysfunction, which are prevented by concurrent cannabidiol treatment. Cannabis Cannabinoid Res 2:235–246

24.

Beale C, Broyd SJ, Chye Y, Suo C, Schira M, Galettis P, Martin JH, Yücel M, Solowij N (2018) Prolonged cannabidiol treatment effects on hippocampal subfield volumes in current cannabis users. Cannabis Cannabinoid Res 3:94–107

25.

Solowij N, Broyd SJ, Beale C, Prick J-A, Greenwood L-M, van Hell H, Suo C, Galettis P, Pai N, Fu S, Croft RJ, Martin JH, Yücel M (2018) Therapeutic effects of prolonged cannabidiol treatment on psychological symptoms and cognitive function in regular cannabis users: a pragmatic open-label clinical trial. Cannabis Cannabinoid Res 3:21–34

26.

Karniol IG, Carlini EA (1973) Pharmacological interaction between cannabidiol and δ9-tetrahydrocannabinol. Psychopharmacologia 33:53–70

27.

Zuardi AW, Teixeira NA, Karniol IC (1984) Pharmacological interaction of the effects of delta 9-trans-tetrahydrocannabinol and cannabidiol on serum corticosterone levels in rats. Arch Int Pharmacodyn Ther 269:12–19

28.

Varvel SA, Wiley JL, Yang R, Bridgen DT, Long K, Lichtman AH, Martin BR (2006) Interactions between THC and cannabidiol in mouse models of cannabinoid activity. Psychopharmacology 186:226–234

29.

Hayakawa K, Mishima K, Hazekawa M, Sano K, Irie K, Orito K, Egawa T, Kitamura Y, Uchida N, Nishimura R, Egashira N, Iwasaki K, Fujiwara M (2008) Cannabidiol potentiates pharmacological effects of ∆9-tetrahydrocannabinol via CB1 receptor-dependent mechanism. Brain Res 1188:157–164

30.

Wright MJ Jr, Vandewater SA, Taffe MA (2013) Cannabidiol attenuates deficits of visuospatial associative memory induced by Delta(9) tetrahydrocannabinol. Br J Pharmacol 170:1365–1373

31.

Klein C, Karanges E, Spiro A et al (2011) Cannabidiol potentiates ∆9-tetrahydrocannabinol (THC) behavioural effects and alters THC pharmacokinetics during acute and chronic treatment in adolescent rats. Psychopharmacology 218:443–457

32.

Todd SM, Arnold JC (2016) Neural correlates of interactions between cannabidiol and ∆(9) -tetrahydrocannabinol in mice: implications for medical cannabis. Br J Pharmacol 173:53–65

33.

Todd SM, Zhou C, Clarke DJ, Chohan TW, Bahceci D, Arnold JC (2017) Interactions between cannabidiol and ∆9-THC following acute and repeated dosing: rebound hyperactivity, sensorimotor gating and epigenetic and neuroadaptive changes in the mesolimbic pathway. Eur Neuropsychopharmacol 27:132–145

34.

Morgan CJ, Freeman TP, Schafer GL, Curran HV (2010) Cannabidiol attenuates the appetitive effects of Delta 9-tetrahydrocannabinol in humans smoking their chosen cannabis. Neuropsychopharmacology 35:1879–1885

35.

Hindocha C, Freeman TP, Schafer G, Gardener C, Das RK, Morgan CJ, Curran HV (2015) Acute effects of delta-9-tetrahydrocannabinol, cannabidiol and their combination on facial emotion recognition: a randomised, double-blind, placebo-controlled study in cannabis users. Eur Neuropsychopharmacol 25:325–334

36.

Mechoulam R, Parker LA (2013) The endocannabinoid system and the brain. Annu Rev Psychol 64:21–47

37.

Draycott B, Loureiro M, Ahmad T, Tan H, Zunder J, Laviolette SR (2014) Cannabinoid transmission in the prefrontal cortex bi-phasically controls emotional memory formation via functional interactions with the ventral tegmental area. J Neurosci 34:13096–13109

38.

Loureiro M, Renard J, Zunder J, Laviolette SR (2015) Hippocampal cannabinoid transmission modulates dopamine neuron activity: impact on rewarding memory formation and social interaction. Neuropsychopharmacology 40:1436–1447

39.

Guimarães FS, Chiaretti TM, Graeff FG, Zuardi AW (1990) Antianxiety effect of cannabidiol in the elevated plus-maze. Psychopharmacology 100:558–559

40.

Campos AC, Guimarães FS (2009) Evidence for a potential role for TRPV1 receptors in the dorsolateral periaqueductal gray in the attenuation of the anxiolytic effects of cannabinoids. Prog Neuropsychopharmacol Biol Psychiatry 33:1517–1521

41.

Zuardi AW, Rodrigues NP, Silva AL, Bernardo SA, Hallak JEC, Guimarães FS, Crippa JAS (2017) Inverted U-shaped dose–response curve of the anxiolytic effect of cannabidiol during public speaking in real life. Front Pharmacol 8:259–259

42.

Linares IM, Zuardi AW, Pereira LC, Queiroz RH, Mechoulam R, Guimarães FS, Crippa JA (2018) Cannabidiol presents an inverted U-shaped dose–response curve in a simulated public speaking test. Braz J Psychiatry. https://doi.org/10.1590/1516-4446-2017-0015

43.

Watanabe K, Kayano Y, Matsunaga T, Yamamoto I, Yoshimura H (1996) Inhibition of anandamide amidase activity in mouse brain microsomes by cannabinoids. Biol Pharm Bull 19:1109–1111

44.

Rakhshan F, Day TA, Blakely RD, Barker EL (2000) Carrier-mediated uptake of the endogenous cannabinoid anandamide in RBL-2H3 cells. J Pharmacol Exp Ther 292:960–967

45.

Pertwee RG (2008) The diverse CB1 and CB2 receptor pharmacology of three plant cannabinoids: Delta(9)-tetrahydrocannabinol, cannabidiol and Delta(9)-tetrahydrocannabivarin. Br J Pharmacol 153:199–215

46.

Zuardi AW, Karniol IG (1983) Effects on variable-interval performance in rats of delta 9-tetrahydrocannabinol and cannabidiol, separately and in combination. Braz J Med Biol Res 16:141–146

47.

Zuardi AW, Hallak JEC, Crippa JAS (2012) Interaction between cannabidiol (CBD) and Delta(9)-tetrahydrocannabinol (THC): influence of administration interval and dose ratio between the cannabinoids. Psychopharmacology 219:247–249

48.

Arnold JC, Boucher AA, Karl T (2012) The Yin and Yang of cannabis-induced psychosis: the actions of ∆9-tetrahydrocannabinol and cannabidiol in rodent models of schizophrenia. Curr Pharm Des 18:5113–5130

49.

Silveira MM, Arnold JC, Laviolette SR, Hillard CJ, Celorrio M, Aymerich MS, Adams WK (2017) Seeing through the smoke: human and animal studies of cannabis use and endocannabinoid signalling in corticolimbic networks. Neurosci Biobehav Rev 76:380–395

50.

Hložek T, Uttl L, Kadeřábek L, Balíková M, Lhotková E, Horsley RR, Nováková P, Šíchová K, Štefková K, Tylš F, Kuchař M, Páleníček T (2017) Pharmacokinetic and behavioural profile of THC, CBD, and THC + CBD combination after pulmonary, oral, and subcutaneous administration in rats and confirmation of conversion in vivo of CBD to THC. Eur Neuropsychopharmacol 27:1223–1237

51.

Bornheim LM, Kim KY, Li J, Perotti BY, Benet LZ (1995) Effect of cannabidiol pretreatment on the kinetics of tetrahydrocannabinol metabolites in mouse brain. Drug Metab Dispos 23:825–831

52.

Jones G, Pertwee RG (1972) A metabolic interaction in vivo between cannabidiol and ∆1-tetrahydrocannabinol. Br J Pharmacol 45(2):375–377

53.

Grotenhermen F (2003) Pharmacokinetics and pharmacodynamics of cannabinoids. Clin Pharmacokinet 42:327–360

54.

Hazekamp A, Ruhaak R, Zuurman L, van Gerven J, Verpoorte R (2006) Evaluation of a vaporizing device (Volcano) for the pulmonary administration of tetrahydrocannabinol. J Pharm Sci 95:1308–1317

55.

Solowij N (2018) Peering through the haze of smoked vs vaporized cannabis—to vape or not to vape? JAMA Netw Open 1:e184838

56.

Spindle TR, Cone EJ, Schlienz NJ et al (2018) Acute effects of smoked and vaporized cannabis in healthy adults who infrequently use cannabis: a crossover trial. JAMA Netw Open 1:e184841

57.

Morgan CJA, Freeman TP, Hindocha C, Schafer G, Gardner C, Curran HV (2018) Individual and combined effects of acute delta-9-tetrahydrocannabinol and cannabidiol on psychotomimetic symptoms and memory function. Transl Psychiatry 8:181

58.

Potter DJ, Clark P, Brown MB (2008) Potency of ∆9-THC and other cannabinoids in cannabis in England in 2005: implications for psychoactivity and pharmacology. J Forensic Sci 53:90–94

59.

Swift W, Wong A, Li KM, Arnold JC, McGregor IS (2013) Analysis of cannabis seizures in NSW, Australia: cannabis potency and cannabinoid profile. PLoS One 8:e70052

60.

Solowij N, Broyd SJ, van Hell HH, Hazekamp A (2014) A protocol for the delivery of cannabidiol (CBD) and combined CBD and ∆9-tetrahydrocannabinol (THC) by vaporisation. BMC Pharmacol Toxicol 15:58

61.

Demirakca T, Sartorius A, Ende G, Meyer N, Welzel H, Skopp G, Mann K, Hermann D (2011) Diminished gray matter in the hippocampus of cannabis users: possible protective effects of cannabidiol. Drug Alcohol Depend 114:242–245

62.

Sobell L, Sobell M (1992) Timeline follow-back: a technique for assessing self-reported ethanol consumption. In: Allen J, Litten RZ (eds) Measuring alcohol consumption: psychosocial and biological methods. Humana Press, Totowa, pp 41–72

63.

Saunders JB, Aasland OG, Babor TF, de la Fuente JR, Grant M (1993) Development of the Alcohol Use Disorders Identification Test (AUDIT): WHO collaborative project on early detection of persons with harmful alcohol consumption-II. Addiction 88:791–804

64.

Sheehan DV, Lecrubier Y, Sheehan KH et al (1998) The Mini-International Neuropsychiatric Interview (M.I.N.I.): the development and validation of a structured diagnostic psychiatric interview for DSM-IV and ICD-10. J Clin Psychiatry 59(Suppl 20):22–33

65.

Spielberger CD, Gorsuch RL, Lushene R, Vagg PR, Jacobs GA (1983) Manual for the State-Trait Anxiety Inventory. Consulting Psychologists Press, Palo Alto

66.

Beck AT, Ward C, Mendelson M (1961) Beck Depression Inventory (BDI). Arch Gen Psychiatry 4:561–571

67.

Stefanis N, Hanssen M, Smirnis N, Avramopoulos D, Evdokimidis I, Stefanis C, Verdoux H, Van Os J (2002) Evidence that three dimensions of psychosis have a distribution in the general population. Psychol Med 32:347–358

68.

Raine A (1991) The SPQ: a scale for the assessment of schizotypal personality based on DSM-III-R criteria. Schizophr Bull 17:555

69.

Gossop M, Darke S, Griffiths P, Hando J, Powis B, Hall W, Strang J (1995) The Severity of Dependence Scale (SDS): psychometric properties of the SDS in English and Australian samples of heroin, cocaine and amphetamine users. Addiction 90:607–614

70.

Barkus EJ, Stirling J, Hopkins RS, Lewis S (2006) Cannabis-induced psychosis-like experiences are associated with high schizotypy. Psychopathology 39:175–178

71.

Niesink RJ, Rigter S, Koeter MW, Brunt TM (2015) Potency trends of ∆9-tetrahydrocannabinol, cannabidiol and cannabinol in cannabis in The Netherlands: 2005–15. Addiction 110:1941–1950

72.

Galettis P (2016) Development of a simple LCMSMS method for THC and metabolites in plasma. Asia Pac J Clin Oncol 12:13–34

73.

Bremner JD, Krystal JH, Putnam FW, Southwick SM, Marmar C, Charney DS, Mazure CM (1998) Measurement of dissociative states with the Clinician-Administered Dissociative States Scale (CADSS). J Trauma Stress 11:125–136

74.

Bowdle TA, Radant AD, Cowley DS, Kharasch ED, Strassman RJ, Roy-Byrne PP (1998) Psychedelic effects of ketamine in healthy volunteers: relationship to steady-state plasma concentrations. Anesthesia 88:82–88

75.

Zuurman L, Roy C, Schoemaker RC et al (2008) Effect of intrapulmonary tetrahydrocannabinol administration in humans. J Psychopharmacol 22:707–716

76.

Mason OJ, Morgan CJM, Stefanovic A, Curran HV (2008) The Psychotomimetic States Inventory (PSI): Measuring psychotic-type experiences from ketamine and cannabis. Schizophr Res 103:138–142

77.

Overall JE, Gorham DR (1962) The Brief Psychiatric Rating Scale. Psychol Rep 10:799–812

78.

Russo E, Guy GW (2006) A tale of two cannabinoids: the therapeutic rationale for combining tetrahydrocannabinol and cannabidiol. Med Hypotheses 66:234–246

79.

Hallak JEC, Dursun SM, Bosi DC et al (2011) The interplay of cannabinoid and NMDA glutamate receptor systems in humans: preliminary evidence of interactive effects of cannabidiol and ketamine in healthy human subjects. Prog Neuropsychopharmacol Biol Psychiatry 35:198–202

80.

Tham M, Yilmaz O, Alaverdashvili M, Kelly MEM, Denovan-Wright EM, Laprairie RB (2018) Allosteric and orthosteric pharmacology of cannabidiol and cannabidiol-dimethylheptyl at the type 1 and type 2 cannabinoid receptors. Br J Pharmacol. https://doi.org/10.1111/bph.14440

81.

Straiker A, Dvorakova M, Zimmowitch A, Mackie K (2018) Cannabidiol inhibits endocannabinoid signaling in autaptic hippocampal neurons. Mol Pharmacol 94:743–748

82.

Kathmann M, Flau K, Redmer A, Tränkle C, Schlicker E (2006) Cannabidiol is an allosteric modulator at mu- and delta-opioid receptors. Naunyn Schmiedebergs Arch Pharmacol 372:354–361

83.

Crippa JA, Guimarães FS, Campos AC, Zuardi AW (2018) Translational investigation of the therapeutic potential of cannabidiol (CBD): toward a new age. Front Immunol 9:2009

84.

Baillie GL, Horswill JG, Anavi-Goffer S et al (2013) CB(1) receptor allosteric modulators display both agonist and signaling pathway specificity. Mol Pharmacol 83:322–338

85.

Priestley RS, Nickolls SA, Alexander SPH, Kendall DA (2015) A potential role for cannabinoid receptors in the therapeutic action of fenofibrate. FASEB J 29:1446–1455

86.

Taylor L, Gidal B, Blakey G, Tayo B, Morrison G (2018) A phase I, randomized, double-blind, placebo-controlled, single ascending dose, multiple dose, and food effect trial of the safety, tolerability and pharmacokinetics of highly purified cannabidiol in healthy subjects. CNS Drugs 32:1053–1067

87.

Dalton WS, Martz R, Lemberger L, Rodda BE, Forney RB (1976) Influence of cannabidiol on delta-9-tetrahydrocannabinol effects. Clin Pharmacol Ther 19:300–309

88.

Fleming A (2018) Cannabis health products are everywhere—but do they live up to the hype? The Guardian. https://www.theguardian.com/lifeandstyle/2018/oct/15/cannabis-health-products-live-up-to-hype-cannabidiol-cbd. Accessed 15 Oct 2018

89.

Solowij N (2012) Vulnerability markers in the association between cannabis and schizophrenia: a randomised controlled trial of acute cannabinoid administration. Curr Controll Trials 5:5
Acknowledgements
The study was funded by the National Health and Medical Research Council of Australia (NHMRC Project Grant 1007593). NS was supported by the Australian Research Council (ARC Future Fellowship FT110100752). The authors are grateful to Professor Antonio Zuardi and Dr Arno Hazekamp for advice around dosing and drug administration at the commencement of the study; to Clare Bate, Camilla Beale, Andrew Bonney, Gary Chan, Francesca Fernandez, Sarah Gallagher, David Garne, Madeleine Godber, Stuart Johnstone, Lisa Lole, Elke Macdonald, Philip McGuire, Jelena Novakovic, Nagesh Pai, Gabrielle Puckett, Karina Rovere, Beth Shaw and Lara Tramazzo for assistance with participant, trial and data management and logistics; and to Storz & Bickel, Tuttlingen, Germany for supplying a Volcano® Vaporiser used in this study. Cannabinoid compounds were purchased from STI Pharmaceuticals, UK.
Ethics declarations
Ethical standards
This study was approved by the University of Wollongong and Illawarra Shoalhaven Local Health District Health and Medical Human Research Ethics Committee and registered as a clinical trial (ISRCTN24109245 [89]). Participants provided written informed consent prior to participating in the study and at the start of each drug session.
Conflict of interest
The authors declare that they have no conflict of interest.
About this article
Cite this article
Solowij, N., Broyd, S., Greenwood, L. et al. A randomised controlled trial of vaporised Δ9-tetrahydrocannabinol and cannabidiol alone and in combination in frequent and infrequent cannabis users: acute intoxication effects. Eur Arch Psychiatry Clin Neurosci 269, 17–35 (2019). https://doi.org/10.1007/s00406-019-00978-2
Received:

Accepted:

Published:

Issue Date:
Keywords
Δ9-Tetrahydrocannabinol (THC)

Cannabidiol (CBD)

Cannabis

Cannabinoids

Intoxication

Synergistic effects