Abstract
The psychiatric utilization patterns and risks of antiepileptic drugs (AEDs) were assessed by using data from the drug safety programme Arzneimittelsicherheit in der Psychiatrie over the time period 1993–2013. In a total of 432,215 patients, the main indications for AED use were acute mania, schizoaffective disorder, and schizophrenic and organic psychoses. Valproic acid (VPA) was the most common substance across all of those groups, reaching administration rates of up to 50% since 2005, at which time carbamazepine (CBZ) administration consistently dropped below a rate of 10%. Lamotrigine (LTG) and pregabalin (PGB) increased in relevance after 2005 and 2010, respectively (with administration rates of up to 9%), whereas oxcarbazepine (OXC) was least prevalent (<3%). The mean rates of severe adverse drug reactions (ADRs) ranged from 6 cases per 1000 patients treated (VPA) to 19/1000 (OXC) and were significantly lower with treatment with VPA compared to OXC and CBZ. Hyponatremia was the leading ADR during treatment with OXC; severe allergic skin reactions were most often observed during treatment with CBZ and LTG, and severe oedema was most common during treatment with PGB. Severe hyponatremia induced by OXC was observed significantly more often in female patients than in male patients.
This is a preview of subscription content, log in to check access.
Access options
Buy single article
Instant access to the full article PDF.
US$ 39.95
Price includes VAT for USA
Subscribe to journal
Immediate online access to all issues from 2019. Subscription will auto renew annually.
US$ 199
This is the net price. Taxes to be calculated in checkout.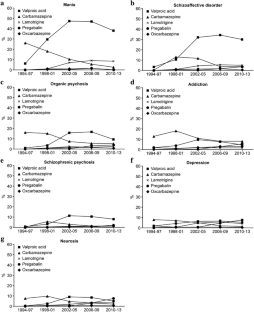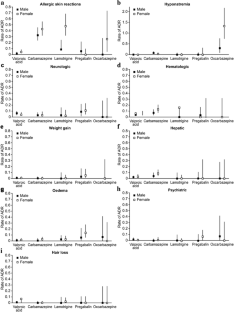 References
1.

Bazil CW (2001) Antiepileptic drugs in the 21st century. CNS Spectr 6(756–762):765. doi:10.1017/s1092852900001504

2.

Walden J, Heßlinger B (1995) Bedeutung alter und neuer Antiepileptika in der Behandlung psychischer Erkrankungen (significance of old and new antiepileptic drugs in the treatment of psychiatric diseases). Fortschr Neurol Psychiatr 63:320–335. doi:10.1055/s-2007-996633

3.

Kalinowsky LB, Putnam TJ (1943) Attempts at treatment of schizophrenia and other nonepileptic psychoses with dilantin. Arch Neurol Psychiatry 49:414–420. doi:10.1001/archneurpsyc.1943.02290150102005

4.

Lambert P, Carraz G, Borselli S, Bouchardy M (1975) Le dipropyl-acetamide dans le traitement de la psychose maniaco-depressive. L'Encephale 1:25–31

5.

Lambert PA, Carraz G, Borselli S, Carbel S (1966) Action neuropsychotrope d'un nouvel antiepileptique: le depamid. Ann Med Psychol 1:707–710

6.

Emrich HM, Dose M, von Zerssen D (1984) Action of sodium-valproate and of oxcarbazepine in patients with affective disorders. In: Emrich HM, Ōkuma T, Müller AA (eds) Anticonvulsants in affective disorders. Excerpta Medica, Amsterdam, pp 45–55

7.

Blom S (1962) Trigeminal neuralgia: its treatment with a new anticonvulsant drug (G-32883). Lancet 1:839–840. doi:10.1016/S0140-6736(62)91847-0

8.

Blank R (1990) Antikonvulsiva und ihre psychischen Wirkungen-eine Übersicht (Anticonvulsives and their psychic effects-a survey). Fortschr Neurol Psychiatr 58:19–32. doi:10.1055/s-2007-1001167

9.

Evans RW, Gualtieri CT (1985) Carbamazepine: a neuropsychological and psychiatric profile. Clin Neuropharmacol 8:221–241. doi:10.1097/00002826-198509000-00003

10.

Krueger H (1964) Klinischer Beitrag zur Therapie der Epilepsie mit einem Azepinderivat. Med Welt 26:1407–1413

11.

Dietrich DE, Kropp S, Emrich HM (2003) Oxcarbazepin in der Behandlung affektiver und schizoaffektiver Erkrankungen (Oxcarbazepine in the treatment of affective and schizoaffective disorders). Fortschr Neurol Psychiatr 71:255–264. doi:10.1055/s-2003-39065

12.

Faigle JW, Menge GP (1990) Metabolic characteristics of oxcarbazepine (®trileptal) and their beneficial implications for enzyme induction and drug interactions. Behav Neurol 3:21–30. doi:10.3233/ben-1990-31s104

13.

Andreasen AH, Brosen K, Damkier P (2007) A comparative pharmacokinetic study in healthy volunteers of the effect of carbamazepine and oxcarbazepine on cyp3a4. Epilepsia 48:490–496. doi:10.1111/j.1528-1167.2007.00924.x

14.

Smith D, Chadwick D, Baker G, Davis G, Dewey M (1993) Seizure severity and the quality of life. Epilepsia 34:S31–S35. doi:10.1111/j.1528-1157.1993.tb05921.x

15.

Calabrese JR, Bowden CL, Sachs GS, Ascher JA, Monaghan E, Rudd GD (1999) A double-blind placebo-controlled study of lamotrigine monotherapy in outpatients with bipolar I depression. Lamictal 602 study group. J Clin Psychiatry 60:79–88. doi:10.4088/JCP.v60n0203

16.

Kusumakar V, Yatham LN (1997) An open study of lamotrigine in refractory bipolar depression. Psychiatry Res 72:145–148. doi:10.1016/S0165-1781(97)00082-6

17.

Calabrese JR, Bowden CL, Sachs G, Yatham LN, Behnke K, Mehtonen OP, Montgomery P, Ascher J, Paska W, Earl N, DeVeaugh-Geiss J (2003) A placebo-controlled 18-month trial of lamotrigine and lithium maintenance treatment in recently depressed patients with bipolar I disorder. J Clin Psychiatry 64:1013–1024. doi:10.4088/JCP.v64n0906

18.

Ichim L, Berk M, Brook S (2000) Lamotrigine compared with lithium in mania: a double-blind randomized controlled trial. Ann Clin Psychiatry 12:5–10. doi:10.3109/10401230009147081

19.

Muzina DJ, Elhaj O, Gajwani P, Gao K, Calabrese JR (2005) Lamotrigine and antiepileptic drugs as mood stabilizers in bipolar disorder. Acta Psychiatr Scand 111:21–28. doi:10.1111/j.1600-0447.2005.00523.x

20.

Calabrese JR, Suppes T, Bowden CL, Sachs GS, Swann AC, McElroy SL, Kusumakar V, Ascher JA, Earl NL, Greene PL, Monaghan ET (2000) A double-blind, placebo-controlled, prophylaxis study of lamotrigine in rapid-cycling bipolar disorder. Lamictal 614 study group. J Clin Psychiatry 61:841–850. doi:10.4088/JCP.v61n1106

21.

Fachinformation Pfizer Lyrica® Hartkapseln. Stand November 2016 Pfizer Pharma PFE GmbH, Berlin

22.

Frampton JE, Foster RH (2006) Pregabalin: in the treatment of generalised anxiety disorder. CNS Drugs 20:685–693

23.

Frampton JE (2014) Pregabalin: a review of its use in adults with generalized anxiety disorder. CNS Drugs 28:835–854. doi:10.1007/s40263-014-0192-0

24.

Grohmann R, Engel RR, Ruther E, Hippius H (2004) The AMSP drug safety program: methods and global results. Pharmacopsychiatry 37:S4–S11. doi:10.1055/s-2004-815505

25.

Grohmann R, Engel RR, Moller HJ, Ruther E, van der Velden JW, Stubner S (2014) Flupentixol use and adverse reactions in comparison with other common first- and second-generation antipsychotics: data from the AMSP study. Eur Arch Psychiatry Clin Neurosci 264:131–141. doi:10.1007/s00406-013-0419-y

26.

Clopper CJ, Pearson ES (1934) The use of confidence or fiducial limits illustrated in the case of the binomial. Biometrika 26:404–413. doi:10.1093/biomet/26.4.404

27.

Vollset SE (1993) Confidence intervals for a binomial proportion. Stat Med 12:809–824. doi:10.1002/sim.4780120902

28.

Post RM, Speer AM (2002) A brief history of anticonvulsant use in affective disorders. In: Trimble MR, Schmitz B (eds) Seizures, affective disorders and anticonvulsant drugs. Clarius Press, Surrey, pp 53–81

29.

Dunn RT, Frye MS, Kimbrell TA, Denicoff KD, Leverich GS, Post RM (1998) The efficacy and use of anticonvulsants in mood disorders. Clin Neuropharmacol 21:215–235

30.

Post RM, Ketter TA, Uhde T, Ballenger JC (2007) Thirty years of clinical experience with carbamazepine in the treatment of bipolar illness: principles and practice. CNS Drugs 21:47–71. doi:10.2165/00023210-200721010-00005

31.

Geddes JR, Calabrese JR, Goodwin GM (2009) Lamotrigine for treatment of bipolar depression: independent meta-analysis and meta-regression of individual patient data from five randomised trials. Br J Psychiatry 194:4–9. doi:10.1192/bjp.bp.107.048504

32.

Kessing LV, Hellmund G, Geddes JR, Goodwin GM, Andersen PK (2011) Valproate v. lithium in the treatment of bipolar disorder in clinical practice: observational nationwide register-based cohort study. Br J Psychiatry 199:57–63. doi:10.1192/bjp.bp.110.084822

33.

Bowden CL, Calabrese JR, Sachs G, Yatham LN, Asghar SA, Hompland M, Montgomery P, Earl N, Smoot TM, DeVeaugh-Geiss J (2003) A placebo-controlled 18-month trial of lamotrigine and lithium maintenance treatment in recently manic or hypomanic patients with bipolar I disorder. Arch Gen Psychiatry 60:392–400. doi:10.1001/archpsyc.60.4.392

34.

American Psychiatric Association (2002) Practice guideline for the treatment of patients with bipolar disorder (revision). Am J Psychiatry 159:1–50

35.

Raskin S, Teitelbaum A, Zislin J, Durst R (2006) Adjunctive lamotrigine as a possible mania inducer in bipolar patients. Am J Psychiatry 163:159–160. doi:10.1176/appi.ajp.163.1.159-a

36.

Selek S, Savas HA (2007) Lamotrigine-induced manic switches have already been reported. Aust N Z J Psychiatry 41:195

37.

Bschor T, Müller-Oerlinghausen B, Stoppe G, Hiemke C (2014) Neue Fakten zur Phasenprophylaxe der bipolar affektiven Erkrankung. Nervenarzt 85:1166–1170. doi:10.1007/s00115-014-4083-x

38.

Emrich HM (1990) Studies with oxcarbazepine (trileptal) in acute mania. Int Clin Psychopharmacol 5:83–88

39.

Popova E, Leighton C, Bernabarre A, Bernardo M, Vieta E (2007) Oxcarbazepine in the treatment of bipolar and schizoaffective disorders. Expert Rev Neurother 7:617–626. doi:10.1586/14737175.7.6.617

40.

Velikonja M, Heinrich K (1984) Effect of oxcarbazepine (CG 47.680) on affective and schizoaffective symptoms-a preliminary report. In: Emrich HM, Okuma T, Muller AA (eds) Anticonvulsants in affective disorders, International Congress Series No. 626. Excerpta Medica, Amsterdam, pp 208–210

41.

Schachter SC (1999) Oxcarbazepine: current status and clinical applications. Expert Opin Investig Drugs 8:1103–1112. doi:10.1517/13543784.8.7.1103

42.

Schmutz M, Brugger F, Gentsch C, McLean MJ, Olpe HR (1994) Oxcarbazepine: preclinical anticonvulsant profile and putative mechanisms of action. Epilepsia 35:S47–S50. doi:10.1111/j.1528-1157.1994.tb05967.x

43.

Lande RG (2004) Oxcarbazepine: efficacy, safety, and tolerability in the treatment of mania. Int J Psychiatry Clin Pract 8:37–40. doi:10.1080/13651500310003336

44.

Maj M (1988) Lithium prophylaxis of schizoaffective disorders: a prospective study. J Affect Disord 14:129–135

45.

Sarantidis D, Waters B (1981) Predictors of lithium prophylaxis effectiveness. Prog Neuropsychopharmacol 5:507–510. doi:10.1016/0364-7722(81)90035-7

46.

Levinson DF, Umapathy C, Musthaq M (1999) Treatment of schizoaffective disorder and schizophrenia with mood symptoms. Am J Psychiatry 156:1138–1148. doi:10.1176/ajp.156.8.1138

47.

Fenn HH, Robinson D, Luby V, Dangel C, Buxton E, Beattie M, Kraemer H, Yesavage JA (1996) Trends in pharmacotherapy of schizoaffective and bipolar affective disorders: a 5-year naturalistic study. Am J Psychiatry 153:711–713. doi:10.1176/ajp.153.5.711

48.

Flynn J, Grieger TA, Benedek DM (2002) Pharmacologic treatment of hospitalized patients with schizoaffective disorder. Psychiatr Serv 53:94–96. doi:10.1176/appi.ps.53.1.94

49.

Baethge C, Gruschka P, Berghofer A, Bauer M, Muller-Oerlinghausen B, Bschor T, Smolka MN (2004) Prophylaxis of schizoaffective disorder with lithium or carbamazepine: outcome after long-term follow-up. J Affect Disord 79:43–50. doi:10.1016/s0165-0327(02)00354-3

50.

Xie X, Hagan RM (1998) Cellular and molecular actions of lamotrigine: possible mechanisms of efficacy in bipolar disorder. Neuropsychobiology 38:119–130. doi:10.1159/000026527

51.

Hassel B, Tauboll E, Gjerstad L (2001) Chronic lamotrigine treatment increases rat hippocampal GABA shunt activity and elevates cerebral taurine levels. Epilepsy Res 43:153–163. doi:10.1016/S0920-1211(00)00196-0

52.

Green B (2003) Lamotrigine in mood disorders. Curr Med Res Opin 19:272–277. doi:10.1185/030079903125001703

53.

Maltese TM (1999) Adjunctive lamotrigine treatment for major depression. Am J Psychiatry 156:1833. doi:10.1176/ajp.156.11.1833

54.

Erfurth A, Walden J, Grunze H (1998) Lamotrigine in the treatment of schizoaffective disorder. Neuropsychobiology 38:204–205. doi:10.1159/000026540

55.

Pinto OC, Akiskal HS (1998) Lamotrigine as a promising approach to borderline personality: an open case series without concurrent DSM-IV major mood disorder. J Affect Disord 51:333–343. doi:10.1016/S0165-0327(99)00007-5

56.

Lizasoain I, Leza JC, Cuellar B, Moro MA, Lorenzo P (1996) Inhibition of morphine withdrawal by lamotrigine: involvement of nitric oxide. Eur J Pharmacol 299:41–45. doi:10.1016/0014-2999(95)00851-9

57.

Schonfeldt-Lecuona C, Wolf RC, Osterfeld ND, Vasic N, Connemann BJ, Schmid M, Freudenmann RW (2009) Pregabalin in the treatment of schizophrenic anxiety. Pharmacopsychiatry 42:124–125. doi:10.1055/s-0028-1112128

58.

Englisch S, Esser A, Enning F, Hohmann S, Schanz H, Zink M (2010) Augmentation with pregabalin in schizophrenia. J Clin Psychopharmacol 30:437–440. doi:10.1097/JCP.0b013e3181e5c095

59.

Bandelow B, Wedekind D, Leon T (2007) Pregabalin for the treatment of generalized anxiety disorder: a novel pharmacologic intervention. Expert Rev Neurother 7:769–781. doi:10.1586/14737175.7.7.769

60.

Wang Y, Xia J, Helfer B, Li C, Leucht S (2016) Valproate for schizophrenia. Cochrane Database Syst Rev 11:CD004028. doi:10.1002/14651858.CD004028.pub4

61.

Zullino DF, Khazaal Y, Hattenschwiler J, Borgeat F, Besson J (2004) Anticonvulsant drugs in the treatment of substance withdrawal. Drugs Today 40:603–619. doi:10.1358/dot.2004.40.7.850478

62.

Book SW, Myrick H (2005) Novel anticonvulsants in the treatment of alcoholism. Expert Opin Investig Drugs 14:371–376. doi:10.1517/13543784.14.4.371

63.

Rickels K, DeMartinis N, Rynn M, Mandos L (1999) Pharmacologic strategies for discontinuing benzodiazepine treatment. J Clin Psychopharmacol 19:12S–16S. doi:10.1097/00004714-199912002-00003

64.

Martinotti G, Lupi M, Sarchione F, Santacroce R, Salone A, De Berardis D, Serroni N, Cavuto M, Signorelli M, Aguglia E, Valchera A, Iasevoli F, Di Giannantonio M (2013) The potential of pregabalin in neurology, psychiatry and addiction: a qualitative overview. Curr Pharm Des 19:6367–6374. doi:10.2174/13816128113199990425

65.

Lipper S, Davidson JRT, Grady TA, Edinger JD, Hammett EB, Mahorney SL, Cavenar JO (1986) Preliminary study of carbamazepine in post-traumatic stress disorder. Psychosomatics 27:849–854. doi:10.1016/S0033-3182(86)72590-5

66.

Tondo L, Burrai C, Scamonatti L, Toccafondi F, Poddighe A, Minnai G, Tundo A, Floris G (1989) Carbamazepine in panic disorder. Am J Psychiatry 146:558–559. doi:10.1176/ajp.146.4.558b

67.

Anderson C, George D, Quante A (2014) Pregabalin in acute treatment of anxious depression: a case series. Psychiatry Res 215:246–248. doi:10.1016/j.psychres.2013.10.007

68.

Showraki M (2007) Pregabalin in the treatment of depression. J Psychopharmacol 21:883–884. doi:10.1177/0269881107078496

69.

Vitali M, Tedeschini E, Mistretta M, Fehling K, Aceti F, Ceccanti M, Fava M (2013) Adjunctive pregabalin in partial responders with major depressive disorder and residual anxiety. J Clin Psychopharmacol 33:95–98. doi:10.1097/JCP.0b013e31827b9351

70.

Karaiskos D, Pappa D, Tzavellas E, Siarkos K, Katirtzoglou E, Papadimitriou GN, Politis A (2013) Pregabalin augmentation of antidepressants in older patients with comorbid depression and generalized anxiety disorder—an open-label study. Int J Geriatr Psychiatry 28:100–105. doi:10.1002/gps.3800

71.

Stein DJ, Baldwin DS, Baldinetti F, Mandel F (2008) Efficacy of pregabalin in depressive symptoms associated with generalized anxiety disorder: a pooled analysis of 6 studies. Eur Neuropsychopharmacol 18:422–430. doi:10.1016/j.euroneuro.2008.01.004

72.

Assion HJ, Angst J, Vollmoeller W (2006) Handbuch bipolare störungen: grundlagen-diagnostik-therapie. Kohlhammer, Stuttgart

73.

Baldwin DS, den Boer JA, Lyndon G, Emir B, Schweizer E, Haswell H (2015) Efficacy and safety of pregabalin in generalised anxiety disorder: a critical review of the literature. J Psychopharmacol 29:1047–1060. doi:10.1177/0269881115598411

74.

Eyer F, Schreckenberg M, Hecht D, Adorjan K, Schuster T, Felgenhauer N, Pfab R, Strubel T, Zilker T (2011) Carbamazepine and valproate as adjuncts in the treatment of alcohol withdrawal syndrome: a retrospective cohort study. Alcohol Alcohol 46:177–184. doi:10.1093/alcalc/agr005

75.

Malcolm R, Myrick H, Brady KT, Ballenger JC (2001) Update on anticonvulsants for the treatment of alcohol withdrawal. Am J Addict 10:16–23. doi:10.1080/10550490190942489

76.

Martinotti G, Romanelli R, Di Nicola M, Reina D, Mazza M, Janiri L (2007) Oxcarbazepine at high dosages for the treatment of alcohol dependence. Am J Addict 16:247–248. doi:10.1080/10550490701375558

77.

Schik G, Wedegaertner FR, Liersch J, Hoy L, Emrich HM, Schneider U (2005) Oxcarbazepine versus carbamazepine in the treatment of alcohol withdrawal. Addict Biol 10:283–288. doi:10.1080/13556210500224015

78.

Schneider U, Paetzold W, Eronat V, Huber TJ, Seifert J, Wiese B, Emrich HM (2000) Buprenorphine and carbamazepine as a treatment for detoxification of opiate addicts with multiple drug misuse: a pilot study. Addict Biol 5:65–69. doi:10.1080/13556210071289

79.

Fountoulakis KN, Gonda X, Baghai T, Baldwin D, Bauer M, Blier P, Gattaz W, Hasler G, Möller HJ, Tandon R, Vieta E, Kasper S (2015) Report of the WPA section of pharmacopsychiatry on the relationship of antiepileptic drugs with suicidality in epilepsy. Int J Psychiatry Clin Pract 19:158–167

80.

Zeng K, Wang X, Xi Z, Yan Y (2010) Adverse effects of carbamazepine, phenytoin, valproate and lamotrigine monotherapy in epileptic adult Chinese patients. Clin Neurol Neurosurg 112:291–295. doi:10.1016/j.clineuro.2009.12.014

81.

Kakkar AK, Rehan HS, Unni KE, Gupta NK, Chopra D, Kataria D (2009) Comparative efficacy and safety of oxcarbazepine versus divalproex sodium in the treatment of acute mania: a pilot study. Eur Psychiatry 24:178–182. doi:10.1016/j.eurpsy.2008.12.014

82.

Kowski AB, Weissinger F, Gaus V, Fidzinski P, Losch F, Holtkamp M (2016) Specific adverse effects of antiepileptic drugs-a true-to-life monotherapy study. Epilepsy Behav 54:150–157. doi:10.1016/j.yebeh.2015.11.009

83.

Arnold LM, Russell IJ, Diri EW, Duan WR, Young JP, Sharma U, Martin SA, Barrett JA, Haig G (2008) A 14-week, randomized, double-blinded, placebo-controlled monotherapy trial of pregabalin in patients with fibromyalgia. J Pain 9:792–805. doi:10.1016/j.jpain.2008.03.013

84.

Arnold LM, Sarzi-Puttini P, Arsenault P, Khan T, Brown PB, Clair A, Scavone JM, Driscoll J, Landen J, Pauer L (2015) Efficacy and safety of pregabalin in patients with fibromyalgia and comorbid depression taking concurrent antidepressant medication: a randomized, placebo-controlled study. J Rheumatol 42:1237–1244. doi:10.3899/jrheum.141196

85.

Błaszczyk B, Lasoń W, Czuczwar SJ (2015) Antiepileptic drugs and adverse skin reactions: an update. Pharmacol Rep 67:426–434. doi:10.1016/j.pharep.2014.11.009

86.

Lange-Asschenfeldt C, Grohmann R, Lange-Asschenfeldt B, Engel RR, Ruther E, Cordes J (2009) Cutaneous adverse reactions to psychotropic drugs: data from a multicenter surveillance program. J Clin Psychiatry 70:1258–1265. doi:10.4088/JCP.08m04563

87.

Gandhi S, McArthur E, Mamdani MM, Hackam DG, McLachlan RS, Weir MA, Burneo JG, Garg AX (2016) Antiepileptic drugs and hyponatremia in older adults: two population-based cohort studies. Epilepsia 57:2067–2079. doi:10.1111/epi.13593

88.

Dam M, Ekberg R, Loyning Y, Waltimo O, Jakobsen K (1989) A double-blind study comparing oxcarbazepine and carbamazepine in patients with newly diagnosed, previously untreated epilepsy. Epilepsy Res 3:70–76. doi:10.1016/0920-1211(89)90070-3

89.

Johannessen AC, Nielsen OA (1987) Hyponatremia induced by oxcarbazepine. Epilepsy Res 1:155–156. doi:10.1016/0920-1211(87)90025-8

90.

Letmaier M, Painold A, Holl AK, Vergin H, Engel R, Konstantinidis A, Kasper S, Grohmann R (2012) Hyponatremia during psychopharmacological treatment: results of a drug surveillance programme. Int J Neuropsychopharmacol 15:739–748. doi:10.1017/s1461145711001192

91.

Kuz GM, Manssourian A (2005) Carbamazepine-induced hyponatremia: assessment of risk factors. Ann Pharmacother 39:1943–1946. doi:10.1345/aph.1G209

92.

Boulassel M-R, Morales R, Murphy T, Lalonde RG, Klein MB (2006) Gender and long-term metabolic toxicities from antiretroviral therapy in HIV-1 infected persons. J Med Virol 78:1158–1163. doi:10.1002/jmv.20676

93.

Rademaker M (2001) Do women have more adverse drug reactions? Am J Clin Dermatol 2:349–351. doi:10.2165/00128071-200102060-00001

94.

Friedrich M-E, Akimova E, Huf W, Konstandinidis A, Papageorgiou K, Winkler D, Toto S, Greil W, Grohmann R, Kasper S (2016) Drug-induced liver injury during antidepressant treatment: results of AMSP, a drug surveillance program. Int J Neuropsychopharmacol 19:1–9. doi:10.1093/ijnp/pyv126

95.

Engel R, Grohmann R, Rüther E, Hippius H (2004) Research methods in drug surveillance. Pharmacopsychiatry 37:12–15. doi:10.1055/s-2004-815506

96.

Clancy MJ, Clarke MC, Connor DJ, Cannon M, Cotter DR (2014) The prevalence of psychosis in epilepsy; a systematic review and meta-analysis. BMC Psychiatry 14:75. doi:10.1186/1471-244X-14-75
Acknowledgements
The authors are grateful to all participating hospitals and drug monitors for their voluntary and careful collection of data.
Ethics declarations
Conflict of interest
The AMSP Drug Safety Program is organised by non-profit associations in Germany, Austria and Switzerland. AMSP has been supported with unrestricted educational and research grants since 1993 by the following companies:
Austrian companies Astra Zeneca Österreich GmbH, Boehringer Ingelheim Austria, Bristol-Myers Squibb GmbH, CSC Pharmaceuticals GmbH, Eli Lilly GmbH, Germania Pharma GmbH, GlaxoSmithKline Pharma GmbH, Janssen-Cilag Pharma GmbH, Lundbeck GmbH, Novartis Pharma GmbH, Pfizer Med Inform, Wyeth Lederle Pharma GmbH.
German companies Abbott GmbH & Co. KG, AstraZeneca GmbH, Aventis Pharma Deutschland GmbH GE–O/R/N, Bayer Vital GmbH, Boehringer Mannheim GmbH, Bristol-Myers-Squibb, Ciba Geigy GmbH, Desitin Arzneimittel GmbH, Duphar Pharma GmbH & Co. KG, Eisai GmbH, esparma GmbH Arzneimittel, GlaxoSmithKline Pharma GmbH & Co. KG, Hoffmann-La Roche AG Medical Affairs, Janssen-Cilag GmbH, Janssen Research Foundation, Knoll Deutschland GmbH, Lilly Deutschland GmbH Niederlassung Bad Homburg, Lundbeck GmbH & Co. KG, Novartis Pharma GmbH, Nordmark Arzneimittel GmbH, Organon GmbH, Otsuka-Pharma Frankfurt, Pfizer GmbH, Pharmacia & Upjohn GmbH, Promonta Lundbeck Arzneimittel, Rhone-Poulenc Rohrer, Sanofi-Synthelabo GmbH, Sanofi-Aventis Deutschland, Schering AG, SmithKlineBeecham Pharma GmbH, Solvay Arzneimittel GmbH, Synthelabo Arzneimittel GmbH, Dr. Wilmar Schwabe GmbH & Co., Thiemann Arzneimittel GmbH, Troponwerke GmbH & Co. KG, Upjohn GmbH, Wander Pharma GmbH, Wyeth-Pharma GmbH.
Swiss companies AHP (Schweiz) AG, AstraZeneca AG, Bristol-Myers Squibb AG, Desitin Pharma GmbH, Eli Lilly (Suisse) S.A., Essex Chemie AG, GlaxoSmithKline AG, Janssen-Cilag AG, Lundbeck (Suisse) AG, Organon AG, Pfizer AG, Pharmacia, Sanofi-Aventis (Suisse) S.A., Sanofi-Synthelabo SA, Servier SA, SmithKlineBeecham AG, Solvay Pharma AG, Wyeth AHP (Suisse) AG, Wyeth Pharmaceuticals AG.
About this article
Cite this article
Druschky, K., Bleich, S., Grohmann, R. et al. Use and safety of antiepileptic drugs in psychiatric inpatients—data from the AMSP study. Eur Arch Psychiatry Clin Neurosci 268, 191–208 (2018). https://doi.org/10.1007/s00406-017-0827-5
Received:

Accepted:

Published:

Issue Date:
Keywords
Antiepileptic drugs

AMSP programme

Drug utilization

Adverse drug reactions