Abstract
The aim of this study is to determine the prevalence rates of depressive, anxiety and PTSDs, and the risk factors for psychological symptoms at 6 years after occupational injury. This longitudinal study followed workers who were occupationally injured in 2009. Psychological symptoms and return to work were assessed at 3 and 12 months after injury. Injured workers who had completed the initial questionnaire survey at 3 or 12 months after injury were recruited. A self-administered questionnaire was mailed to the participants. For workers with high Brief Symptom Rating Scale and Post-traumatic Symptom Checklist scores, an in-depth psychiatric evaluation was performed using the Mini-international Neuropsychiatric Interview. A total of 570 workers completed the questionnaire (response rate, 28.7%). Among them, 243 (42.6%) had high psychological symptom scores and were invited for a phone interview; 135 (55.6%) completed the interview. The estimated rates of major depression and post-traumatic stress disorder (PTSD)/partial PTSD were 9.2 and 7.2%, respectively, and both these rates were higher at 6 years after injury than at 12 months after injury (2.0 and 5.1%). After adjustment for family and social factors, the risk factors for high psychological scores were length of hospitalization immediately after injury, affected physical appearance, repeated occupational injuries, unemployment, and number of quit jobs after the injury. At 6 years after occupational injury, the re-emergence of psychiatric disorders was observed. Relevant factors for poor psychological health were severity of injury and instability of work. Periodic monitoring of psychological and physical health and economic stability are warranted.
Access options
Buy single article
Instant access to the full article PDF.
USD 39.95
Price includes VAT (USA)
Tax calculation will be finalised during checkout.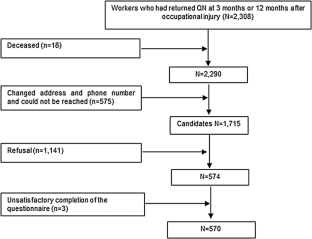 References
1.

The International Labour Organization (2014) Safety and health at work : a vision for sustainable prevention: Xx world congress on safety and health at work 2014: global forum for prevention, 24–27 august 2014, frankfurt, germany. In: ILO, Geneva

2.

Kim J (2013) Depression as a psychosocial consequence of occupational injury in the us working population: findings from the medical expenditure panel survey. BMC Public Health 13:1–10

3.

Lin KH, Chu PC, Kuo CY, Hwang YH, Wu SC, Guo YL (2014) Psychiatric disorders after occupational injury among national health insurance enrollees in taiwan. Psychiatry Res 219:645–650

4.

Lin KH, Guo NW, Liao SC, Kuo CY, Hu PY, Hsu JH, Hwang YH, Guo YL (2012) Psychological outcome of injured workers at 3 months after occupational injury requiring hospitalization in Taiwan. J Occup Health 54:289–298

5.

Lin KH, Shiao JC, Guo NW, Liao SC, Kuo CY, Hu PY, Hsu JH, Hwang YH, Guo Y (2014) Long-term psychological outcome of workers after occupational injury: prevalence and risk factors. J Occup Rehabil 24:1–10

6.

Lin KH, Guo NW, Shiao SC, Liao SC, Hu PY, Hsu JH, Hwang YH, Guo Y (2013) The impact of psychological symptoms on return to work in workers after occupational injury. J Occup Rehabil 23:55–62

7.

Lin SH, Lee HY, Chang YY, Jang Y, Chen PC, Wang JD (2010) Increased mortality risk for workers with a compensated, permanent occupational disability of the upper or lower extremities: a 21-year follow-up study. Am J Epidemiol 171:917–923

8.

Larsson TJ, Björnstig U (1995) Persistent medical problems and permanent impairment five years after occupational injury. Scand J Soc Med 23:121–128

9.

Dong XS, Wang X, Largay JA, Sokas R (2015) Long-term health outcomes of work-related injuries among construction workers—findings from the national longitudinal survey of youth. Am J Ind Med 58:308–318

10.

Hepp U, Moergeli H, Buchi S, Bruchhaus-Steinert H, Kraemer B, Sensky T, Schnyder U (2008) Post-traumatic stress disorder in serious accidental injury: 3-year follow-up study. Br J Psychiatry 192:376–383

11.

Malt U (1988) The long-term psychiatric consequences of accidental injury: a longitudinal study of 107 adults. Br J Psychiatry 153:810–818

12.

Mayou R, Tyndel S, Bryant B (1997) Long-term outcome of motor vehicle accident injury. Psychosom Med 59:578–584

13.

Sigurdardottir S, Andelic N, Roe C, Schanke AK (2013) Depressive symptoms and psychological distress during the first five years after traumatic brain injury: relationship with psychosocial stressors, fatigue and pain. J Rehabil Med 45:808–814

14.

Lee MB, Liao SC, Lee YJ, Wu CH, Tseng MC, Gau SF, Rau CL (2003) Development and verification of validity and reliability of a short screening instrument to identify psychiatric morbidity. J Formos Med Assoc 102:687–694

15.

Chen HC, Wu CH, Lee YJ, Liao SC, Lee MB (2005) Validity of the five-item brief symptom rating scale among subjects admitted for general health screening. Taiwan yi zhi=J Formos Med Assoc 104:824–829

16.

American Psychiatry Association (1994) Diagnostic and statistical manual of mental disorder. (dsm-iv-tr). American Psychiatry Association, Washington, DC

17.

Sheehan DV, Lecrubier Y, Sheehan KH, Amorim P, Janavs J, Weiller E et al (1998) The Mini-international neuropsychiatric interview (M.I.N.I.): the development and validation of a structured diagnostic psychiatric interview for DSM-IV and ICD-10. J Clin Psychiatry 59(Suppl 20):22–33

18.

Chou FHC, Wu HC, Chou P, Su CY, Tsai KY, Chao SS, Chen MC, Su TTP, Sun WJ, Ou-Yang WC (2007) Epidemiologic psychiatric studies on post-disaster impact among Chi-Chi earthquake survivors in Yu-Chi, Taiwan. Psychiatry Clin Neurosci 61:370–378

19.

Blanchard EB, Hickling EJ, Taylor AE, Loos W (1995) Psychiatric morbidity associated with motor vehicle accidents. J Nerv Ment Dis 183:495–504

20.

Forbes D, Nickerson A, Alkemade N, Bryant RA, Creamer M, Silove D, McFarlane AC, Van Hooff M, Fletcher SL, O'Donnell M (2015) Longitudinal analysis of latent classes of psychopathology and patterns of class migration in survivors of severe injury. J Clin Psychiatry 76:1193–1199

21.

Keogh JP, Nuwayhid I, Gordon JL, Gucer PW (2000) The impact of occupational injury on injured worker and family: outcomes of upper extremity cumulative trauma disorders in maryland workers. Am J Ind Med 38:498–506

22.

Goenjian AK, Steinberg AM, Najarian LM, Fairbanks LA, Tashjian M, Pynoos RS (2000) Prospective study of posttraumatic stress, anxiety, and depressive reactions after earthquake and political violence. Am J Psychiatry 157:911–916

23.

Keller MB, Lavori PW, Mueller TI et al (1992) Time to recovery, chronicity, and levels of psychopathology in major depression: a 5-year prospective follow-up of 431 subjects. Arch Gen Psychiatry 49:809–816

24.

Koren D, Arnon I, Klein E (2001) Long term course of chronic posttraumatic stress disorder in traffic accident victims: a three-year prospective follow-up study. Behav Res Ther 39:1449–1458

25.

Marres GMH, Leenen LPH, de Vries J, Mulder PGH, Vermetten E (2011) Disaster-related injury and predictors of health complaints after exposure to a natural disaster: an online survey. BMJ Open 1(2):e000248

26.

Rutherford BR, Mori S, Sneed JR, Pimontel MA, Roose SP (2012) Contribution of spontaneous improvement to placebo response in depression: a meta-analytic review. J Psychiatr Res 46:697–702

27.

KPOSOWA AJ (2001) Unemployment and suicide: a cohort analysis of social factors predicting suicide in the us national longitudinal mortality study. Psychol Med 31:127–138

28.

Molarius A, Berglund K, Eriksson C, Eriksson HG, Lindén-Boström M, Nordström E, Persson C, Sahlqvist L, Starrin B, Ydreborg B (2009) Mental health symptoms in relation to socio-economic conditions and lifestyle factors—a population-based study in sweden. BMC Public Health 9:302–302

29.

Ruo B, Rumsfeld JS, Hlatky MA, Liu H, Browner WS, Whooley MA (2003) Depressive symptoms and health-related quality of life: the heart and soul study. JAMA 290:215–221

30.

Tsai KY, Chou P, Chou FHC, Su TTP, Lin SC, Lu MK, Ou-Yang WC, Su CY, Chao SS, Huang MW, Wu HC, Sun WJ, Su SF, Chen MC (2007) Three-year follow-up study of the relationship between posttraumatic stress symptoms and quality of life among earthquake survivors in Yu-Chi, Taiwan. J Psychiatr Res 41:90–96

31.

Baker RAU, Jones S, Sanders C, Sadinski C, Martin-Duffy K, Berchin H, Valentine S (1996) Degree of burn, location of burn, and length of hospital stay as predictors of psychosocial status and physical functioning. J Burn Care Res 17:327–333

32.

George LK, Gwyther LP (1986) Caregiver weil-being: a multidimensional examination of family caregivers of demented adults. Gerontologist 26:253–259

33.

Milner A, Page A, Lamontagne AD (2014) Cause and effect in studies on unemployment, mental health and suicide: a meta-analytic and conceptual review. Psychol Med 44:909–917

34.

Sanderson K, Andrews G (2002) Prevalence and severity of mental health-related disability and relationship to diagnosis. Psychiatr Serv 53:80–86

35.

Turner RJ, Lloyd DA (1995) Lifetime traumas and mental health: the significance of cumulative adversity. J Health Soc Behav 36:360–376

36.

Benach J, Muntaner C (2007) Precarious employment and health: developing a research agenda. J Epidemiol Community Health 61:276–277

37.

Benach J, Vives A, Amable M, Vanroelen C, Tarafa G, Muntaner C (2014) Precarious employment: understanding an emerging social determinant of health. Annu Rev Public Health 35:229–253

38.

Dekker SWA, Schaufeli WB (1995) The effects of job insecurity on psychological health and withdrawal: a longitudinal study. Australian Psychologist 30:57–63

39.

Ferrie JE, Shipley MJ, Stansfeld SA, Marmot MG (2002) Effects of chronic job insecurity and change in job security on self reported health, minor psychiatric morbidity, physiological measures, and health related behaviours in british civil servants: the whitehall ii study. J Epidemiol Community Health 56:450–454

40.

Rugulies R, Bültmann U, Aust B, Burr H (2006) Psychosocial work environment and incidence of severe depressive symptoms: prospective findings from a 5-year follow-up of the danish work environment cohort study. Am J Epidemiol 163:877–887

41.

Vives A, Vanroelen C, Amable M, Ferrer M, Moncada S, Llorens C, Muntaner C, Benavides FG, Benach J (2011) Employment precariousness in spain: prevalence, social distribution, and population-attributable risk percent of poor mental health. Int J Health Serv 41:625–646

42.

Liao SC, Chen WJ, Lee MB, Lung FW, Lai TJ, Liu CY, Lin CY, Yang MJ, Chen CC (2011) Low prevalence of major depressive disorder in taiwanese adults: possible explanations and implications. Psychol Med 42:1227–1237

43.

Ishikawa H, Kawakami N, Kessler RC (2016) Lifetime and 12-month prevalence, severity and unmet need for treatment of common mental disorders in japan: results from the final dataset of world mental health japan survey. Epidemiol Psychiatr Sci 25:217–229

44.

Kessler RC, Berglund P, Demler O et al (2003) The epidemiology of major depressive disorder: results from the national comorbidity survey replication (ncs-r). JAMA 289:3095–3105
Acknowledgements
We would like to thank Hsueh-Ching Wu, RN. PhD (National Taiwan University School of Nursing), Li-Jie Wang, RN, Yichuan Chen, RN, and I-Ju Lee, RN, provided help and input on performing MINI telephone interview of this study. There was no financial compensation.
Ethics declarations
Conflict of interest
None.
Funding/support
This work was supported by Ministry of Science and Technology, R.O.C. (Taiwan) Grant MOST 103-2314-B-002-042.
About this article
Cite this article
Chin, WS., Shiao, J.SC., Liao, SC. et al. Depressive, anxiety and post-traumatic stress disorders at six years after occupational injuries. Eur Arch Psychiatry Clin Neurosci 267, 507–516 (2017). https://doi.org/10.1007/s00406-016-0762-x
Received:

Accepted:

Published:

Issue Date:
Keywords
Post-traumatic stress disorder

Depression

Psychological symptoms

Occupational injury