Abstract
Dealing with one's emotions is a core skill in everyday life. Effective cognitive control strategies have been shown to be neurobiologically represented in prefrontal structures regulating limbic regions. In addition to cognitive strategies, mindfulness-associated methods are increasingly applied in psychotherapy. We compared the neurobiological mechanisms of these two strategies, i.e. cognitive reappraisal and mindfulness, during both the cued expectation and perception of negative and potentially negative emotional pictures. Fifty-three healthy participants were examined with functional magnetic resonance imaging (47 participants included in analysis). Twenty-four subjects applied mindfulness, 23 used cognitive reappraisal. On the neurofunctional level, both strategies were associated with comparable activity of the medial prefrontal cortex and the amygdala. When expecting negative versus neutral stimuli, the mindfulness group showed stronger activations in ventro- and dorsolateral prefrontal cortex, supramarginal gyrus as well as in the left insula. During the perception of negative versus neutral stimuli, the two groups only differed in an increased activity in the caudate in the cognitive group. Altogether, both strategies recruited overlapping brain regions known to be involved in emotion regulation. This result suggests that common neural circuits are involved in the emotion regulation by mindfulness-based and cognitive reappraisal strategies. Identifying differential activations being associated with the two strategies in this study might be one step towards a better understanding of differential mechanisms of change underlying frequently used psychotherapeutic interventions.
Access options
Buy single article
Instant access to the full article PDF.
US$ 39.95
Tax calculation will be finalised during checkout.
Subscribe to journal
Immediate online access to all issues from 2019. Subscription will auto renew annually.
US$ 121.37
Tax calculation will be finalised during checkout.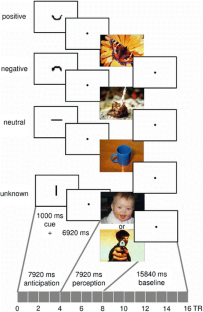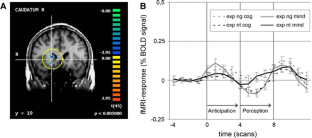 References
1.

John OP, Gross JJ (2004) Healthy and unhealthy emotion regulation: personality processes, individual differences, and life span development. J Pers 72(6):1301–1333

2.

Gross JJ (2002) Emotion regulation: affective, cognitive, and social consequences. Psychophysiology 39(3):281–291

3.

Eftekhari A, Zoellner LA, Vigil SA (2009) Patterns of emotion regulation and psychopathology. Anxiety Stress Coping 22(5):571–586

4.

Koole SL (2009) The psychology of emotion regulation: an integrative review. Cogn Emot 23(1):4–41

5.

Gross JJ (1998) The emerging field of emotion regulation: an integrative review. Rev Gen Psychol 2(3):271–299

6.

Mauss IB, Bunge SA, Gross JJ (2007) Automatic emotion regulation. Soc Personal Psychol Compass 1:146–167

7.

Ochsner KN, Bunge SA, Gross JJ, Gabrieli JDE (2002) Rethinking feelings: an fMRI study of the cognitive regulation of emotion. J Cogn Neurosci 14(8):1215–1229

8.

Herwig U, Baumgartner T, Kaffenberger T, Brühl A, Kottlow M, Schreiter-Gasser U, Abler B, Jäncke L, Rufer M (2007) Modulation of anticipatory emotion and perception processing by cognitive control. Neuroimage 37(2):652–662

9.

Ochsner KN, Silvers JA, Buhle JT (2012) Functional imaging studies of emotion regulation: a synthetic review and evolving model of the cognitive control of emotion. Ann N Y Acad Sci 1251(1):E1–E24

10.

Kalisch R (2009) The functional neuroanatomy of reappraisal: time matters. Neurosci Biobehav Rev 33(8):1215–1226

11.

Diekhof EK, Geier K, Falkai P, Gruber O (2011) Fear is only as deep as the mind allows: a coordinate-based meta-analysis of neuroimaging studies on the regulation of negative affect. Neuroimage 58:275–285

12.

Buhle JT, Silvers JA, Wager TD, Lopez R, Onyemekwu C, Kober H, Weber J, Ochsner KN (in press) Cognitive reappraisal of emotion: a meta-analysis of human neuroimaging studies. Cereb Cortex. doi:10.1093/cercor/bht154

13.

Quirk GJ, Beer JS (2006) Prefrontal involvement in the regulation of emotion: convergence of rat and human studies. Curr Opin Neurobiol 16(6):723–727

14.

Kabat-Zinn J (1994) Wherever you go, there you are: mindfulness meditation in everyday life. Hyperion, New York

15.

Kabat-Zinn J (1990) Full catastrophe living. Bantam Doubleday Publishing Group Inc, New York

16.

Segal ZV, Williams JM, Teasdale JD (2001) Mindfulness-based cognitive therapy for depression: a new approach to preventing relapse. Guilford Press, New York

17.

Hölzel BK, Ott U, Hempel H, Hackl A, Wolf K, Stark R, Vaitl D (2007) Differential engagement of anterior cingulate and adjacent medial frontal cortex in adept meditators and non-meditators. Neurosci Lett 421(1):16–21

18.

Hasenkamp W, Wilson-Mendenhall CD, Duncan E, Barsalou LW (2012) Mind wandering and attention during focused meditation: a fine-grained temporal analysis of fluctuating cognitive states. Neuroimage 59(1):750–760

19.

Farb NA, Segal ZV, Mayberg H, Bean J, McKeon D, Fatima Z, Anderson AK (2007) Attending to the present: mindfulness meditation reveals distinct neural modes of self-reference. Soc Cogn Affect Neurosci 2(4):313–322. doi:10.1093/scan/nsm030

20.

Farb NA, Anderson AK, Mayberg H, Bean J, McKeon D, Segal ZV (2010) Minding one's emotions: mindfulness training alters the neural expression of sadness. Emotion 10(1):25–33

21.

Allen M, Dietz M, Blair KS, van Beek M, Rees G, Vestergaard-Poulsen P, Lutz A, Roepstorff A (2012) Cognitive-affective neural plasticity following active-controlled mindfulness intervention. J Neurosci 32(44):15601–15610

22.

Cahn BR, Polich J (2006) Meditation states and traits: EEG, ERP, and neuroimaging studies. Psychol Bull 132(2):180–211

23.

Chiesa A, Serretti A (2010) A systematic review of neurobiological and clinical features of mindfulness meditations. Psychol Med 40(8):1239–1252

24.

Tang YY, Rothbart MK, Posner MI (2012) Neural correlates of establishing, maintaining, and switching brain states. Trends Cogn Sci 16(6):330–337

25.

Ives-Deliperi VL, Solms M, Meintjes EM (2011) The neural substrates of mindfulness: an fMRI investigation. Soc Neurosci 6(3):231–242

26.

Dickenson J, Berkman ET, Arch J, Lieberman MD (2013) Neural correlates of focused attention during a brief mindfulness induction. Soc Cogn Affect Neurosci 8(1):40–47. doi:10.1093/scan/nss030

27.

Herwig U, Kaffenberger T, Jäncke L, Brühl AB (2010) Self-related awareness and emotion regulation. Neuroimage 50(2):734–741

28.

Lieberman MD, Eisenberger NI, Crockett MJ, Tom SM, Pfeifer JH, Way BM (2007) Putting feelings into words: affect labeling disrupts amygdala activity in response to affective stimuli. Psychol Sci 18(5):421–428

29.

Herwig U, Kaffenberger T, Baumgartner T, Jäncke L (2007) Neural correlates of a 'pessimistic' attitude when anticipating events of unknown emotional valence. Neuroimage 34(2):848–858

30.

Bermpohl F, Pascual-Leone A, Amedi A, Merabet LB, Fregni F, Gaab N, Alsop D, Schlaug G, Northoff G (2006) Dissociable networks for the expectancy and perception of emotional stimuli in the human brain. Neuroimage 30(2):588–600

31.

Vrana SR, Spence EL, Lang PJ (1988) The startle probe response: a new measure of emotion? J Abnorm Psychol 97(4):487–491

32.

Ochsner KN, Ray RD, Cooper JC, Robertson ER, Chopra S, Gabrieli JDE, Gross JJ (2004) For better or for worse: neural systems supporting the cognitive down- and up-regulation of negative emotion. Neuroimage 23(2):483–499

33.

Goldin PR, McRae K, Ramel W, Gross JJ (2008) The neural bases of emotion regulation: reappraisal and suppression of negative emotion. Biol Psychiatry 63(6):577–586

34.

Creswell JD, Way BM, Eisenberger NI, Lieberman MD (2007) Neural correlates of dispositional mindfulness during affect labeling. Psychosom Med 69(6):560–565

35.

Annett M (1970) A classification of hand preference by association analysis. Br J Psychol 61(3):303–321

36.

First MB, Spitzer RL, Gibbon M, Williams JBW (2002) Structured clinical interview for DSM-IV-TR axis I disorders, research version, patient edition. (SCID-I/P). Biometrics Research, New York

37.

Lutz J, Herwig U, Opialla S, Hittmeyer A, Jancke L, Rufer M, Grosse Holtforth M, Bruhl AB (2014) Mindfulness and emotion regulation—an fMRI Study. Soc Cogn Affect Neurosci 9(6):776–785

38.

World Medical Association (2008) World Medical Association Declaration of Helsinki: ethical principles for medical research involving human subjects. World Medical Association, Ferney-Voltaire

39.

Lang PJ, Bradley MM, Cuthbert BN (2005) International affective picture system (IAPS): affective ratings of pictures and instruction manual. Technical report A-6. Center for Research in Psychophysiology, University of Florida, Gainesville, FL

40.

Brown KW, Ryan RM (2003) The benefits of being present: mindfulness and its role in psychological well-being. J Pers Soc Psychol 84(4):822–848

41.

Beck AT, Rush AJ, Shaw BF, Emery G (1979) Cognitive therapy of depression. The Guilford clinical psychology and psychotherapy series. Guilford Press, New York

42.

Hand I (2000) Group exposure in vivo for agoraphobics (1974): a multifaceted pilot study and its impact on subsequent agoraphobia research. Behav Cogn Psychother 28(04):335–351

43.

Gross JJ, John OP (2003) Individual differences in two emotion regulation processes: implications for affect, relationships, and well-being. J Pers Soc Psychol 85(2):348–362

44.

Goebel R, Esposito F, Formisano E (2006) Analysis of functional image analysis contest (FIAC) data with brainvoyager QX: from single-subject to cortically aligned group general linear model analysis and self-organizing group independent component analysis. Hum Brain Mapp 27(5):392–401

45.

Talairach J, Tournoux P (1988) Co-planar stereotaxic atlas of the human brain: three-dimensional proportional system. Thieme Medical, New York

46.

Lancaster JL, Woldorff MG, Parsons LM, Liotti M, Freitas CS, Rainey L, Kochunov PV, Nickerson D, Mikiten SA, Fox PT (2000) Automated Talairach atlas labels for functional brain mapping. Hum Brain Mapp 10(3):120–131

47.

Zung WW (2005) Self-Rating Depression Scale. In: Cips CIPS (ed) Internationale Skalen für Psychiatrie. Beltz, Göttingen

48.

Laux L, Glanzmann P, Schaffner P, Spielberger CD (1981) Das State-Trait-Angstinventar. Beltz, Weinheim

49.

Eysenck HJ, Eysenck SB (1964) Manual of the Eysenck Personality Inventory, 4th edn. University of London Press, London

50.

Walach H, Buchheld N, Buttenmüller V, Kleinknecht N, Schmidt S (2006) Measuring mindfulness—the Freiburg Mindfulness Inventory (FMI). Pers Individ Dif 40(8):1543–1555

51.

Crawford J, Cayley C, Lovibond PF, Wilson PH, Hartley CA (2011) Percentile norms and accompanying interval estimates from an Australian general adult population sample for self-report mood scales (BAI, BDI, CRSD, CES-D, DASS, DASS-21, STAI-X, STAI-Y, SRDS, and SRAS). Aust Psychol 46:3–14

52.

Collins HR, Corbly CR, Liu X, Kelly TH, Lynam D, Joseph JE (2012) Too little, too late or too much, too early? Differential hemodynamics of response inhibition in high and low sensation seekers. Brain Res 1481:1–12

53.

Zhang J, Hughes LE, Rowe JB (2012) Selection and inhibition mechanisms for human voluntary action decisions. Neuroimage 63(1):392–402

54.

Morin A, Michaud J (2007) Self-awareness and the left inferior frontal gyrus: inner speech use during self-related processing. Brain Res Bull 74(6):387–396

55.

Liakakis G, Nickel J, Seitz RJ (2011) Diversity of the inferior frontal gyrus—a meta-analysis of neuroimaging studies. Behav Brain Res 225(1):341–347

56.

Morin A, Hamper B (2012) Self-reflection and the inner voice: activation of the left inferior frontal gyrus during perceptual and conceptual self-referential thinking. Open Neuroimag J 6:78–89

57.

Hayes SC, Villatte M, Levin M, Hildebrandt M (2011) Open, aware, and active: contextual approaches as an emerging trend in the behavioral and cognitive therapies. Annu Rev Clin Psychol 7:141–168

58.

Farb NA, Anderson AK, Segal ZV (2012) The mindful brain and emotion regulation in mood disorders. Can J Psychiatry 57(2):70–77

59.

Ochsner KN, Gross JJ (2005) The cognitive control of emotion. Trends Cogn Sci 9(5):242–249

60.

Craig AD (2010) Once an island, now the focus of attention. Brain Struct Funct 214(5–6):395–396

61.

Critchley HD, Wiens S, Rotshtein P, Ohman A, Dolan RJ (2004) Neural systems supporting interoceptive awareness. Nat Neurosci 7(2):189–195

62.

Goldin PR, Manber T, Hakimi S, Canli T, Gross JJ (2009) Neural bases of social anxiety disorder: emotional reactivity and cognitive regulation during social and physical threat. Arch Gen Psychiatry 66(2):170–180

63.

Tomasino B, Fregona S, Skrap M, Fabbro F (2013) Meditation related activations are modulated by the practices needed to obtain it and by the expertise: an ALE meta-analysis study. Front Hum Neurosci 6. doi:10.3389/fnhum.2012.00346

64.

Nesse RM (2000) Is depression an adaptation? Arch Gen Psychiatry 57(1):14–20. doi:10.1001/archpsyc.57.1.14

65.

Panksepp J (2006) Emotional endophenotypes in evolutionary psychiatry. Prog Neuropsychopharmacol Biol Psychiatry 30(5):774–784

66.

Simmons A, Matthews SC, Paulus MP, Stein MB (2008) Intolerance of uncertainty correlates with insula activation during affective ambiguity. Neurosci Lett 430(2):92–97

67.

Rosenbaum DA (2010) Human motor control, 2nd edn. Academic Press/Elsevier, San Diego

68.

Packard MG, Knowlton BJ (2002) Learning and memory functions of the Basal Ganglia. Annu Rev Neurosci 25:563–593

69.

Aron AR, Poldrack RA (2006) Cortical and subcortical contributions to stop signal response inhibition: role of the subthalamic nucleus. J Neurosci 26(9):2424–2433

70.

Middleton FA, Strick PL (2000) Basal ganglia and cerebellar loops: motor and cognitive circuits. Brain Res Brain Res Rev 31(2–3):236–250

71.

Monk CS (2008) The development of emotion-related neural circuitry in health and psychopathology. Dev Psychopathol 20(4):1231–1250

72.

Graybiel AM (2005) The basal ganglia: learning new tricks and loving it. Curr Opin Neurobiol 15(6):638–644

73.

Seger CA (2006) The basal ganglia in human learning. Neuroscientist 12(4):285–290

74.

Sperduti M, Martinelli P, Piolino P (2012) A neurocognitive model of meditation based on activation likelihood estimation (ALE) meta-analysis. Conscious Cogn 21(1):269–276

75.

Taylor SF, Grant J, Daneault V, Scavone G, Breton E, Roffe-Vidal S, Courtemanche J, Lavarenne AS, Beauregard M (2011) Impact of mindfulness on the neural responses to emotional pictures in experienced and beginner meditators. Neuroimage 57(4):1524–1533

76.

Chiesa A, Serretti A, Jakobsen JC (2013) Mindfulness: top-down or bottom-up emotion regulation strategy? Clin Psychol Rev 33(1):82–96
Acknowledgments
This work was supported by Swiss National Science Funds (SNSF) Grant No. 3200B0 12120. The SNSF had no influence on study design, data analysis and interpretation and manuscript preparation.
Conflict of interest
On behalf of all authors, the corresponding author states that there is no conflict of interest.
Electronic supplementary material
Below is the link to the electronic supplementary material.
About this article
Cite this article
Opialla, S., Lutz, J., Scherpiet, S. et al. Neural circuits of emotion regulation: a comparison of mindfulness-based and cognitive reappraisal strategies. Eur Arch Psychiatry Clin Neurosci 265, 45–55 (2015). https://doi.org/10.1007/s00406-014-0510-z
Received:

Accepted:

Published:

Issue Date:
Keywords
Emotional anticipation

fMRI

Amygdala

DLPFC

Emotion regulation