Abstract
Due to the rise in the social and economic costs of depression, new antidepressant medication with fewer side effects should be found. Several studies have shown that an association exists between ω-3 polyunsaturated fatty acids (ω-3 PUFAs) and depression. However, this association has not been clear enough in the elderly with mild to moderate depression. Sixty-six inhabitants of Kahrizak Charity Foundation participated in this double-blind, randomized, placebo-controlled study. Each participant was ≥ 65 years of age, had a Mini Mental State Exam of ≥ 22, and had scores ranging from 5 to 11 on the Geriatric Depression Scale-15 (GDS-15). During the 6 months, the drug group was treated daily with one gram of fish oil capsule containing 300 mg of both eicosapentaenoic acid and docosahexaenoic acid. No significant differences were noted between the groups in regard to level of education, use of antidepressant drugs, alcohol, tobacco use, history of chronic diseases, age, body mass index (BMI), high-sensitive C-reactive protein (hs-CRP), total cholesterol, and GDS-15 scores at baseline. After adjusting for cholesterol, BMI, and history of thyroid dysfunctions, a statistically significant difference was seen in GDS-15 scores between both groups. Furthermore, treatment with ω-3 PUFAs was clinically more effective in treating depression in comparison with the placebo. In this study, low-dose ω-3 PUFAs had some efficacy in the treatment of mild to moderate depression in elderly participants.
This is a preview of subscription content, log in to check access.
Access options
Buy single article
Instant access to the full article PDF.
US$ 39.95
Price includes VAT for USA
Subscribe to journal
Immediate online access to all issues from 2019. Subscription will auto renew annually.
US$ 199
This is the net price. Taxes to be calculated in checkout.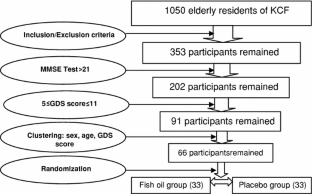 References
1.

Blazer DG, Kessler RC, McGonagle KA et al (1994) The prevalence and distribution of major depression in a national community sample: the National Comorbidity Survey. Am J Psychiatry 151(7):979–986 (PMID: 8010383)

2.

Steffens DC, Skoog I, Norton MC et al (2000) Prevalence of depression and its treatment in an elderly population: the Cache County study. Arch Gen Psychiatry 57(6):601–607 (PMID: 10839339)

3.

Unutzer J, Patrick DL, Simon G et al (1997) Depressive symptoms and the cost of health services in HMO patients aged 65 years and older. A 4-year prospective study. JAMA 277(20):1618–1623 (PMID: 9168292)

4.

Schoevers RA, Geerlings MI, Beekman AT et al (2000) Association of depression and gender with mortality in old age. Results from the Amsterdam Study of the Elderly (AMSTEL). Br J Psychiatry 177:336–342 (PMID: 11116775)

5.

Ziegelstein RC (2001) Depression in patients recovering from a myocardial infarction. JAMA 286(13):1621–1627 (PMID: 11585486)

6.

Cui X, Lyness JM, Tu X, King DA et al (2007) Does depression precede or follow executive dysfunction? Outcomes in older primary care patients. Am J Psychiatry 164(8):1221–1228 (PMID: 17671285)

7.

Steffens DC, Otey E, Alexopoulos GS et al (2006) Perspectives on depression, mild cognitive impairment, and cognitive decline. Arch Gen Psychiatry 63(2):130–138 (PMID: 16461855)

8.

Jackson JL, DeZee K, Berbano E (2004) Can treating depression improve disease outcomes? Ann Intern Med 140(12):1054–1056

9.

Krishnan KR (2000) Depression as a contributing factor in cerebrovascular disease. Am Heart J 140(4):S70–S76 (PMID: 11011351)

10.

Rudisch B, Nemeroff CB (2003) Epidemiology of comorbid coronary artery disease and depression. Biol Psychiatry. doi: 10.1016/S0006-3223(03)00587-0

11.

Carnethon MR, Biggs ML, Barzilay JI et al (2007) Longitudinal association between depressive symptoms and incident type 2 diabetes mellitus in older adults: the cardiovascular health study. Arch Intern Med 167(8):802–807 (PMID: 17452543)

12.

Golden SH, Lazo M, Carnethon M et al (2008) Examining a bidirectional association between depressive symptoms and diabetes. JAMA 299(23):2751–2759 (PMID: 18560002)

13.

Gallo JJ, Bogner HR, Morales KH et al (2007) The effect of a primary care practice-based depression intervention on mortality in older adults: a randomized trial. Ann Intern Med 146(10):689–698 (PMID: 17502629)

14.

Lavretsky H, Kumar A (2002) Clinically significant non-major depression: old concepts, new insights. Am J Geriatr Psychiatry 10(3):239–255 (PMID: 11994211)

15.

Lyness JM, Heo M, Datto CJ et al (2006) Outcomes of minor and subsyndromal depression among elderly patients in primary care settings. Ann Intern Med 144(7):496–504

16.

Penninx BW, Geerlings SW, Deeg DJ et al (1999) Minor and major depression and the risk of death in older persons. Arch Gen Psychiatry 56(10):889–895 (PMID: 10530630)

17.

Williams JW Jr, Barrett J, Oxman T et al (2000) Treatment of dysthymia and minor depression in primary care: a randomized controlled trial in older adults. JAMA 284(12):1519–1526 (PMID: 11000645)

18.

National Health Committee (1996) Guidelines for the treatment and management of depression. National Health Committee. Wellington Press, New Zealand

19.

McNamara RK, Hahn CG, Jandacek R et al (2007) Selective deficits in the omega-3 fatty acid docosahexaenoic acid in the postmortem orbitofrontal cortex of patients with major depressive disorder. Biol Psychiatry. doi: 10.1016/j.biopsych.2006.08.026

20.

Carlezon WA Jr, Mague SD, Parow AM et al (2005) Antidepressant-like effects of uridine and omega-3 fatty acids are potentiated by combined treatment in rats. Biol Psychiatry. doi: 10.1016/j.biopsych.2004.11.038

21.

Hibbeln JR, Umhau JC, Linnoila M et al (1998) A replication study of violent and nonviolent subjects: cerebrospinal fluid metabolites of serotonin and dopamine are predicted by plasma essential fatty acids. Biol Psychiatry. doi: 10.1016/S0006-3223(98)001143-7

22.

Hibbeln JR (1998) Fish consumption and major depression. Lancet. doi: 10.1016/S0140-6736(05)79168-6

23.

Tanskanen A, Hibbeln JR, Tuomilehto J et al (2001) Fish consumption and depressive symptoms in the general population in Finland. Psychiatr Serv 52(4):529–531 (PMID: 11274502)

24.

Conklin SM, Manuck SB, Yao JK et al (2007) High omega-6 and low omega-3 fatty acids are associated with depressive symptoms and neuroticism. Psychosom Med. doi:10.1097/PSY.0b013e31815aaa42

25.

Frasure-Smith N, Lesperance F, Julien P (2004) Major depression is associated with lower omega-3 fatty acid levels in patients with recent acute coronary syndromes. Biol Psychiatry. doi: 10.1016/j.biopsych.2004.01.021

26.

Parker GB, Heruc GA, Hilton TM et al (2006) Low levels of docosahexaenoic acid identified in acute coronary syndrome patients with depression. Psychiatry Res. doi: 10.1016/j.psychres.205.08.00526

27.

Tiemeier H, van Tuijl HR, Hofman A et al (2003) Plasma fatty acid composition and depression are associated in the elderly: the Rotterdam Study. Am J Clin Nutr 78(1):40–46 (PMID: 12816769)

28.

Nemets B, Stahl Z, Belmaker RH (2002) Addition of omega-3 fatty acid to maintenance medication treatment for recurrent unipolar depressive disorder. Am J Psychiatry 159(3):477–479 (PMID: 11870016)

29.

Peet M, Horrobin DF (2002) A dose-ranging study of the effects of ethyl-eicosapentaenoate in patients with ongoing depression despite apparently adequate treatment with standard drugs. Arch Gen Psychiatry 59(10):913–919 (PMID: 12365878)

30.

Su KP, Huang SY, Chiu CC et al (2003) Omega-3 fatty acids in major depressive disorder. A preliminary double-blind, placebo-controlled trial. Eur Neuropsychopharmacol. doi: 10.1016/S0924-977X(03)00032-4

31.

Food and Agriculture Organization of the United Nations. http://www.faostat.fao.org/site/610/DesktopDefault.aspx?PageID=610#ancor

32.

Frughan M, Jafari Z, Peymaneh S et al (2008) Adapting mini mental state exam of old ages dwelling in Tehran, 2006. J Tazeh-hay-e Oloum Shenaakhti 10(2):29–37 (In Persian)

33.

Yesavage JA, Brink TL, Rose TL et al (1982) Development and validation of a geriatric depression screening scale: a preliminary report. J Psychiatr Res. doi: 10.1016/0022-3956(82)90033-4

34.

Yesavage JA (1988) Geriatric depression scale. Psychopharmacol Bull 24(4):709–711 (PMID: 3249773)

35.

Malakouti SK, Fatollahi P, Mirabzadeh A et al (2006) Reliability, validity and factor structure of the GDS-15 in Iranian elderly. Int J Geriatr Psychiatry. doi: 10.1002/gps.1533

36.

Ghaffarpour M, Hoshiar-Rad A, Kianfar H (1999) The manual for household measures, cooking yield and edible portion of foods. 1 edn. Agriculture Science, Tehran

37.

Silvers KM, Woolley CC, Hamilton FC et al (2005) Randomised double-blind placebo-controlled trial of fish oil in the treatment of depression. Prostaglandins Leukot Essent Fatty Acids. doi:10.1016/j.plefa.2004.11.004

38.

Astorg P, Couthouis A, Bertrais S et al (2008) Association of fish and long-chain n-3 polyunsaturated fatty acid intakes with the occurrence of depressive episodes in middle-aged French men and women. Prostaglandins Leukot Essent Fatty Acids. doi:10.1016/j.plefa.2008.01.003

39.

Mischoulon D, Best-Popescu C, Laposata M et al (2008) A double-blind dose-finding pilot study of docosahexaenoic acid (DHA) for major depressive disorder. Eur Neuropsychopharmacol 18(9):639–645 (PMID: 18539007)

40.

Kravitz RL, Ford DE (2008) Introduction: chronic medical conditions and depression–the view from primary care. Am J Med. doi: 10.1016/j.amjmed.2008.09.007

41.

Polsky D, Doshi JA, Marcus S et al (2005) Long-term risk for depressive symptoms after a medical diagnosis. Arch Intern Med 165:1260–1266 (PMID: 15956005)

42.

Eich D, Neuhaus C, Gamma A et al (2007) Is depression a risk factor for heart complaints? Longitudinal aspects in the Zurich study. Eur Arch Psychiatry Clin Neurosci 257:396–401 (PMID: 17902006)

43.

Bjelland I, Krokstad S, Mykletun A et al (2008) Does a higher educational level protect against anxiety and depression? The HUNT study. Soc Sci Med. doi: 10.1016/j.socscimed.2007.12.019

44.

Ladin K (2008) Risk of late-life depression across 10 European Union countries: deconstructing the education effect. J Aging Health 20(6):653–670 (PMID: 18635752)

45.

Wu L-T, Anthony JC (1999) Tobacco smoking and depressed mood in late childhood and early adolescence. Am J Public Health 89:1837–1840 (PMID: 10589312)

46.

Goodman E, Capitman J (2000) Depressive symptoms and cigarette smoking among teens. Pediatrics 106:748–755 (PMID: 11015518)

47.

Chaiton M O, Cohen J E, O'Loughlin J et al (2009) A systematic review of longitudinal studies on the association between depression and smoking in adolescents. BMC Public Health. doi: 10.1186/1471-2458-9-356

48.

Almeida OP, Calver J, Jamrozik K et al (2009) Obesity and metabolic syndrome increase the risk of incident depression in older men: the health in men study. Am J Geriatr Psychiatry 17(10): 889–898 (PMID: 19910877)

49.

Koster A, van Gool CH, Kempen GI et al (2010) Late-life depressed mood and weight change contribute to the risk of each other. For the Health ABC Study. Am J Geriatr Psychiatry 18(3):236–244 (PMID: 20224519)

50.

Troisi A (2009) Cholesterol in coronary heart disease and psychiatric disorders: Same or opposite effects on morbidity risk? Neurosci Biobehav Rev. doi: 10.1016/j.neubiorev.2008.09.003

51.

Maes M, Scharpe S, Bosmans E et al (1992) Disturbances in acute phase plasma proteins during melancholia: additional evidence for the presence of an inflammatory process during that illness. Prog Neuropsychopharmacol Biol Psychiatry 16:501–515. doi:10.1016/0278-5846(92)90056-K

52.

Berk M, Wadee AA, Kuschke RH, et al (1997) Acute phase proteins in major depression. J Psychosom Res. doi: 10.1016/S0022-3999(97)00139-6

53.

Miller GE, Stetler CA, Carney RM et al (2002) Clinical depression and inflammatory risk markers for coronary heart disease. Am J Cardiol 90:1279–1283

54.

Luukinen H, Jokelainen J, Hedberg P (2010) The relationships between high-sensitivity C-reactive protein and incident depressed mood among older adults. Scand J Clin Lab Invest 70(2):75–79 ([Epub ahead of print] PMID: 20170291)

55.

Appleton KM, Gunnell D, Peters TJ et al (2008) No clear evidence of an association between plasma concentrations of n-3 long-chain polyunsaturated fatty acids and depressed mood in a non-clinical population. Prostaglandins Leukot Essent Fatty Acids 78(6):337–342 (PMID: 18565746)

56.

Rogers PJ, Appleton KM, Kessler D et al (2008) No effect of n-3 long-chain polyunsaturated fatty acid (EPA and DHA) supplementation on depressed mood and cognitive function: a randomised controlled trial. Br J Nutr 99(2):421–431 (PMID: 17956647)

57.

Lam RW, Levitan RD (2000) Pathophysiology of seasonal affective disorder: a review. J Psychiatry Neurosci 25(5):469–480 (PMID: 11109298)

58.

Sohn C-H, Lam RW (2005) Update on the biology of seasonal affective disorder. CNS Spectr 10(8):635–646 (PMID: 16041295)

59.

Evans M, Mottram P (2000) Diagnosis of depression in elderly patients. Adv Psychiatric Treat 6:49–56. Print ISSN: 1355–5146

60.

Gottfries C G (2001) Late life depression. Eur Arch Psychiatry Clin Neurosci 251 (suppl 2): II/57–II/61 (PMID: 11824838)
Acknowledgments
This research was supported by a grant from the Endocrinology and Metabolism Research Institute, Tehran University of Medical Science. We are grateful to the board of directors and chief manager of the Kahrizak Charity Foundation for their cooperation. We also thank Zahravi Pharmaceutical Company for preparation of the drugs and the placebos. We thank Mohamadreza Hemmati, Neda Nazari, and Goldasteh Besharati for their cooperation during the study follow-up.
Conflict of interest
The authors declare that they have no conflict of interest.
About this article
Cite this article
Tajalizadekhoob, Y., Sharifi, F., Fakhrzadeh, H. et al. The effect of low-dose omega 3 fatty acids on the treatment of mild to moderate depression in the elderly: a double-blind, randomized, placebo-controlled study. Eur Arch Psychiatry Clin Neurosci 261, 539–549 (2011). https://doi.org/10.1007/s00406-011-0191-9
Received:

Accepted:

Published:

Issue Date:
Keywords
ω-3 polyunsaturated fatty acids

Fish oils

Depression

Elderly