Abstract
Generalized anxiety disorder (GAD) is characterized by excessive and persistent worrying. Neural substrates of this disorder are insufficiently understood, which relates to functional as well as to structural brain abnormalities. Especially, findings on the neuroanatomy of GAD have been inconsistent and were predominantly derived from pediatric samples. Therefore, we studied adult patients. Thirty-one women (16 patients with GAD and 15 healthy control participants) underwent structural MRI scanning. Gray matter volumes for specific brain regions involved in worrying, anticipatory anxiety, and emotion regulation were analyzed by means of voxel-based morphometry. Relative to controls, patients with GAD had larger volumes of the amygdala and the dorsomedial prefrontal cortex (DMPFC). Moreover, patients' self-reports on symptom severity were positively correlated with volumes of the DMPFC and the anterior cingulate cortex. Patients with GAD show localized gray matter volume differences in brain regions associated with anticipatory anxiety and emotion regulation. This abnormality may represent either a predisposition for GAD or a consequence of disorder-specific behavior, such as chronic worrying. This issue should be addressed in future MRI studies.
Access options
Buy single article
Instant access to the full article PDF.
USD 39.95
Price includes VAT (USA)
Tax calculation will be finalised during checkout.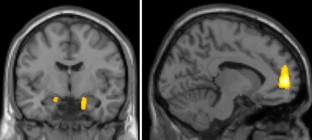 References
1.

American Psychiatric Association (2000) Diagnostic and statistical manual of mental disorders, 4th edn. American Psychiatric Press, Washington, DC

2.

Borkovec TD, Alcaine O, Behar E (2004) Avoidance theory of worry and generalized anxiety disorder. In: Heimberg RG, Turk C, Mennin DS (eds) General anxiety disorder: advances in research and practice. Guilford Press, New York, pp 77–108

3.

Mennin DS, Heimberg RG, Turk CL, Fresco DM (2005) Preliminary evidence for an emotion dysregulation model of generalized anxiety disorder. Behav Res Ther 43:1281–1310

4.

Nitschke JB, Sarinopoulos I, Oathes DJ, Johnstone T, Whalen PJ, Davidson RJ, Kalin NH (2009) Anticipatory activation in the amygdala and anterior cingulate in generalized anxiety disorder and prediction of treatment reponse. Am J Psychiatry 166:302–310

5.

Monk CS, Telzer EH, Mogg K, Bradley BP, Mai X, Louro HM, Chen G, McClure-Tone EB, Ernst M, Pine DS (2008) Amygdala and ventrolateral prefrontal cortex activation to masked angry faces in children and adolescents with generalized anxiety disorder. Arch Gen Psychiatry 65:568–576

6.

McClure EB, Monk CS, Nelson EE, Parrish JM, Adler A, Blair RJ, Fromm S, Charney DS, Leibenluft E, Ernst M, Pine DS (2007) Abnormal attention modulation of fear circuit function in pediatric generalized anxiety disorder. Arch Gen Psychiatry 64:97–106

7.

Blair K, Shaywitz J, Smith BW, Rhodes R, Geraci M, Jones M, McCaffrey D, Vythilingam M, Finger E, Mondillo K, Jacobs M, Charney DS, Blair RJ, Drevets WC, Pine DS (2008) Response to emotional expressions in generalized social phobia and generalized anxiety disorder: evidence for separate disorders. Am J Psychiatry 165:1193–1202

8.

Whalen PJ, Johnstone T, Somerville LH, Nitschke JB, Polis S, Alexander AL, Davidson RJ, Kalin NH (2007) A functional magnetic resonance imaging predictor of treatment response to venlafaxine in generalized anxiety disorder. Biol Psychiatry 63:858–863

9.

Etkin A, Prater KE, Schatzberg AF, Menon V, Greicius MD (2009) Disrupted amygdalar subregion functional connectivity and evidence for a compensatory network in generalized anxiety disorder. Arch Gen Psychiatry 66:1361–1372

10.

Hoehn-Saric R, Schlund MW, Wong SSY (2004) Effects of citalopram on worry and brain activation in patients with generalized anxiety disorder. Psychiat Res Neuroim 13:111–121

11.

Monk CS, Nelson EE, McClure EB, Mogg K, Bradley BP, Leibenluft E (2006) Ventrolateral prefrontal cortex activation and attentional bias in response to angry faces in adolescents with generalized anxiety disorder. Am J Psychiatry 163:1091–1097

12.

Paulesu E, Sambugaro E, Torti T, Danelli L, Ferri F, Scialfa G, Sberna M, Ruggiero GM, Bottini G, Sassaroli S (2009) Neural correlates of worry in generalized anxiety disorder and in normal controls: a functional MRI study. Psychol Med 7:1–8

13.

Etkin A, Prater KE, Hoeft F, Menon V, Schatzberg AF (2010) Failure of anterior cingulate activation and connectivity with the amygdala during implicit regulation of emotional processing in Generalized Anxiety Disorder. Am J Psychiatry 167:545–554

14.

De Bellis MD, Casey BJ, Dahl R, Birmaher B, Williamson D, Thomas KM, Axelson DA, Frustaci K, Boring AM, Hall J, Ryan ND (2000) A pilot study of amygdala volumes in pediatric generalized anxiety disorder. Biol Psychiatry 48:51–57

15.

De Bellis MD, Keshavan MS, Shifflett H, Iyengar S, Dahl RE, Axelson DA (2002) Superior temporal gyrus volumes in pediatric generalized anxiety disorder. Biol Psychiatry 51:553–562

16.

Milham MP, Nugent AC, Drevets WC, Dickstein DP, Leibenluft E, Ernst M, Charney D, Pine DS (2005) Selective reduction in amygdala volume in pediatric anxiety disorders: a voxel-based morphometry investigation. Biol Psychiatry 57:961–966

17.

Margraf J (1994) Diagnostisches kurz-interview bei psychischen Störungen (Mini-DIPS). Springer, Berlin

18.

Stoeber J (1995) Penn state worry questionnaire–German version. Z Diff Diagn Psychol 16:50–63

19.

Möbius J, Hoyer J (2003) Metacogntion questionnaire (MKF). In: Hoyer J, Margraf J (eds) Angst-diagnostik. Grundlagen und Testverfahren. Berlin, Springer, pp 220–223

20.

Hautzinger M, Bailer M, Worall H, Keller F (1993) Beck-depressions-inventar (BDI). Bern, Huber

21.

Ashburner J, Friston K (2006) Unified segmentation. NeuroImage 26:839–851

22.

Maldjian JA, Laurienti PJ, Burdette JB, Kraft RA (2003) An automated method for neuroanatomic and cytoarchitectonic atlas-based interrogation of fMRI data sets. NeuroImage 19:1233–1239

23.

Tzourio-Mazoyer N, Landeau B, Papathanassiou D, Crivello F, Etard O, Delcroix N (2002) Automated anatomical labeling of activations in SPM using a macroscopic anatomical parcellation of the MNI MRI single-subject brain. NeuroImage 15:273–289

24.

Draganski B, Gaser C, Busch V, Schuierer G, Bogdahn U (2004) Neuroplasticity: changes in gray matter induced by training. Nature 427:311–312

25.

Maguire EA, Gadian DG, Johnsrude IS, Good CD, Ashburner J (2000) Navigation-related structural change in the hippocampi of taxi drivers. Proc Natl Acad Sci USA 97:4398–4403

26.

Nitschke JB, Sarinopoulos I, Mackiewicz KL, Schaefer HS, Davidson RJ (2006) Functional neuroanatomy of aversion and its anticipation. NeuroImage 29:106–116

27.

Critchely H, Mathias C, Dolan R (2001) Neural activity in the human brain relating to uncertainty and arousal during anticipation. Neuron 29:537–545

28.

Angst J, Gamma A, Baldwin DS, Ajdacic-Gross V, Rösler W (2009) The generalized anxiety spectrum: prevalence, onset, course and outcome. Eur Arch Psychiatry Clin Neurosci 259:37–45

29.

Schienle A, Schäfer A, Hermann A, Rohrmann S, Vaitl D (2007) Symptom provocation and symptom reduction in spider phobia. Eur Arch Psychiatry Clin Neurosci 257:486–493
Conflict of interest
The authors have no conflict of interest to declare.
About this article
Cite this article
Schienle, A., Ebner, F. & Schäfer, A. Localized gray matter volume abnormalities in generalized anxiety disorder. Eur Arch Psychiatry Clin Neurosci 261, 303–307 (2011). https://doi.org/10.1007/s00406-010-0147-5
Received:

Accepted:

Published:

Issue Date:
Keywords
Amygdala

Dorsomedial prefrontal cortex

Voxel-based morphometry

Generalized anxiety disorder