Abstract
Introduction
Fear of heights, or acrophobia, is one of the most frequent subtypes of specific phobia frequently associated to depression and other anxiety disorders. Previous evidence suggests a correlation between acrophobia and abnormalities in balance control, particularly involving the use of visual information to keep postural stability. This study investigates the hypotheses that (1) abnormalities in balance control are more frequent in individuals with acrophobia even when not exposed to heights, that (2) acrophobic symptoms are associated to abnormalities in visual perception of movement; and that (3) individuals with acrophobia are more sensitive to balance-cognition interactions.
Method
Thirty-one individuals with specific phobia of heights and thirty one non-phobic controls were compared using dynamic posturography and a manual tracking task.
Results
Acrophobics had poorer performance in both tasks, especially when carried out simultaneously. Previously described interference between posture control and cognitive activity seems to play a major role in these individuals.
Discussion
The presence of physiologic abnormalities is compatible with the hypothesis of a non-associative acquisition of fear of heights, i.e., not associated to previous traumatic events or other learning experiences. Clinically, this preliminary study corroborates the hypothesis that vestibular physical therapy can be particularly useful in treating individuals with fear of heights.
Access options
Buy single article
Instant access to the full article PDF.
US$ 39.95
Tax calculation will be finalised during checkout.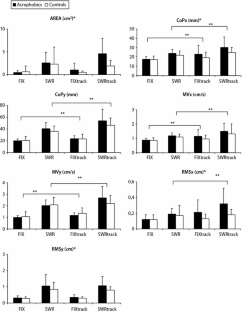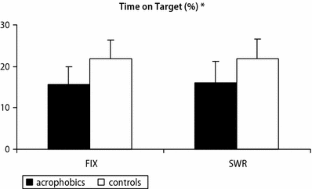 References
1.

Adkin AL, Frank JS, Carpenter MG, Peysar GW (2000) Postural control is scaled to level of postural threat. Gait Posture 12:87–93

2.

Adkin AL, Frank JS, Carpenter MG, Peysar GW (2002) Fear of falling modifies anticipatory postural control. Exp Brain Res 143:160–170

3.

Belton T, McCrea R (2000) Role of the cerebellar flocculus region in the coordination of eye and head movements during gaze pursuit. J Neurophysiol 84:1614–1626

4.

Bles W, Kapteyn TS, Brandt T, Arnold F (1980) The mechanism of physiological height vertigo. II. Posturography. Acta Otolaryngol 89:534–540

5.

Brandt T, Arnold F, Bles W, Kapteyn TS (1980) The mechanism of physiological height vertigo. I. Theoretical approach and psychophysics. Acta Otolaryngol 89:513–523

6.

Choy Y, Fyer AJ, Lipsitz JD (2007) Treatment of specific phobia in adults. Clin Psychol Rev 27:266–286

7.

Clark DB, Leslie M, Jacob RG (1992) Balance complaints and panic disorder: a clinical study of panic symptoms on members of a self-help group for balance disorders. J Anxiety Dis 6:47–53

8.

Curtis GC, Magee WJ, Eaton WW, Wittchen HU, Kessler RC (1998) Specific fears and phobias. Epidemiology and classification. Br J Psychiatry 173:212–217

9.

Dault MC, Frank JS, Allard F (2001) Influence of a visuo-spatial, verbal and central executive working memory task on postural control. Gait Posture 14:110–116

10.

Dault MC, Geurts ACH, Mulder TW, Duysens J (2001) Postural control and cognitive task performance in healthy participants while balancing on different support-surface configurations. Gait Posture 14:248–255

11.

Engel KC, Anderson JH, Soechting JF (2000) Similarity in the response of smooth pursuit and manual tracking to a change in the direction of target motion. J Neurophysiol 84:1149–1156

12.

Fraizer EV, Mitra S (2008) Methodological and interpretive issues in posture-cognition dual-tasking in upright stance. Gait Posture 27:271–279

13.

Hauck LJ, Carpenter MG, Frank JS (2007) Task-specific measures of balance efficacy, anxiety, and stability and their relationship to clinical balance performance. Gait and Posture. doi:10.1016/j.gaitpost.2007.09.002

14.

Hsiao H, Simeonov P (2001) Preventing falls from roofs: a critical review. Ergonomics 44:537–561

15.

Jacob RG, Furman JM, Durrant JD, Turner SM (1997) Surface dependence: a balance control strategy in panic disorder with agoraphobia. Psychosom Med 59:323–30

16.

Jacob RG, Redfern MS, Furman JM (1995) Optic flow-induced sway in anxiety disorders associated with space and motion discomfort. J Anxiety Disord 9:411–425

17.

Jacob RG, Woody SR, Clark D., Lilienfeld S, Hirsch BE, Kucera G, Furman JM, Durrant JD (1993) Discomfort with space and motion: a possible marker of vestibular dysfunction assessed by the situational characteristics questionnaire. J Psychopathol Behav Assess 15:299–324

18.

Keller EL, Heinen SJ (1991) Generation of smooth-pursuit eye movements: neuronal mechanisms and pathways. Neurosci Res 11:79–107

19.

Maylor EA, Allison S, Wing AM (2001) Effects of spatial and nonspatial cognitive activity on postural stability. Br J Psychol 92:319–338

20.

Miall RC, Reckess GZ, Imamizu H (2001) The cerebellum coordinates eye and hand tracking movements. Nat Neurosci 4:638–644

21.

Mineka S, Ohman A (2002) Born to fear: non-associative vs associative factors in the etiology of phobias. Behav Res Ther 40:173–184

22.

Muller ML, Redfern MS, Jennings JR (2007) Postural prioritization defines the interaction between a reaction time task and postural perturbations. Exp Brain Res 183:447–456

23.

Nakahara H, Takemori S, Tsuruoka H (2000) Influence of height on the spatial orientation and equilibrium of the body. Otolaryngol Head Neck Surg 123:501–504

24.

Poulton R, Davies S, Menzies RG, Langley JD, Silva PA (1998) Evidence for a non-associative model of the acquisition of a fear of heights. Behav Res Ther 36:537–544

25.

Poulton R, Menzies RG (2002) Fears born and bred: toward a more inclusive theory of fear acquisition. Behav Res Ther 40:197–208

26.

Poulton R, Menzies RG (2002) Non-associative fear acquisition: a review of the evidence from retrospective and longitudinal research. Behav Res Ther 40:127–149

27.

Poulton R, Waldie KE, Menzies RG, Craske MG, Silva PA (2001) Failure to overcome 'innate' fear: a developmental test of the non- associative model of fear acquisition. Behav Res Ther 39:29–43

28.

Rachman S (2002) Fears born and bred: non-associative fear acquisition? Behav Res Ther 40:121–126

29.

Rankin JK, Woollacott MH, Shumway-Cook A, Brown LA (2000) Cognitive influence on postural stability: a neuromuscular analysis in young and older adults. J Gerontol A Biol Sci Med Sci 55:M112–M119

30.

Rapp MA, Krampe RT, Baltes PB (2006) Adaptive task prioritization in aging: selective resource allocation to postural control is preserved in Alzheimer disease. Am J Geriat Psychiat 14:52–61

31.

Redfern MS, Talkowski ME, Jennings JR, Furman JM (2004) Cognitiveinfluences in postural control of patients with unilateral vestibular loss. Gait Posture 19:105–114

32.

Roy JE, Cullen KE (2003) Brain stem pursuit pathways: dissociating visual, vestibular, and proprioceptive inputs during combined eye-head gaze tracking. J Neurophysiol 90:271–290

33.

Shumway-Cook A, Woollacott M (2000) Attentional demands and postural control: the effect of sensory context. J Gerontol A Biol Sci Med Sci 55:M10–M16

34.

Shumway-Cook A, Woollacott M, Kerns KA, Baldwin M (1997) The effects of two types of cognitive tasks on postural stability in older adults with and without a history of falls. J Gerontol A Biol Sci Med Sci 52:M232–M240

35.

Vuillerme N, Nougier V, Teasdale N (2000) Effects of a reaction time task on postural control in humans. Neurosci Lett 291:77–80

36.

Whitney SL, Jacob RG, Sparto PJ, Olshansky EF, Detweiler-Shostak G, Brown EL, Furman JM (2005) Acrophobia and pathological height vertigo: indications for vestibular physical therapy? Phys Ther 85:443–458
Acknowledgments
This paper was supported by grants from FAPESP (01/00189-9) and Fundação Djalma Guimarães. The authors are grateful to Prof Clarice Tanaka for help in postural data analysis and Eduardo Yoshio Nakano for statistic advice.
About this article
Cite this article
Boffino, C.C., de Sá, C.S.C., Gorenstein, C. et al. Fear of heights: cognitive performance and postural control. Eur Arch Psychiatry Clin Neurosci 259, 114 (2009). https://doi.org/10.1007/s00406-008-0843-6
Received:

Accepted:

Published:
Keywords
heights

fear

acrophobia

balance

vision