Abstract
Onset and course of alcohol dependence show gender related differences (telescoping effect) suggesting that women are more vulnerable to chronic alcohol consumption. This raises the question whether the differences are associated with a different treatment outcome as well. We hypothesized, that alcohol dependent women with a telescoping course show a less favourable treatment outcome compared to men. We investigated 212 alcohol dependent patients; matching 106 consecutively admitted women with 106 men drawn from a total sample of 343 male patients. The treatment program consisted of a 6 week inpatient treatment and 12 months of outpatient aftercare. We assessed milestone variables in development and course of alcoholism and carried out standardized diagnostic tests, physical and blood examinations to evaluate the course of the disease and treatment outcome. Overall, we confirm the telescoping effect, a faster progression in the course of alcoholism (developmental events and adverse consequences) in women compared to men ("telescoping effect"). However, despite the telescoping effect treatment outcome was similar in women and men. During the inpatient treatment program no alcohol relapse occurred. Throughout the 12 months outpatient treatment we found no significant differences in the survival analysis between women (283.29 ± 11.26 days) and men (284.72 ± 12.16 days). At the end of the 12 months both groups had an abstinence rate of approximately 50% and a drop-out rate of 33%.
Access options
Buy single article
Instant access to the full article PDF.
US$ 39.95
Tax calculation will be finalised during checkout.
Subscribe to journal
Immediate online access to all issues from 2019. Subscription will auto renew annually.
US$ 121.37
Tax calculation will be finalised during checkout.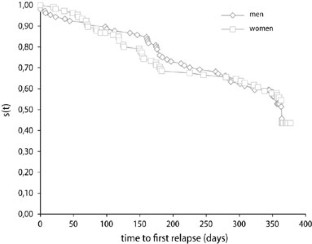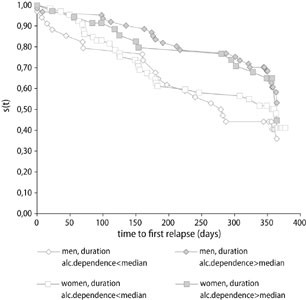 References
Acker C (1986) Neuropsychological deficits in alcoholics: the relative contributions of gender and drinking history. Br J Addict 81:395–403

Ammon E, Schafer C, Hofmann U, Klotz U (1996) Disposition and first-pass metabolism of ethanol in humans: is it gastric or hepatic and does it depend on gender? Clin Pharmacol Ther 59:503–513

Anton RF, O'Malley SS, Ciraulo DA, Cisler RA, Couper D, Donovan DM, Gastfriend DR, Hosking JD, Johnson BA, LoCastro JS, Longabaugh R, Mason BJ, Mattson ME, Miller WR, Pettinati HM, Randall CL, Swift R, Weiss RD, Williams LD, Zweben A (2006) Combined pharmacotherapies and behavioral interventions for alcohol dependence: the COMBINE study: a randomized controlled trial. JAMA 295:2003–2017

Ashley MJ, Olin JS, le Riche WH, Kornaczewski A, Schmidt W, Rankin JG (1977) Morbidity in alcoholics. Evidence for accelerated development of physical disease in women Arch Intern Med 137:883–887

Ballesteros J, Gonzalez-Pinto A, Querejeta I, Arino J (2004) Brief interventions for hazardous drinkers delivered in primary care are equally effective in men and women. Addiction 99:103–108

Beck AT, Beamesderfer A (1974) Assessment of depression: the depression inventory. Mod Probl Pharmacopsychiatry 7:151–169

Bottlender M, Soyka M (2005) Outpatient alcoholism treatment: predictors of outcome after 3 years. Drug Alcohol Depend 80:83–89

Bucholz KK, Homan SM, Helzer JE (1992) When do alcoholics first discuss drinking problems? J Stud Alcohol 53:582–589

Chou SP, Dawson DA (1994) A study of the gender differences in morbidity among individuals diagnosed with alcohol abuse and/or dependence. J Subst Abuse 6:381–392

DSM-IV (1996) Diagnostic and Statistical Manual of Mental Disorder, Fourth Edition (DSM-IV). American Psychiatric Association, Washington, DC

Fernandez-Sola J, Estruch R, Nicolas JM, Pare JC, Sacanella E, Antunez E, Urbano-Marquez A (1997) Comparison of alcoholic cardiomyopathy in women versus men. Am J Cardiol 80:481–485

Feuerlein W, Kufner H (1989) A prospective multicentre study of in-patient treatment for alcoholics: 18- and 48-month follow-up (Munich Evaluation for Alcoholism Treatment, MEAT). Eur Arch Psychiatry Neurol Sci 239:144–157

Foster JH, Peters TJ, Marshall EJ (2000) Quality of life measures and outcome in alcohol-dependent men and women. Alcohol 22:45–52

Frezza M, di Padova C, Pozzato G, Terpin M, Baraona E, Lieber CS (1990) High blood alcohol levels in women. The role of decreased gastric alcohol dehydrogenase activity and first-pass metabolism N Engl J Med 322:95–99

Gomberg ES (1993) Women and alcohol: use and abuse. J Nerv Ment Dis 181:211–219

Hanna E, Dufour MC, Elliott S, Stinson F, Harford TC (1992) Dying to be equal: women, alcohol, and cardiovascular disease. Br J Addict 87:1593–1597

Hesselbrock MN (1991) Gender comparison of antisocial personality disorder and depression in alcoholism. J Subst Abuse 3:205–219

Hesselbrock MN, Meyer RE, Keener JJ (1985) Psychopathology in hospitalized alcoholics. Arch Gen Psychiatry 42:1050–1055

Hommer D, Momenan R, Kaiser E, Rawlings R (2001) Evidence for a gender-related effect of alcoholism on brain volumes. Am J Psychiatry 158:198–204

Hommer D, Momenan R, Rawlings R, Ragan P, Williams W, Rio D, Eckardt M (1996) Decreased corpus callosum size among alcoholic women. Arch Neurol 53:359–363

Jarvis TJ (1992) Implications of gender for alcohol treatment research: a quantitative and qualitative review. Br J Addict 87:1249–1261

Johnson PB, Richter L, Kleber HD, McLellan AT, Carise D (2005) Telescoping of drinking-related behaviors: gender, racial/ethnic, and age comparisons. Subst Use Misuse 40:1139–1151

Jones BM, Jones MK (1976) Alcohol effects in women during the menstrual cycle. Ann N Y Acad Sci 273:576–587

Lehrl S, Triebig G, Fischer B (1995) Multiple choice vocabulary test MWT as a valid and short test to estimate premorbid intelligence. Acta Neurol Scand 91:335–345

Loft S, Olesen KL, Dossing M (1987) Increased susceptibility to liver disease in relation to alcohol consumption in women. Scand J Gastroenterol 22:1251–1256

Mann K, Ackermann K, Croissant B, Mundle G, Nakovics H, Diehl A (2005) Neuroimaging of gender differences in alcohol dependence: are women more vulnerable? Alcohol Clin Exp Res 29:896–901

Mann K, Batra A (1993) [Community based management of alcohol dependent patients. Evaluation of a combined inpatient and ambulatory treatment concept] Psychiatr Prax 20:102–105

Mann K, Batra A, Gunthner A, Schroth G (1992) Do women develop alcoholic brain damage more readily than men? Alcohol Clin Exp Res 16:1052–1056

Mann K, Kapp B, Kühnel P, Federle E (1995) Good estimates for reliability and validity in alcoholics' self reports. Alcohol and Alcoholism 30:545–545

McKay JR, Weiss RV (2001) A review of temporal effects and outcome predictors in substance abuse treatment studies with long-term follow-ups. Preliminary results and methodological issues Eval Rev 25:113–161

O'Connor PG, Horwitz RI, Gottlieb LD, Kraus ML, Segal SR (1993) The impact of gender on clinical characteristics and outcome in alcohol withdrawal. J Subst Abuse Treat 10:59–61

Olenick NL, Chalmers DK (1991) Gender-specific drinking styles in alcoholics and nonalcoholics. J Stud Alcohol 52:325–330

Pequignot G, Chabert C, Eydoux H, Courcol MA (1974) Augmentation du risque de cirrhose en fonction de la ration d'alcool. Rev l' Alcoolisme 20:191–202

Pfefferbaum A, Rosenbloom M, Deshmukh A, Sullivan E (2001) Sex differences in the effects of alcohol on brain structure. Am J Psychiatry 158:188–197

Piazza NJ, Vrbka JL, Yeager RD (1989) Telescoping of alcoholism in women alcoholics. Int J Addict 24:19–28

Project MATCH Research Group (1997) Matching Alcoholism Treatments to Client Heterogeneity: Project MATCH posttreatment drinking outcomes. J Stud Alcohol 58:7–29

Project MATCH Research Group (1998) Matching alcoholism treatments to client heterogeneity: Project MATCH three-year drinking outcomes. Alcohol Clin Exp Res 22:1300–1311

Rabinovitz M, Van Thiel DH, Dindzans V, Gavaler JS (1989) Endoscopic findings in alcoholic liver disease: does gender make a difference? Alcohol 6:465–468

Randall CL, Roberts JS, Del Boca FK, Carroll KM, Connors GJ, Mattson ME (1999) Telescoping of landmark events associated with drinking: a gender comparison. J Stud Alcohol 60:252–260

Ross HE (1989) Alcohol and drug abuse in treated alcoholics: a comparison of men and women. Alcohol Clin Exp Res 13:810–816

Ross HE, Glaser FB, Germanson T (1988) The prevalence of psychiatric disorders in patients with alcohol and other drug problems. Arch Gen Psychiatry 45:1023–1031

Sanchez-Craig M, Spivak K, Davila R (1991) Superior outcome of females over males after brief treatment for the reduction of heavy drinking: replication and report of therapist effects. Br J Addict 86:867–876

Schuckit MA, Anthenelli RM, Bucholz KK, Hesselbrock VM, Tipp J (1995) The time course of development of alcohol-related problems in men and women. J Stud Alcohol 56:218–225

Schuckit MA, Daeppen JB, Tipp JE, Hesselbrock M, Bucholz KK (1998) The clinical course of alcohol-related problems in alcohol dependent and nonalcohol dependent drinking women and men. J Stud Alcohol 59:581–590

Seppa K, Sillanaukee P (1994) Women, alcohol, and red cells. Alcohol Clin Exp Res 18:1168–1171

Staines G, Magura S, Rosenblum A, Fong C, Kosanke N, Foote J, Deluca A (2003) Predictors of drinking outcomes among alcoholics. Am J Drug Alcohol Abuse 29:203–218

Stockwell T, Hodgson R, Edwards G, Taylor C, Rankin H (1979) The development of a questionnaire to measure severity of alcohol dependence. Br J Addict Alcohol Other Drugs 74:79–87

Timko C, Moos RH, Finney JW, Connell EG (2002) Gender differences in help-utilization and the 8-year course of alcohol abuse. Addiction 97:877–889

Urbano-Marquez A, Estruch R, Fernandez-Sola J, Nicolas JM, Pare JC, Rubin E (1995) The greater risk of alcoholic cardiomyopathy and myopathy in women compared with men. JAMA 274:149–154

York JL, Welte JW (1994) Gender comparisons of alcohol consumption in alcoholic and nonalcoholic populations. J Stud Alcohol 55:743–750
About this article
Cite this article
Diehl, A., Croissant, B., Batra, A. et al. Alcoholism in women: is it different in onset and outcome compared to men?. Eur Arch Psychiatry Clin Neurosc 257, 344–351 (2007). https://doi.org/10.1007/s00406-007-0737-z
Received:

Accepted:

Published:

Issue Date:
Key words
alcohol

gender

outcome

predictors

women