Abstract
Background
The aim of this study is to examine the relationship between behavioral speech-in-noise listening tasks and self-reported speech-in-noise outcomes of hearing aid user adult listeners.
Method
To measure the self-reported outcomes of hearing, the Hearing Handicap Inventory for Adults [HHI-A], Speech, Spatial and Qualities of Hearing Scale (SSQ) and Amsterdam Inventory for Auditory Disability and Handicap were employed. To screen the cognitive abilities, Montreal Cognitive Assessment (MoCA) tool was used. Turkish matrix sentence test (TMST) was used for speech-in-noise test. Eighteen adult hearing aid users (mean age of 36.6 years) were participated.
Conclusions
Results showed that some self-reported listening-in-noise outcomes are correlated with lab-based measurements of speech-in-noise test scores but not with the aided speech intelligibility thresholds. Given the present limitations of relying solely on self-report measures, it is important to complement them with objective measures to ensure a comprehensive evaluation.
This is a preview of subscription content,
to check access.
Access this article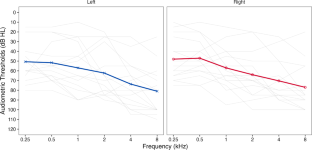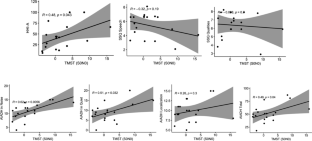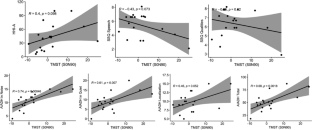 Similar content being viewed by others
References
Moore BCJ (1996) Perceptual consequences of cochlear hearing loss and their implications for the design of hearing aids. Ear Hear 17(2):133–161

Kollmeier B, Wesselkamp M (1997) Development and evaluation of a German sentence test for objective and subjective speech intelligibility assessment. J Acoust Soc Am 102(4):2412–2421

Killion MC (2002) New thinking on hearing in noise: a generalized articulation index. Semin Hear 23:057–076

Wilson RH, McArdle R (2005) Speech signals used to evaluate the functional status of the auditory system. J Rehabil Res Dev 42(4s):79

Plomp R, Duquesnoy AJ (1982) A model for the speech-reception threshold in noise without and with a hearing aid. Scand Audiol. 15:95–111

Hagerman B (1982) Sentences for Testing Speech Intelligibility in Noise. Scand Audiol 11(2):79–82

Schädler MR, Warzybok A, Hochmuth S, Kollmeier B (2015) Matrix sentence intelligibility prediction using an automatic speech recognition system. Int J Audiol 54(sup2):100–107

Wagener K, Kühnel V, Kollmeier B (1999) Development and evaluation of a German sentence test I: Design of the Oldenburg sentence test. Z Audiol 38:4–15

Ozimek E, Warzybok A, Kutzner D (2010) Polish sentence matrix test for speech intelligibility measurement in noise. Int J Audiol 49(6):444–454

Jansen S, Luts H, Wagener KC, Kollmeier B, Del Rio M, Dauman R et al (2012) Comparison of three types of French speech-in-noise tests: a multi-center study. Int J Audiol 51(3):164–173

Houben R, Koopman J, Luts H, Wagener KC, van Wieringen A, Verschuure H et al (2014) Development of a Dutch matrix sentence test to assess speech intelligibility in noise. Int J Audiol 53(10):760–763

Hochmuth S, Brand T, Zokoll MA, Castro FZ, Wardenga N, Kollmeier B (2012) A Spanish matrix sentence test for assessing speech reception thresholds in noise. Int J Audiol 51(7):536–544

Zokoll MA, Fidan D, Türkyılmaz D, Hochmuth S, Ergenç İ, Sennaroğlu G et al (2015) Development and evaluation of the Turkish matrix sentence test. Int J Audiol 54(sup2):51–61

Wardenga N, Batsoulis C, Wagener KC, Brand T, Lenarz T, Maier H (2015) Do you hear the noise? The German matrix sentence test with a fixed noise level in subjects with normal hearing and hearing impairment. Int J Audiol 54(sup2):71–79

Carhart R, Tillman TW (1970) Interaction of Competing Speech Signals With Hearing Losses. Arch Otolaryngol - Head Neck Surg 91(3):273–279

Mauger SJ, Dawson PW, Hersbach AA (2012) Perceptually optimized gain function for cochlear implant signal-to-noise ratio-based noise reduction. J Acoust Soc Am 131(1):327–336

Schlueter A, Brand T, Lemke U, Nitzschner S, Kollmeier B, Holube I (2015) Speech perception at positive signal-to-noise ratios using adaptive adjustment of time compression. J Acoust Soc Am 138(5):3320–3331

Smits C, Theo Goverts S, Festen JM (2013) The digits-in-noise test: Assessing auditory speech recognition abilities in noise. J Acoust Soc Am 133(3):1693–1706

Heinrich A, Henshaw H, Ferguson MA (2015) The relationship of speech intelligibility with hearing sensitivity, cognition, and perceived hearing difficulties varies for different speech perception tests. Front Psychol. https://doi.org/10.3389/fpsyg.2015.00782/abstract

Wilson RH, Carnell CS, Cleghorn AL (2007) The Words-in-Noise [WIN] Test with Multitalker Babble and Speech-Spectrum Noise Maskers. J Am Acad Audiol 18(06):522–529

Nabelek AK, Tucker FM, Letowski TR (1991) Toleration of Background Noises Relationship With Patterns of Hearing Aid Use by Elderly Persons. J Speech Hear Res 34(3):679–685

Ahn J, Lim J, Kang M, Cho YS (2022) Associations between aided speech audiometry and subjective assessment of hearing aid outcomes. Int J Audiol 15:1–9

Alhanbali S, Dawes P, Lloyd S, Munro KJ (2018) Hearing Handicap and Speech Recognition Correlate With Self-Reported Listening Effort and Fatigue. Ear Hear 39(3):470–474

Kwak MY, Choi WR, Park JW, Hwang EJ, Ha YR, Chung JW et al (2020) Assessment of Objective Audiometry to Predict Subjective Satisfaction in Patients With Hearing Aids. Clin Exp Otorhinolaryngol 13(2):141–147

Ventry IM, Weinstein BE (1982) The Hearing Handicap Inventory for the Elderly: a New Tool. Ear Hear 3:128

Gatehouse S, Noble W (2004) The Speech, Spatial and Qualities of Hearing Scale [SSQ]. Int J Audiol 43(2):85–99

Nasreddine ZS, Phillips NA, Bedirian V, Charbonneau S, Whitehead V, Collin I et al (2005) The Montreal Cognitive Assessment, MoCA: A Brief Screening Tool For Mild Cognitive Impairment: MOCA: A BRIEF SCREENING TOOL FOR MCI. J Am Geriatr Soc 53(4):695–699

Hanzevacki M, Ozegovic G, Simovic I, Bajic Z (2011) Proactive Approach in Detecting Elderly Subjects with Cognitive Decline in General Practitioners' Practices. Dement Geriatr Cogn Disord Extra 1(1):93–102

Pinto TCC, Machado L, Bulgacov TM, Rodrigues-Júnior AL, Costa MLG, Ximenes RCC et al (2019) Is the Montreal Cognitive Assessment [MoCA] screening superior to the Mini-Mental State Examination [MMSE] in the detection of mild cognitive impairment [MCI] and Alzheimer's Disease [AD] in the elderly? Int Psychogeriatr 31(04):491–504

Kaya Y, Can UA, Derle E, Kibaroğlu S, Barak A (2014) Validation of Montreal Cognitive Assessment and Discriminant Power of Montreal Cognitive Assessment Subtests in Patients With Mild Cognitive Impairment and Alzheimer Dementia in Turkish Population. J Geriatr Psychiatry Neurol 27(2):103–109

Carrillo A, Medina M del M, Ruben P, Alonso D, Vaca M, Alfonso M, et al (2019) Validation of the Hearing Handicap Inventory for Adults Scale for Spanish-Speaking Patients. Otol Neurotol 40(10):947–54

De Paiva SMM, Simões J, Paiva A, Newman C, Castro E Sousa F, Bébéar JP (2016) Validity and reliability of the hearing handicap inventory for elderly: version adapted for use on the Portuguese population. J Am Acad Audiol 27(08):677–82

Sato M, Ogawa K, Inoue Y, Masuda M (2004) Adaptation of Japanese version of the hearing handicap inventory for adults [HHIA]. Nippon Jibiinkoka Gakkai Kaiho 107(5):489–493

Songül Aksoy, Aslan F, Köse A. İŞİTME ENGELİ ÖLÇEĞİ – ERİŞKİN: UZUN VE TARAMA FORMLARININ TÜRKÇE SÜRÜMÜNÜN GEÇERLİĞİNİN VE GÜVENİRLİĞİNİN İNCELENMESİ. KBB Forum. 2020;19[2]:170–81.

Akeroyd MA, Guy FH, Harrison DL, Suller SL (2014) A factor analysis of the SSQ [Speech, Spatial, and Qualities of Hearing Scale]. Int J Audiol 53(2):101–114

Ahlstrom JB, Horwitz AR, Dubno JR (2009) Spatial Benefit of Bilateral Hearing Aids. Ear Hear 30(2):203–218

Köbler S, Lindblad AC, Olofsson Å, Hagerman B (2010) Successful and unsuccessful users of bilateral amplification: Differences and similarities in binaural performance. Int J Audiol 49(9):613–627

Most T, Adi-Bensaid L, Shpak T, Sharkiya S, Luntz M (2012) Everyday hearing functioning in unilateral versus bilateral hearing aid users. Am J Otolaryngol 33(2):205–211

Gonsalez EC de M, Almeida K de. Adaptação cultural do questionário Speech, Spatial and Qualities of Hearing Scale [SSQ] para o Português Brasileiro. Audiol - Commun Res. 2015 Sep;20[3]:215–24.

Moulin A, Pauzie A, Richard C (2015) Validation of a French translation of the speech, spatial, and qualities of hearing scale [SSQ] and comparison with other language versions. Int J Audiol 54(12):889–898

Kılıç N, Şahin Kamışlı Gİ, Gündüz B, Bayramoğlu İ, Kemaloğlu YK (2021) Turkish Validity and Reliability Study of the Speech, Spatial and Qualities of Hearing Scale. Turk Arch Otorhinolaryngol 59(3):172–187

Sánchez DCC, Cañas FA, de Azevedo YJ, Bahmad JF (2022) Cultural adaptation of the speech, spatial and qualities of hearing scale to Colombian Spanish. Braz J Otorhinolaryngol 88(1):4–8

Kramer SE, Kapteyn TS, Festen JM, Tobi H (1995) Factors in Subjective Hearing Disability. Int J Audiol 34(6):311–320

Boeschen Hospers JM, Smits N, Smits C, Stam M, Terwee CB, Kramer SE (2016) Reevaluation of the Amsterdam Inventory for Auditory Disability and Handicap Using Item Response Theory. J Speech Lang Hear Res 59(2):373–383

Mujdeci B, Inal O, Turkyilmaz Md, Kose K (2016) Turkish translation, reliability and validity of the Amsterdam inventory for auditory disability and handicap. J Indian Speech Lang Hear Assoc. 30(2):40

Zokoll MA, Hochmuth S, Warzybok A, Wagener KC, Buschermöhle M, Kollmeier B (2013) Speech-in-Noise Tests for Multilingual Hearing Screening and Diagnostics1. Am J Audiol 22(1):175–178

Dietz A, Buschermöhle M, Sivonen V, Willberg T, Aarnisalo AA, Lenarz T et al (2015) Characteristics and international comparability of the Finnish matrix sentence test in cochlear implant recipients. Int J Audiol 54(sup2):80–87

Ng EHN, Rudner M, Lunner T, Rönnberg J (2013) Relationships between self-report and cognitive measures of hearing aid outcome. Speech Lang Hear 16(4):197–207

Noble W, Gatehouse S (2006) Effects of bilateral versus unilateral hearing aid fitting on abilities measured by the Speech, Spatial, and Qualities of Hearing scale [SSQ]: Efectos de la adaptación uni o bilateral de auxiliares auditivos en las habilidades medidas la escala de cualidades auditiva, espacial y del lenguaje [SSQ]. Int J Audiol 45(3):172–181
Acknowledgements
The authors express their gratitude to all the individuals who volunteered to participate.
Funding
The authors declared that they did not receive any financial assistance for this study.
Additional information
Publisher's Note
Springer Nature remains neutral with regard to jurisdictional claims in published maps and institutional affiliations.
Rights and permissions
Springer Nature or its licensor (e.g. a society or other partner) holds exclusive rights to this article under a publishing agreement with the author(s) or other rightsholder(s); author self-archiving of the accepted manuscript version of this article is solely governed by the terms of such publishing agreement and applicable law.
About this article
Cite this article
Ertürk, P., Aslan, F. & Türkyılmaz, M.D. Listening to speech-in-noise with hearing aids: Do the self-reported outcomes reflect the behavioral speech perception task performance?. Eur Arch Otorhinolaryngol (2023). https://doi.org/10.1007/s00405-023-08193-5
Received:

Accepted:

Published:

DOI: https://doi.org/10.1007/s00405-023-08193-5
Keywords