Abstract
Purpose
Congenital nasal obstruction can be a significant cause of respiratory distress in the newborn, given that they are considered to be obligate nasal breathers. Several different causes have been described, which can be broadly classified as anatomical/malformative, non-tumoral masses and cysts, benign and malignant neoplasia, inflammatory/infectious, traumatic/iatrogenic, and miscellaneous. The purpose of this review is to provide updated and useful clinical information for teams involved in neonatal care, especially in a hospital setting.
Methods
A review of the available literature was performed. Studies were sourced from PubMed with searching of relevant headings and sub-headings and cross-referencing.
Results
The most common etiology is inflammatory, which can have different precipitating factors or be idiopathic, a condition known as neonatal rhinitis. On the other hand, some less frequent but nonetheless relevant conditions causing severe nasal obstruction include choanal atresia, midnasal stenosis, and pyriform aperture stenosis. Some cystic lesions, such as dacryocystoceles with intranasal mucocele, can also produce significant obstruction. Diagnosis usually requires a nasal endoscopy and in some cases imaging such as computed tomography. Management includes different medical and surgical strategies and will greatly depend on the etiology and the severity of symptoms.
Conclusion
Congenital nasal obstruction can be a significant cause of respiratory distress in the newborn. The wide spectrum of differential diagnoses requires a thorough knowledge of nasal anatomy, physiology, and pathology; as well as different management strategies.
Access options
Buy single article
Instant access to the full article PDF.
USD 39.95
Price excludes VAT (USA)
Tax calculation will be finalised during checkout.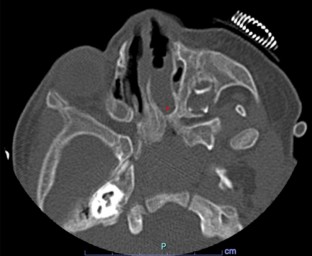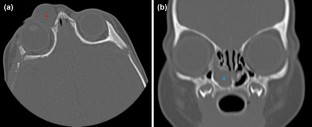 References
Wyatt M (2018) Neonatal nasal obstruction. In: Watkinson JC, Clarke RW (eds). Scott-Brown's Otorhinolaryngology and Head and Neck Surgery. 8th Ed. Boca Raton:CRC Press 2 251–9

Moss ML (1965) The veloepiglottic sphincter and obligate nose breathing in the neonate. J Pediatr 67(2):330–331

Leboulanger N (2016) Nasal obstruction in children. Eur Ann Otorhinolaryngol Head Neck Dis 133(3):183–186

Gaultier C, Denjean A (2008) Developmental Anatomy and Physiology of Respiratory System. In: Taussig LM, Landau LI (eds). Pediatric Respiratory Medicine. 2nd Ed. St Louis:Mosby, 15–35

Adil E, Huntley C, Choudhary A, Carr M (2012) Congenital nasal obstruction: clinical and radiologic review. Eur J Pediatr 171(4):641–650

Gnagi SH, Schraff SA (2013) Nasal obstruction in newborns. Pediatr Clin North Am 60(4):903–922

Rodríguez H, Cuestas G, Rodríguez M, Rodríguez J (2016) Algoritmo para el manejo de la obstrucción nasal en neonatos y lactantes. Arch Argent Pediatr 114(5):477–484

Dickison AE (1987) The normal and abnormal pediatric upper airway Recognition and management of obstruction. Clin Chest Med 8(4):583–596

Smith MM, Ishman SL (2018) Pediatric nasal obstruction. Otolaryngol Clin North Am 51(5):971–985

Manica D, Smith M, Schweiger C, Silva D, Kuhl G (2009) Nasal obstruction of the newborn: a differential diagnosis. Int Arch Otorhinolaryngol 13(3):340–345

Patel VA, Carr MM (2017) Congenital nasal obstruction in infants: a retrospective study and literature review. Int J Pediatr Otorhinolaryngol 99:78–84

Olnes SQ, Schwartz RH, Bahadori RS (2000) Diagnosis and management of the newborn and young infant who have nasal obstruction. Pediatr Rev 21(12):416–420

Rajan R, Tunkel DE (2018) Choanal atresia and other neonatal nasal anomalies. Clin Perinatol 45(4):751–767

Syed KA, Raja K, Kolethekkat AA, Varghese AM, Al Abri R, Kurien M (2016) Congenital midnasal stenosis: a novel technique for management. Int J Pediatr Otorhinolaryngol 87:117–120

Sohal M, Schoem SR (2016) Disorders of the neonatal nasal cavity: fundamentals for practice. Semin Fetal Neonatal Med 21(4):263–269

Myer CM, Cotton RT (1983) Nasal obstruction in the pediatric patient. Pediatrics 72(6):766–777

Carpenter RJ, Neel HB (1977) Correction of congenital choanal atresia in children and adults. Laryngoscope 87:1304–1311

Keller JL, Kacker A (2000) Choanal atresia, charge association, and congenital nasal stenosis. Otolaryngol Clin North Am 33(6):1343–1351

Ramsden JD, Campisi P, Forte V (2009) Choanal atresia and choanal stenosis. Otolaryngol Clin North Am 42(2):339–352

Hengerer AS, Brickman TM, Jeyakumar A (2008) Choanal atresia: Embryologic analysis and evolution of treatment, a 30-year experience. Laryngoscope 118(5):862–866

Kwong KM (2015) Current updates on choanal atresia. Front Pediatr 3(June):1–7

Brown OE, Pownell P, Manning SC (1996) Choanal atresia: a new anatomic classification and clinical management applications. Laryngoscope 106(1l):97–101

Flake CG, Ferguson CF (1964) Congenital choanal atresia in infants and children. Ann Otol Rhinol Laryngol 73:458–473

Stankiewicz JA (1990) The endoscopic repair of choanal atresia. Otolaryngol Head Neck Surg 103(6):931–937

Hengerer AS, Strome M (1982) Choanal atresia: a new embryologic theory and its influence on surgical management. Laryngoscope 92(8):913–921

Burrow TA, Saal HM, De Alarcon A, Martin LJ, Cotton RT, Hopkin RJ (2009) Characterization of congenital anomalies in individuals with choanal atresia. Arch Otolaryngol Head Neck Surg 135(6):543–547

Patel VA, Carr MM (2018) Transnasal repair of congenital choanal atresia. Oper Tech Otolaryngol Head Neck Surg 29(2):77–82

Al-khatib T, Haneef SH, Alhusaini OA et al (2019) Transnasal puncture technique vs endoscopic transnasal choanal atresia repair. J Otolaryngol ENT Res 11(2):124–127

Durmaz A, Tosun F, Yildirim N, Sahan M, Kivrakdal C, Gerek M (2008) Transnasal endoscopic repair of choanal atresia: results of 13 cases and meta-analysis. J Craniofac Surg 19(5):1270–1274

Gonik NJ, Cheng J, Lesser M, Shikowitz MJ, Smith LP (2015) Patient selection in congenital pyriform aperture stenosis repair - 14 year experience and systematic review of literature. Int J Pediatr Otorhinolaryngol 79(2):235–239

Castaño JE, Chi DH (2018) Pyriform aperture stenosis repair in infants. Oper Tech Otolaryngol Head Neck Surg 29(2):51–54

Lee WT, Koltai PJ (2003) Nasal deformity in neonates and young children. Pediatr Clin North Am 50(2):459–467

Shah GB, Ordemann A, Daram S, Roman E, Booth T, Johnson R et al (2019) Congenital nasal pyriform aperture stenosis: analysis of twenty cases at a single institution. Int J Pediatr Otorhinolaryngol 126:109608

Belden CJ, Mancuso AA, Schmalfuss IM (1999) CT features of congenital nasal piriform aperture stenosis: initial experience. Radiology 213(2):495–501

Lin KL, Lee KS, Yang CC, Hsieh LC, Su CH, Sun FJ (2016) The natural course of congenital nasal pyriform aperture stenosis. Laryngoscope 126(10):2399–2402

Sessena E, Leporati M, Brevi B, Oretti G, Ferri A (2009) Congenital nasal pyriform aperture stenosis: diagnosis and management. Ital J Pediatr 38:28

Raghavan U, Fuad F, Gibbin KP (2004) Congenital midnasal stenosis in an infant. Int J Pediatr Otorhinolaryngol 68(6):823–825

Patel VA, Landis ZC, Ely AL (2018) Endoscopic management of congenital dacryocystocele. Oper Tech Otolaryngol Head Neck Surg 29(2):55–60

Mac Ewen CJ, Young JDH (1991) Epiphora during the first year of life. Eye 5(5):596–600

Mansour AM, Cheng KP, Mumma JV, Stager DR, Harris GJ, Patrinely JR et al (1991) Congenital dacryocele: a collaborative review. Ophthalmology 98(11):1744–1751

Shashy RG, Durairaj V, Holmes JM, Hohberger GG, Thompson DM, Kasperbauer JL (2003) Congenital dacryocystocele associated with intranasal cysts: diagnosis and management. Laryngoscope 113(1):37–40

Davies R, Watkins WJ, Kotecha S, Watts P (2018) The presentation, clinical features, complications, and treatment of congenital dacryocystocele. Eye 32(3):522–526

Lee MJ, Park J, Kim N, Choung HK, Khwarg SI (2018) Conservative management of congenital dacryocystocele: resolution and complications. Can J Ophthalmol 54(4):421–425

Zhang Y, Fan Y, Fan J, Cui Y (2019) Selection of surgical intervention for congenital dacryocystocele. Eur J Ophthalmol 29(2):158–164

Najjar S (1962) Respiratory manifestations in infants with hypothyroidism. Arch Dis Child 37(196):603–605

Le Gras MD, Seifert B, Casiro O (1990) Neonatal nasal obstruction associated with methyldopa treatment during pregnancy. Am J Dis Child 144(2):143–144

Nathan CAO, Seid AB (1997) Neonatal rhinitis. Int J Pediatr Otorhinolaryngol 39(1):59–65

Harley EH (1991) Neonatal Rhinitis. Arch Otolaryngol Head Neck Surg 117(7):709

Tolley NS, Ford G, Commins D (1992) The management of neonatal rhinitis. Int J Pediatr Otorhinolaryngol 24(3):253–260

Gopalakrishnan S, Sodhi K (2016) Recurrent apnea in a neonate following intranasal oxymetazoline. Indian Pediatr 53(4):353

Kwok J, Leung MK, Koltai P (2007) Congenital inferior turbinate hypertrophy: an unusual cause of neonatal nasal obstruction. Int J Pediatr Otorhinolaryngol Extra 2:26–30
Acknowledgements
We would like to thank Mr. Graeme van der Meer, pediatric otolaryngologist at Starship Children's Hospital (Auckland, New Zealand) for revising this article.
Funding
No funding was received for this article.
Ethics declarations
Conflict of interest
The authors declare no potential conflicts of interest.
Additional information
Publisher's Note
Springer Nature remains neutral with regard to jurisdictional claims in published maps and institutional affiliations.
About this article
Cite this article
Alvo, A., Villarroel, G. & Sedano, C. Neonatal nasal obstruction. Eur Arch Otorhinolaryngol 278, 3605–3611 (2021). https://doi.org/10.1007/s00405-020-06546-y
Received:

Accepted:

Published:

Issue Date:

DOI: https://doi.org/10.1007/s00405-020-06546-y
Keywords
Nasal obstruction

Newborn

Otorhinolaryngology

Choanal atresia

Rhinitis