Abstract
Purpose
This study aimed to investigate the olfactory functions of the acromegaly patients and to discuss the possible causes of olfactory dysfunction in acromegaly patients.
Methods
A case–control study was carried out in a tertiary referral center. 52 patients with acromegaly (Acromegaly group) and 52 healthy individuals (Control group) were included in the study. All acromegaly patients included in the study were in the late postoperative period. The Connecticut Chemosensory Clinical Research Center (CCCRC) test was carried out and olfactory bulb (OB) volumes were measured in both of the groups.
Results
There was a significant difference between the mean CCCRC total scores of the acromegaly and control groups (p = .000). The mean of right and left OB volumes in the acromegaly group was significantly higher than the control group (p = .004)
Conclusion
In this study, we found that acromegaly patients are likely to experience olfactory dysfunction. It is important to examine these patients' olfactory functions at the time of diagnosis and clinic follow-up.
Clinical trial number
NCT04138537.
Access options
Buy single article
Instant access to the full article PDF.
US$ 39.95
Tax calculation will be finalised during checkout.
Subscribe to journal
Immediate online access to all issues from 2019. Subscription will auto renew annually.
US$ 119
Tax calculation will be finalised during checkout.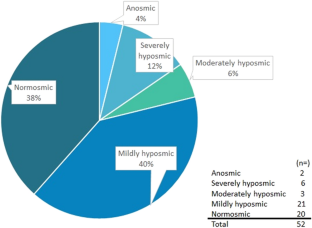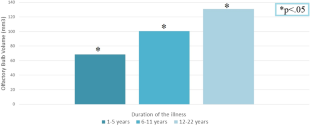 Funding
This study was supported by Bezmialem Vakif University Scientific Research Projects Unit.
Ethics declarations
Conflict of interest
The authors declare that they have no conflict of interest.
Ethical approval
The authors assert that all procedures contributing to this work comply with the ethical standards of the relevant national and institutional guidelines on human experimentation and with the Helsinki Declaration of 1975, as revised in 2008.
Availability of data and material
Data is available if wanted.
Informed consent
Informed consent was obtained from all individual participants included in the study.
Additional information
Publisher's Note
Springer Nature remains neutral with regard to jurisdictional claims in published maps and institutional affiliations.
About this article
Cite this article
Degirmenci, N., Bektas, H., Senturk, E. et al. Changes in olfactory function and olfactory bulb after treatment for acromegaly. Eur Arch Otorhinolaryngol 278, 2357–2362 (2021). https://doi.org/10.1007/s00405-020-06515-5
Received:

Accepted:

Published:

Issue Date:
Keywords
Acromegaly

Olfaction

Olfactory dysfunction

Olfactory bulb