Abstract
Purpose
This study evaluates among middle-aged subjects with obesity the prevalence of olfactory impairment (OI) with respect to normative values and its correlation with body composition, cognition, sleep quality, and inflammation.
Methods
In 60 (31 women, 29 men) volunteers with a body mass index ≥ 30 to ≤ 40 kg/m2, aged ≥ 50 to ≤ 70 years, we assessed olfaction by the Sniffin' Stick test. We measured anthropometrics, body composition and metabolic profiles and evaluated cognition by the MiniMental State Examination (MMSE) and sleep disturbances by the Insomnia Severity Index (ISI). Patients were classified into two groups according to a total olfactory score (odor Threshold, Discrimination, Identification, TDI) below or above the 25th percentile from age and gender-adjusted normative data.
Results
Overall, 25 subjects (42%) had OI (TDI < 25th percentile). The largest differences between subjects with and without OI were observed in discrimination and identification scores, with a large overlap in olfactory threshold. Subjects with an abnormal TDI showed significantly higher fat mass index, ISI scores and urinary neopterin and lower MMSE scores than those without OI. By multivariable logistic regression, MMSE, ISI score and urinary neopterin were significantly associated to OI.
Conclusions
Among middle-aged subjects with stage I and II obesity, OI is highly prevalent and is independently associated with poor self-reported sleep quality, lower cognition scores and higher levels of the inflammatory marker neopterin.
Access options
Buy single article
Instant access to the full article PDF.
US$ 39.95
Tax calculation will be finalised during checkout.
Subscribe to journal
Immediate online access to all issues from 2019. Subscription will auto renew annually.
US$ 119
Tax calculation will be finalised during checkout.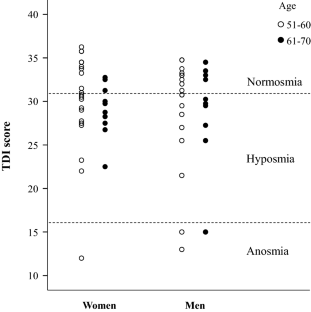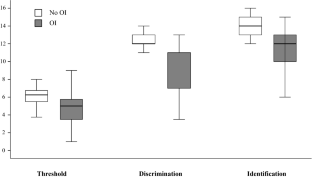 References
1.

NCD Risk Factor Collaboration (NCD-RisC) (2017) Worldwide trends in body mass index, underweight, overweight, and obesity from 1975 to 2016: a pooled analysis of 2416 population-based measurement studies in 128.9 million children, adolescents, and adults. Lancet 390:2627–2642

2.

Yeomans MR (2006) Olfactory influences on appetite and satiety in humans. Physiol Behav 89:10–14

3.

Thiebaud N, Johnson MC, Butler JL, Bell GA, Ferguson KL, Fadool AR et al (2014) Hyperlipidemic diet causes loss of olfactory sensory neurons, reduces olfactory discrimination, and disrupts odor-reversal learning. J Neurosci 34:6970–6984

4.

Aschenbrenner K, Hummel C, Teszmer K et al (2008) The influence of olfactory loss on dietary behaviors. Laryngoscope 118:135–144. https://doi.org/10.1097/MLG.0b013e318155a4b9

5.

Fernández-Aranda F, Agüera Z, Fernández-García JC, Garrido-Sanchez L, Alcaide-Torres J, Tinahones FJ et al (2006) Smell-taste dysfunctions in extreme weight/eating conditions: analysis of hormonal and psychological interactions. Endocrine 51:256–267

6.

Holinski F, Menenakos C, Haber G, Olze H, Ordemann J (2015) Olfactory and gustatory function after bariatric surgery. Obes Surg 25:2314–2320. https://doi.org/10.1007/s11695-015-1683-x

7.

Hancı D, Altun H, Altun H, Batman B, Karip AB, Serin KR (2016) Laparoscopic sleeve gastrectomy improves olfaction sensitivity in morbidly obese patients. Obes Surg 26:558–562

8.

Peng M, Coutts D, Wang T, Cakmak YO (2019) Systematic review of olfactory shifts related to obesity. Obes Rev 20:325–338

9.

Doty RL, Kamath V (2014) The influences of age on olfaction: a review. Front Psychol 5:20. https://doi.org/10.3389/fpsyg.2014.00020

10.

Yang J, Pinto JM (2016) The epidemiology of olfactory disorders. Curr Otorhinolaryngol Rep 4:130–141

11.

Pinto JM, Wroblewski KE, Kern DW, Schumm LP, Mcclintock MK (2015) The rate of age- related olfactory decline among the general population of older US adults. J Gerontol A Biol Sci Med Sci 70:1435–1441

12.

Roalf DR, Moberg MJ, Turetsky BI, Brennan L, Kabadi S, Wolk DA et al (2017) A quantitative meta-analysis of olfactory dysfunction in mild cognitive impairment. J Neurol Neurosurg Psychiatry 88:226–232

13.

Devanand DP (2016) Olfactory identification deficits, cognitive decline, and dementia in older adults. Am J Geriatr Psychiatry 24:1151–1157

14.

Schubert CR, Cruickshanks KJ, Fischer ME, Klein BE, Klein R, Pinto AA (2015) Inflammatory and vascular markers and olfactory impairment in older adults. Age Ageing 44:878–882

15.

Fernandez-Garcia JC, Alcaide J, Santiago-Fernandez C, Roca-Rodriguez MM, Aguera Z, Baños R et al (2017) An increase in visceral fat is associated with a decrease in the taste and olfactory capacity. PLoS ONE 12:e0171204

16.

Moraes W, Poyares D, Zalcman I, de Mello MT, Bittencourt LR, Santos-Silva R et al (2013) Association between body mass index and sleep duration assessed by objective methods in a representative sample of the adult population. Sleep Med 14:312–318

17.

Yaffe K, Falvey CM, Hoang T (2014) Connections between sleep and cognition in older adults. Lancet Neurol 13:1017–1028

18.

McSorley VE, Pinto J, Schumm LP, Wroblewski K, Kern D, McClintock M et al (2017) Sleep and olfaction among older adults. Neuroepidemiology 48:147–154

19.

Grundy SM, Cleeman JI, Daniels SR, Donato KA, Eckel RH, Franklin BA et al (2005) Diagnosis and management of the metabolic syndrome: an American Heart Association/National Heart, Lung, and Blood Institute Scientific Statement. Circulation 112:2735–2752

20.

Caruso R, De Chiara B, Campolo J, Verde A, Musca F, Belli O et al (2013) Neopterin levels are independently associated with cardiac remodeling in patients with chronic heart failure. Clin Biochem 46:94–98

21.

Folstein MF, Folstein SE, McHugh PR (1975) "Mini-mental state". A practical method for grading the cognitive state of patients for the clinician. J Psychiatr Res 12:189–198

22.

Morin CM, Belleville G, Bélanger L, Ivers H (2011) The Insomnia Severity Index: psychometric indicators to detect insomnia cases and evaluate treatment response. Sleep 34:601–608

23.

Oleszkiewicz A, Schriever VA, Croy I, Hähner A, Hummel T (2019) Updated Sniffin' Sticks normative data based on an extended sample of 9139 subjects. Eur Arch Otorhinolaryngol 276:719–728

24.

Ascaso JF, Romero P, Real JT, Priego A, Valdecabres C, Carmena R (2001) Insulin resistance quantification by fasting insulin plasma values and HOMA index in a non-diabetic population. Med Clin (Barc) 117:530–533. https://doi.org/10.1016/s0025-7753(01)72168-9

25.

Savic I (2002) Imaging of brain activation by odorants in humans. Curr Opin Neurobiol 12:455–461

26.

Jacobson A, Green E, Haase L, Szajer J, Murphy C (2019) Differential effects of BMI on brain response to odor in olfactory, reward and memory regions: evidence from fMRI. Nutrients 11(4):E926

27.

Herman AM, Critchley H, Duka T (2018) Decreased olfactory discrimination is associated with impulsivity in healthy volunteers. Sci Rep 8:15584

28.

Wensveen FM (2015) NK cells link obesity-induced adipose stress to inflammation and insulin resistance. Nat Immunol 16:376–385

29.

Yang H (2010) Obesity increases the production of proinflammatory mediators from adipose tissue T cells and compromises TCR repertoire diversity: implications for systemic inflammation and insulin resistance. J Immunol 185:1836–1844

30.

Schoedon G, Troppmair J, Adolf G, Huber C, Niederwieser A (1986) Interferon-gamma enhances biosynthesis of pterin in peripheral blood mononuclear cells by induction of GTP cyclohydrolase I activity. J Interferon Res 6:697–703

31.

Oxenkrug GF (2011) Interferon-gamma-inducible kynurenines/pteridines inflammation cascade: implications for aging and aging associated psychiatric and medical disorders. J Neural Transm 118:75–85

32.

Engin AB, Engin A (2017) The interactions between kynurenine, folate, methionine and pteridine pathways in obesity. Adv Exp Med Biol 960:511–527

33.

Mangge H (2014) Obesity-related dysregulation of the tryptophan–kynurenine metabolism: role of age and parameters of the metabolic syndrome. Obesity 22:195–201

34.

Shin DH, Ahn SH, Yang Y, Choi S, Cho JH, Hong SC et al (2017) The effect of sleep disordered breathing on olfactory functions: analysis by apnea-hypopnea index. Clin Exp Otorhinolaryngol 10:71–76

35.

Boerner B, Tini GM, Fachinger P, Graber SM, Irani S (2017) Significant improvement of olfactory performance in sleep apnea patients after three months of nasal CPAP therapy—observational study and randomized trial. PLoS ONE 12:e0171087

36.

Kim SJ, Windon MJ, Lin SY (2019) The association between diabetes and olfactory impairment in adults: a systematic review and meta-analysis. Laryngoscope Investig Otolaryngol 4:465–475

37.

Min JY, Min KB (2018) Insulin resistance and the increased risk for smell dysfunction in US adults. Laryngoscope 128:1992–1996
Acknowledgement
We acknowledge the skillful secretarial assistance and patients flow management provided by Elisabetta Spagnolo.
Funding
This study was supported by Regione Lombardia-CNR 2016-2018 Framework Agreement, Grant 19364/RCC, AMANDA Project.
Ethics declarations
Conflict of interest
The authors declare that they have no conflict of interest.
Ethical approval
The study was approved by the Ethical Committee of Milano Area C.
Informed consent
All participants provided their written informed consent.
Additional information
Publisher's Note
Springer Nature remains neutral with regard to jurisdictional claims in published maps and institutional affiliations.
The original online version of this article was revised due to acknowledgment section was missing and included in this version.
About this article
Cite this article
Campolo, J., Corradi, E., Rizzardi, A. et al. Correlates of olfactory impairment in middle-aged non-diabetic Caucasian subjects with stage I–II obesity. Eur Arch Otorhinolaryngol 278, 2047–2054 (2021). https://doi.org/10.1007/s00405-020-06442-5
Received:

Accepted:

Published:

Issue Date:
Keywords
Olfaction

Obesity

Neopterin

Sleep disturbances

MiniMental state examination