Abstract
Purpose
Although the prevalence of olfactory dysfunction in children is thought to be lower compared to adults, little is known about the actual frequency of etiologies of smell dysfunction in children. Aim of the study was (i) to describe the epidemiology of olfactory dysfunction in a pediatric population and (ii) to compare the distribution of etiologies to adults.
Material and methods
Data of patients consulting a smell and taste clinic between 2000 and 2017 were retrospectively analyzed. Frequency of major causes of olfactory dysfunction was examined with a focus on the pediatric population.
Results
A total of 7153 patients (164 children) were included in the analysis. Most children presented with congenital olfactory dysfunction (67%), or head-trauma (12%). In contrast, the cumulative frequency of olfactory loss associated with sinonasal disorders or acute infections of the upper airways was 6%. The frequency of etiologies of olfactory dysfunction changed with age: While the frequency of patients with congenital anosmia decreased, the frequency of causes related to infections of the upper respiratory tract and idiopathic causes increased.
Conclusion
About 2/3 of olfactory dysfunction in children are congenital while 1/3 is acquired. The frequency of etiologies causing olfactory dysfunction change significantly from children to an adult population.
Access options
Buy single article
Instant access to the full article PDF.
US$ 39.95
Tax calculation will be finalised during checkout.
Subscribe to journal
Immediate online access to all issues from 2019. Subscription will auto renew annually.
US$ 119
Tax calculation will be finalised during checkout.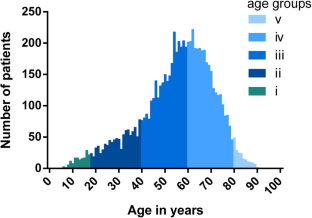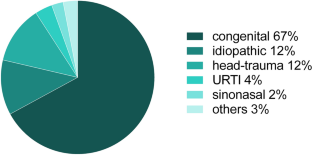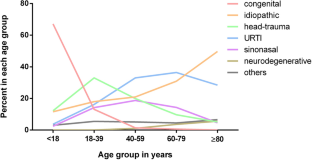 References
1.

Oozeer NB, Forbes K, Clement AW, Kubba H (2011) Management of paediatric olfactory dysfunction: how we do it. Clin Otolaryngol 36(5):494–499

2.

Karstensen HG, Tommerup N (2012) Isolated and syndromic forms of congenital anosmia. Clin Genet 81(3):210–215. https://doi.org/10.1111/j.1399-0004.2011.01776.x

3.

Schriever VA, Gellrich J, von der Hagen M, Hummel T (2018) Acquired olfactory dysfunction in children and adolescents: a systematic review of the literature. Chem Senses 43(8):571–581. https://doi.org/10.1093/chemse/bjy046

4.

Oleszkiewicz A, Schriever VA, Croy I, Hahner A, Hummel T (2019) Updated Sniffin' Sticks normative data based on an extended sample of 9139 subjects. Eur Arch Otorhinolaryngol 276(3):719–728. https://doi.org/10.1007/s00405-018-5248-1

5.

Cameron EL (2018) Olfactory perception in children. World J Otorhinolaryngol Head Neck Surg 4(1):57–66. https://doi.org/10.1016/j.wjorl.2018.02.002

6.

Hauser LJ, Jensen EL, Mirsky DM, Chan KH (2018) Pediatric anosmia: a case series. Int J Pediatr Otorhinolaryngol 110:135–139. https://doi.org/10.1016/j.ijporl.2018.05.011

7.

Lotsch J, Hummel T (2019) Clinical usefulness of self-rated olfactory performance-a data science-based assessment of 6000 patients. Chem Senses 44(6):357–364. https://doi.org/10.1093/chemse/bjz029

8.

Bakker K, Catroppa C, Anderson V (2014) Olfactory dysfunction in pediatric traumatic brain injury: a systematic review. J Neurotrauma 31(4):308–314. https://doi.org/10.1089/neu.2013.3045

9.

Keller A, Malaspina D (2013) Hidden consequences of olfactory dysfunction: a patient report series. BMC Ear Nose Throat Disord 13(1):8. https://doi.org/10.1186/1472-6815-13-8

10.

Fark T, Hummel T (2013) Olfactory disorders: distribution according to age and gender in 3400 patients. Eur Arch Otorhinolaryngol 270(2):777–779. https://doi.org/10.1007/s00405-012-2108-2

11.

Goodspeed RB, Gent JF, Catalanotto FA (1987) Chemosensory dysfunction. Clinical evaluation results from a taste and smell clinic. Postgrad Med 81(1):251–257. https://doi.org/10.1080/00325481.1987.11699680(page 260)

12.

Loo AT, Youngentob SL, Kent PF, Schwob JE (1996) The aging olfactory epithelium: neurogenesis, response to damage, and odorant-induced activity. Int J Dev Neurosci 14(7–8):881–900
Funding
The study did not receive funding.
Ethics declarations
Conflict of interest
The authors declare that they have no conflict of interest.
Ethical approval
The study was approved by the Ethics Committee of the Faculty of Medicine of the TU Dresden covering anonymized retrospective and pooled analyses. The study followed the Declaration of Helsinki.
Additional information
Publisher's Note
Springer Nature remains neutral with regard to jurisdictional claims in published maps and institutional affiliations.
About this article
Cite this article
Schriever, V.A., Hummel, T. Etiologies of olfactory dysfunction in a pediatric population: based on a retrospective analysis of data from an outpatient clinic. Eur Arch Otorhinolaryngol 277, 3213–3216 (2020). https://doi.org/10.1007/s00405-020-06087-4
Received:

Accepted:

Published:

Issue Date:
Keywords
Olfactory dysfunction

Children

Epidemiology of olfactory dysfunction

Smell loss