Abstract
Purpose
The objectives of this study was to present wideband tympanometry (WBT) data and absorbance with normal hearing and normal middle ear status.
Methods
Data were collected in 99 adult Caucasians with normal hearing and middle ear status. Energy absorbance was measured with an Interacoustics© Titan® using clicks for 1/24-octave frequency-intervals (0.226–8 kHz) with the ear canal air pressure alternated using a descending pressure sweep from + 250 to − 350 daPa.
Results
From the wideband energy absorbance tympanograms, the mean energy absorbance tympanogram, wideband averaged tympanogram and parameters such as ear canal volume, middle ear pressure and resonance frequency were determined.
Conclusions
This study established a dataset containing descriptive analysis of wideband tympanograms and its derived parameters in Caucasian adults with normal hearing and normal middle ear conditions. The data presented in this study may serve as a future reference for WBT studies with Caucasian adults.
Access options
Buy single article
Instant access to the full article PDF.
USD 39.95
Price excludes VAT (USA)
Tax calculation will be finalised during checkout.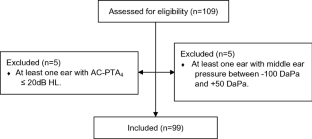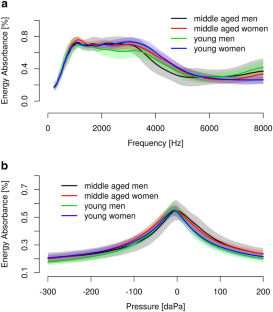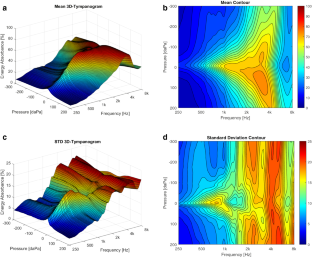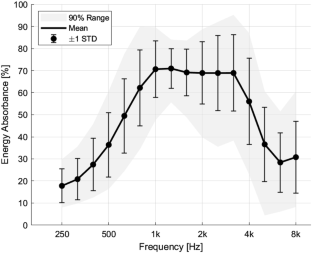 References
Merchant SN, Ravicz ME, Voss SE, Peake WT, Rosowski JJ (1998) Toynbee memorial lecture. Middle ear mechanics in normal, diseased and reconstructed ears. J Laryngol Otol 112(8):715–731

Van Camp KJ, Margolis RH, Wilson RH, Creten WL, Shanks JE (1986) Principles of tympanometry. ASHA Monographs Number 24. American Speech–Language–Hearing Association, Rockville, pp 1–88

Sanford CA, Hunter LL, Feeney MP, Nakajima HH (2013) Wideband acoustic immittance: tympanometric measures. Ear Hear 34(Suppl 1):65S–71S

Rosowski JJ, Stenfelt S, Lilly D (2013) An overview of wideband immittance measurements techniques and terminology: you say absorbance I say reflectance. Ear Hear 34(Suppl 1):9S–16S

Stinson MR, Shaw EA, Lawton BW (1982) Estimation of acoustical energy reflectance at the eardrum from measurements of pressure distribution in the human ear canal. J Acoust Soc Am 72(3):766–773

Voss SE, Horton NJ, Woodbury RR, Sheffield KN (2008) Sources of variability in reflectance measurements on normal cadaver ears. Ear Hear 29(4):651–665

Terzi S, Özgür A, Erdivanli ÖC, Coskun ZÖ, Ogurlu M, Demirci M, Dursun E (2015) Diagnostic value of the wideband acoustic absorbance test in middle-ear effusion. J Laryngol Otol 129(11):1078–1084

Keefe DH, Simmons JL (2003) Energy transmittance predicts conductive hearing loss in older children and adults. J Acoust Soc Am 114(6 Pt 1):3217–3238

Ibraheem WM (2014) Clinical diagnosis of middle ear disorders using wideband energy reflectance in adults. Adv Arab Acad Audiovestibul 1(2):87–96

Shahnaz N, Bork K, Polka L, Longridge N, Bell D, Westerberg BD (2009) Energy reflectance and tympanometry in normal and otosclerotic ears. Ear Hear 30(2):219–223

Keefe DH, Bulen JC, Arehart KH, Burns EM (1993) Ear-canal impedance and reflection coefficient in human infants and adults. J Acoust Soc Am 94(5):2617–2638

Voss SE, Allen JB (1994) Measurement of acoustic impedance and reflectance in the human ear canal. J Acoust Soc Am 95(1):372–384

Feeney MP, Sanford CA (2004) Age effects in the human middle ear: wideband acoustical measures. J Acoust Soc Am 116(6):3546–3558

Shahnaz N, Bork K (2006) Wideband reflectance norms for Caucasian and Chinese young adults. Ear Hear 27(6):774–788

Liu YW, Sanford CA, Ellison JC, Fitzpatrick DF, Gorga MP, Keefe DH (2008) Wideband absorbance tympanometry using pressure sweeps: System development and results on adults with normal hearing. J Acoust Soc Am 124(6):3708–3719

Rosowski JJ, Nakajima HH, Hamade MA, Mahfoud L, Merchant GR, Halpin CF, Mechant SN (2012) Ear-canal reflectance, umbo velocity, and tympanometry in normal-hearing adults. Ear Hear 33(1):19–34

Feeney MP, Stover B, Keefe DH, Garinis AC, Day JE, Seixas N (2014) Sources of variability in wideband energy reflectance measurements in adults. J Am Acad Audiol 25(5):449–461

Sun XM (2016) Wideband acoustic immitance: normative study and test-retest reliability of tympanometric measurements in adults. J Speech Lang Hear Res 59(4):819–834

Shahnaz N, Feeney MP, Schairer KS (2013) Wideband acoustic immittance normative data: ethnicity, gender, aging, and instrumentation. Ear Hear 34(Suppl 1):27S–35S

Feeney MP, Keefe DH, Hunter LL, Fitzpatrick DF, Garinis AC, Putterman DB, McMillan GP (2017) Normative wideband reflectance, equivalent admittance at the tympanic membrane, and acoustic stapedius reflex threshold in adults. Ear Hear 38(3):e142–e160

Feeney MP, Hunter LL, Kei J, Lilly DJ, Margolis RH, Nakajima HH, Neely ST, Prieve BA, Rosowski JJ, Sanford CA, Schairer KS, Shahnaz N, Stenfelt S, Voss SE (2013) Consensus statement: Eriksholm workshop on wideband absorbance measures of the middle ear. Ear Hear 34(Suppl 1):78S–79S

Mazlan R, Kei J, Ya CL, Yusof WN, Saim L, Zhao F (2015) Age and gender effects on wideband absorbance in adults with normal outer and middle ear function. J Speech Lang Hear Res 58(4):1377–1386

Beers AN, Shahnaz N, Westerberg BD, Kozak FK (2010) Wideband reflectance in normal Caucasian and Chinese school-aged children and in children with otitis media with effusion. Ear Hear 31(2):221–233

Museik FE, Rintelmann WF (1999) Contemporary perspectives in hearing assessment. Pearson, London, pp 437–463
Acknowledgements
The authors would like to thank Sif Teilmann-Ibsen, Audiologist at Aalborg University Hospital for thorough and precise work with gathering of data for this study.
Ethics declarations
Conflict of interest
The authors declare that they have no conflict of interest.
Ethical approval
All procedures performed in studies involving human participants were in accordance with the ethical standards of the institutional and/or national research committee (The North Denmark Region Committee on Health Research Ethics, reference number N-20170075) and with the 1964 Helsinki declaration and its later amendments or comparable ethical standards.
Informed consent
Informed consent was obtained from all individual participants included in the study.
Additional information
Publisher's Note
Springer Nature remains neutral with regard to jurisdictional claims in published maps and institutional affiliations.
About this article
Cite this article
Hougaard, D.D., Lyhne, N.M., Skals, R.K. et al. Study on wideband tympanometry and absorbance within a Danish cohort of normal hearing adults. Eur Arch Otorhinolaryngol 277, 1899–1905 (2020). https://doi.org/10.1007/s00405-020-05909-9
Received:

Accepted:

Published:

Issue Date:

DOI: https://doi.org/10.1007/s00405-020-05909-9
Keywords