Abstract
Purpose
Minimally invasive parathyroid surgery and hypnosis are both increasing in prevalence. The objective of this study was to evaluate the efficacy of hypnoanalgesia compared with sedation during primary hyperparathyroid surgery under local anaesthesia.
Methods
All patients who underwent primary hyperparathyroid surgery under local anaesthesia in our department between January 2013 and April 2018 were included retrospectively in two groups: patients operated under hypnoanalgesia (HYP group), and patients operated under sedation (LA group). The evaluation criteria were postoperative pain and analgesic consumption, amount of perioperative anti-emetics required, and length of hospital stay.
Results
Thirty-six patients were included, 19 in the HYP group and 17 in the LA group. Postoperative pain levels and analgesic consumption rates were lower in the HYP group (numeric scale = 0.5/10 vs. 2.7/10, p = 0.0001; 11% vs. 47%, p = 4.9 × 10−8). Intraoperative anti-emetics delivery was lower in the HYP group (5% vs. 35%, p = 2.9 × 10−7). The ambulatory care rate was higher in the HYP group (74% vs. 59%, p = 0.03).
Conclusion
Local anaesthesia with hypnoanalgesia, compared with sedation during minimally invasive parathyroid surgery, improved early postoperative outcomes, making outpatient management more efficient.
Access options
Buy single article
Instant access to the full article PDF.
US$ 39.95
Tax calculation will be finalised during checkout.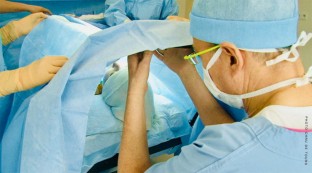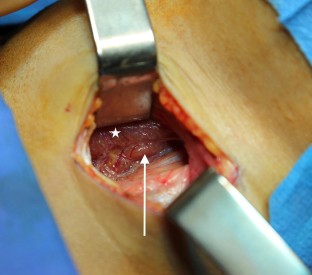 References
1.

Bonnichon P (2008) Traitement de l'hyperparathyroïdie à l'hôpital Cochin de Paris. Évolution des idées au cours des trente dernières années. Annales d'Endocrinologie 69(3):169–173

2.

Kauffmann P, Le Bouedec G, Ptak Y, Vennat JC, Dauplat J (2000) Parathyroidectomy by elective route with perioperative measurement of parathyroid hormone. Report of 80 cases. Ann Chir 125(2):149–154

3.

Noureldine SI, Gooi Z, Tufano RP (2015) Minimally invasive parathyroid surgery. Gland Surg 4(5):410–419

4.

Chabridon G, Nekrouf N, Bioy A (2017) État des lieux des pratiques actuelles de l'hypnose au sein des centres hospitaliers universitaires français. L'Encéphale 43(5):498–501

5.

Maquet P, Faymonville ME, Degueldre C et al (1999) Functional neuroanatomy of hypnotic state. Biol Psychiatry 45(3):327–333

6.

Hans P, Bonhomme V (2007) Anesthetic management for neurosurgery in awake patients. Minerva Anestesiol 73(10):507–512

7.

Gueguen J, Barry C, Hassler C, et al (2015) « Evaluation de l'efficacité de la pratique de l'hypnose », INSERM Unité 1778. https://www.inserm.fr/sites/default/files/2017-11/Inserm_RapportThematique_EvaluationEfficaciteHypnose_2015.pdf. Accessed 14 June 2018

8.

Meurisse M, Hamoir E, Defechereux T et al (1999) Bilateral neck exploration under hypnosedation: a new standard of care in primary hyperparathyroidism? Ann Surg 229(3):401–408

9.

Tefikow S, Barth J, Maichrowitz S, Beelmann A, Strauss B, Rosendahl J (2013) Efficacy of hypnosis in adults undergoing surgery or medical procedures: a meta-analysis of randomized controlled trials. Clin Psychol Rev 33(5):623–636

10.

Defechereux T, Meurisse M, Hamoir E, Gollogly L, Joris J, Faymonville ME (1999) Hypnoanesthesia for endocrine cervical surgery: a statement of practice. J Altern Complement Med 5(6):509–520

11.

Defechereux T, Degauque C, Fumal I et al (2000) L'hypnosédation, un nouveau mode d'anesthésie pour la chirurgie endocrinienne cervicale Étude prospective randomisée. Ann Chir 125(6):539–546

12.

Faymonville ME, Mambourg PH, Joris J et al (1997) Psychological approaches during conscious sedation: hypnosis versus stress reducing strategies: a prospective randomized study. Pain 73(3):361–367

13.

Zemmoura I, Fournier E, El-Hage W, Jolly V, Destrieux C, Velut S (2016) Hypnosis for awake surgery of low-grade gliomas: description of the method and psychological assessment. Neurosurgery 78(1):53–61

14.

Abdeshahi SK, Hashemipour MA, Mesgarzadeh V, Payam AS, Monfared AH (2013) Effect of hypnosis on induction of local anaesthesia, pain perception, control of haemorrhage and anxiety during extraction of third molars: a case–control study. J Craniomaxillofac Surg 41(4):310–315

15.

Musellec H, Bernard F, Houssel P et al (2010) Étude prospective comparant l'hypnosédation et l'anesthésie générale pour la pose de dispositif de stérilisation intratubaire en ambulatoire. Annales Francaises d'Anesthesie Et De Reanimation 1(29):889–896

16.

Gokli MA, Wood AJ, Mourino AP, Farrington FH, Best AM (1994) Hypnosis as an adjunct to the administration of local anesthetic in pediatric patients. ASDC J Dent Child 61(4):272–275

17.

Culié D, Pescetto B, Dassonville O, Guevara N, Benisvy D, Santini J (2017) Chirurgie de l'hyperparathyroïdie primaire en ambulatoire: à propos d'une série de 67 cas. Annales françaises d'Oto-rhino-laryngologie et de Pathologie Cervico-faciale 134(5):287–290

18.

Chen H, Sokoll LJ, Udelsman R (1999) Outpatient minimally invasive parathyroidectomy: a combination of sestamibi-SPECT localization, cervical block anesthesia, and intraoperative parathyroid hormone assay. Surgery 126(6):1016–1022

19.

Benhami A, Chuffart E, Christou N, Liva-Yonnet S, Mathonnet M (2017) Ambulatory surgery under local anesthesia for parathyroid adenoma: feasibility and outcome. J Visc Surg 155:253–258

20.

De Leeuw F, Breuskin I, Abbaci M et al (2016) Intraoperative near-infrared imaging for parathyroid gland identification by auto-fluorescence: a feasibility study. World J Surg 40:2131–2138

21.

Kim SW, Lee HS, Ahn YC et al (2018) Near-infrared autofluorescence image-guided parathyroid gland mapping in thyroidectomy. J Am Coll Surg 226(2):165–172
Ethics declarations
Conflict of interest
The authors have no conflict of interest to declare.
Additional information
Publisher's Note
Springer Nature remains neutral with regard to jurisdictional claims in published maps and institutional affiliations.
About this article
Cite this article
Touzé, AS., Fournier, E., Laffon, M. et al. Primary hyperparathyroid surgery under local anaesthesia: benefits of hypnosis. Eur Arch Otorhinolaryngol 277, 887–892 (2020). https://doi.org/10.1007/s00405-019-05754-5
Received:

Accepted:

Published:

Issue Date:
Keywords
Hypnosis

Parathyroid gland

Surgery

Local anesthesia