Abstract
Purpose
Tinnitus is characterized by the perception of sound without an existing external stimulus. The presence of tinnitus might be intolerable for many and can be sufficiently troublesome in hearing, sleep, thought processing, and other functional abilities, all of which can negatively impact the quality of life. Individuals with tinnitus may have decreased cognitive efficiency because tinnitus can adversely affect the other tasks being performed. The present study was taken up to evaluate auditory working memory using digit span tasks in adults with tinnitus.
Methods
The tasks administered included forward, backward, ascending, and descending digit span. Tinnitus Handicap Inventory questionnaire was administered on all the individuals with tinnitus, and also, it was attempted to correlate the scores of auditory working memory with that of tinnitus handicap inventory.
Results
The results indicated poorer scores for backward, ascending and descending digit span task and no significant difference for the forward digit span task. There was no correlation between auditory working memory tasks and overall tinnitus handicap scores along with its sub-scales.
Conclusion
It was concluded that tinnitus disrupts the functioning of auditory working memory and is governed by the annoyance caused by tinnitus.
This is a preview of subscription content, log in to check access.
Access options
Buy single article
Instant access to the full article PDF.
US$ 39.95
Tax calculation will be finalised during checkout.
Subscribe to journal
Immediate online access to all issues from 2019. Subscription will auto renew annually.
US$ 199
Tax calculation will be finalised during checkout.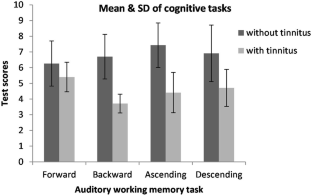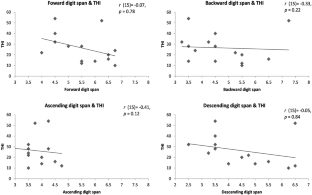 References
1.

Henry JA, Dennis KC, Schechter MA (2005) General review of tinnitus: prevalence, mechanisms, effects, and management. J Speech Lang Hear Res 48(5):1204–1235

2.

Adams PF, Hendershot GE, Marano MA, Centers for Disease Control and Prevention/National Center for Health Statistics (1999) Current estimates from the National Health Interview Survey, 1996. Vital Health Stat

3.

KochKin S, Tyler R, Born J (2011) MarkeTrak VIII: the prevalence of tinnitus in the United States and the self-reported efficacy of various treatments. Hear Rev 18(12):10–27

4.

Nondahl DM, Cruickshanks KJ, Wiley TL, Klein R, Klein BEK, Tweed TS (2002) Prevalence and 5-year incidence of tinnitus among older adults: the epidemiology of hearing loss study. J Am Acad Audiol 13(6):323–331

5.

Nondahl DM, Cruickshanks KJ, Huang G-H, Klein BEK, Klein R, Javier Nieto F et al (2011) Tinnitus and its risk factors in the Beaver Dam offspring study. Int J Audiol 50(5):313–320

6.

Shargorodsky J, Curhan GC, Farwell WR (2010) Prevalence and characteristics of tinnitus among US adults. Am J Med 123(8):711–718

7.

Kujawa SG, Liberman MC (2009) Adding insult to injury: cochlear nerve degeneration after "temporary" noise-induced hearing loss. J Neurosci 29(45):14077–14085

8.

Zettel ML, Zhu X, O'Neill WE, Frisina RD (2007) Age-related decline in Kv3. 1b expression in the mouse auditory brainstem correlates with functional deficits in the medial olivocochlear efferent system. J Assoc Res Otolaryngol 8(2):280–293

9.

Zhu X, Vasilyeva ON, Kim S, Jacobson M, Romney J, Waterman MS et al (2007) Auditory efferent feedback system deficits precede age-related hearing loss: contralateral suppression of otoacoustic emissions in mice. J Comp Neurol 503(5):593–604

10.

Moller AR (2000) Similarities between severe tinnitus and pain. J Am Acad Audiol 11(3):115–124

11.

Rossiter S, Stevens C, Walker G (2006) Tinnitus and its effect on working memory and attention. J Speech Lang Hear Res 49(1):150–160

12.

Tyler RS, Baker LJ (1983) Difficulties experienced by tinnitus sufferers. J Speech Hear Disord 48(2):150–154

13.

Andersson G (2009) Tinnitus patients with cognitive problems: causes and possible treatments. Hear J 62(11):27–28

14.

Andersson G, Eriksson J, Lundh L-G, Lyttkens L (2000) Tinnitus and cognitive interference: a Stroop paradigm study. J Speech Lang Hear Res 43(5):1168–1173

15.

Andersson G, Khakpoor A, Lyttkens L (2002) Masking of tinnitus and mental activity. Clin Otolaryngol Allied Sci 27(4):270–274

16.

Andersson G, Ingerholt C, Jansson M (2003) Autobiographical memory in patients with tinnitus. Psychol Health 18(5):667–675

17.

Hallam RS, McKenna L, Shurlock L (2004) Tinnitus impairs cognitive efficiency. Int J Audiol 43(4):218–226

18.

Eccleston C, Crombez G (1999) Pain demands attention: a cognitive–affective model of the interruptive function of pain. Psychol Bull 125(3):356

19.

McKenna L, Hallam RS, Shurlock L (1995) Cognitive functioning in tinnitus patients. In: Proceedings of the fifth international tinnitus seminar. American Tinnitus Association Portland Oregon, pp 589–95

20.

MacLeod CM (1991) John Ridley Stroop: creator of a landmark cognitive task. Can Psychol Can 32(3):521

21.

Jastreboff PJ, Hazell JWP (1993) A neurophysiological approach to tinnitus: clinical implications. Br J Audiol 27(1):7–17

22.

Posner MI, Snyder CR, Solso R (2004) Attention and cognitive control. In: Balota DA, Marsh EJ (eds) Cognitive psychology: key readings. Psychology Press, New York, pp 205–223

23.

Trevis KJ, Mclachlan NM, Wilson SJ (2016) Cognitive mechanisms in chronic tinnitus: psychological markers of a failure to switch attention. Front Psychol 7(August):1–12

24.

Pierce KJ, Kallogjeri D, Piccirillo JF, Garcia KS, Nicklaus JE, Burton H et al (2014) Effects of severe bothersome tinnitus on cognitive function measured with standardized tests. J Clin Exp Neuropsychol 2012:37–41

25.

Hallam RS, Rachman S, Hinchcliffe R (1984) Psychological aspects of tinnitus. Contrib Med Psychol 3:31–53

26.

Smith A (1985) The combined effects of noise and nightwork on human function. Contemp Ergon 1985:33–41

27.

Smith A (1989) A review of the effects of noise on human performance. Scand J Psychol 30(3):185–206

28.

Broadbent DE (1981) The effects of moderate levels of noise on human performance. Hear Res Theory 1981:165–186

29.

Smith AP (1988) Acute effects of noise exposure: an experimental investigation of the effects of noise and task parameters on cognitive vigilance tasks. Int Arch Occup Environ Health 60(4):307–310

30.

Goodman AC (1965) LXXX new observations on changes in hearing in the temporal course of Meniere's disease. Ann Otol Rhinol Laryngol 74(4):991–1010

31.

Kumar AU, Sandeep M (2013) Auditory cognitive training module. ARF funded departmental project submitted to All India Institute of Speech and Hearing, Mysore

32.

Newman CW, Jacobson GP, Spitzer JB (1996) Development of the tinnitus handicap inventory. Arch Otolaryngol Neck Surg 122(2):143–148

33.

Andersson G (2002) A cognitive-affective theory for tinnitus: experiments and theoretical implications. In: 7th international tinnitus seminar

34.

Andersson G, Mckenna L (2006) The role of cognition in tinnitus. Acta Otolaryngol 126(sup 556):39–43
Acknowledgements
Authors acknowledge the Director, All India Institute of Speech and Hearing, Mysuru and HOD-Audiology, All India Institute of Speech and Hearing, Mysuru for permitting to publish this research work.
Ethics declarations
Conflict of interest
There is no conflict of interest to disclose.
Additional information
Publisher's Note
Springer Nature remains neutral with regard to jurisdictional claims in published maps and institutional affiliations.
About this article
Cite this article
Nagaraj, M.K., Bhaskar, A. & Prabhu, P. Assessment of auditory working memory in normal hearing adults with tinnitus. Eur Arch Otorhinolaryngol 277, 47–54 (2020). https://doi.org/10.1007/s00405-019-05658-4
Received:

Accepted:

Published:

Issue Date:
Keywords
Tinnitus

Cognitive processing

Auditory working memory

Tinnitus handicap