Abstract
Purpose
To investigate the long-term clinical effect of balloon dilation eustachian tuboplasty (BET) combined with tympanic tube insertion (TTI) in the treatment of chronic recurrent secretory otitis media (CRSOM).
Materials and methods
A retrospective study of 30 cases of CRSOM treated with BET combined with TTI under general anesthesia between August 2014 and September 2016. Thirty cases of CRSOM treated with TTI in the same period were taken as the control group. All cases were followed over 24 months. The scores of eustachian tube (ET) function preoperation, 1 month, 6 months, 12 months, and 24 months postoperation were collected and analyzed, respectively. A satisfaction questionnaire was used to evaluate the therapy at 24-months postoperation.
Results
The symptoms were significantly improved and the ET score was obviously increased postsurgery in most cases treated with BET plus TTI compared with those treated with TTI alone. The highest ET score was obtained at 6 months post BET. Five (14%) cases (6 ears) of CRSOM recurred. The 24-month postoperation follow-up questionnaire showed that 84.6% of the patients were satisfied with the treatment, while ten cases (25%) in the TTI group recurred.
Conclusion
BET combined with TTI surgery is an effective therapy for patients with CRSOM.
Access options
Buy single article
Instant access to the full article PDF.
USD 39.95
Price excludes VAT (USA)
Tax calculation will be finalised during checkout.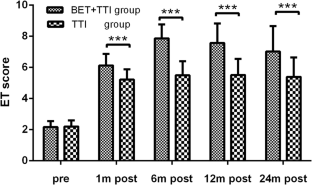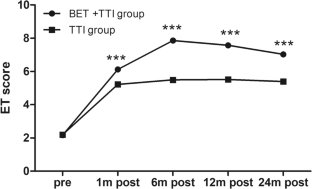 Abbreviations
ET:

Eustachian tube

ET score:

Eustachian tube function score

BET + TTI:

Balloon dilation eustachian tuboplasty combined with tympanic tube insertion

TTI:

Tympanic tube insertion

CRSOM:

Chronic recurrent secretory otitis media

BET:

Balloon dilation eustachian tuboplasty
References
Kutluhan A, Tarlak B, Cetin H, Callioglu EE, Bozdemir K, Demir MK (2015) Mastoid antral ventilation tube; new treatment modality for recurrent otitis media with effusion and its long term results. Int J Clin Exp Med 8(4):5774–5780

Valtonen H, Tuomilehto H, Qvarnberg Y, Nuutinen J (2005) A 14-year prospective follow-up study of children treated early in life with tympanostomy tubes: part 1: clinical outcomes. Arch Otolaryngol Head Neck Surg 131(4):93–98

Yaman H, Yilmaz S, Guclu R et al (2010) Otitis media with effusion: recurrence after tympanostomy tube extrusion. Int J Pediatr Otorhinolaryngol 74:271–274.

Van HN, De SG, Mulder JJ (2002) Long-term ventilation tubes: results of 726 insertions. Clin Otolaryngol Allied Sci 27(5):378–383

Schröder S, Reineke U, Lehmann M, Ebmeyer J, Sudhoff H (2013) Chronic obstructive eustachian tube dysfunction in adults: long-term results of balloon eustachian tuboplasty. HNO 61(2):142–151

Iwano T, Kinoshita T, Hamada E, Doi T, Ushiro K, Kumazawa T (1993) Otitis media with effusion and Eustachian tube dysfunction in adults and children. Acta Otolaryngol Suppl 500:66–69

Yang L, Gong PG, Zheng MF, Zhao XD, Liu YY, Peng H (2016) Eustachian tube and its dysfunction related diseases' occurrence and treatments. Lin Chung Er Bi Yan Hou Tou Jing Wai Ke Za Zhi. 30(12):1001–1005

Dai S, Guan GF, Jia J, Li H, Sang Y, Chang D, Hou L, Zhang W, Wen LJ, Zhang DJ (2016) Clinical evaluation of balloon dilation eustachian tuboplasty surgery in adult otitis media with effusion. Acta Otolaryngol 136(8):764–767

Ockermann T, Reineke U, Upile T, Ebmeyer J, Sudhoff HH (2010) Balloon dilatation eustachian tuboplasty: a clinical study. Laryngoscope 120(7):1411–1416

Christov F, Gluth MB (2018) Histopathology of the mucosa of eustachian tube orifice at the middle ear in chronic otitis media with effusion: possible insight into tuboplasty failure. Ann Otol Rhinol Laryngol. https://doi.org/10.1177/0003489418796648

Tisch M, Maier S, Hecht P, Maier H (2013) Bilateral Eustachian tube dilatation in infants: an alternative treatment for persistent middle ear functional dysfunction. HNO 61(6):492–493

McCoul ED, Anand VK, Christos PJ (2012) Validating the clinical assessment of eustachian tube dysfunction. The Eustachian Tube Dysfunction Questionnaire (ETDQ-7). Laryngoscope 2(5):1137–1141

Schröder S, Lehmann M, Ebmeyer J, Upile T, Sudhoff H (2015) Balloon Eustachian tuboplasty: a retrospective cohort study. Clin Otolaryngol 40(6):629–638

Singh T, Taneja V, Kulendra K, Farr M, Robinson J, Rejali D (2017) Balloon eustachian tuboplasty treatment of longstanding eustachian tube dysfunction. J Laryngol Otol 131(7):614–619

Si Y, Chen YB, Chu YG, Chen SJ, Xiong H, Chen XM, He WH, Zheng YQ, Zhang ZG (2018) Effects of combination of balloon Eustachian tuboplasty with methylprednisolone irrigation on treatment of chronic otitis media with effusion in adults. Am J Otolaryngol. https://doi.org/10.1016/j.amjoto.2018.06.016

Luukkainen V, Vnencak M, Aarnisalo AA, Jero J, Sinkkonen ST (2018) Patient satisfaction in the long-term effects of eustachian tube balloon dilation is encouraging. Acta Otolaryngol 138(2):122–127. https://doi.org/10.1080/00016489.2017.1384568

Poe DS, Silvola J, Pyykko I (2011) Balloon dilation of the cartilaginous eustachian tube. Otolaryngol Head Neck Surg 144(4):563–569

Catalano P, Jonnalagadda S, Yu VM (2012) Balloon catheter dilatation of eustachian tube:a preliminary study. Otol Neurotol 33(9):1549–1552

Kivekäs I, Chao WC, Faquin W, Hollowell M, Silvola J, Rasooly T, Poe D (2015) Histopathology of ballon-dilation eustachian tuboplasty. Laryngoscope 125(2):346–441

Silvola J, Kivekäs I, Poe DS (2014) Balloon dilation of the cartilaginous portion of the eustachian tube. Otolaryngol Head Neck Surg 151(1):125–130
Funding
This research was supported by a grant from the Guangdong Natural Science Foundation (No. 2015A030313180).
Ethics declarations
Conflict of interest
All the authors declare that they have no competing conflict of interest.
Ethical approval
All procedures performed in research involving human participants were in accordance with the ethical standards of the institutional research committee and with the 1964 Helsinki Declaration and its later amendments or comparable ethical standards.
Additional information
Publisher's Note
Springer Nature remains neutral with regard to jurisdictional claims in published maps and institutional affiliations.
About this article
Cite this article
Li, Yq., Chen, Yb., Yin, Gd. et al. Effect of balloon dilation eustachian tuboplasty combined with tympanic tube insertion in the treatment of chronic recurrent secretory otitis media. Eur Arch Otorhinolaryngol 276, 2715–2720 (2019). https://doi.org/10.1007/s00405-019-05512-7
Received:

Accepted:

Published:

Issue Date:

DOI: https://doi.org/10.1007/s00405-019-05512-7
Keywords