Abstract
Objective
To develop a French version of the Eating Assessment Tool (Fr EAT-10) and to assess its internal consistency, reliability and clinical validity.
Methods
Fifty-six patients referred in the Swallowing Clinics of CHU Saint-Pierre Hospital (Brussels) and EpiCURA hospital (Ath, Belgium) for dysphagia were enrolled and completed fiberoptic endoscopic evaluation of swallowing and videofluoroscopy. Seventy-three asymptomatic subjects were included in the study. To assess reliability, Fr-EAT-10 was completed twice within a 7-day period. Validity was assessed by comparing Fr-EAT-10 scores with the scores of dysphagia handicap index (DHI) in all individuals. Normative value of EAT-10 was calculated and the receiver operating characteristic (ROC) curve was used to determine the best Fr-EAT-10 threshold associated with aspiration.
Results
Fifty-two patients completed the study. Cronbach's alpha was 0.95 indicating a high internal consistency. Test–retest reliability was high in the entire cohort (rs = 0.921). The correlation between Fr-EAT-10 total scores and DHI was high (rs = 0.827) indicating a high external validity. Patients had a significant higher score of Fr-EAT-10 than the controls (p < 0.001) exhibiting a high internal validity. The analysis of normative data reported that a score of Fr-EAT-10 > 3 should be considered as abnormal. The correlation between Fr-EAT-10 and the occurrence of aspiration is significant (rs = 0.327, p < 0.05). According to the ROC curve; aspirations need to be highly suspected for patients with Fr-EAT-10 ≥ 17.
Conclusion
The Fr-EAT-10 developed in this study is a reliable and valid self-administered tool in the evaluation of dysphagia in French-speaking patients.
Access options
Buy single article
Instant access to the full article PDF.
USD 39.95
Price excludes VAT (USA)
Tax calculation will be finalised during checkout.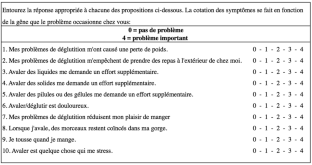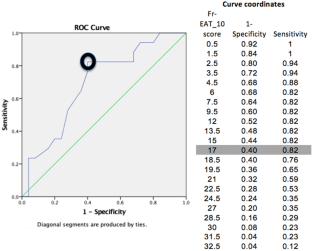 References
Langmore SE, Grillone G, Elackattu A, Walsh M (2009) Disorders of swallowing: palliative care. Otolaryngol Clin N Am 42(1):87–105

Kertscher B, Speyer R, Fong E, Georgiou AM, Smith M (2015) Prevalence of oropharyngeal dysphagia in the Netherlands: a telephone survey. Dysphagia 30(2):114–120

Bloem BR, Lagaay AM, van Beek W, Haan J, Roos RA, Wintzen AR (1990) Prevalence of subjective dysphagia in community residents aged over 87. BMJ 300:721–722

Ortega O, Martín A, Clavé P (2017) Diagnosis and management of oropharyngeal dysphagia among older persons, state of the art. J Am Med Dir Assoc 18(7):576–582

Mulheren RW, Azola AM, Kwiatkowski S et al (2018) Swallowing changes in community-dwelling older adults. Dysphagia 33(6):848–856

Lechien JR, Akst LM, Hamdan AL, Schindler A, Karkos PD, Barillari MR, Calvo-Henriquez C, Crevier-Buchman L, Finck C, Eun YG, Saussez S, Vaezi MF (2019) Evaluation and management of laryngopharyngeal reflux disease: state of the art review. Otolaryngol Head Neck Surg. https://doi.org/10.1177/0194599819827488

Lechien JR, Saussez S, Schindler A, Karkos PD, Hamdan AL, Harmegnies B, De Marrez LG, Finck C, Journe F, Paesmans M, Vaezi MF (2018) Symptoms and signs outcomes of laryngopharyngeal reflux treatment: a critical systematic review and meta-analysis. Laryngoscope. https://doi.org/10.1002/lary.27591

Herzberg EG, Lazarus CL, Steele CM, Molfenter SM (2018) Swallow event sequencing: comparing healthy older and younger adults. Dysphagia 33(6):759–767

Silbergleit AK, Schultz L, Jacobson BH, Beardsley T, Johnson AF (2012) The dysphagia handicap index: development and validation. Dysphagia 27(1):46–52

Takizawa C, Gemmell E, Kenworthy J, Speyer R (2016) A systematic review of the prevalence of oropharyngeal dysphagia in stroke, parkinson's disease, Alzheimer's disease, head injury, and pneumonia. Dysphagia 31(3):434–441

Belafsky PC, Mouadeb DA, Rees CJ, Pryor JC, Postma GN, Allen J, Leonard RJ (2008) Validity and reliability of the Eating Assessment Tool (EAT-10). Ann Otol Rhinol Laryngol 117(12):919–924

Möller R, Safa S, Östberg P (2016) Validation of the Swedish translation of eating assessment tool (S-EAT-10). Acta Otolaryngol 136(7):749–753

Giraldo-Cadavid LF, Gutiérrez-Achury AM, Ruales-Suárez K et al (2016) Validation of the Spanish version of the Eating Assessment Tool-10 (EAT-10spa) in Colombia. A blinded prospective cohort study. Dysphagia 31(3):398–406

Bartlett RS, Moore JE, Thibeault SL (2018) Temporal analysis of factors associated with EAT-10 in Outpatients with oropharyngeal dysphagia from a tertiary care clinic. Dysphagia 33(4):457–467

Wakabayashi H, Matsushima M (2016) Dysphagia assessed by the 10-Item Eating Assessment Tool Is associated with nutritional status and activities of daily living in elderly individuals requiring long-term care. J Nutr Health Aging 20(1):22–27

Zuniga SA, Ebersole B, Jamal N (2018) Utility of Eating Assessment Tool-10 in predicting aspiration in patients with unilateral vocal fold paralysis. Otolaryngol Head Neck Surg 159(1):92–96

Regan J, Lawson S, De Aguiar V (2017) The Eating Assessment Tool-10 predicts aspiration in adults with stable chronic obstructive pulmonary disease. Dysphagia 32(5):714–720

Lechien JR, Huet K, Finck C et al (2017) Validity and reliability of a French version of reflux symptom index. J Voice 31(4):512.e1–512.e7

Woisard V, Lepage B (2010) The, "deglutition handicap index" a self-administrated dysphagia-specific quality of life questionnaire: temporal reliability. Rev Laryngol Otol Rhinol (Bord) 131(1):19–22

Rosenbek JC, Robbins JA, Roecker EB, Coyle JL, Wood JL (1996) A penetration-aspiration scale. Dysphagia 11(2):93–98

Cheney DM, Siddiqui MT, Litts JK, Kuhn MA, Belafsky PC (2015) The ability of the 10-item eating assessment tool (EAT-10) to predict aspiration risk in persons with dysphagia. Ann Otol Rhinol Laryngol 124(5):351–354

Schindler A, Mozzanica F, Monzani A et al (2013) Reliability and validity of the Italian Eating Assessment Tool. Ann Otol Rhinol Laryngol 122(11):717–724

Demir N, Serel Arslan S, İnal Ö, Karaduman AA (2016) Reliability and validity of the Turkish Eating Assessment Tool (T-EAT-10). Dysphagia 31(5):644–649

Nogueira DS, Ferreira PL, Reis EA, Lopes IS (2015) Measuring outcomes for dysphagia: validity and reliability of the European Portuguese Eating Assessment Tool (P-EAT-10). Dysphagia 30(5):511–520

Abu-Ghanem S, Schechter M, Flesh-Eyni H et al (2016) Validation of the Hebrew version of the Eating Assessment Tool-10 (H-EAT-10). Folia Phoniatr Logop 68(6):261–267

Farahat M, Mesallam TA (2015) Validation and cultural adaptation of the Arabic version of the Eating Assessment Tool (EAT-10). Folia Phoniatr Logop 67(5):231–237

Arrese LC, Carrau R, Plowman EK (2017) Relationship between the Eating Assessment Tool-10 and objective clinical ratings of swallowing function in individuals with head and neck cancer. Dysphagia 32(1):83–89

Kendall KA, Ellerston J, Heller A, Houtz DR, Zhang C, Presson AP (2016) Objective measures of swallowing function applied to the dysphagia population: a one year experience. Dysphagia 31(4):538–546

Schaller BJ, Graf R, Jacobs AH (2006) Pathophysiological changes of the gastrointestinal tract in ischemic stroke. Am J Gastroenterol 101(7):1655–1665

Denaro N, Merlano MC, Russi EG (2013) Dysphagia in head and neck cancer patients: pretreatment evaluation, predictive factors, and assessment during radio-chemotherapy, recommendations. Clin Exp Otorhinolaryngol. 6(3):117–126

Rofes L, Arreola V, Mukherjee R, Clavé P (2014) Sensitivity and specificity of the Eating Assessment Tool and the Volume-Viscosity Swallow Test for clinical evaluation of oropharyngeal dysphagia. Neurogastroenterol Motil 26(9):1256–1265

Kelly AM, Drinnan MJ, Leslie P (2007) Assessing penetration and aspiration: how do videofluoroscopy and fiberoptic endoscopic evaluation of swallowing compare? Laryngoscope 117(10):1723–1727

Fattori B, Giusti P, Mancini V et al (2016) Comparison between videofluoroscopy, fiberoptic endoscopy and scintigraphy for diagnosis of oro-pharyngeal dysphagia. Acta Otorhinolaryngol Ital 36(5):395–402

Nacci A, Ursino F, La Vela R, Matteucci F, Mallardi V, Fattori B (2008) Fiberoptic endoscopic evaluation of swallowing (FEES): proposal for informed consent. Acta Otorhinolaryngol Ital 28(4):206–211

Lechien JR, Cavelier G, Thill MP (2018) Validation of French version of EAR-10. Master thesis, Université Libre de Bruxelles, Brussels, Belgium
Acknowledgements
Robbie Mac (US native speaker) for the proofreading of the manuscript.
Ethics declarations
Conflict of interest
The authors declare that they have no conflict of interest.
Ethical approval
All procedures performed in studies involving human participants were in accordance with the ethical standards of the institutional and/or national research committee and with the 1964 Helsinki declaration and its later amendments or comparable ethical standards.
Informed consent
Informed consent was obtained from all individual participants included in the study.
Additional information
Publisher's Note
Springer Nature remains neutral with regard to jurisdictional claims in published maps and institutional affiliations.
Electronic supplementary material
Below is the link to the electronic supplementary material.
About this article
Cite this article
Lechien, J.R., Cavelier, G., Thill, MP. et al. Validity and reliability of the French version of Eating Assessment Tool (EAT-10). Eur Arch Otorhinolaryngol 276, 1727–1736 (2019). https://doi.org/10.1007/s00405-019-05429-1
Received:

Accepted:

Published:

Issue Date:

DOI: https://doi.org/10.1007/s00405-019-05429-1
Keywords