Abstract
Introduction
Septoplasty is one of the most common otolaryngologic procedures. Previous studies have reported that the overall rate of significant change in cosmetic appearance of the nose after septoplasty ranged from 0.4 to 3.4%, and saddle nose was the most commonly cited deformity. In this study, we evaluated the risk factors for intraoperative saddle nose in a group of septoplasty patients.
Methods
This case–control study (1:2 case:control) was conducted based on retrospective chart review. Intraoperative saddle nose was observed in 108 (5.1%) of 2106 patients who underwent septoplasty in our center between January 2008 and December 2017. The control group consisted of 216 randomly selected, hospital-matched septoplasty patients who had no intraoperative saddle nose deformity in the same period. The demographic data, preoperative endoscopic findings, and surgical procedures of the two groups were analyzed to identify possible risk factors of intraoperative saddle nose deformity.
Results
The mean ages of the two groups were 34.8 years (saddle group) and 33.2 years (control group). In multivariate logistic regression analysis, clinical risk factors associated with intraoperative saddle nose were female gender (OR 3.39; 95% CI 1.76–6.54; p < 0.01), severe caudal septal deviation (OR 2.22; 95% CI 1.30–3.79; p = 0.003), and intraoperative finding of septal cartilage fracture (OR 3.96; 95% CI 1.92–8.19; p < 0.01).
Conclusions
Severe caudal septal deviation, intraoperative fracture of septal cartilage, and female gender were risk factors for intraoperative saddle nose deformity in our study population.
This is a preview of subscription content, log in to check access.
Access options
Buy single article
Instant access to the full article PDF.
US$ 39.95
Price includes VAT for USA
Subscribe to journal
Immediate online access to all issues from 2019. Subscription will auto renew annually.
US$ 199
This is the net price. Taxes to be calculated in checkout.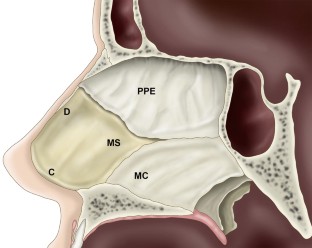 References
1.

Dorning H, Bitzer EM, Hofmann W, Schwartz FW (1995) Longitudinal analysis of utilization of inpatient treatment based on insurance data of mandatory health insurance. Gesundheitswesen 57:631–637

2.

Manoukian PD, Wyatt JR, Leopold DA, Bass EB (1997) Recent trends in utilization of procedures in otolaryngology-head and neck surgery. Laryngoscope 107:472–477

3.

Laguna D, Lopez-Cortijo C, Millan I, Gonzalez FM, Garcia-Berrocal JR (2008) Blood loss in endoscopic sinus surgery: assessment of variables. J Otolaryngol Head Neck Surg 37:324–330

4.

Yanagisawa E, Ho SY (1998) Unintended middle turbinectomy during septoplasty. Ear Nose Throat J 77:368–369

5.

Onerci TM, Ayhan K, Ogretmenoglu O (2004) Two consecutive cases of cerebrospinal fluid rhinorrhea after septoplasty operation. Am J Otolaryngol 25:354–356

6.

Yeo NK, Jang YJ (2009) Rhinoplasty to correct nasal deformities in postseptoplasty patients. Am J Rhinol Allergy 23:540–545

7.

Ketcham AS, Han JK (2010) Complications and management of septoplasty. Otolaryngol Clin N Am 43:897–904

8.

Karacaoglan N, Uysal OA (1998) Use of iliac bone graft for saddle nose deformity. Auris Nasus Larynx 25:49–57

9.

Gillman GS, Egloff AM, Rivera-Serrano CM (2014) Revision septoplasty: a prospective disease-specific outcome study. Laryngoscope 124:1290–1295

10.

Kang JM, Nam ME, Dhong HJ, Kim HY, Chung SK, Kim JH (2012) Modified mattress suturing technique for correcting the septal high dorsal deviation around the keystone area. Am J Rhinol Allergy 26:227–232

11.

Kawalski H, Spiewak P (1998) How septum deformations in newborns occur. Int J Pediatr Otorhinolaryngol 44:23–30

12.

Mladina R, Čujić E, Šubarić M, Vuković K (2008) Nasal septal deformities in ear, nose, and throat patients: an international study. Am J Otolaryngol 29:75–82

13.

Gubisch W (2005) Extracorporeal septoplasty for the markedly deviated septum. Arch Facial Plast Surg 7:218–226

14.

Muhammad IA, Nabil-ur R (2003) Complications of the surgery for deviated nasal septum. J Coll Physicians Surg Pak 13:565–568

15.

Rettinger G, Kirsche H (2006) Complications in septoplasty. Facial Plast Surg 22:289–297

16.

Bateman ND, Woolford TJ (2003) Informed consent for septal surgery: the evidence-base. J Laryngol Otol 117:186–189
Funding
This work was supported by the National Research Foundation of Korea (NRF) grant funded by the Korean government (MEST) (2017R1A2B4006453).
Ethics declarations
Conflict of interest
The authors declare that they have no competing interests.
Ethical approval
This study was reviewed and approved by the Institutional Ethics Committee at the Samsung Medical Center (IRB number: SMC 2018-05-136).
Additional information
Publisher's Note
Springer Nature remains neutral with regard to jurisdictional claims in published maps and institutional affiliations.
About this article
Cite this article
Lee, J.J., Hong, S.D., Dhong, H. et al. Risk factors for intraoperative saddle nose deformity in septoplasty patients. Eur Arch Otorhinolaryngol 276, 1981–1986 (2019). https://doi.org/10.1007/s00405-019-05411-x
Received:

Accepted:

Published:

Issue Date:
Keywords
Septoplasty

Saddle nose

Risk factor