Abstract
Purpose
Transoral resection of Zenker's diverticulum (TORD) was first reported in 2010. We present results for our modified approach to transoral resection (MTORD)—full-thickness cricopharyngeal myectomy, diverticulum sac excision, and suture closure of the pharyngotomy—and evaluate its safety and efficacy compared to endoscopic stapling and open approaches.
Methods
A retrospective study was performed in patients who underwent transoral resection of Zenker's diverticulum using MTORD, endoscopic stapler-assisted diverticulotomy (ESD), or trancervical diverticulectomy (TCD) from July 2009 to August 2017. Pre-operative evaluation included barium swallow and subjective characterization of swallowing dysfunction using the EAT-10 and Reflux Symptom Index (RSI). Complications, length of hospitalization, recurrence, and revision rates were also evaluated.
Results
Of 92 patients reviewed, 18 underwent MTORD, 45 underwent ESD and 29 underwent TCD. Major complications were only observed in ESD and TCD. Recurrence which required revision surgery was only observed in ESD. EAT-10 and RSI scores significantly improved and RSI scores normalized post-operatively for all approaches in short-term (< 1 year) follow-up.
Conclusions
MTORD is a safe and effective option for complete Zenker's diverticulectomy. Complication rates are low. To date, no patient has required reoperation, although more cases and longer term follow-up are needed for more complete comparison to ESD and traditional open excision.
This is a preview of subscription content, log in to check access.
Access options
Buy single article
Instant access to the full article PDF.
US$ 39.95
Tax calculation will be finalised during checkout.
Subscribe to journal
Immediate online access to all issues from 2019. Subscription will auto renew annually.
US$ 199
Tax calculation will be finalised during checkout.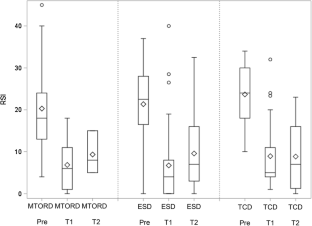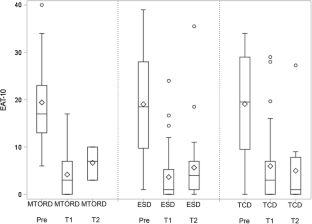 References
1.

Chokhavatia S, Alli-Akintade L, Harpaz N, Stern R (2013) Esophageal pathology: a brief guide and atlas. Otolaryngol Clin N Am 46(6):1043–1057

2.

Westrin KM, Ergun S, Carlsoo B (1996) Zenker's diverticulum—a historical review and trends in therapy. Acta Otolaryngol 116(3):351–360

3.

Acar T, Savas R, Kocacelebi K, Ersoz G (2016) Squamous cell carcinoma arising from a Zenker's diverticulum: contribution of FDG-PET/CT to the diagnosis. Dis Esophagus 29(8):1170–1171

4.

Mosher HP (1917) Webs and pouches of the oesophagus, their diagnosis and treatment. Surg Gynecol Obstet 25:175–187

5.

Dohlman G, Mattsson O (1960) The endoscopic operation for hypopharyngeal diverticula: a roentgencinematographic study. AMA Arch Otolaryngol 71:744–752

6.

van Overbeek JJ (1994) Meditation on the pathogenesis of hypopharyngeal (Zenker's) diverticulum and a report of endoscopic treatment in 545 patients. Ann Otol Rhinol Laryngol 103 (3):178–185

7.

Prisman E, Genden EM (2013) Zenker diverticulum. Otolaryngol Clin N Am 46(6):1101–1111

8.

Mortensen M, Schaberg MR, Genden EM, Woo P (2010) Transoral resection of short segment Zenker's diverticulum and cricopharyngeal myotomy: an alternative minimally invasive approach. Laryngoscope 120(1):17–22

9.

Peretti G, Piazza C, Del Bon F, Cocco D, De Benedetto L, Mangili S (2010) Endoscopic treatment of Zenker's diverticulum by carbon dioxide laser. Acta Otorhinolaryngol Ital 30(1):1–4

10.

Murer K, Soyka MB, Broglie MA, Huber GF, Stoeckli SJ (2015) Zenker's diverticulum: outcome of endoscopic surgery is dependent on the intraoperative exposure. Eur Arch Oto-rhino-laryngol 272(1):167–173

11.

Bloom JD, Bleier BS, Mirza N, Chalian AA, Thaler ER (2010) Factors predicting endoscopic exposure of Zenker's diverticulum. Ann Otol Rhinol Laryngol 119(11):736–741

12.

Johnson CM, Postma GN (2016) Zenker diverticulum—which surgical approach is superior? JAMA Otolaryngol Head Neck Surg 142 (4):401–403

13.

Aiolfi A, Scolari F, Saino G, Bonavina L (2015) Current status of minimally invasive endoscopic management for Zenker diverticulum. World J Gastrointest Endosc 7(2):87–93

14.

Veenker EA, Andersen PE, Cohen JI (2003) Cricopharyngeal spasm and Zenker's diverticulum. Head Neck 25(8):681–694

15.

Sasaki CT, Ross DA, Hundal J (2003) Association between Zenker diverticulum and gastroesophageal reflux disease: development of a working hypothesis. Am J Med 115(Suppl 3A):169S–171S

16.

Ongkasuwan J, Yung KC, Courey MS (2012) Pharyngeal stasis of secretions in patients with Zenker diverticulum. Otolaryngol head Neck Surg 146(3):426–429

17.

Adam SI, Paskhover B, Sasaki CT (2013) Revision Zenker diverticulum: laser versus stapler outcomes following initial endoscopic failure. Ann Otol Rhinol Laryngol 122(4):247–253

18.

Verdonck J, Morton RP (2015) Systematic review on treatment of Zenker's diverticulum. Eur Arch Oto-rhino-laryngol. 272 (11):3095–3107

19.

Yuan Y, Zhao YF, Hu Y, Chen LQ (2013) Surgical treatment of Zenker's diverticulum. Digest Surg 30(3):207–218

20.

Papaspyrou G, Schick B, Papaspyrou S, Wiegand S, Al Kadah B (2016) Laser surgery for Zenker's diverticulum: European combined study. Eur Arch Oto-rhino-laryngol 273 (1):183–188

21.

Koch M, Mantsopoulos K, Velegrakis S, Iro H, Zenk J (2011) Endoscopic laser-assisted diverticulotomy versus open surgical approach in the treatment of Zenker's diverticulum. Laryngoscope 121(10):2090–2094

22.

Shahawy S, Janisiewicz AM, Annino D, Shapiro J (2014) A comparative study of outcomes for endoscopic diverticulotomy versus external diverticulectomy. Otolaryngol Head Neck Surg 151(4):646–651

23.

Rizzetto C, Zaninotto G, Costantini M, Bottin R, Finotti E, Zanatta L, Guirroli E, Ceolin M, Nicoletti L, Ruol A, Ancona E (2008) Zenker's diverticula: feasibility of a tailored approach based on diverticulum size. J Gastrointest Surg 12:2057–2064 (discussion 2064–2055)

24.

Chang CW, Burkey BB, Netterville JL, Courey MS, Garrett CG, Bayles SW (2004) Carbon dioxide laser endoscopic diverticulotomy versus open diverticulectomy for Zenker's diverticulum. Laryngoscope 114(3):519–527

25.

Zaninotto G, Narne S, Costantini M, Molena D, Cutrone C, Portale G, Costantino M, Rizzetto C, Basili U, Ancona E (2003) Tailored approach to Zenker's diverticula. Surg Endosc 17(1):129–133
Acknowledgements
Our grateful appreciation is expressed to Yifei Ma, our consulting statistician, for his kind contributions.
Ethics declarations
Conflict of interest
The authors declared no potential conflicts of interest with respect to the research, authorship, and/or publication of this article.
Ethical approval
All procedures performed in studies involving human participants were in accordance with the ethical standards of the institutional and/or national research committee and with the 1964 Helsinki declaration and its later amendments or comparable ethical standards. The consent for participation may be required for the study.
Additional information
Publisher's Note
Springer Nature remains neutral with regard to jurisdictional claims in published maps and institutional affiliations.
Electronic supplementary material
Below is the link to the electronic supplementary material.
Supplementary material 1 (MP4 32564 KB)
About this article
Cite this article
Junlapan, A., Abu-Ghanem, S., Sung, C.K. et al. Outcomes in modified transoral resection of diverticula for Zenker's diverticulum. Eur Arch Otorhinolaryngol 276, 1423–1429 (2019). https://doi.org/10.1007/s00405-019-05374-z
Received:

Accepted:

Published:

Issue Date:
Keywords
Modified transoral resection of diverticulum

Endoscopic laser approach

Diverticulectomy

Zenker's diverticulum

Outcomes

Recurrence