Abstract
Purpose
To study the damaging effect of different diode laser settings on vocal folds 7 days after injury in a rabbit model.
Methods
Twenty-one male New Zealand white rabbits were randomized into three groups with seven animals per group. A 980-nm diode laser was used to create a single spot injury in each vocal fold. Different modulation frequencies (10 Hz versus 1000 Hz) in pulsed mode, different powers (3 W versus 5 W), and distinct wave modes of radiation (pulsed versus continuous) were compared.
Results
The extent of the inflammatory infiltrate and ablation crater were greater when using 5-W optical power compared with 3 W. The extent and depth of the inflammatory infiltrate, and the width and depth of the ablation crater were greater with continuous wave mode compared with pulsed mode. The density of collagen fibers only increased when using the laser in continuous wave mode.
Conclusion
The use of the 980-nm diode laser with an output power of 5 W produced an increased extent of thermal injury compared to an output power of 3 W and, more importantly, using continuous rather than pulsed wave mode significantly increased the extent and depth of thermal injury in rabbit vocal folds.
This is a preview of subscription content, log in to check access.
Access options
Buy single article
Instant access to the full article PDF.
US$ 39.95
Price includes VAT for USA
Subscribe to journal
Immediate online access to all issues from 2019. Subscription will auto renew annually.
US$ 199
This is the net price. Taxes to be calculated in checkout.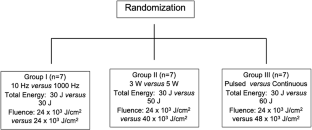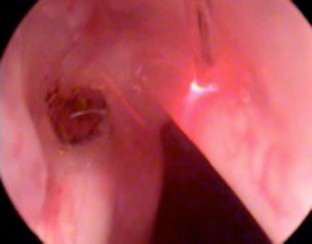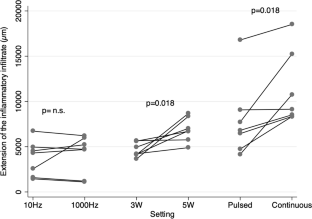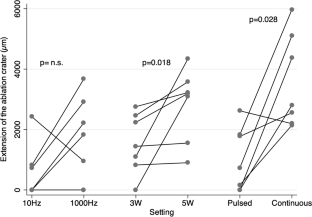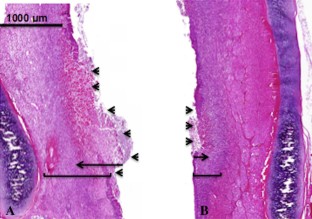 References
1.

Saetti R, Silvestrini M, Cutrone C, Narne S (2008) Treatment of congenital subglottic hemangiomas: our experience compared with reports in the literature. Arch Otolaryngol Head Neck Surg 134:848–851

2.

Ferri E, Armato E (2008) Diode laser microsurgery for treatment of Tis and T1 glottic carcinomas. Am J Otolaryngol 29:101–105

3.

Saetti R, Silvestrini M, Galiotto M, Derosas F, Narne S (2003) Contact laser surgery in treatment of vocal fold paralysis. Acta Otorhinolaryngol Ital 23:33–37

4.

Bajaj Y, Pegg D, Gunasekaran S, Knight LC (2010) Diode laser for paediatric airway procedures: a useful tool. Int J Clin Pract 64:51–54

5.

Fanjul M, García-Casillas MA, Parente A, Cañizo A, Laín A, Matute JA et al (2008) Diode laser application for the treatment of pediatric airway pathologies. Cir Pediatr 2008:79–83

6.

Ferri E, García Purriños FJ (2006) Diode laser surgery in the endoscopic treatment of laryngeal paralysis. Acta Otorrinolaringol Esp 57:270–274

7.

Edizer DT, Cansız H (2013) Transoral laser microsurgery for glottic cancers—complications and importance of the anterior commissure involvement. Istanb Med J 14:12–15

8.

Liu S-C, Lin D-S, Su W-F (2013) The role of diode laser in the treatment of ventricular dysphonia. J Voice 27:250–254

9.

Tunçel U, Cömert E (2013) Preliminary results of diode laser surgery for early glottic cancer. Otolaryngol Head Neck Surg 149:445–450

10.

Karasu MF, Gundogdu R, Cagli S, Aydin M, Arli T, Aydemir S et al (2014) Comparison of effects on voice of diode laser and cold knife microlaryngology techniques for vocal fold polyps. J Voice 28:387–392

11.

Cömert E, Tunçel Ü, Dizman A, Güney YY (2014) Comparison of early oncological results of diode laser surgery with radiotherapy for early glottic carcinoma. Otolaryngol Head Neck Surg 150:818–823

12.

Karkos PD, Stavrakas M, Markou K (2016) Early glottic cancer and difficult laryngoscopy: flexible endoscopic diode laryngeal laser-assisted surgery—a pilot study of an oncologically safe tool. Clin Otolaryngol 41:830

13.

Pedregal-Mallo D, Sánchez Canteli M, López F, Álvarez-Marcos C, Llorente JL, Rodrigo JP (2018) Oncological and functional outcomes of transoral laser surgery for laryngeal carcinoma. Eur Arch Otorhinolaryngol 275:2071–2077

14.

Arroyo HH, Neri L, Fussuma CY, Imamura R (2016) Diode laser for laryngeal surgery: a systematic review. Int Arch Otorhinolaryngol 20:172–179

15.

Mau T, Du M, Xu CC (2014) A rabbit vocal fold laser scarring model for testing lamina propria tissue-engineering therapies. Laryngoscope 124:2321–2326

16.

Divi V, Benninger M, Kiupel M, Dobbie A (2012) Coblation of the canine vocal fold: a histologic study. J Voice 26:9–13

17.

Mitchell JR, Kojima T, Wu H, Garrett CG, Rousseau B (2014) Biochemical basis of vocal fold mobilization after microflap surgery in a rabbit model. Laryngoscope 124:487–493

18.

Benninger MS, Alessi D, Archer S, Bastian R, Ford C, Koufman J et al (1996) Vocal fold scarring: current concepts and management. Otolaryngol Head Neck Surg 15:474–482

19.

Woo P, Casper J, Colton R, Brewer D (1994) Diagnosis and treatment of persistent dysphonia after laryngeal surgery: a retrospective analysis of 62 patients. Laryngoscope 104:1084–1091

20.

Mortensen MM, Woo P, Ivey C, Thompson C, Carroll L, Altman K (2008) The use of the pulse dye laser in the treatment of vocal fold scar: a preliminary study. Laryngoscope 118:1884–1888

21.

Newman J, Anand V (2002) Applications of the diode laser in otolaryngology. Ear Nose Throat J 81:850–851

22.

D'Arcangelo C, Di Maio FDN, Prosperi GD, Conte E, Baldi M, Caputi S (2007) A preliminary study of healing of diode laser versus scalpel incisions in rat oral tissue: a comparison of clinical, histological, and immunohistochemical results. Oral Surg Oral Med Oral Pathol Oral Radiol Endod 103:764–773

23.

Bryant GL, Davidson JM, Ossoff RH, Garrett CG, Reinisch L (1998) Histologic study of oral mucosa wound healing: a comparison of a 6.0- to 6.8-micrometer pulsed laser and a carbon dioxide laser. Laryngoscope 108:13–17

24.

Zhang Y, Cao L, Chen Q, Chen X, Xu W, Fang Q et al (2011) Experimental study on different power CO2 laser for vocal cord injury. Zhonghua Er Bi Yan Hou Tou Jing Wai Ke Za Zhi 46:1039–1041

25.

Benninger MS (2000) Microdissection or microspot CO2 laser for limited vocal fold benign lesions: a prospective randomized trial. Laryngoscope 11:1–17

26.

Anderson RR, Parrish JA (1983) Selective photothermolysis: precise microsurgery by selective absorption of pulsed radiation. Science 220:524–527

27.

Dhar P, Malik A (2011) Anesthesia for laser surgery in ENT and the various ventilatory techniques. Trends Anaesth Crit Care 1:60–66

28.

Garrett CG, Reinisch L (2002) New-generation pulsed carbon dioxide laser: comparative effects on vocal fold wound healing. Ann Otol Rhinol Laryngol 111:471–476

29.

Fortune DS, Huang S, Soto J, Pennington B, Ossoff RH, Reinisch L (1998) Effect of pulse duration on wound healing using a CO2 laser. Laryngoscope 108:843–848

30.

Friedrich G, Dikkers FG, Arens C, Remacle M, Hess M, Giovanni A et al (2013) Vocal fold scars: current concepts and future directions. Consensus report of the Phonosurgery Committee of the European Laryngological Society. Eur Arch Otorhinolaryngol 270:2491–2507

31.

Hendriksma M, Montagne MW, Langeveld TPM, Veselic M, van Benthem PPG, Sjögren EV (2018) Evaluation of surgical margin status in patients with early glottic cancer (Tis-T2) treated with transoral CO2 laser microsurgery, on local control. Eur Arch Otorhinolaryngol 275:2333–2340

32.

Gray SD, Titze IR, Alipour F, Hammond TH (2000) Biomechanical and histologic observations of vocal fold fibrous proteins. Ann Otol Rhinol Laryngol 109:77–85

33.

Thibeault SL, Gray SD, Bless DM, Chan RW, Ford CN (2002) Histologic and rheologic characterization of vocal fold scarring. J Voice 16:96–104

34.

Tateya T, Tateya I, Sohn JH, Bless DM (2006) Histological study of acute vocal fold injury in a rat model. Ann Otol Rhinol Laryngol 115:285–292

35.

Branski RC, Rosen CA, Verdolini K, Hebda PA (2005) Acute vocal fold wound healing in a rabbit model. Ann Otol Rhinol Laryngol 114:19–24

36.

Ling C, Yamashita M, Waselchuk EA, Raasch JL, Bless DM, Welham NV (2010) Alteration in cellular morphology, density and distribution in rat vocal fold mucosa following injury. Wound Repair Regen 18:89–97

37.

Yamashita M, Bless DM, Welham NV (2009) Surgical method to create vocal fold injuries in mice. Ann Otol Rhinol Laryngol 118:131–138

38.

Campagnolo AM, Tsuji DH, Sennes LU, Imamura R, Saldiva PH (2010) Histologic study of acute vocal fold wound healing after corticosteroid injection in a rabbit model. Ann Otol Rhinol Laryngol 119:133–139
Acknowledgements
The authors would like to thank the Sao Paulo Research Foundation (FAPESP) for its financial support and Luciana Almeida Lopes for helping to choose the laser settings. We also thank the Research and Education Center for Phototherapy in Health Sciences (NUPEN) for the laser equipment and technical support.
Funding
This study was funded by FAPESP (Fundação de Amparo à Pesquisa de São Paulo—Grant number 2015/25095-0).
Ethics declarations
Conflict of interest
The authors have no conflict of interest to declare.
Ethical approval
The study was approved by the Ethics Committee for the Analysis of Research Projects of the University of Sao Paulo School of Medicine (research protocol no. 177/13). All applicable international, national, and institutional guidelines for the care and use of animals were followed.
Additional information
Publisher's Note
Springer Nature remains neutral with regard to jurisdictional claims in published maps and institutional affiliations.
About this article
Cite this article
Arroyo-Ramos, H.H., Neri, L., Mancini, M.W. et al. Effects of diode laser setting for laryngeal surgery in a rabbit model. Eur Arch Otorhinolaryngol 276, 1431–1438 (2019). https://doi.org/10.1007/s00405-019-05344-5
Received:

Accepted:

Published:

Issue Date:
Keywords
Larynx

Vocal fold

Laser injury

Wound healing

Diode laser

Endolaryngeal surgery