Abstract
Purpose
Hearing results in revision stapes surgery are largely dependent on the cause of failure, and an appropriate intraoperative diagnosis is crucial for a good outcome. The endoscope allows a detailed exploration of the middle ear cavity and is particularly suitable for the intraoperative assessment of the cause of failure of previous stapes surgery. The present study analyzes the intraoperative findings and outcomes of patients undergoing revision stapes surgery through the endoscopic transcanal approach.
Methods
Surgical videos and charts of patients undergoing endoscopic revision stapes surgery from 2008 to 2017 were reviewed retrospectively. Intraoperative findings, difficulties encountered during the surgery and hearing outcomes were evaluated. The feasibility of each surgical step with the totally endoscopic approach or the need for bimanual manipulation was assessed as well.
Results
Thirty-four patients were included in the study. The endoscopic transcanal approach allowed a detailed exploration of the middle ear cavity and an accurate intraoperative diagnosis and management of the different causes of failure of the previous surgery. 89.8% of patients achieved an air-bone gap for the PTA ≤ 20 dBHL and 68.5% a closure of the air-bone gap.
Conclusions
The present study showed that totally endoscopic revision stapes surgery is a feasible, safe and effective procedure. The transcanal endoscopic approach allowed an accurate intraoperative diagnosis without the need for an endaural or retroauricular approach, with the possibility to manage all the possible intraoperative scenarios. A larger series with a longer follow-up is needed to validate the results.
This is a preview of subscription content, log in to check access.
Access options
Buy single article
Instant access to the full article PDF.
US$ 39.95
Price includes VAT for USA
Subscribe to journal
Immediate online access to all issues from 2019. Subscription will auto renew annually.
US$ 199
This is the net price. Taxes to be calculated in checkout.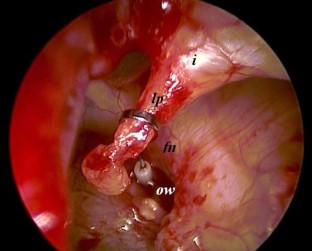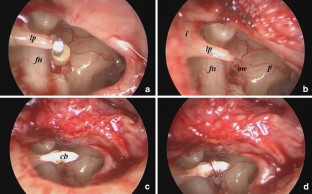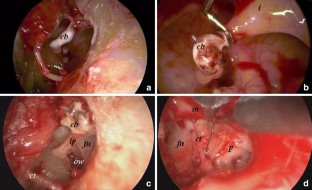 References
1.

Battista RA, Wiet RJ, Joy J (2006) Revision stapedectomy. Otolaryngol Clin N Am 39(4):677–697. (Review)

2.

Durko M, Kaczmarczyk D, Durko T (2007) Revision stapes surgery: retrospective analysis of surgical findings in a series of 21 otosclerosis patients. Adv Otorhinolaryngol 65:273–277

3.

Kanona H, Bhutta MF, Lavy J (2017) Our approach to revision stapes surgery and the outcomes from 49 procedures at a UK tertiary centre. Clin Otolaryngol 42(4):931–935

4.

Pedersen CB (1994) Revision surgery in otosclerosis—operative findings in 186 patients. Clin Otolaryngol Allied Sci 19(5):446–450

5.

Han WW, Incesulu A, McKenna MJ et al (1997) Revision stapedectomy: intraoperative findings, results, and review of the literature. Laryngoscope 107(9):1185–1192. (Review)

6.

Hammerschlag PE, Fishman A, Scheer AA (1998). A review of 308 cases of revision stapedectomy. Laryngoscope 108(12):1794–1800

7.

De la Cruz A, Fayad JN (2000) Revision stapedectomy. Otolarygology head and neck surgery. Otolaryngol Head Neck Surg 123(6):728–732

8.

Lippy WH, Battista RA, Berenholz L et al (2003) Twenty-year review of revision stapedectomy. Otol Neurotol 24(4):560–566

9.

Gros A, Vatovec J, Zargi M, Jenko K (2005) Success rate in revision stapes surgery for otosclerosis. Otol Neurotol 26(6):1143–1148

10.

Schmid P, Häusler R (2009) Revision stapedectomy: an analysis of 201 operations. Otol Neurotol 30(8):1092–1100. https://doi.org/10.1097/MAO.0b013e3181b4ecb2

11.

Vincent R, Rovers M, Zingade N, Oates J, Sperling N, Devèze A, Grolman W (2010) Revision stapedotomy: operative findings and hearing results. A prospective study of 652 cases from the otology–neurotology database. Otol Neurotol 31(6):875–882

12.

Bernardeschi D, Canu G, De Seta D, Russo FY, Ferrary E, Mosnier I, Sterkers O (2018) Revision stapes surgery: a review of 102 cases. Clin Otolaryngol. https://doi.org/10.1111/coa.13181

13.

McGee TM (1981) The loose wire syndrome. Laryngoscope 91(9 Pt 1):1478–1483

14.

Lippy WH, Berenholz LP (2010) The long prosthesis syndrome. Otol Neurotol 31(3):548–549

15.

Gurgel RK, Jackler RK, Dobie RA, Popelka GR (2012) A new standardized format for reporting hearing outcome in clinical trials. Otolaryngol Head Neck Surg 147(5):803–807

16.

Shea JJ (1958) Fenestration of the oval window. Ann Otol Rhinol Laryngol 67:932–951

17.

Shea JJ, Sanabira F, Smyth GDL (1962) Teflon piston operation for otosclerosis. Arch Otolaryngol 76:516–521

18.

Wegner I, Vincent R, Derks LSM, Rauh SP, Heymans MW, Stegeman I, Grolman W (2018) An internally validated prognostic model for success in revision stapes surgery for otosclerosis. Laryngoscope. https://doi.org/10.1002/lary.27132

19.

Glasscock ME, Storper IS, Haynes DS et al (1995) Twenty-five years of experience with stapedectomy. Laryngoscope 105(9 Pt 1):899–904

20.

Marchioni D, Molteni G, Presutti L (2011) Endoscopic anatomy of the middle ear. Indian J Otolaryngol Head Neck Surg 63(2):101–113

21.

Marchioni D, Soloperto D, Villari D et al (2016) Stapes malformations: the contribute of the endoscopy for diagnosis and surgery. Eur Arch Otorhinolaryngol 273(7):1723–1729

22.

Nogueira JF, Mattioli F, Presutti L et al (2013) Endoscopic anatomy of the retrotympanum. Otolaryngol Clin N Am 46(2):179–188

23.

Marchioni D, Piccinini A, Alicandri-Ciufelli M et al (2013) Endoscopic anatomy and ventilation of the epitympanum. Otolaryngol Clin N Am 46(2):165–178

24.

Bonali M, Anschuetz L, Fermi M et al (2017 May) The variants of the retro- and hypotympanum: an endoscopic anatomical study. Eur Arch Otorhinolaryngol 274(5):2141–2148

25.

Fisch U, Acar GO, Huber AM (2001) Malleostapedotomy in revision surgery for otosclerosis. Otol neurotol 22:776–785

26.

Nandapalan V, Pollan A, Langner A et al (2002) The anterior and superior malleal ligaments in otosclerosis. Otol Neurotol 23:854–861

27.

Lesisnsky SG (2002) Causes of conductive hearing loss after stapedectomy or stapedotomy: a prospective study of 279 consecutive surgical revisions. Otol Neurotol 23(4):281–288

28.

Bernardeschi D, Lahlou G, De Seta D et al (2018) O. 3D endoscopic ear surgery: a clinical pilot study. Eur Arch Otorhinolaryngol 275(2):379–384

29.

Chen CK, Hsieh LC, Hsu TH (2018) Novel three-dimensional image system for endoscopic ear surgery. Eur Arch Otorhinolaryngol 275(12):2933–2939
Ethics declarations
Conflict of interest
The authors declare that they have no conflict of interest.
Electronic supplementary material
Below is the link to the electronic supplementary material.
Supplementary material 1 (MPG 68778 KB)
About this article
Cite this article
Fernandez, I.J., Villari, D., Botti, C. et al. Endoscopic revision stapes surgery: surgical findings and outcomes. Eur Arch Otorhinolaryngol 276, 703–710 (2019). https://doi.org/10.1007/s00405-019-05280-4
Received:

Accepted:

Published:

Issue Date:
Keywords
Endoscopic ear surgery

Revision stapes surgery

Revision stapedotomy

Endoscopic stapes surgery

Stapes surgery