Abstract
Purpose
To evaluate the olfactory function and the olfactory bulb (OB) volume changes in Wilson's Disease (WD) patients.
Methods
A prospective, controlled, single-blinded study was planned. 12 patients with WD (Group 1) and 12 healthy subjects (Group 2) were included in the study. Connecticut Chemosensory Clinical Research Center (CCCRC) test was applied to evaluate olfactory functions. OB volumes were measured with a 1.5 T General Electric Signa Excite MRI scanner.
Results
There was a significant difference between the CCCRC scores of the two groups (p < 0.05). The difference of the OB volumes of the two groups was insignificant (p > 0.05).
Conclusions
WD patients are likely to experience olfactory dysfunction, so its assessment may be a useful tool to the follow-up care of these patients, although further studies are needed to evaluate correlations in WD evolution.
This is a preview of subscription content, log in to check access.
Access options
Buy single article
Instant access to the full article PDF.
US$ 39.95
Price includes VAT for USA
Subscribe to journal
Immediate online access to all issues from 2019. Subscription will auto renew annually.
US$ 199
This is the net price. Taxes to be calculated in checkout.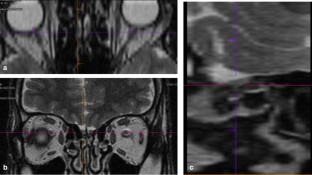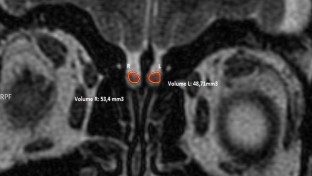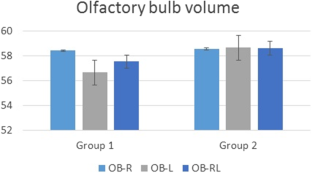 Funding
This research received no specific grant from any funding agency, commercial or not-for-profit sectors.
Ethics declarations
Conflict of interest
The authors declare that they have no conflict of interest.
Ethical standards
The authors assert that all procedures contributing to this work comply with the ethical standards of the relevant national and institutional guidelines on human experimentation and with the Helsinki Declaration of 1975, as revised in 2008.
Informed consent
Informed consent was obtained from all individual participants included in the study.
About this article
Cite this article
Degirmenci, N., Veyseller, B., Hanagasi, H. et al. Olfactory function and olfactory bulb volume in Wilson's disease. Eur Arch Otorhinolaryngol 276, 139–142 (2019). https://doi.org/10.1007/s00405-018-5216-9
Received:

Accepted:

Published:

Issue Date:
Keywords
Wilson's disease

Olfactory dysfunction

Olfactory bulb

Olfaction