Abstract
Background
Septal perforations consist in an anatomic defect of the mucosal, cartilaginous and/or bone tissues of the nasal septum. A huge variety of approaches and techniques for nasal perforation repair have been reported.
Methodology/principal
Between January 2008 and January 2017, 38 patients were treated for nasal septal perforation in Department of Otorhinolaryngology Head and Neck Surgery, Fundación Jiménez Díaz University Hospital, Madrid, Spain. A novel approach is presented based on microscope. Septal perforation closure was performed with endonasal bilateral advancement flaps-established technique and autologous cartilage and muscle temporal fascia grafts. We performed a retrospective review of closure rates and complications.
Results
A postoperative follow-up of at least 12 months was performed in 37 patients. The mean size of perforation was 1.33 cm. After the withdrawal of the silicone splints, perforations were completely closed in all cases. However, during the follow-up, four patients resulted in a reperforation, so our closure rate was 89.19%. For all cases, symptoms related to septal defect were solved. Only one case was reported of local infections that was resolved with antibiotics in a few days.
Conclusions
Microscopic approach of septal perforation closure using bilateral advancement flaps can be an affordable technique with a high percent of success and low rate of complications.
This is a preview of subscription content, log in to check access.
Access options
Buy single article
Instant access to the full article PDF.
US$ 39.95
Price includes VAT for USA
Subscribe to journal
Immediate online access to all issues from 2019. Subscription will auto renew annually.
US$ 199
This is the net price. Taxes to be calculated in checkout.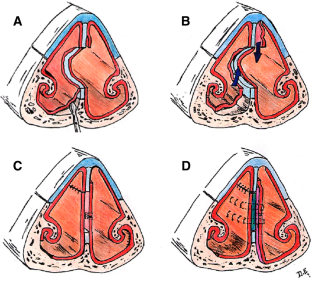 References
1.

Newton JR, White PS, Lee MS (2003) Nasal septal perforation repair using open septoplasty and unilateral bipedicled flaps. J Laryngol Otol 117(1):52–55

2.

Ayshford CA, Shykhon M, Uppal HS, Wake M (2003) Endoscopic repair of nasal septal perforation with acellular human dermal allograft and an inferior turbinate flap. Clin Otolaryngol Allied Sci 28(1):29–33

3.

Pedroza F, Patrocinio LG, Arevalo O (2007) A review of 25-year experience of nasal septal perforation repair. Arch Facial Plast Surg 9(1):12–18

4.

Schultz-Coulon HJ (2005) Three-layer repair of nasoseptal defects. Otolaryngol Head Neck Surg 132(2):213–218

5.

Foda HM, Magdy EA (2006) Combining rhinoplasty with septal perforation repair. Facial Plast Surg 22(4):281–288

6.

Ribeiro JS, da Silva GS (2007) Technical advances in the correction of septal perforation associated with closed rhinoplasty. Arch Facial Plast Surg 9(5):321–327

7.

Teymoortash A, Hoch S, Eivazi B, Werner JA (2011) Experiences with a new surgical technique for closure of large perforations of the nasal septum in 55 patients. Am J Rhinol Allergy 25(3):193–197

8.

Virkkula P, Makitie AA, Vento SI (2015) Surgical outcome and complications of nasal septal perforation repair with temporal fascia and periosteal grafts. Clin Med Insights Ear Nose Throat 8:7–11

9.

Castelnuovo P, Ferreli F, Khodaei I, Palma P (2011) Anterior ethmoidal artery septal flap for the management of septal perforation. Arch Facial Plast Surg 13(6):411–414

10.

Sarandeses-Garcia A, Sulsenti G, Lopez-Amado M, Martinez-Vidal J (1999) Septal perforations closure utilizing the backwards extraction–reposition technique of the quadrangular cartilage. J Laryngol Otol 113(8):721–724

11.

Tasca I, Compadretti GC (2006) Closure of nasal septal perforation via endonasal approach. Otolaryngol Head Neck Surg 135(6):922–927

12.

Andre RF, Lohuis PJ, Vuyk HD (2006) Nasal septum perforation repair using differently designed, bilateral intranasal flaps, with nonopposing suture lines. J Plast Reconstr Aesthet Surg 59(8):829–834

13.

Re M, Paolucci L, Romeo R, Mallardi V (2006) Surgical treatment of nasal septal perforations. Our experience. Acta Otorhinolaryngol Ital 26(2):102–109

14.

Presutti L, Alicandri Ciufelli M, Marchioni D, Villari D, Marchetti A, Mattioli F (2007) Nasal septal perforations: our surgical technique. Otolaryngol Head Neck Surg 136(3):369–372

15.

Hanci D, Altun H (2015) Repair of nasal septal perforation using middle turbinate flap (monopedicled superiory based bone included conchal flap): a new unilateral middle turbinate mucosal flap technique. Eur Arch Otorhinolaryngol 272(7):1707–1712

16.

Romo T III, Sclafani AP, Falk AN, Toffel PH (1999) A graduated approach to the repair of nasal septal perforations. Plast Reconstr Surg 103(1):66–75

17.

Kim SW, Rhee CS (2012) Nasal septal perforation repair: predictive factors and systematic review of the literature. Curr Opin Otolaryngol Head Neck Surg 20(1):58–65

18.

Cottle MH, Loring RM (1948) Surgery of the nasal septum; new operative procedures and indications. Ann Otol Rhinol Laryngol 57(3):705–713

19.

Moon IJ, Kim SW, Han DH, Kim ST, Min YG, Lee CH et al (2011) Predictive factors for the outcome of nasal septal perforation repair. Auris Nasus Larynx 38(1):52–57

20.

Dosen LK, Haye R (2011) Surgical closure of nasal septal perforation. Early and long term observations. Rhinology 49(4):486–491

21.

Cassano M (2017) Endoscopic repair of nasal septal perforation. Acta Otorhinolaryngol Ital 37(06):486–492

22.

Lee HR, Ahn DB, Park JH, Kim YH, Sin CM, Youn SJ et al (2008) Endoscopic repairment of septal perforation with using a unilateral nasal mucosal flap. Clin Exp Otorhinolaryngol 1(3):154–157

23.

Beckmann N, Ponnappan A, Campana J, Ramakrishnan VR (2014) Posterior septal resection: a simple surgical option for management of nasal septal perforation. JAMA Otolaryngol Head Neck Surg 140(2):150–154

24.

Kridel RW (1999) Septal perforation repair. Otolaryngol Clin N Am 32(4):695–724
Acknowledgements
Authors want to specially acknowledge labour of all the ENT department personnel, including residents and nurses, for their altruistic help during the development of this study.
Ethics declarations
Conflict of interest
Authors declare no conflict of interest.
Electronic supplementary material
Below is the link to the electronic supplementary material.
Supplementary material 1 (MP4 151124 KB)
About this article
Cite this article
Villacampa Aubá, J.M., Sánchez Barrueco, A., Díaz Tapia, G. et al. Microscopic approach for repairing nasal septal perforations using bilateral advancement flaps. Eur Arch Otorhinolaryngol 276, 101–106 (2019). https://doi.org/10.1007/s00405-018-5169-z
Received:

Accepted:

Published:

Issue Date:
Keywords
Perforation

Septum

Surgery

Flap

Microscope