Abstract
Purpose
Structural and functional pharyngeal changes occur with age. How these affect swallowing in healthy older adults is not well defined. This study presents quantitative pharyngeal anatomic features in healthy adults using videofluoroscopic study of swallowing (VFSS). This will help our understanding of the normal changes in swallowing that occur with age and illustrate what may constitute normal variation compared with abnormal swallow function.
Methods
138 mixed gender adults with no history of dysphagia were recruited and underwent a standardized VFSS protocol. Parameters including age, BMI, and gender were correlated with the presence of a cricopharyngeal bar, spinal changes and pharyngeal wall thickness at rest.
Results
46% of participants had notable spinal changes. 8% of participants demonstrated cricopharyngeal bars and 12% of subjects revealed osteophytes. Age positively correlated with the presence of a cricopharyngeal bar (rs = 0.281, p < 0.001) and presence of osteophytes (rs = 0.334, p < 0.001). The incidence of cricopharyngeal bars in adults over 70 years old was 16%.
Conclusions
A significant number of healthy adults with no swallowing complaints have variant pharyngeal anatomic findings such as cervical vertebral osteophytes and cricopharyngeal bars. This must be taken into account when assessing patients with dysphagia complaints to avoid misattribution of symptoms to these potentially asymptomatic variants. This ensures correct recommendations are made regarding management including diet modification, compensatory strategies, and surgical intervention.
Access options
Buy single article
Instant access to the full article PDF.
US$ 39.95
Tax calculation will be finalised during checkout.
Subscribe to journal
Immediate online access to all issues from 2019. Subscription will auto renew annually.
US$ 119
Tax calculation will be finalised during checkout.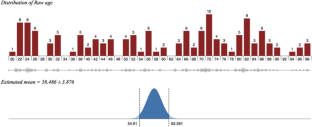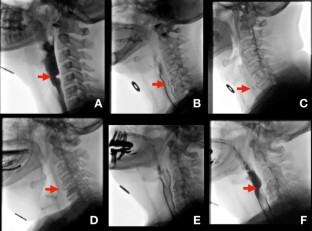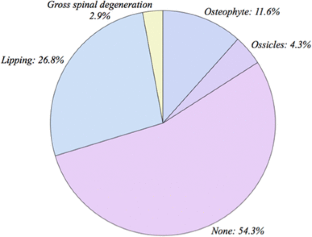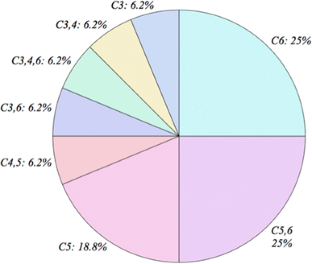 References
1.

Ney DM et al (2009) Senescent swallowing: impact, strategies, and interventions. Nutr Clin Pract 24:395–413

2.

Christensen K et al (2009) Ageing populations: the challenges ahead. Lancet 374:1196–1208

3.

Grande L et al (1999) Deterioration of esophageal motility with age: a manometric study of 79 healthy subjects. Am J Gastroenterol 94:1795–1801

4.

Namasivayam-MacDonald AM et al (2018) Inadequate fluid intake in long term care residents: prevalence and determinants. Geriatr Nurs 39:330–335

5.

Carter K et al (2006) Trends in ethnic disparities in stroke incidence in Auckland, New Zealand, during 1981 to 2003. Stroke 37:56–62

6.

Marik PE, Kaplan D (2003) Aspiration pneumonia and dysphagia in the elderly. Chest 124:328–336

7.

Kim MJ et al (1988) Radiologic evaluation of the globus symptom using videotape recorder. Korean J Radiol 24:381–389

8.

Egerter AC et al (2015) Dysphagia secondary to anterior osteophytes of the cervical spine. Glob Spine J 5:78–83

9.

Seidler T et al (2009) Dysphagia caused by ventral osteophytes of the cervical spine: clinical and radiographic findings. Eur Arch Otorhinolaryngol 266:285–291

10.

Frempong-Boadu A et al (2002) Swallowing and speech dysfunction in patients undergoing anterior cervical discectomy and fusion: a prospective, objective preoperative and postoperative assessment. Clin Spine Surg 15:362–368

11.

Allen J, Blair D, Miles A (2017) Assessment of videofluoroscopic swallow study findings before and after cricopharyngeal myotomy. Head Neck 39:1869–1875

12.

Allen JE (2016) Cricopharyngeal function or dysfunction: what's the deal? Curr Opin Otolaryngol Head Neck Surg 24:494–499

13.

Belafsky PC et al (2008) Validity and reliability of the Eating Assessment Tool (EAT-10). Ann Otol Rhinol Laryngol 117:919–924

14.

Leonard R, Kendall K (1997) Dysphagia assessment and treatment planning: a team approach. Singular Publishing Group, San Diego

15.

Nordin NA, Miles A, Allen J (2017) Measuring competency development in objective evaluation of videofluoroscopic swallowing studies. Dysphagia 32:427–436

16.

Leonard R (2010) Swallowing in the elderly: evidence from fluoroscopy. Perspect Swallowing Disord 19:103–114

17.

Baijens LW et al (2016) European Society for Swallowing Disorders–European Union Geriatric Medicine Society white paper: oropharyngeal dysphagia as a geriatric syndrome. Clin Interv Aging 11:1403

18.

Allen JE et al (2010) Prevalence of penetration and aspiration on videofluoroscopy in normal individuals without dysphagia. Otolaryngol Head Neck Surg 142:208–213

19.

Belafsky PC et al (2010) Pharyngeal dilation in cricopharyngeus muscle dysfunction and Zenker diverticulum. Laryngoscope 120:889–894

20.

Mcconnel F (1988) Analysis of pressure generation and bolus transit during pharyngeal swallowing. Laryngoscope 98:71–78

21.

Buser Z et al (2017) Spine degenerative conditions and their treatments: national trends in the United States of America. Glob Spine J 8:57–67 (2192568217696688)

22.

Abdel-Aziz M et al (2014) Otolaryngologic manifestations of diffuse idiopathic skeletal hyperostosis. Eur Arch Otorhinolaryngol 271:1785–1790

23.

Kettler A, Wilke HJ (2006) Review of existing grading systems for cervical or lumbar disc and facet joint degeneration. Eur Spine J 15:705–718

24.

Feigl G et al (2011) Topography of the lumbar sympathetic trunk in normal lumbar spines and spines with spondylophytes. Br J Anaesth 106:260–265

25.

McCulloch TM, Jaffe D (2006) Head and neck disorders affecting swallowing. GI Motil Online. http://www.nature.com/gimo/contents/pt1/full/gimo1.html. Accessed 22 Mar 2018

26.

Nelson RS, Urquhart AC, Faciszewski T (2006) Diffuse idiopathic skeletal hyperostosis: a rare cause of dysphagia, airway obstruction, and dysphonia. J Am Coll Surg 202:938–942

27.

Nanda A et al (2014) Surgical complications of anterior cervical diskectomy and fusion for cervical degenerative disk disease: a single surgeon's experience of 1576 patients. World Neurosurg 82:1380–1387

28.

Miles A et al (2016) Esophageal swallowing timing measures in healthy adults during videofluoroscopy. Ann Otol Rhinol Laryngol 125:764–769
Acknowledgements
We thank the radiology department at North Shore Hospital, Waitemata District Health Board for their time and technical support with this project.
Funding
This study was funded by a University of Auckland Performance Based Research Funding Grant.
Ethics declarations
Conflict of interest
The authors declare that they have no conflict of interest.
Ethical approval
Ethics approval provided by the University of Auckland Human Participants Ethics Committee.
Human and animal rights
All procedures performed in studies involving human participants were in accordance with the ethical standards of the University of Auckland Human Participants Ethics Committee.
Informed consent
Informed consent was obtained from all individual participants included in the study.
About this article
Cite this article
Yin, T., Jardine, M., Miles, A. et al. What is a normal pharynx? A videofluoroscopic study of anatomy in older adults. Eur Arch Otorhinolaryngol 275, 2317–2323 (2018). https://doi.org/10.1007/s00405-018-5057-6
Received:

Accepted:

Published:

Issue Date:
Keywords
Dysphagia

Cervical osteophyte

Cricopharyngeal bar

Videofluoroscopic swallowing study