Abstract
Background
Photoangiolytic lasers have broadened the surgical armamentarium for many phonosurgical interventions. However, the pulse dye laser and potassium titanyl phosphate (KTP) laser have technical drawbacks and a smaller spectrum of indications.
Methods and results
The new 445 nm wavelength laser, the so-called 'blue laser', proves to show tissue effects comparable to the KTP laser and is also capable of treating subepithelial vessels due to its photoangiolytic properties, it can coagulate and carbonize at higher energy levels, and can be used via glass fibers in non-contact and contact mode for in-office procedures.
Discussion
In contrast to the KTP, the new 445 nm laser can also be used as a cutting laser, thus combining very much wanted properties of diode or CO2 lasers with photoangiolytic lasers. Further advantages of the new laser are the; (1) portability of the shoe box sized, shock-proof laser machine for in-office and operating room usage, (2) the selection of pulse rates from continuous wave (cw) to less than a millisecond, (3) stronger tissue effects compared to KTP with similar energy and pulse settings, (4) far better cutting properties than the KTP, and thus (5) more possibilities for usage in laryngology as well as in other fields or surgery.
Conclusion
We demonstrate the feasibility of the 445 nm laser in several laboratory experiments and show clinical cases where photoangiolysis and cutting was possible. However, this is a preliminary report and further systematic studies in greater numbers are warranted.
This is a preview of subscription content, log in to check access.
Access options
Buy single article
Instant access to the full article PDF.
US$ 39.95
Price includes VAT for USA
Subscribe to journal
Immediate online access to all issues from 2019. Subscription will auto renew annually.
US$ 199
This is the net price. Taxes to be calculated in checkout.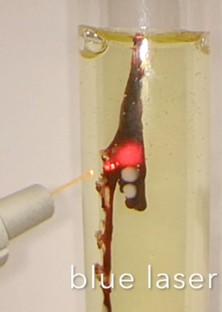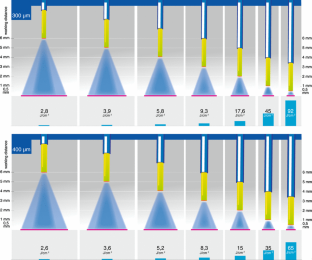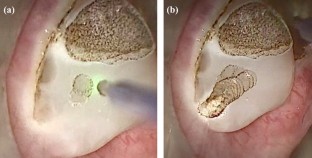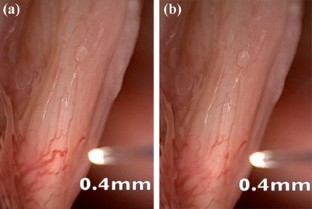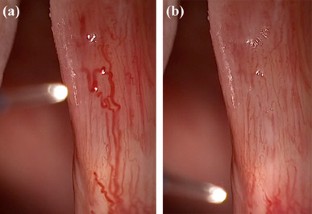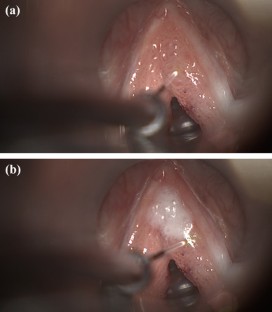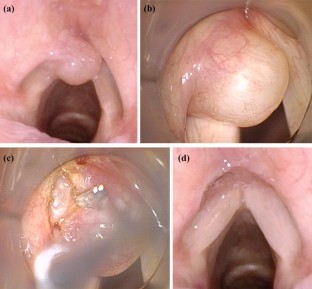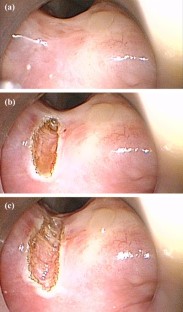 References
1.

Davis RK, Shapshay SM, Strong MS, Hyams VJ (1983) Transoral partial supraglottic resection using the CO2 laser. Laryngoscope 93(4):429–432

2.

Remacle M, Hassan F, Cohen D, Lawson G, Delos M (2005) New computer-guided scanner for improving CO2 laser-assisted microincision. Eur Arch Otorhinolaryngol 262(2):113–119

3.

Jacobson AS, Woo P, Shapshay SM (2006) Emerging technology: flexible CO2 laser waveguide. Otolaryngol Head Neck Surg 135(3):469–470

4.

Remacle M, Ricci-Maccarini A, Matar N, Lawson G, Pieri F, Bachy V, Nollevaux MC (2012) Reliability and efficacy of a new CO2 laser hollow fiber: a prospective study of 39 patients. Eur Arch Otorhinolaryngol 269(3):917–921. https://doi.org/10.1007/s00405-011-1822-5

5.

Verma SP, Dailey SH (2011) Overcoming nasal discomfort—a novel method for office-based laser surgery. Laryngoscope 121(11):2396–2398. https://doi.org/10.1002/lary.21911

6.

McMillan K, Shapshay SM, McGilligan JA, Wang Z, Rebeiz EE (1998) A 585-nanometer pulsed dye laser treatment of laryngeal papillomas: preliminary report. Laryngoscope 108(7):968–972

7.

Zeitels SM, Akst LM, Burns JA, Hillman RE, Broadhurst MS, Anderson RR (2006) Office-based 532-nm pulsed KTP laser treatment of glottal papillomatosis and dysplasia. Ann Otol Rhinol Laryngol 115(9):679–685

8.

Hartnick CJ, Boseley ME, Franco RA Jr, Cunningham MJ, Pransky S (2007) Efficacy of treating children with anterior commissure and true vocal fold respiratory papilloma with the 585-nm pulsed-dye laser. Arch Otolaryngol Head Neck Surg 133(2):127–130

9.

Zeitels SM, Burns JA, Lopez-Guerra G, Anderson RR, Hillman RE (2008) Photoangiolytic laser treatment of early glottic cancer: a new management strategy. Ann Otol Rhinol Laryngol Suppl 199:3–24

10.

Burns JA, Kobler JB, Heaton JT, Anderson RR, Zeitels SM (2008) Predicting clinical efficacy of photoangiolytic and cutting/ablating lasers using the chick chorioallantoic membrane model: implications for endoscopic voice surgery. Laryngoscope 118(6):1109–1124. https://doi.org/10.1097/MLG.0b013e31816902bb

11.

Sridharan S, Achlatis S, Ruiz R, Jeswani S, Fang Y, Branski RC, Amin MR (2014) Patient-based outcomes of in-office KTP ablation of vocal fold polyps. Laryngoscope 124(5):1176–1179. https://doi.org/10.1002/lary.24442

12.

Mallur PS, Johns MM III, Amin MR, Rosen CA (2014) Proposed classification system for reporting 532-nm pulsed potassium titanyl phosphate laser treatment effects on vocal fold lesions. Laryngoscope 124(5):1170–1175. https://doi.org/10.1002/lary.22451

13.

Young VN, Mallur PS, Wong AW, Mandal R, Staltari GV, Gartner-Schmidt J, Rosen CA (2015) Analysis of potassium titanyl phosphate laser settings and voice outcomes in the treatment of Reinke's edema. Ann Otol Rhinol Laryngol 124(3):216–220. https://doi.org/10.1177/0003489414549155

14.

Kim HT, Baizhumanova AS (2016) Is recurrent respiratory papillomatosis a manageable or curable disease? Laryngoscope 126(6):1359–1364. https://doi.org/10.1002/lary.25795

15.

Zeitels S, Burns J (2007) Office-based laryngeal laser surgery with the 532-nm pulsed-potassium-titanyl-phosphate laser. Curr Opin Otolaryngol Head Neck Surg 15:394–400

16.

Reichelt J, Winter J, Meister J, Frentzen M, Kraus D (2016) A novel blue light laser system for surgical applications in dentistry: evaluation of specific laser-tissue interactions in monolayer cultures. Clin Oral Investig 21(4):985–994. https://doi.org/10.1007/s00784-016-1864-6

17.

Remacle M, Arens C, Eldin MB, Campos G, Estomba CC, Dulguerov P, Fiz I, Hantzakos A, Keghian J, Mora F et al (2018) Laser-assisted surgery of the upper aero-digestive tract: a clarification of nomenclature. A consensus statement of the European Laryngological Society. Eur Arch Otorhinolaryngol 275(2):657–658
Acknowledgements
The authors acknowledge the support of Nils Hofmann from A.R.C. Laser Company for providing a figure with bare fiber fluence effects.
Funding
A.R.C. Laser Company, Nuremberg, Germany supported this study with a TruBlue® laser and glass fibers. Markus Hess and Susanne Fleischer received no money or other support for this study.
Ethics declarations
Conflict of interest
Markus Hess and Susanne Fleischer: None. Marcel Ernstberger is employed by A.R.C. Laser Company, Nuremberg, Germany.
About this article
Cite this article
Hess, M.M., Fleischer, S. & Ernstberger, M. New 445 nm blue laser for laryngeal surgery combines photoangiolytic and cutting properties. Eur Arch Otorhinolaryngol 275, 1557–1567 (2018). https://doi.org/10.1007/s00405-018-4974-8
Received:

Accepted:

Published:

Issue Date:
Keywords
445 nm wavelength

Blue laser

Photoangiolysis

Office based surgery

Laser surgery

Phonosurgery

Laryngology