Abstract
Purpose
Considerable number of patients with obstructive sleep apnea (OSA) failed to respond to positive airway pressure therapy and so turned to surgical procedures. A wide variety of surgical procedures have been developed and advanced, according to obstruction and target site through nasal cavity to trachea. We introduced our overlapping lateral pharyngoplasty (OLP) technique as a surgical option for OSA and evaluated its surgical outcomes both with and without endoscope-guided coblator tongue base resection (CobTBR).
Methods
Sixty-five patients underwent either OLP alone or OLP combined with CobTBR to treat OSA at academic tertiary center. Twenty-nine patients underwent postoperative polysomnography and were divided into two groups, as an OLP group and an OLP combined CobTBR group. Various parameters from physical examinations and polysomnographic results were compared and analyzed.
Results
Most enrolled patients improved on various polysomnographic parameters, including AHI and oxygen levels. In the OLP group, 91.7% of patients showed a surgical response and the overall success rate was 66.7%. Mean AHI improved significantly from 36.3 to 14.8. In the OLP + CobTBR group, all patients showed improvement in AHI and the surgical response rate was 100%. The overall success rate was 70.6% and mean AHI improved from 38.8 to 13.1. In both groups, various parameters such as RDI, lowest O2 saturation, mean O2 saturation, oxygen desaturation index, supine AHI, and ESS significantly improved after surgery.
Conclusion
Our OLP technique appears to be safe and effective among OSA patients. Multi-level OLP surgery combined with CobTBR can be a good surgical strategy for patients experiencing retroglossal obstruction.
Access options
Buy single article
Instant access to the full article PDF.
US$ 39.95
Tax calculation will be finalised during checkout.
Subscribe to journal
Immediate online access to all issues from 2019. Subscription will auto renew annually.
US$ 119
Tax calculation will be finalised during checkout.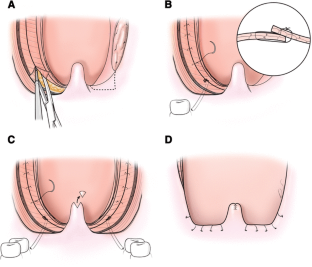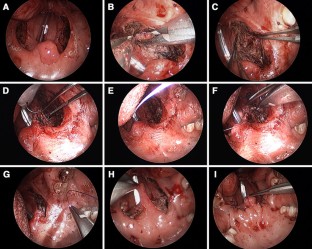 References
1.

Babademez MA, Ciftci B, Acar B, Yurekli MF, Karabulut H, Yilmaz A, Karasen RM (2010) Low-temperature bipolar radiofrequency ablation (coblation) of the tongue base for supine-position-associated obstructive sleep apnea. ORL J Otorhinolaryngol Relat Spec 72(1):51–55

2.

Cahali MB (2003) Lateral pharyngoplasty: a new treatment for obstructive sleep apnea hypopnea syndrome. Laryngoscope 113(11):1961–1968

3.

Cahali MB, Formigoni GG, Gebrim EM, Miziara ID (2004) Lateral pharyngoplasty versus uvulopalatopharyngoplasty: a clinical, polysomnographic and computed tomography measurement comparison. Sleep 27(5):942–950

4.

Carrasco-Llatas M, Marcano-Acuna M, Zerpa-Zerpa V, Dalmau-Galofre J (2015) Surgical results of different palate techniques to treat oropharyngeal collapse. Eur Arch Otorhinolaryngol. https://doi.org/10.1007/s00405-015-3565-1

5.

Cho JH, Kim JK, Lee HY, Yoon JH (2013) Surgical anatomy of human soft palate. Laryngoscope 123(11):2900–2904

6.

Epstein LJ, Kristo D, Strollo PJ, Friedman N, Malhotra A, Patil SP, Ramar K, Rogers R, Schwab RJ, Weaver EM, Weinstein MD (2009) Clinical guideline for the evaluation, management and long-term care of obstructive sleep apnea in adults. J Clin Sleep Med JCSM Off Publ Am Acad Sleep Med 5(3):263–276

7.

Friedman M, Hamilton C, Samuelson CG, Kelley K, Taylor D, Pearson-Chauhan K, Maley A, Taylor R, Venkatesan TK (2012) Transoral robotic glossectomy for the treatment of obstructive sleep apnea-hypopnea syndrome. Otolaryngol Head Neck Surg 146(5):854–862

8.

Friedman M, Ibrahim H, Bass L (2002) Clinical staging for sleep-disordered breathing. Otolaryngol Head Neck Surg 127(1):13–21

9.

Fujita S, Conway W, Zorick F, Roth T (1981) Surgical correction of anatomic azbnormalities in obstructive sleep apnea syndrome: uvulopalatopharyngoplasty. Otolaryngol Head Neck Surg 89(6):923–934

10.

Kezirian EJ, Hohenhorst W, de Vries N (2011) Drug-induced sleep endoscopy: the VOTE classification. Eur Arch Otorhinolaryngol 268(8):1233–1236

11.

Kushida CA, Littner MR, Hirshkowitz M, Morgenthaler TI, Alessi CA, Bailey D, Boehlecke B, Brown TM, Coleman J Jr, Friedman L, Kapen S, Kapur VK, Kramer M, Lee-Chiong T, Owens J, Pancer JP, Swick TJ, Wise MS (2006) Practice parameters for the use of continuous and bilevel positive airway pressure devices to treat adult patients with sleep-related breathing disorders. Sleep 29(3):375–380

12.

Lin HC, Friedman M, Chang HW, Gurpinar B (2008) The efficacy of multilevel surgery of the upper airway in adults with obstructive sleep apnea/hypopnea syndrome. Laryngoscope 118(5):902–908

13.

Marshall NS, Wong KK, Liu PY, Cullen SR, Knuiman MW, Grunstein RR (2008) Sleep apnea as an independent risk factor for all-cause mortality: the Busselton Health Study. Sleep 31(8):1079–1085

14.

Schellenberg JB, Maislin G, Schwab RJ (2000) Physical findings and the risk for obstructive sleep apnea. The importance of oropharyngeal structures. Am J Respir Crit Care Med 162(2 Pt 1):740–748

15.

Schwab RJ, Gupta KB, Gefter WB, Metzger LJ, Hoffman EA, Pack AI (1995) Upper airway and soft tissue anatomy in normal subjects and patients with sleep-disordered breathing. Significance of the lateral pharyngeal walls. Am J Respir Crit Care Med 152(5 Pt 1):1673–1689

16.

Schwab RJ, Pack AI, Gupta KB, Metzger LJ, Oh E, Getsy JE, Hoffman EA, Gefter WB (1996) Upper airway and soft tissue structural changes induced by CPAP in normal subjects. Am J Respir Crit Care Med 154(4 Pt 1):1106–1116

17.

Sher AE, Schechtman KB, Piccirillo JF (1996) The efficacy of surgical modifications of the upper airway in adults with obstructive sleep apnea syndrome. Sleep 19(2):156–177

18.

Weaver TE, Grunstein RR (2008) Adherence to continuous positive airway pressure therapy: the challenge to effective treatment. Proc Am Thorac Soc 5(2):173–178

19.

Weaver TE, Maislin G, Dinges DF, Bloxham T, George CF, Greenberg H, Kader G, Mahowald M, Younger J, Pack AI (2007) Relationship between hours of CPAP use and achieving normal levels of sleepiness and daily functioning. Sleep 30(6):711–719

20.

Woodson BT, Feroah T, Connolly LA, Toohill RJ (1997) A method to evaluate upper airway mechanics following intervention in snorers. Am J Otolaryngol 18(5):306–314

21.

Young T, Peppard PE, Gottlieb DJ (2002) Epidemiology of obstructive sleep apnea: a population health perspective. Am J Respir Crit Care Med 165(9):1217–1239
Funding
This research was also supported by the Basic Science Research Program through the National Research Foundation of Korea (NRF) funded by the Ministry of Education (2015R1D1A1A02062156).
Ethics declarations
Conflict of interest
There are no financial or personal conflicts of interest to declare.
Ethical approval
All procedures performed in studies involving human participants were in accordance with the ethical standards of the institutional and/or national research committee and with the 1964 Helsinki declaration and its later amendments or comparable ethical standards.
Informed consent
Informed consent was obtained from all individual participants included in the study.
Electronic supplementary material
Below is the link to the electronic supplementary material.
Supplementary material 8 (WMV 39386 KB)
About this article
Cite this article
Park, DY., Chung, H.J., Park, S.C. et al. Surgical outcomes of overlapping lateral pharyngoplasty with or without coblator tongue base resection for obstructive sleep apnea. Eur Arch Otorhinolaryngol 275, 1189–1196 (2018). https://doi.org/10.1007/s00405-018-4940-5
Received:

Accepted:

Published:

Issue Date:
Keywords
Obstructive sleep apnea

Lateral pharyngoplasty

Tongue base resection

Surgical outcomes