Abstract
Although individuals categorize odors according to their pleasantness, experience may also influence odor perception—a phenomenon that partially explains why different populations perceive odors differently. Italy, which comprises 20 regions, is characterized by very different cultures. In the present study, we investigated for the first time how Italian regional differences can affect odor perception. 254 healthy volunteers coming from northern, central, southern Italy, and Sicily, one of the two major Italian islands, were recruited in Padua, Rome, Naples, and Syracuse, respectively. Olfactory function was tested with Sniffin' Sticks identification subtest. Subjects who had a score in the range within the mean identification value ± 1 SD, in accordance with the age classes identified in the literature, were asked to judge the odor pleasantness of 20 substances. The hedonic tone of the odorants was categorized as pleasant, neutral, unpleasant, and very unpleasant. Some odorants were appreciated more in northern Italy than in the other parts of the country, whereas others were appreciated more in the south and in Sicily than in the north. Unpleasant odorants were judged less unpleasant in central Italy. Some odorants such as strawberry and vanilla were perceived similarly in all the regional areas. Our study indicates that in Italy, hedonic perception of odorants differs probably in relation with genetic, cultural, and environmental factors. Further investigation is needed to delve deeper into the factors that influence the quality odor perception amongst humans.
This is a preview of subscription content, log in to check access.
Access options
Buy single article
Instant access to the full article PDF.
US$ 39.95
Price includes VAT for USA
Subscribe to journal
Immediate online access to all issues from 2019. Subscription will auto renew annually.
US$ 199
This is the net price. Taxes to be calculated in checkout.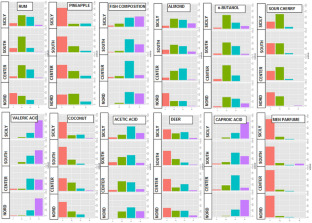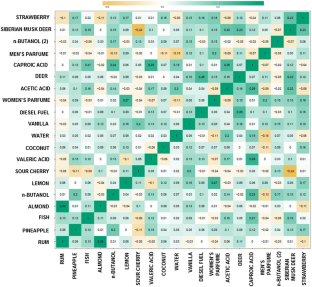 References
1.

Schab FR (1990) Odors and remembrance of things past. J Exp Pschol: Learn Mem Cognit 16:648–655

2.

Bensafi M, Rinck F, Schaal B, Rouby C (2007) Verbal cues modulate hedonic perception of odors in 5-year-old children as well as in adults. Chem Senses 32:855–862

3.

Bensafi M, Rouby C, Farget V, Bertrand B, Vigouroux M, Holley A (2002) Autonomic nervous system responses to odours: the role of pleasantness and arousal. Chem Senses 27:703–709

4.

Croy I, Olgun S, Joraschky P (2011) Basic emotions elicited by odors and pictures. Emotion 11:1331–1335

5.

Ayabe-Kanamura S, Saito S, Distel H, Martínez-Gómez M, Hudson R (1998) Differences and similarities in the perception of everyday odors. A Japanese-German cross-cultural study. Ann NY Acad Sci 855:694–700

6.

Distel H, Ayabe-Kanamura S, Martınez-Gomez M, Schicker I, Kobayakawa T, Saito S, Hudson R (1999) Perception of everyday odors—correlation between intensity, familiarity and strength of hedonic judgement. Chem Senses 24:191–199

7.

Logan DW (2014) Do you smell what I smell? Genetic variation in olfactory perception. Biochem Soc Trans 42(4):861–865. doi:10.1042/BST20140052

8.

Capocasa M, Anagnostou P, Bachis V, Battaggia C, Bertoncini S, Biondi G, Boattini A, Boschi I, Brisighelli F, Caló CM et al (2014) Linguistic, geographic and genetic isolation: a collaborative study of Italian populations. J Anthropol Sci 92:201–231

9.

Hummel T, Whitcroft KL, Andrews P, Altundag A, Cinghi C, Costanzo RM, Damm M, Frasnelli J, Gudziol H, Gupta N, et al (2017) Position paper on olfactory dysfunction. Rhinology (in press)

10.

Vodicka J, Meloun M, Príhodová L (2010) Brief evaluation of pleasantness of olfactory and trigeminal stimulants. Arch Otolaryngol Head Neck Surg 136:901–907

11.

Dunn OJ (1964) Multiple comparison using rank sums. Technometrics 6:241–252

12.

Hochberg Y (1988) A sharper Bonferroni procedure for multiple test of significance. Biometrika 75:800–802

13.

Keller A, Hempstead M, Gomez IA, Gilbert AN, Vosshall LB (2012) An olfactory demography of a diverse metropolitan population. BMC Neurosci 13:122

14.

Seo HS, Guarneros M, Hudson R, Distel H, Min BC, Kang JK, Croy I, Vodicka J, Hummel T (2011) Attitudes toward olfaction: a cross-regional study. Chem Senses 36:177–187

15.

Ferdenzi C, Roberts SC, Schirmer A, Delplanque S, Cekic S, Porcherot C, Cayeux I, Sander D, Grandjean D (2013) Variability of affective responses to odors: culture, gender, and olfactory knowledge. Chem Senses 38:175–186

16.

Masaoka Y, Sugiyama H, Katayama A, Kashiwagi M, Homma I (2012) Slow breathing and emotions associated with odor-induced autobiographical memories. Chem Senses 37:379–388

17.

Mennella JA (2006) Development of food preferences: lessons learned from longitudinal and experimental studies. Food Qual Prefer 17(7–8):635–637

18.

Ceccanti M, Fiorentino D, Coriale G, Kalberg WO, Buckley D, Hoyme HE, Gossage JP, Robinson LK, Manning M, Romeo M et al (2014) Maternal risk factors for fetal alcohol spectrum disorders in a province in Italy. Drug Alcohol Depend 145:201–208

19.

La Vecchia C, Harris RE, Wynder EL (1988) Comparative epidemiology of cancer between the United States and Italy. Cancer Res 48(24 Pt 1):7285–7293

20.

Fidanza F (1980) Changing patterns of food consumption in Italy. J Am Diet Assoc 77:133–137

21.

Perrino C, Tofful L, Canepari S (2016) Chemical characterization of indoor and outdoor fine particulate matter in an occupied apartment in Rome, Italy. Indoor Air 26:558–570
Acknowledgements
The authors thank Mrs. Paola Merolla for correcting the English version of this paper.
Ethics declarations
Conflict of interest
Authors declare that they have no conflict of interest.
Ethical approval
All procedures performed in studies involving human participants were in accordance with the ethical standards of the Internal Committees of the involved ENT Sections and with the 1964 Helsinki declaration and its later amendments or comparable ethical standards.
Informed consent
Informed consent was obtained from all individual participants included in the study.
About this article
Cite this article
Cantone, E., Ciofalo, A., Vodicka, J. et al. Pleasantness of olfactory and trigeminal stimulants in different Italian regions. Eur Arch Otorhinolaryngol 274, 3907–3913 (2017). https://doi.org/10.1007/s00405-017-4722-5
Received:

Accepted:

Published:

Issue Date:
Keywords
Smell

Hedonism

Italy

Regional areas

Odors