Abstract
The aim of our study was to evaluate the audiological protective effects of etanercept using distortion product otoacoustic emission (DPOAE) in rats with hearing loss due to cisplatin ototoxicity. The study began with 36 healthy female albino rats; 31 rats had good measurements in DPOAE and were included in the study. On day 0, a single dose of etanercept was given by intraperitoneal administration to 15 rats (etanercept group). No medication was given to the control group. After 24 h, 16 mg/kg cisplatin was given to all rats. DPOAE measurements were performed on the 3rd, 7th, and 21st day. After the DPOAE test on the 21st day, the animals were killed by decapitation. Between-group and intra-group comparisons were made using the data of the two groups. A statistically significant difference was observed on the 3rd day at 4921 Hz and higher frequencies, on the 7th day at 6064 Hz and higher frequencies, and on the 21st day at 6494 Hz and higher frequencies (p < 0.05). We observed 10% ototoxicity in the etanercept group and 56% ototoxicity in the control group. A single dose of etanercept 1 day before cisplatin administration decreases cisplatin ototoxicity in the early period. This effect comes to the fore especially over 4500 Hz frequencies at 65 dB and higher.
This is a preview of subscription content, log in to check access.
Access options
Buy single article
Instant access to the full article PDF.
US$ 39.95
Price includes VAT for USA
Subscribe to journal
Immediate online access to all issues from 2019. Subscription will auto renew annually.
US$ 199
This is the net price. Taxes to be calculated in checkout.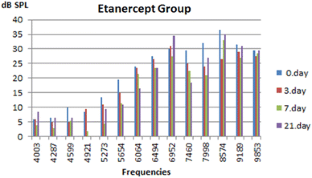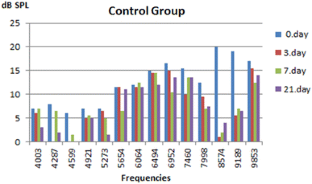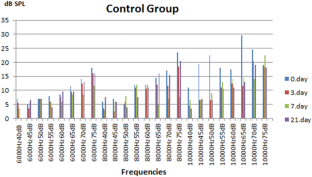 References
1.

Ozkul Y, Songu M, Başoğlu MS, Ozturkcan S, Katılmış H (2014) Evaluation of the protective effect of α-lipoic acid on cisplatin ototoxicity using distortion—product otoacoustic emission measurements. J Craniofac Surg 25:1515–1518

2.

Chirtes F, Albu S (2014) Prevention and restoration of hearing loss associated with use of cisplatin. Hindawi Publ Corp Biomed Res Int 2014:925485

3.

So H, Kim H, Lee JH, Park C, Kim Y, Kim E, Kim JK, Yun KJ, Lee KM, Lee HY, Moon SK, Lim DJ, Park R (2007) Cisplatin cytotoxicity of auditory cells requires secretions of proinflammatory cytokines via activation of ERK and NF-kappaB. J Assoc Res Otolaryngol 8(3):338–355

4.

Marshak T, Steiner M, Kaminer M, Levy L, Shupak A (2014) Prevention of cisplatin-induced hearing loss by intratympanic dexamethasone: a randomized controlled study. Otolaryngol Head Neck Surg 150(6):983–990

5.

Kirkim G, Olgun Y, Aktas S, Kiray M, Kolatan E, Altun Z, Erçetin P, Bagriyanik A, Yilmaz O, Ellidokuz H (2015) Is there a gender-related susceptibility for cisplatin ototoxicity? Eur Arch Otorhinolaryngol 272:2755–2763

6.

Kuduban O, Kucur C, Sener E, Suleyman H, Akcay F (2013) The role of thiamine pyrophosphate in prevention of cisplatin ototoxicity in an animal model. ScientificWorldJournal 2013(16):182694

7.

Ozturk M, Ucar S, Sarı F, Erdogan S, Topdag M, Iseri M (2013) Possible protective effect of sertraline against cisplatin-induced ototoxicity: an experimental study. ScientificWorldJournal 2013:523480

8.

Topdag M, Iseri M, Gelenli E, Yardimoglu M, Yazir Y, Ulubil SA, Topdag DO, Ustundag E (2012) Effect of intratympanic dexamethasone, memantine and piracetam on cellular apoptosis due to cisplatin ototoxicity. J Laryngol Otol 126(11):1091–1096

9.

Lee SH, Kim HS, An YS, Chang J, Choi J, Im GJ (2015) Protective effect of resveratrol against cisplatin induced ototoxicity in HEI-OC1 auditory cells. Int J Pediatr Otorhinolaryngol 79(1):58–62

10.

Chang J, Jung HH, Yang JY, Lee S, Choi J, Im GJ, Chae SW (2014) Protective effect of metformin against cisplatin-induced ototoxicity in an auditory cell line. J Assoc Res Otolaryngol 15(2):149–158

11.

Tobinick E, Rodriguez-Romanacce H, Levine A, Ignatowski TA, Spengler RN (2014) Immediate neurological recovery following perispinal etanercept years after brain injury. Clin Drug Investig 34(5):361–366

12.

Kivelevitch D, Mansouri B, Menter A (2014) Long term efficacy and safety of etanercept in the treatment of psoriasis and psoriatic arthritis. Biologics 8:169–182

13.

Street I, Jobanputra P, Proops DW (2006) Etanercept, a tumour necrosis factor alpha receptor antagonist, and methotrexate in acute sensorineural hearing loss. J Laryngol Otol 120(12):1064–1066

14.

Lobo D, Trinidad A, García-Berrocal JR, Verdaguer JM, Ramírez-Camacho R (2006) TNFalpha blockers do not improve the hearing recovery obtained with glucocorticoid therapy in an autoimmune experimental labyrinthitis. Eur Arch Otorhinolaryngol 263(7):622–626

15.

Wang X, Truong T, Billings PB, Harris JP, Keithley EM (2003) Blockage of immune-mediated inner ear damage by etanercept. Otol Neurotol 24(1):52–57

16.

Matteson EL, Choi HK, Poe DS, Wise C, Lowe VJ, McDonald TJ, Rahman MU (2005) Etanercept therapy for immune-mediated cochleovestibular disorders: a multi-center, open-label, pilot study. Arthritis Rheum 53(3):337–342

17.

Cohen S, Shoup A, Weisman MH, Harris J (2005) Etanercept treatment for autoimmune inner ear disease: results of a pilot placebo-controlled study. Otol Neurotol 26(5):903–907

18.

Arpornchayanon W, Canis M, Ihler F, Settevendemie C, Strieth S (2013) TNF-α inhibition using etanercept prevents noise-induced hearing loss by improvement of cochlear blood flow in vivo. Int J Audiol 52(8):545–552

19.

Topdag M, Iseri M, Topdag DO, Kokturk S, Ozturk M, Iseri P (2014) The effect of etanercept and methylprednisolone on functional recovery of the facial nerve after crush injury. Otol Neurotol 35(7):1277–1283

20.

Kaur T, Mukherjea D, Sheehan K, Jajoo S, Rybak LP, Ramkumar V (2011) Short interfering RNA against STAT1 attenuates cisplatin-induced ototoxicity in the rat by suppressing inflammation. Cell Death Dis 2:e180

21.

Duffy HS, John GR, Lee SC, Brosnan CF, Spray DC (2000) Reciprocal regulation of the junctional proteins claudin-1 and connexin-43 by interleukin-1beta in primary human fetal astrocytes. J Neurosci 20:RC114

22.

Kim YJ, Kim J, Tian C, Lim HJ, Kim YS, Chung JH, Choung YH (2014) Prevention of cisplatin-induced ototoxicity by the inhibition of gap junctional intercellular communication in auditory cells. Cell Mol Life Sci 71(19):3859–3871

23.

Arnold DJ, Losbury-Martin B, Martin GK (1999) High-frequency hearing influences lower-frequency distortion-product otoacoustic emissions. Arch Otolaryngol Head Neck Surg 125:215–222

24.

Kim DO, Paparello J, Jung MD, Smurzynski J, Sun X (1996) Distortion product otoacoustic emission test of sensorineural hearing loss: performance regarding sensitivity, specificity and receiver operating characteristics. Acta Otolaryngol 116:3–11

25.

Scherer EQ, Yang J, Canis M, Reimann K, Ivanov K, Diehl CD, Backx PH, Wier WG, Strieth S, Wangemann P, Voigtlaender-Bolz J, Lidington D, Bolz SS (2010) Tumor necrosis factor-α enhances microvascular tone and reduces blood flow in the cochlea via enhanced sphingosine-1-phosphate signaling. Stroke 41(11):2618–2624

26.

Pollera CF, Marolla P, Nardi M et al (1988) Very high-dose cisplatin-induced ototoxicity: a preliminary report on early and long-term effects. Cancer Chemother Pharmacol 21:61–64

27.

Knight KR, Kraemer DF, Winter C, Neuwelt EA (2007) Early changes in auditory function as a result of platinum chemotherapy: use of extended high-frequency audiometry and evoked distortion product otoacoustic emissions. J Clin Oncol 25:1190–1195

28.

Beattie RC, Kenworthy OT, Luna CA (2003) Immediate and short-term reliability of distortion-product otoacoustic emissions. Int J Audiol 42:348–354
Ethics declarations
Funding
This study was funded by the Kocaeli University Scientific Research Projects Coordination Unit (Project Number: 2014143HDP).
Ethical approval
All applicable international, national, and/or institutional guidelines for the care and use of animals were followed. Project Number: 2014/35 KOU HADYEK 7/2-2014.
Conflict of interest
All the authors declare no conflict of interest.
About this article
Cite this article
Dasli, S., Topdag, M., Mutlu, A. et al. Prophylactic etanercept treatment in cisplatin ototoxicity. Eur Arch Otorhinolaryngol 274, 3577–3583 (2017). https://doi.org/10.1007/s00405-017-4677-6
Received:

Accepted:

Published:

Issue Date:
Keywords
Etanercept

Cisplatin

Ototoxicity

Otoacoustic emissions