Abstract
The aim of this study was to evaluate the learning curve of endoscopic tympanoplasty for a surgeon already trained in microscopic tympanoplasty. We analyzed the clinical records of 81 patients who underwent transcanal endoscopic type 1 tympanoplasty and 30 control patients who underwent microscopic tympanoplasty between 2013 and 2015 in a tertiary hospital. All operations were performed by a single surgeon already trained in microscopic tympanoplasty. Patients were divided into four groups according to the date of surgery chronologically (group 1 early stage, group 2 intermediate stage, group 3 advanced stage and group 4 control). We evaluated the four groups according to surgery duration, audiometric results, and graft intake success. The operation duration shortened in accordance with the surgeon's experience and there were two subsequent steps during the learning curve: first, after 30 procedures; and second, after 60 procedures. The mean operation duration was 88.60 ± 21.10 min in group 1, and 62.00 ± 12.48 min in group 2. After 60 procedures, the mean operation duration was 43.81 ± 8.34 min in group 3. In the control group, the microscopic tympanoplasty duration was 69.93 ± 12.56 min. When we compared audiologic results (air conduction, bone conduction, and air–bone gap) and graft intake success rates, there were no significant differences between groups. Endoscopic tympanoplasty is a minimally invasive and effective technique. Mastering endoscopic tympanoplasty takes approximately 60 operations for a surgeon already trained in microscopic tympanoplasty. Graft intake success rates and hearing results are stable during the learning curve.
This is a preview of subscription content,
to check access.
Access this article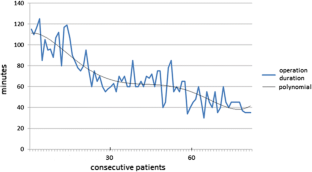 Similar content being viewed by others
References
Ayache S (2013) Cartilaginous myringoplasty: the endoscopic transcanal procedure. Eur Arch Otorhinolaryngol 270:853–860

Ozgur A, Dursun E, Erdivanli OC et al (2015) Endoscopic cartilage tympanoplasty in chronic otitis media. J Laryngol Otol 129:1073–1077

Tarabichi M (1999) Endoscopic middle ear surgery. Ann Otol Rhinol Laryngol 108:39–46

Kakehata S, Futai K, Sasaki A, Shinkawa H (2006) Endoscopic transtympanic tympanoplasty in the treatment of conductive hearing loss: early results. Otol Neurotol 27:14–19

Furukawa T, Watanabe T, Ito T, Kubota T, Kakehata S (2014) Feasibility and advantages of transcanal endoscopic myringoplasty. Otol Neurotol 35:e140–e145

Pothier DD (2013) Introducing endoscopic ear surgery into practice. Otolaryngol Clin North Am 46:245–255

Yong M, Mijovic T, Lea J (2016) Endoscopic ear surgery in Canada: a cross-sectional study. J Otolaryngol Head Neck Surg 45:4

Thomassin JM, Korchia D, Doris JM (1993) Endoscopic-guided otosurgery in the prevention of residual cholesteatomas. Laryngoscope 103:939–943

Yadav SP, Aggarwal N, Julaha M, Goel A (2009) Endoscope-assisted myringoplasty. Singap Med J 50:510–512

Dündar R, Kulduk E, Soy FK et al (2014) Endoscopic versus microscopic approach to type 1 tympanoplasty in children. Int J Pediatr Otorhinolaryngol 78:1084–1089

Khan MM, Parab SR (2015) Endoscopic cartilage tympanoplasty: a two-handed technique using an endoscope holder. Laryngoscope 126:1893–1898

Marchioni D, Villari D, Mattioli F, Alicandri-Ciufelli M, Piccinini A, Presutti L (2013) Endoscopic management of attic cholesteatoma: a single-institution experience. Otolaryngol Clin N Am 46:201–209

Badr-el-Dine M, James EL, Panetti G, Marchioni D, Presutti L, Noqueira JF (2013) Instrumentation and technologies in endoscopic ear surgery. Otolaryngol Clin N Am 46:211–225

Badr-el-Dine M (2002) Value of ear endoscopy in cholesteatoma surgery. Otol Neurotol 23:631–635

Kozin ED, Lehman A, Carter M et al (2014) Thermal effects of endoscopy in a human temporal bone model: implications for endoscopic ear surgery. Laryngoscope 124:E332–E339

Yurttaş V, Ural A, Kutluhan A, Bozdemir K (2015) Factors that may affect graft success in tympanoplasty with mastoidectomy. ENT Updates 5:9–12
Ethics declarations
Conflict of interest
The author Sedat Doğan declares that he has no conflict of interest. The author Cem Bayraktar declares that he has no conflict of interest.
Ethical approval
The Institutional Review Board approval was obtained.
Funding
All financial and material support for this research and work was paid by the authors. The authors do not have any financial interests in companies or other entities.
About this article
Cite this article
Doğan, S., Bayraktar, C. Endoscopic tympanoplasty: learning curve for a surgeon already trained in microscopic tympanoplasty. Eur Arch Otorhinolaryngol 274, 1853–1858 (2017). https://doi.org/10.1007/s00405-016-4428-0
Received:

Accepted:

Published:

Issue Date:

DOI: https://doi.org/10.1007/s00405-016-4428-0
Keywords