Abstract
The objective of this study is to provide a comprehensive classification system for parotidectomy operations. Data sources include Medline publications, author's experience, and consensus round table at the Third European Salivary Gland Society (ESGS) Meeting. The Medline database was searched with the term "parotidectomy" and "definition". The various definitions of parotidectomy procedures and parotid gland subdivisions extracted. Previous classification systems re-examined and a new classification proposed by a consensus. The ESGS proposes to subdivide the parotid parenchyma in five levels: I (lateral superior), II (lateral inferior), III (deep inferior), IV (deep superior), V (accessory). A new classification is proposed where the type of resection is divided into formal parotidectomy with facial nerve dissection and extracapsular dissection. Parotidectomies are further classified according to the levels removed, as well as the extra-parotid structures ablated. A new classification of parotidectomy procedures is proposed.
Access options
Buy single article
Instant access to the full article PDF.
US$ 39.95
Tax calculation will be finalised during checkout.
Subscribe to journal
Immediate online access to all issues from 2019. Subscription will auto renew annually.
US$ 119
Tax calculation will be finalised during checkout.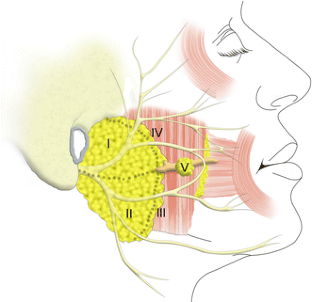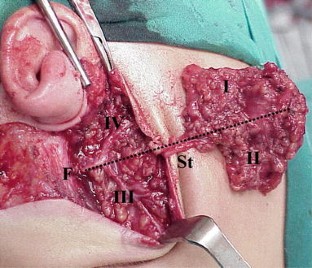 References
1.

McFarland J (1936) Three hundred mixed tumors of the salivary glands, of which sixty-nine recurred. Surg Gynecol Obstet 63:457–468

2.

Benedict EG, Meigs JV (1930) Tumors of the parotid gland: a study of 225 cases with complete end-results in 80 cases. Surg Gynecol Obstet 51:626–647

3.

Patey DH (1954) The present position of parotidectomy in the surgery of the parotid gland. Arch Middx Hosp 4:91–105

4.

Laccourreye H, Laccourreye O, Cauchois R, Jouffre V, Menard M, Brasnu D (1994) Total conservative parotidectomy for primary benign pleomorphic adenoma of the parotid gland: a 25-year experience with 229 patients. Laryngoscope 104:1487–1494

5.

Klopp CT, Winship T (1950) Treatment of mixed tumors of the parotid gland by subtotal parotidectomy. Arch Surg 61:477–486

6.

Rodriguez-Bigas MA, Sako K, Razack MS, Shedd DP, Bakamjian VY (1991) Benign parotid tumors: a 24-year experience. J Surg Oncol 46:159–161

7.

Chang EZ, Lee WC (1985) Surgical treatment of pleomorphic adenoma of the parotid gland: report of 110 cases. J Oral Maxillofac Surg 43:680–682

8.

Novotny GM, Pirozynski WJ (1968) Tumors of major salivary glands. Review of 100 consecutive cases treated at the Royal Victoria Hospital, Montreal, Canada. Laryngoscope 78:2160–2169

9.

Helmus C (1997) Subtotal parotidectomy: a 10-year review (1985–1994). Laryngoscope 107:1024–1027

10.

Bron LP, O'Brien CJ (1997) Facial nerve function after parotidectomy. Arch Otolaryngol Head Neck Surg 123:1091–1096

11.

Stevens KL, Hobsley M (1982) The treatment of pleomorphic adenomas by formal parotidectomy. Br J Surg 69:1–3

12.

McEvedy MV, Ross WM (1976) The treatment of mixed parotid tumours by enucleation and radiotherapy. Br J Surg 63:341–342

13.

Armitstead PR, Smiddy FG, Frank HG (1979) Simple enucleation and radiotherapy in the treatment of the pleomorphic salivary adenoma of the parotid gland. Br J Surg 66:716–717

14.

Gleave EN, Whittaker JS, Nicholson A (1979) Salivary tumours–experience over thirty years. Clin Otolaryngol 4:247–257

15.

Danovan DT, Conley JJ (1984) Capsular significance in parotid tumor surgery: reality and myths of lateral lobectomy. Laryngoscope 94:324–329

16.

Lam KH, Wei WI, Ho HC, Ho CM (1990) Whole organ sectioning of mixed parotid tumors. Am J Surg 160:377–381

17.

Patey DH, Thackray AC (1958) The treatment of parotid tumours in the light of a pathological study of parotidectomy material. Br J Surg 45:477–487

18.

Lyle FM (1956) Surgical consideration of parotid tumors. Am J Surg 91:332–338

19.

Vandenberg HJ Jr, Kambouris A, Pryzybylski T, Rachmaninoff N (1964) Salivary tumors: clinicopathologic review of 190 patients. Am J Surg 108:480–484

20.

Yamashita T, Tomoda K, Kumazawa T (1993) The usefulness of partial parotidectomy for benign parotid gland tumors: a retrospective study of 306 cases. Acta Otolaryngol Suppl 500:113–116

21.

Leverstein H, van der Wal JE, Tiwari RM, van der Waal I, Snow GB (1997) Surgical management of 246 previously untreated pleomorphic adenomas of the parotid gland. Br J Surg 84:399–403

22.

O'Brien CJ, Malka VB, Mijailovic M (1993) Evaluation of 242 consecutive parotidectomies performed for benign and malignant disease. Aust N Z J Surg 63:870–877

23.

Dulguerov P, Marchal F, Lehmann W (1999) Postparotidectomy facial nerve paralysis: possible etiologic factors and results with routine facial nerve monitoring. Laryngoscope 109:754–762

24.

Guntinas-Lichius O, Klussmann JP, Wittekindt C, Stennert E (2006) Parotidectomy for benign parotid disease at a university teaching hospital: outcome of 963 operations. Laryngoscope 116:534–540

25.

Guntinas-Lichius O, Kick C, Klussmann JP, Jungehuelsing M, Stennert E (2004) Pleomorphic adenoma of the parotid gland: a 13-year experience of consequent management by lateral or total parotidectomy. Eur Arch Otorhinolaryngol 261:143–146

26.

Guntinas-Lichius O, Gabriel B, Klussmann JP (2006) Risk of facial palsy and severe Frey's syndrome after conservative parotidectomy for benign disease: analysis of 610 operations. Acta Otolaryngol 126:1104–1109

27.

Lopez M, Quer M, Leon X, Orus C, Recher K, Verges J (2001) Usefulness of facial nerve monitoring during parotidectomy. Acta Otorrinolaringol Esp 52:418–421

28.

Snow GB (2001) The surgical approaches to the treatment of parotid pleomorphic adenomas. In: McGurk M, Renehan AG (eds) Controversies in the management of salivary gland disease. Oxford University Press, Oxford, p 58

29.

Tweedie DJ, Jacob A (2009) Surgery of the parotid gland: evolution of techniques, nomenclature and a revised classification system. Clin Otolaryngol 34:303–308

30.

Iizuka K, Ishikawa K (1998) Surgical techniques for benign parotid tumors: segmental resection vs extracapsular lumpectomy. Acta Otolaryngol Suppl 537:75–81

31.

Quer M, Pujol A, Leon X et al (2010) Parotidectomies in benign parotid tumours: "Sant Pau" surgical extension classification. Acta Otorrinolaringol Esp 61:1–5

32.

Witt RL (2002) The significance of the margin in parotid surgery for pleomorphic adenoma. Laryngoscope 112:2141–2154

33.

Roh JL, Kim HS, Park CI (2007) Randomized clinical trial comparing partial parotidectomy versus superficial or total parotidectomy. Br J Surg 94:1081–1087

34.

Robbins KT, Medina JE, Wolfe GT, Levine PA, Sessions RB, Pruet CW (1991) Standardizing neck dissection terminology. Official report of the Academy's Committee for Head and Neck Surgery and Oncology. Arch Otolaryngol Head Neck Surg 117:601–605

35.

Stennert E, Guntinas-Lichius O, Klussmann JP, Arnold G (2001) Histopathology of pleomorphic adenoma in the parotid gland: a prospective unselected series of 100 cases. Laryngoscope 111:2195–2200

36.

Zbaren P, Stauffer E (2007) Pleomorphic adenoma of the parotid gland: histopathologic analysis of the capsular characteristics of 218 tumors. Head Neck 29:751–757
Ethics declarations
Conflict of interest
None.
About this article
Cite this article
Quer, M., Guntinas-Lichius, O., Marchal, F. et al. Classification of parotidectomies: a proposal of the European Salivary Gland Society. Eur Arch Otorhinolaryngol 273, 3307–3312 (2016). https://doi.org/10.1007/s00405-016-3916-6
Received:

Accepted:

Published:

Issue Date:
Keywords
Parotid neoplasm

Parotid tumors

Parotid benign tumors

Parotid malignant tumors

Parotid gland

Parotid gland surgery

Parotidectomy

Parotidectomy classification

Extracapsular resection