Abstract
Reshaping of the nasal tip is the most difficult part of rhinoplasty. Over the years, there have been many advances in the field of rhinoplasty, including tip plasty. The goal of these continuous refinements in existing procedures has been to improve both aesthetic and functional outcomes. The cephalic part of the lateral crus of the lower lateral cartilage is what mainly contributes to nasal tip deformity. Various surgical techniques have been reported that used the cephalic part of lateral crus to refine the nasal tip and preserve alar integrity and nasal breathing function. In this review article, we have attempted to show the evolution of these methods while focusing on development of approaches that are basic for "modern rhinoplasty" and presenting our personal preferences. We have also endeavored to categorize these methods and clarify some misconceptions and inaccuracies in their descriptions.
Access options
Buy single article
Instant access to the full article PDF.
USD 39.95
Price excludes VAT (USA)
Tax calculation will be finalised during checkout.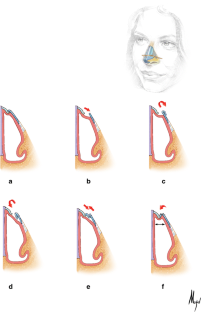 References
Toriumi DM (2006) New concepts in nasal tip contouring. Arch Facial Plast Surg 8:156–185

Regalado-Briz A (1999) Aesthetic rhinoplasty with maximum preservation of alar cartilages: experience with 52 consecutive cases. Plast Reconstr Surg 103:671–680

Davis RE (2015) Lateral crural tensioning for refinement of the wide and underprojected nasal tip: rethinking the lateral crural steal. Facial Plast Surg Clin N Am 23:23–53

Hatzis GP, Sherry SD, Hogan GM, Finn RA (2004) Observations of the marginal incision and lateral crura alar cartilage asymmetry in rhinoplasty: a fixed cadaver study. Oral Surg Oral Med Oral Pathol 97:432–437

Rohrich RJ, Deuber MA (2002) Nasal tip refinement in primary rhinoplasty: the cephalic trim cap graft. Aesthet Surg J 22:39–45

Gelbke H (1956) The nostril problem in unilateral harelips and its surgical management. Plast Reconstr Surg 18:65–75

Musgrave RH, Dupertuis SM (1960) Revision of the unilateral cleft lip nostril. Plast Reconstr Surg Transplant Bull 25:223–234

Peck GC (1983) The onlay graft for nasal tip projection. Plast Reconstr Surg 71:27–39

Blackwell SJ, Parry SW, Roberg BC, Huang TT (1985) Onlay cartilage graft of the alar lateral crus for cleft lip nasal deformities. Plast Reconstr Surg 76:395–401

Ellenbogen R (1987) Alar rim lowering. Plast Reconstr Surg 79:50–57

Gruber RP (1988) Open rhinoplasty. Clin Plast Surg 15:95–114

Cronin TD, Denkler KA (1988) Correction of the unilateral cleft lip nose. Plast Reconstr Surg 82:419–432

McCollough EG, Fedok FG (1993) The lateral crural turnover graft: correction of the concave lateral crus. Laryngoscope 103:463

Bilen B, Kilinc H, Tenekeci G (2011) Nasal tip contouring using lower lateral cartilages. J Craniofac Surg 22:2214–2219

Ashtiani AK, Bohluli B, Bateni H, Fatemi MJ, Sadr-Eshkevari P, Rashad A (2013) Lateral crural transposition flap in tip correction: Tehran retrospective rhinoplasty experience. Ann Plast Surg 71:50–53

Boccieri A (2005) Mini spreader grafts: a new technique associated with reshaping of the nasal tip. Plast Reconstr Surg 116:1525–1534

Bohluli B, Varedi P, Nazari S, Bagheri SC (2013) Lateral crural suspension flap: a novel technique to modify and stabilize the nasolabial angle. J Oral Maxillofac Surg 71:1572–1576

García-Velasco J, Vidal JT, García-Casas S (1998) Increasing the length of the middle crura for better tip projection in primary rhinoplasty. Aesthet Plast Surg 22:253–258

Abou Mayaleh H (2011) The onlay folded flap (OFF): a new technique for nasal tip surgery. Aesth Plast Surg 35:73–79

Lin J, Tan X, Chen X et al (2006) Another use of the alar cartilaginous flap. Aesthet Plast Surg 30:560–563

Massiha H (1998) Elliptical horizontal excision and repair of alar cartilage in open-approach rhinoplasty to correct cartilaginous tip deformities. Plast Reconstr Surg 101:177–182

Ozmen S, Eryilmaz T, Sencan A et al (2009) Sliding alar cartilage (SAC) flap: a new technique for nasal tip surgery. Ann Plast Surg 63:480–485

Gruber RP, Zhang AY, Mohebali K (2010) Preventing alar retraction by preservation of the lateral crus. Plast Reconstr Surg 126:581–588

Janis JE, Trussler A, Ghavami A, Marin V, Rohrich RJ, Gunter JP (2009) Lower lateral crural turnover flap in open rhinoplasty. Plast Reconstr Surg 123:1830–1841

Tellioglu AT, Cimen K (2007) Turn-in folding of the cephalic portion of the lateral crus to support the alar rim in rhinoplasty. Aesthet Plast Surg 31(3):306–310

Murakami CS, Barrera JE, Most SP (2009) Preserving structural integrity of the alar cartilage in aesthetic rhinoplasty using a cephalic turn-in flap. Arch Facial Plast Surg 11:126–128

Pepper JP, Baker SR (2011) The cephalic tuck procedure. Arch Facial Plast Surg 13:213

Apaydin F (2012) Lateral crural turn-in flap in functional rhinoplasty. Arch Facial Plast Surg 14:93–96

Sazgar AA, Most SP (2011) Stabilization of nasal tip support in nasal tip reduction surgery. Otolaryngol Head Neck Surg 145:932–934

Sazgar AA (2010) Lateral crural setback with cephalic turn-in flap: a method to treat the drooping nose. Arch Facial Plast Surg 12:427–430

Sazgar AA (2010) Horizontal reduction using a cephalic hinged flap of the lateral crura: a method to treat the bulbous nasal tip. Aesthet Plast Surg 34:642–645

Sazgar AA, Woodard C, Most SP (2012) Preservation of the nasal valve area with a lateral crural hinged flap: a cadaveric study. Aesthet Plast Surg 36(2):244–247

Tebbetts JB (1994) Shaping and positioning the nasal tip without structural disruption: a new, systematic approach. Plast Reconstr Surg 94:61–77

Amali A, Sazgar AA, Jafari M (2014) Assessment of nasal function after tip surgery with a cephalic hinged flap of the lateral crura: a randomized clinical trial. Aesthet Surg J 34:687–695
Ethics declarations
Conflict of interest
There are no potential conflicts or financial relationships. No funding was received to assist in the creation of this manuscript.
About this article
Cite this article
Sazgar, A.A., Amali, A. & Peyvasty, M.N. Value of cephalic part of lateral crus in functional rhinoplasty. Eur Arch Otorhinolaryngol 273, 4053–4059 (2016). https://doi.org/10.1007/s00405-015-3866-4
Received:

Accepted:

Published:

Issue Date:

DOI: https://doi.org/10.1007/s00405-015-3866-4
Keywords
Rhinoplasty

Tip-plasty

Alar cartilage

Cephalic trim